A common question we get from visitors (first-timers and repeat) is: "What are the best hotels near the Myrtle Beach Boardwalk?" We've taken the time to compile a list of our favorite resorts that are within walking distance or a short drive away from the famous boardwalk in Myrtle Beach. This iconic attraction was built in 2010, and stretches 1.2 miles along the oceanfront in Central Myrtle Beach with shops, restaurants and wonderful spots to sit and enjoy the beautiful views of the ocean.
We've ranked each hotel based on their amenities, quantity and quality of reviews from Condo-World guests and proximity to the Myrtle Beach Boardwalk itself.
5200 N Ocean Blvd, Myrtle Beach,SC 29577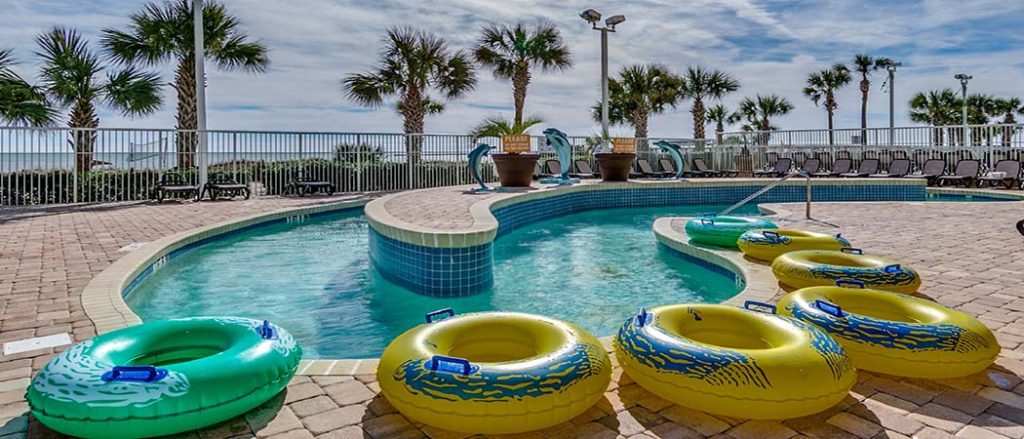 Overall Opinion: Amenities + Location = Hard to beat option for those seeking a top-notch resort with a relaxed, uncrowded beach.
Dunes Village Resort is award winning and for good reason. Located near the Myrtle Beach Boardwalk, you'll find that the beaches here are uncrowded and quiet. Yet you're still within a short drive to the area's finest shopping, dining and attractions. With a wide variety of floor plans and views available, each condo rental was designed for pure satisfaction.
Featured Amenities:
Valet Parking. (for a fee)
On-site Restaurants, lounge and coffee shop.
Number of games available: Including a full basketball court.
Many water activities: Including Water Volleyball and basketball.
Kids Club: Kid activities including arts & crafts and much more.
Looking to escape the heat? Find relaxation at it's finest when vacationing at Dunes Village Resort. Complimentary loungers can be found poolside or you can rent a cabana the whole family can enjoy. Guests staying at the resort can immerse themselves inside an indoor water park that's simply world-class with over 30,000 sq ft of water activities. Still not relaxed? Go over to the on-site Serenity Spa where the staff will help relax your mind, body and spirit.
2006 N Ocean Blvd, Myrtle Beach, SC 29577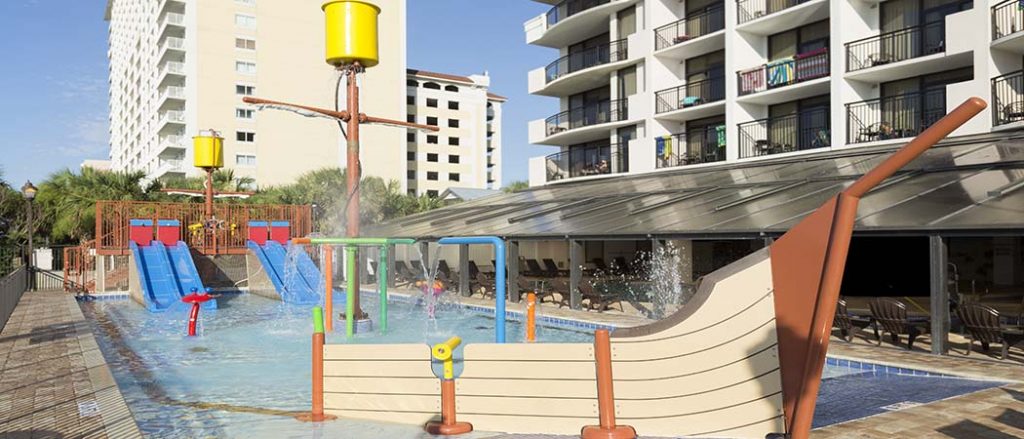 Overall Feel: Value + Location = Hard to find a better option than this resort. Breakers truly has it all.
With 8 properties occupying the Breakers, you can bet the features and amenities are awesome. Another great hotel near the Myrtle Beach Boardwalk that can accommodate families and couples.
Featured Amenities:
Pet Friendly! (Seaside Tower Only): Super Rare Amenity.
Indoor/Outdoor Lazy Rivers: The biggest in the area.
Indoor/Outdoor Hot Tubs: Rejuvenation awaits.
Motorcycles & Trailers allowed: Bikers welcomed.
Do you feel like spending a lot of time during your vacation packing the car up and driving? We didn't think so! Leave the car, grab the kids and take a short walk across the street to Ben & Jerry's for an ice-cream treat. Don't want to spend the night cooking dinner? There's an array of restaurants and bars for you to choose from within a short walking distance (1 block North).
Looking to find a vacation rental near the Myrtle Beach boardwalk that won't break the bank? Breakers Resort has a hard to beat location and even harder to beat value. Choose from 1, 2, 3 or 4 bedroom floor plans with in-suite features like wi-fi, free dvd rentals, 24 hour front desk courtesy and daily maid services to name a few.
504 N. Ocean Blvd Myrtle Beach, SC 29577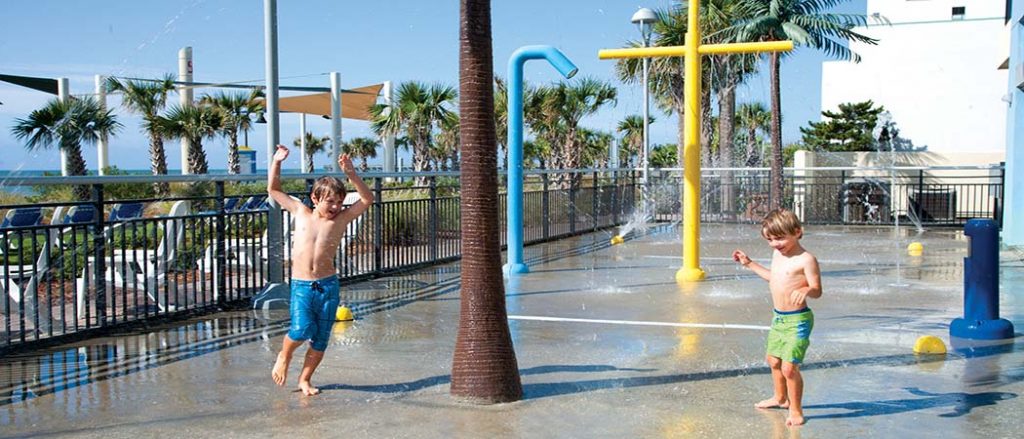 Overall Picture: For those looking for an up-beat, fun, amusement park-like atmosphere, Bay View Resort is the one.
At Bay View Resort fun is in the air. With a direct location on the award winning Myrtle Beach Boardwalk & Promenade, guests will find that local attractions, dining, entertainment and shopping are right at their doorstep.
Looking to find a oceanfront resort located near the Myrtle Beach Boardwalk that won't cost you an arm and a leg? Bay View Resort has a location that can't be beat. Choose from 1,2,3 and 4 bedroom floor plans with standard in-suite features like, 24 hour front desk service, wireless internet, fully-equipped kitchens and daily maid service to name a few.
Featured Amenities:
Lazy River: Sit back, relax and enjoy the ride.
Indoor Pool: For those rare bad weather days.
On-site Coffee Shop: For those caffeine cravers.
Motorcycles Allowed: Bikers welcomed.
Indoor Hot Tub: Unwind & relax.
2201 S Ocean Blvd, Myrtle Beach, SC 29577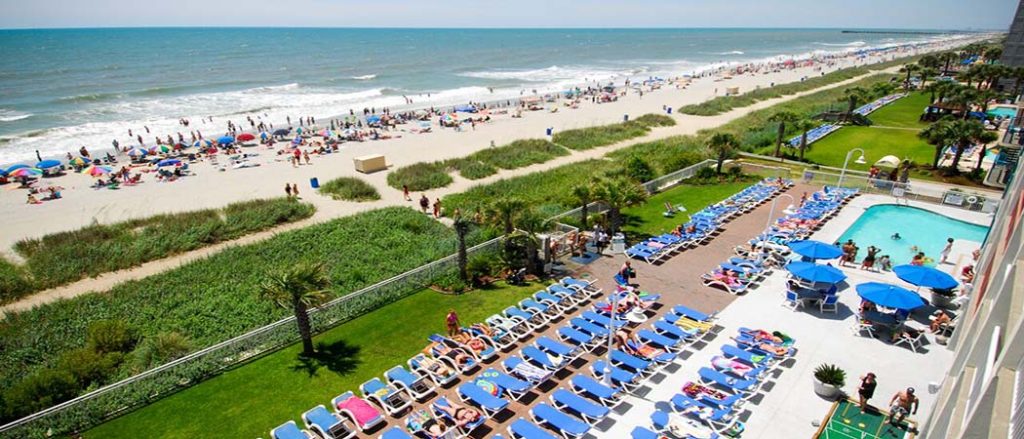 Quick Verdict: If you're looking for something with a centralized location with world-class amenities, Paradise Resort fits the bill. One of our favorite hotels near the Myrtle Beach Boardwalk.
Featured Amenities:
Poolside Tiki Hut: Escape the sun and enjoy great food and beverages.
Sun & Fun Rewards: Enjoy free DVD rentals and admission to some of the area's favorite attractions.
Direct Beach Access: Sand is just a few steps away.
Indoor Pools: Including a kiddie pool for the small ones.
Live Entertainment: Enjoy the sounds of Summer on the gorgeous sundeck while the DJ spins some good time tunes. (Seasonal)
At Paradise Resort, you will find a gorgeous, contemporary oceanfront hotel that's located in the heart of downtown Myrtle Beach. With a centralized location, the best action is steps away. From efficiency units, to 4 bedroom sprawling layouts, you'll find this oceanfront resort was built to accommodate.
2311 S Ocean Blvd, Myrtle Beach, SC 29577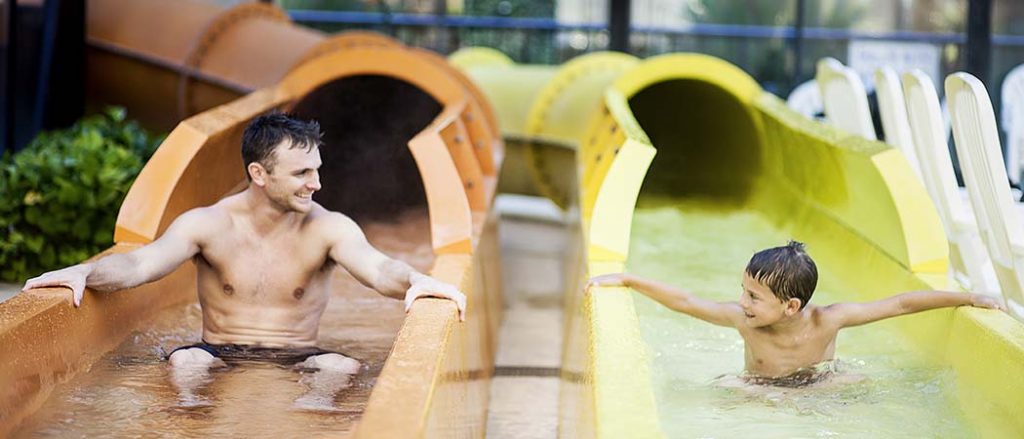 Quick Summary: If you're looking for an affordable vacation rental that's geared more towards larger groups and families, Compass Cove is a real winner. A solid option for a hotel near the Myrtle Beach boardwalk.
As one of the largest oceanfront resorts in the area, Compass Cove Resort has been a popular choice among families and the like for years. Why you may ask? On-site options and plenty of them! Guests can enjoy a quick snack or a cup of coffee from Compass Joe Cafe or enjoy a breakfast buffet with the family at the resorts restaurant, Compass Rose. Feel like grabbing a cocktail? Head to the poolside Tiki Hut and take in the fresh ocean air.
Featured Amenities:
6 pools: Crazy right? Compass Cove has 23 water activities!
Kid's Club: Summer activities for the kids.
Game Room: Also be sure to check out the giant chess/checkers!
Splash Pools: Great for the little ones.
On-site grills: Limited so be sure to keep an eye out.
Looking for something to do outside the resort? You don't have to look far. Compass Cove Resort is located just a short drive away from the Myrtle Beach Boardwalk where you'll find shops, dining and many other family attractions.
705 S Ocean Blvd, Myrtle Beach, SC 29577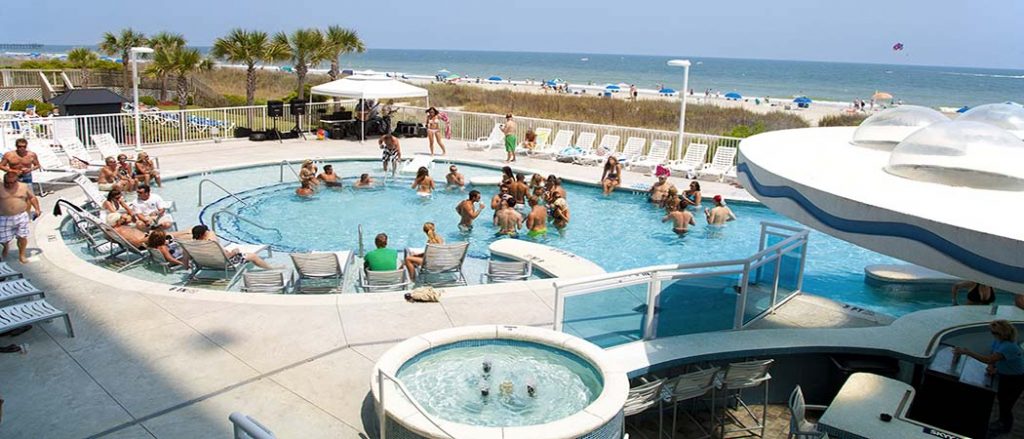 Quick Verdict: If you're looking for an up-beat, party-like atmosphere, Hotel Blue is your place.
At Hotel Blue, you will find a fun, modern resort that's perfect for couples and friends looking for a great beach vacation. Standard accommodations include things like, cable tv, free wi-fi, in-room safe, dining area and full kitchens to name a few.
You're fun starts immediately in the lobby bar where you can grab a drink or head to the sundeck where you will find another lounge area located poolside. Looking for a quick snack or drink? If you're a Starbucks junkie (we sure are), you can easily get your daily fix at the on-site location.
Featured Amenities:
Swim-up bar: Great drinks!
Sundeck: Great tunes with accompanying lounge area.
Direct beach access: Just a few steps away.
Near Myrtle Beach Boardwalk.
Bowling alley access next door at Captain's Quarters.
Poolside seasonal cafe offering a grill menu along with lunch specials.