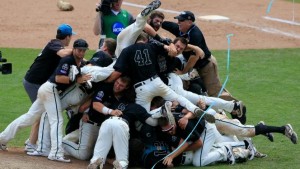 In January, Clemson fell short in the College Football Playoff. In February, The Panthers couldn't come through with the Lombardi Trophy. And in April, Tar Heel basketball was stunned by a Villanova buzzer beater. It seemed like all was lost for a sporting championship to reach the Carolina's in 2016, as all the favorites ended their season in defeat. And when the Coastal Carolina Chanticleer Baseball Team booked their improbable ticket to the College World Series nearly three weeks ago, there was fleeting hope that this group, a team stocked with Myrtle Beach area talent, would legitimately contend for the National Title. Fast forward 8 thrilling games later, and we find CCU players in a dog pile in Omaha, hoisting the World Series hardware. As a wise man once said, "who'da thunk it?!"
Their journey just to get to the "elite 8" of college baseball was somewhat of a miracle; down to their last strike against NC State during regional play, CCU rallied back to win the game and eventually book a trip to a Super Regional bout with the baseball powerhouse of LSU. 13,000 hostile fans in Baton Rouge were fully expecting the Chants to lay down and go quietly into the off season. This was certainly not the case, as CCU flexed its hitting and base running prowess. The results were two emphatic wins over the SEC giant, and a golden ticket to Omaha to compete in the College World Series.
Let's be honest, many casual fans of the Chants were ready to mail it in and just enjoy the moment of arriving at baseball's biggest stage. However, this team had no intentions of just being happy to participate. Other than the dedicated fanatic, many may not realize that Coastal were one of three teams to win 50 games this year, and second in the nation in home runs. In thrilling games supported by heroic pitching performances, CCU marched through nationally acclaimed programs Florida, Texas Tech, and TCU to book a date in the 3-game series with Arizona to decide the National Championship.
To put into perspective this David and Goliath matchup, let's consider the two schools. Coastal Carolina has an enrollment of just under 10,000 students, and an endowment of nearly $25 million. Arizona, the 2012 National Champions and frequent World Series participants, have an enrollment of 43,000 and a conference-conservative endowment of over $600 million. CCU had no chance right? Well, as another wise man once said, "that's why we play the game."
And play the game, Coastal did! In three thrilling battles, Coastal defeated Arizona and achieved the school's first national title. The national championship was not only shared by the team, the Myrtle Beach area, and the rest of the Grand Strand, but the Carolinas as a whole claimed this victory as our own. Videos surfaced of Clemson football players jumping for joy in the locker room after Cunningham delivered the final out, and dozens of USC and UNC affiliates took to social media to congratulate the Cinderellas of Omaha.
On behalf of Myrtle Beach, North Myrtle Beach, and the Grand Strand, Condo-World congratulates the Coastal Carolina University baseball team on being 2016 National Champions!