If you're planning a trip to the area soon and are looking at North Myrtle Beach condo rentals you'll find we have a large assortment to choose from. No matter what size you need or price range you're looking for, we're sure to have the ideal property for your stay. You'll have such amenities as swimming pools, hot tubs, Jacuzzis, DVD players, WiFi, outdoor grilling stations and lots more.
When you're staying in our North Myrtle Beach condo rentals this time of year we understand you'll probably get caught up in the excitement of the holidays and want to decorate where you're staying. We say go for it! There are many places in the area – specialty beach shops, outlet malls, etc. – where you can find holiday decorations for the condo where you're staying. You're likely to see many other condos decorated as well. It's amazing the amount of creativity some people have!
Mark your calendar! Christmas on Ice will be performed at The Palace Theatre in Myrtle Beach each evening at 7:30 p.m. through December 29, 2012. This highly acclaimed and exciting show features championship ice skaters, the best high-kicking dancers, and all your favorite Christmas hits!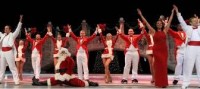 Begin your Christmas in style as Santa and his merry helpers take you on an unforgettable nostalgic Christmas journey on a 40 ft ice skating rink and massive winter wonderland stage.