As we move closer to summer, the Myrtle Beach area begins to come alive! There are so many exciting June Myrtle Beach specials and events coming up.The sunshine warms the white sandy beaches and dances off the glassy tides, shop owners restock the shelves with their trinkets and nautical gifts, and finishing touches are applied to the yearly updates of luxury condos as we await the first guests of the summer season! Yes, it surely is an exciting time on the fabulous Grand Strand! With a surplus of new and improved activities in store for the 2016 season, we invite you to take advantage of all the fun and get a first taste of the area's new offerings. June is the perfect month to plan your Myrtle Beach Vacation to have initial dibs on all the action!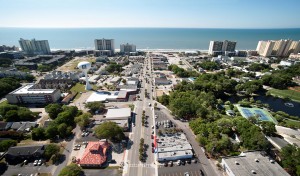 Entertainment on Main Street: North Myrtle Beach's famous Horseshoe on historic Main Street in North Myrtle Beach is getting a wonderful addition to their beachfront! Construction of a beautiful stage and brick entertainment venue will be completed this Spring. Enjoy oceanfront concerts and entertainment all summer long as the perennial hub of North Myrtle Beach gets better and better! The oceanfront amusement park and water slide will also be back by popular demand for Summer 2016!
Carolina Country Music Fest in Myrtle Beach: The anticipation of the

CCMF has gained national attention as Country Music mega stars prepare to rock out Myrtle Beach June 9th-12th! Headline acts include Keith Urban, Tim Mcgraw, Florida Georgia Line, and many more! Book your Myrtle Beach Condo Rental around these dates and reserve your tickets, as availability and tickets are selling out fast!
June is full of wonderful activities to kick off Summer 2016 on the Grand Strand in style! Another crucial part of your vacation is your condo rental! Condo-World properties work diligently year round to maintain the most luxurious accommodations on the Grand Strand! Many of our beautiful condos have added many new upgrades, please click on the Virtual Tour buttons on our condo profile pages to see for yourself why Condo-World is the foremost name in Vacation Rentals!
Time to book your June vacation before it's too late! We are running some fantastic deals for June that will not last long, view our Specials or give us a call to plan your Summer 2016 vacation to Myrtle Beach!