With the summer months just around the corner, high season for Myrtle Beach is about to go into full-swing. Those wanting that perfect beach vacation will be looking for not only "good" resort amenities but the best. With so many oceanfront resorts to choose from, finding the perfect one can be a daunting task. We've decided to make life a little easier and provide a quick list of our best resorts with lazy rivers in Myrtle Beach, SC.
3805 South Ocean Boulevard, North Myrtle Beach, SC 29582
As one of the most popular resorts in North Myrtle Beach, Windy Hill Dunes provides an amazing experience for those seeking a more luxurious beach vacation. Aside from this resort's spacious and well-decorated rentals, it's the panoramic ocean views and top-notch amenities that keeps guests coming back year after year. The oceanfront lazy river at Windy Hill Dunes earns a top spot on our list of best lazy rivers in the Myrtle Beach area.
1819 North Ocean Boulevard, North Myrtle Beach, SC 29582
Located in the Cherry Grove section of North Myrtle Beach, Tilghman Beach and Golf Resort earns its place in the best lazy rivers in North Myrtle Beach. These well-kept, designer furnished condo rentals provide vacationers with outstanding accommodations perfect for groups and large families. Enjoy a day in the sun on the large pool deck that features a pool, jacuzzi, lazy river and poolside bar where you can grab tasty drinks and snacks.
7200 North Ocean Boulevard, Myrtle Beach, SC 29572
Located in the Dunes section of Myrtle Beach, Grande Cayman Resort snags a spot on our list of the best lazy rivers in Myrtle Beach. Aside from its prestigious location, this oceanfront resort has some brow-raising on-site amenities. Grande Cayman Resort's jam-packed list of amenities include: two restaurants, a Starbucks, indoor & outdoor pools, a 250 ft lazy river and much more. Looking to explore area attractions during your vacation? Broadway at the Beach, the Myrtle Beach SkyWheel and the nationally recognized Boardwalk & Promenade are just a few of the many notable attractions located within a short driving distance from Grande Cayman Resort.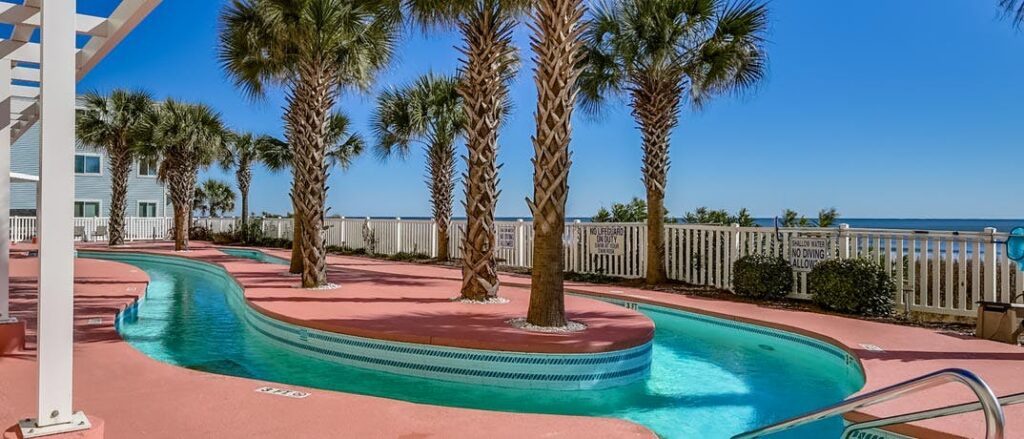 1903 South Ocean Blvd, North Myrtle Beach, SC 29582
Next on our list is Crescent Keyes, located in the Crescent Beach section of North Myrtle Beach. The long, winding lazy river is just one of the great pool amenities at this luxurious condo complex, where you'll also find several outdoor pools, hot tubs, and kiddie pools. It's centralized location in North Myrtle Beach improves the desirability with easy access to Main Street and Barefoot Landing.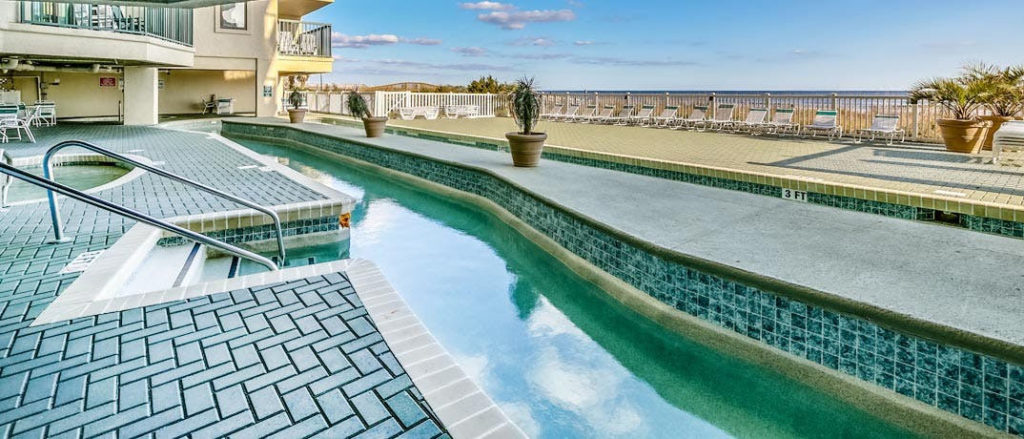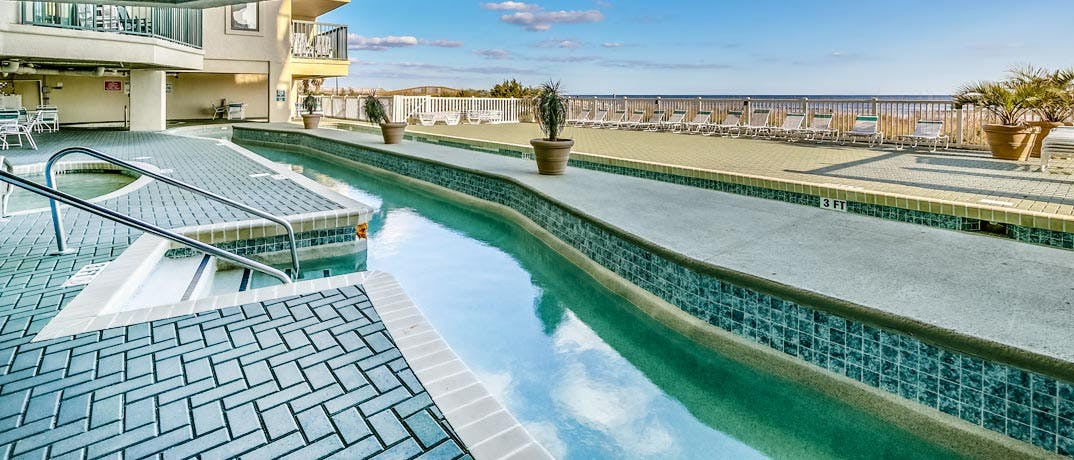 201 South Ocean Blvd, North Myrtle Beach, SC 29582
Speaking of Main Street, you can find the next top lazy river nearby at Ocean Bay Club. This condo complex will have you in a trance with a location just steps from Main Street and beautiful condos that will truly make your vacation complete. The lazy river at Ocean Bay Club is on the oceanfront pool deck and is a family favorite along with the numerous other pools and hot tubs.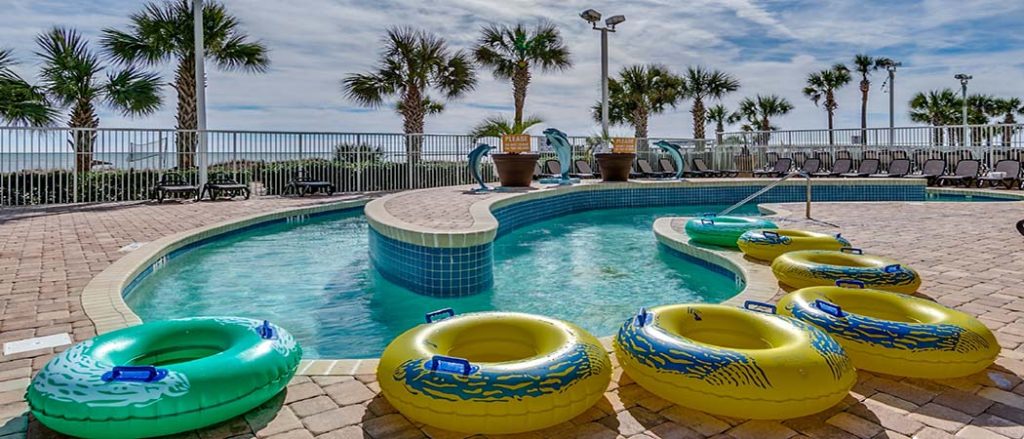 5200 North Ocean Blvd, Myrtle Beach, SC 29577
Of course, if you're looking for a family favorite, it's a given that we would include Dunes Village in this list. Dunes Village is home to, not one, but two huge waterparks that feature massive indoor and outdoor lazy rivers, water slides, pools, hot tubs, and all-around pool-loving fun. Dunes Village has a list of amenities that's too large to mention here, but it's certainly a resort to consider for a family vacation to the Myrtle Beach!