Now Open: Lucy Buffett's LuLu's At Barefoot Landing
Ready for some "fun, food and music"? That's the tagline of Lucy Buffett's LuLu's—North Myrtle Beach, one of the newest North Myrtle Beach restaurants that just opened in Barefoot Landing, and that's exactly what you'll get. So, get ready!
Jimmy Buffett's little sister, Lucy, expanded her own dining dynasty into Myrtle Beach from her two original LuLu's locations: LuLu's Destin, FL, and LuLu's Gulf Shores, AL. The restaurant concept, however, remains the same: a waterfront setting that features a family-focused experience, including a sandy beach, a Fountain of Youth splash area, a huge climbing ropes course, arcade, boat dock, live music each night, and a gift shop stocked with gifts like Lucy Buffett's new cookbook, "Gumbo Love."
LuLu's is situated on the banks of the Intracoastal Waterway between Greg Norman's and the former TBonz. Expect to dine on Southern specialties made with love, such as LuLu's Famous Seafood Gumbo; the specialty "Pa-menna" Cheeseburger, a half-pound burger stacked with Pa-menna cheese (pimento cheese), bacon, fried green tomatoes and French fries; any of the fried seafood baskets; and the Hot Fun Krispy Kreme Bread Pudding for dessert. LuLu's even caters to those with food sensitivities and allergies, with special allergy menus (gluten-, egg-, seafood-, shellfish-, dairy-, and soy-free), and a separate section of the kitchen for special prep.

In tandem is a fun drink menu, featuring LuLu's own beer, the Crazy Sista Honey Ale, an endless list of margaritas, and frozen drink options fresh from the blender.
For more info on LuLu's Barefoot Landing, visit LuLu's website.
If you're planning on having more "fun, food and music", plan on staying at one of these nearby Condo-World resorts:
North Beach Plantation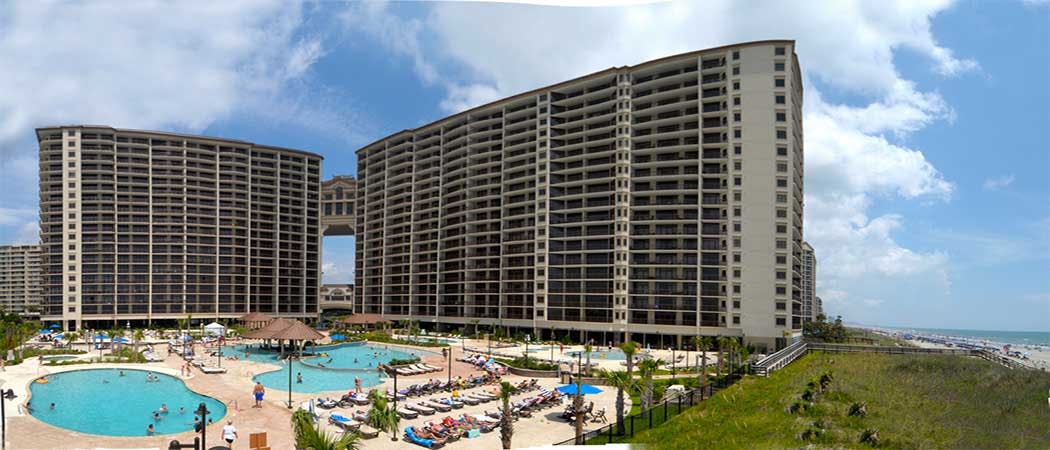 Located just down the road from LuLu's, this resort is a majestic castle rising high above a 7 ½-acre island between the Atlantic Ocean and Whitepoint Swash in North Myrtle Beach. Luxury oceanfront condos overlook the ocean in either of the towers or The Bridge, where the posh seven-bedroom penthouse boasts breathtaking bird's-eye views of the Atlantic. A Caribbean-themed layout of amenities include a 2.5-acre oceanfront water park, which features multiple pools, such as an infinity pool and swim up pool bar, an indoor pool, lap pool and several hot tubs, plus waterfalls and cozy cabanas. Then there are North Beach's Cinzia Spa, renowned for its award-winning massage and facial services, and the popular 21 Main Restaurant, serving up the finest wines, steak and sushi fare on the beach.
Barefoot North Tower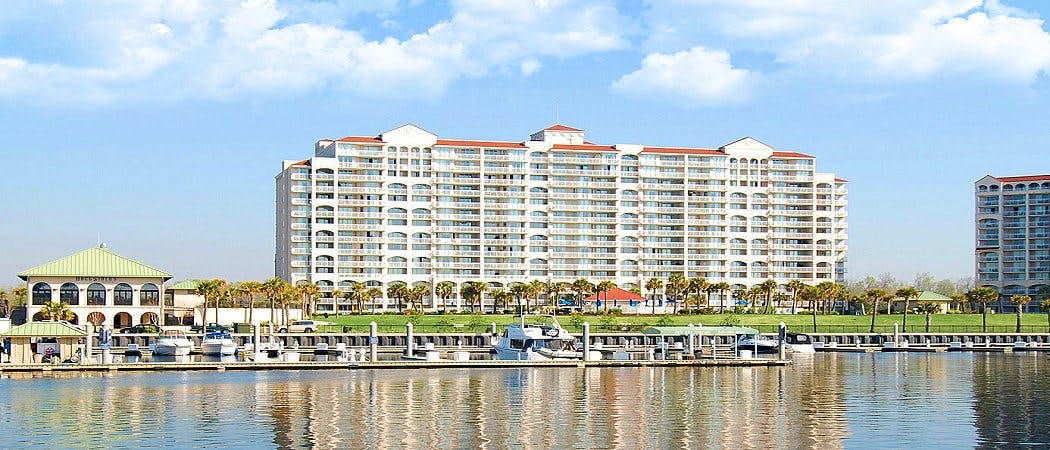 This resort is the definition of a luxury stay. Overlooking the Intracoastal Waterway and one of the largest pools in South Carolina, the North Tower offers priceless views and a wealth of amenities in each condo and throughout the property. Each one-, three- and four-bedroom condo is appointed with designer furnishings and spacious floor plans. Within Barefoot Resort, there are also four championship golf courses anchored by a stunning clubhouse; just across the river, there's Barefoot Landing, featuring more than 100 shops, restaurants and entertainment venues.