Whether you're looking to fish, or want to take in the beautiful blue green emerald waters of the Gulf of Mexico, or even just witness some tremendous catches while walking down the pier, there are four Panama City fishing piers to choose from. Three are located on the Gulf of Mexico and one on a lagoon.
Main Piers
Two of the main Panama City piers date from 2009 and 2010, and are identical. These two prominent fishing piers are Russell-Fields Pier (the City Pier), located at 16101 Front Beach Road, Panama City Beach, Florida, and the M.B. Miller County Pier, located at 12213 Front Beach Road, Panama City Beach, Florida. With an impressive 1,500 feet, these two piers are constructed from concrete in order to resist hurricane damage, and boast the longest twin fishing piers on the Gulf of Mexico. Open year round, fish caught in season include Cobia, King Mackerel, Spanish Mackerel, Red Fish, Blues, Blue Liners, Pompano, Flounder, Hardtails, etc. Fishing rods, bait and tackle are available on site. $6 will buy you a daily fishing license for either pier, $3 for a day pass to Russell-Fields, and $2 for an M.B. Miller day pass. And if you're a part of the military, you can get ½ price daily fishing for $3!
Russell Fields Pier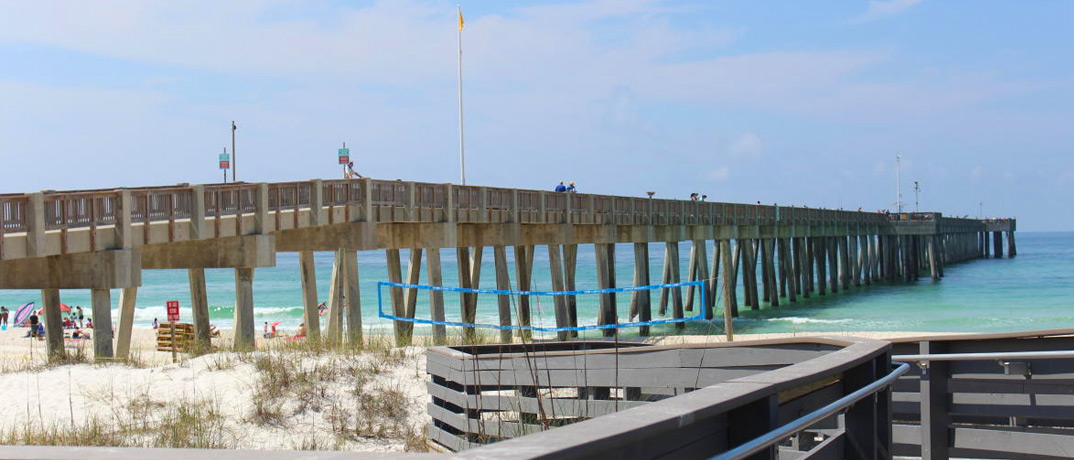 The Russell Fields Pier is one of the area's most popular tourist attractions. This pier not only offers fabulous fishing, but also breathtaking sunrise and sunset views and amazing marine life. This Panama City Pier also has an adjacent beach called the City Beach which has lifeguards stationed from April through September, from 10 a.m. to 6 p.m. 11 volleyball courts are also available, and the beach is dog-leash friendly. Come on out, pack a picnic, dip your toes in the sand and enjoy these Panama City Beach fishing piers!
St. Andrews State Park Piers
Two other Panama City piers are located in St. Andrews State Park, located at 4607 State Park Lane, Panama City Beach, Florida, with one on the Gulf – The Tiller Pier – and the other one on the protected waters of the Grand Lagoon.
The Tiller Pier
The Tiller Pier is a tall wooden pier on the west end of the park, with a picnic pavilion and a beach store. Go here for fishing and of course, a fabulous view of the crystal clear water of the Gulf of Mexico. If you look east, you can see a rock jetty near the inlet, and if you look west, you will see all the high-rise resorts of Panama City Beach.
Grand Lagoon Fishing Pier
The Grand Lagoon Fishing Pier is over to the north of the park, and offers anglers a different experience from fishing in Gulf waters. There is a charge to enter the state park, with no charge to fish or walk on both of these piers. St. Andrews State Park has been called the Best Beach in America by Dr. Beach, and is one of the most popular and visited state parks in Florida. It's bordered by the Gulf of Mexico to the south, the St. Andrews pass to the east, and the Grand lagoon to the north, and it's never boring exploring the shoreline here! The state park has re-opened for partial day-use recreation and limited camping as they recover from Hurricane Michael.
Where to Stay
Sterling Reef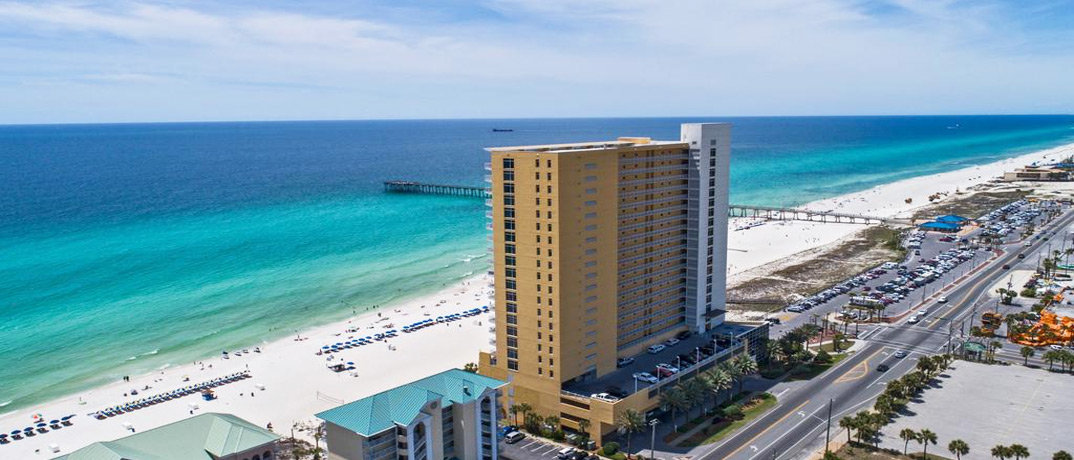 For spacious Gulf-front condos, check out the 2 & 3 bedroom condos at Sterling Reef. Private balconies, fully-equipped kitchens and unparalleled views of the Gulf of Mexico await you. Some of the exceptional amenities included here are a beach-side bi-level swimming pool, private beach area, high-speed Internet access, outdoor grill area, fitness center and activity area.
Boardwalk Beach Resort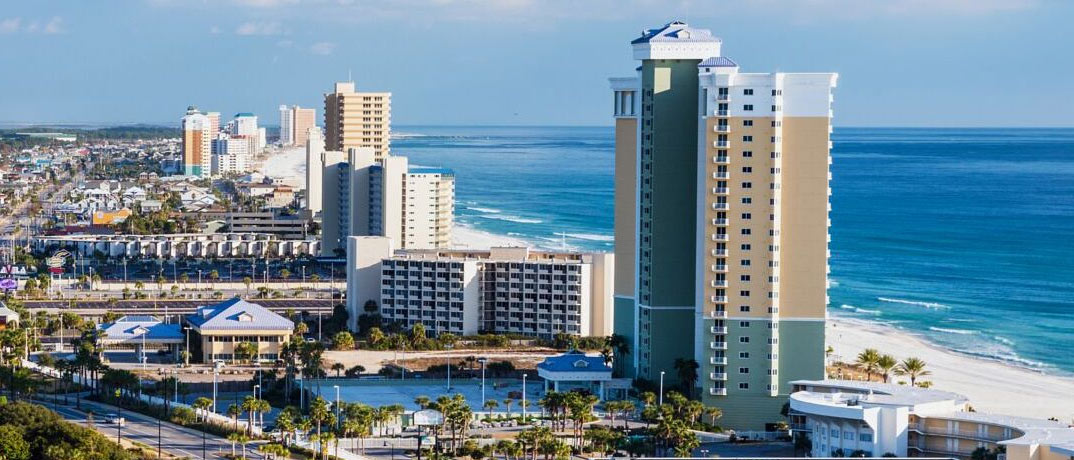 Also Gulf-front, is the elegant Boardwalk Beach Resort. Take in the magnificent panoramic views of the emerald green waters and sugar white sand beaches from this 22-story high rise complete with 16 acres of private beach, a 2,500 square foot heated beachfront pool, a Gulf front pool, two hot tubs, a beachfront bar and grill, an arcade and game room, and a state-of-the-art fitness center with a sauna and steam room. You can't go wrong with either of these fine choices offered by Condo-World.