It's sweet summertime along the Emerald Coast, and what better way to spend those hot summer nights than enjoying live music from talented entertainers. Visiting Panama City Beach isn't limited to beach-only activities! After a day in the sun, cool off in the summer breeze and relax at a concert during the PCB Summer Concert Series. Or, grab your boogie shoes and get ready to dance the night away!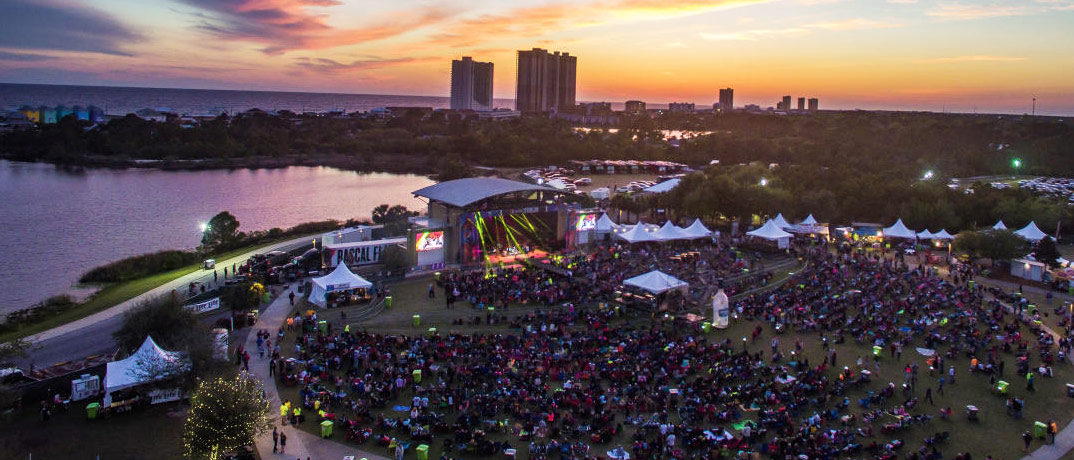 What's turned into a beloved summertime tradition along the Emerald Coast, this series of free concerts in the park are located at Aaron Bessant Park, and guests are invited to bring lawn chairs, coolers, food, and even pets!
All are invited to enjoy this summer concert series in Panama City Beach happening every Tuesday night from July into September!
The 2021 PCB Summer Concert Series Lineup
July 6 – Sound Arcade (Retro 80s)
Step back in time with one of Panama City's favorite 80's band!
July 13 – The Deja Vu Band (Country/Rock/Motown)
Versatility is the name of their game! Anything from Classic Rock to Pop to Country to Motown and everything in between. This experienced band brings a super good mix of vocals with a driving edge of showmanship!
July 20 – Anthony Peebles (Alternative)
A native of the northwest Florida panhandle, Anthony Peebles has the gift of an expansive range and tone which goes from pure and soothing to soaring and edgy.
In 2015, Anthony signed with First Note Entertainment, and spent the next year recording with Grammy-nominated producer Dave Brainard.
Having recently opened for multiple national artists, Anthony has also found success in the world of FIlm & TV. His most recent placement was on NBC's "Council of Dads" latest placement on ABC's Grey's Anatomy also saw him featured in a promo clip of the episode with more than 800,000 views on Facebook and over 300,000 views on Youtube.
July 27 – Me Like Bees (American Indie Rock)
Me Like Bees is an Indie Rock band hailing from the heart of Joplin, Missouri. In 2013, they released their first full length record "The Ides" (LoveWay Records) produced by Jeff Smith (Never Shout Never, Trust Company, Carter Hulsey).
In June of 2013, Me Like Bees won a spot to compete in the Ernie Ball Music Man Battle of the Bands (17th Consecutive Year). After surpassing many opponents and outlasting over 20,000 other bands they advanced to the final round. Me Like Bees won the final showcase at the House Of Blues in Hollywood California in January of 2014.
August 3 – The Selfless Lovers (Soul/Rock/Blues)
The Selfless Lovers are a piano-driven rock n' roll band from Austin, Texas. The group's original music draws on classic rock, soul, blues and southern rock influences. The Selfless Lovers are a must-see live act; showcasing an energized retro sound, fantastic musicianship and danceable original songs. The band's singer even plays saxophone and piano at the same time during the set.
August 10 – Kris Lager Band (Revivalist Rock/Heavy Soul)
Kris is a Lincoln, Nebraska native and a family man who has built a reputation for refusing to play by industry rules or pander for awards and accolades. He is truly a one of a kind performer who hits the stage with an intense purpose of uplifting and engaging audiences while delivering his flavorful gumbo of rhythms and melodies.
Kris will also play a little keyboards, shimmy around the stage, attempt to connect with everyone he makes eye contact with, and offer up a healthy dose of his signature 'soul clappin'. This just scratches the surface of a genuine artist who has a powerful vision of what music can do to raise the human spirit and condition. You must see it, hear it, and dig into the vast KLB catalogue for yourself to fully understand and appreciate this musician on a mission.
August 17 – Horseshoe Kitty (Party Rock)
The Ultimate 90's Rock Cover band was formed in late 2016 to pay homage to the last golden decade of guitar driven rock: the 1990's. The goal was to assemble an all-star super group of seasoned players to give the genre its proper due. Each member of Horseshoe Kitty has clocked thousands of hours in both the studio and stage and have performed all over the Gulf Coast region . Known for their ability to sound exactly like your favorite 90's rock radio hits – Horseshoe Kitty specializes in replicating the studio recordings of the 90's rock genre and beyond – bringing each hit back to life on stage in an authentic concert experience. Their attention to detail is the reason why many are already referring to them as the Area's premier 90's rock cover band.
August 24 – Loud Planet (Premiere 70s, 80s, 90s)
Panama City's own 70s, 80s and 90s rock extravaganza, this band utilizes lighting, sound and video production as part of every show for a spectacular performance.
August 31 – Natalie Brady & The Nite Owls (Country Rooted/Pure Soul)
Natalie Brady & The Nite Owls are making their presence known. Every show, every song. Each one a testament to the roots, rock and soul it took to get on the road to here with so much left ahead along the journey to the top.
September 7 – Jason Lee Mckinney Band (Rock/Soul/Country)
Jason Lee McKinney is a two time nationally signed recording artist, powerhouse vocalist, and songwriter. McKinney blends a snarling musical underbelly full of equal parts trained prowess and an almost out of control piss and vinegar attitude; soaring sing along hook melodies, with lyrics that are raw and raucous, reflective and radiant; simultaneously weaving a narrative that is both uniquely his and everyman's story.
He is an intellectual troubadour who writes and sings from the depths of an earthy soul; all with a business resume that would match most C level executives. McKinney holds a Doctorate, an MBA, and BA in Management. McKinney's dissertation is a comparative study of downscoped specialization versus centralized diversification as organizational strategies in the transforming recording business.
Stay Close to the Entertainment
If you're looking for great entertainment while visiting Panama City Beach this summer, look no further than the many options within walking distance, or just a short drive, from Aaron Bessant Park and the Pier Park entertainment megaplex.
Pier Park is home to vibrant shopping, dining, and entertainment, with just about everything imaginable including over 100 stores, the Grand IMAX movie theater, laser tag, live music, amusements rides, plenty of dining options, sweet treats, and retail shopping to meet every need. It's a "must visit" destination for fun, food, fantastic shopping, and entertainment for the adults and kids alike… and just a short drive to the beach!
Panama City Beach Condos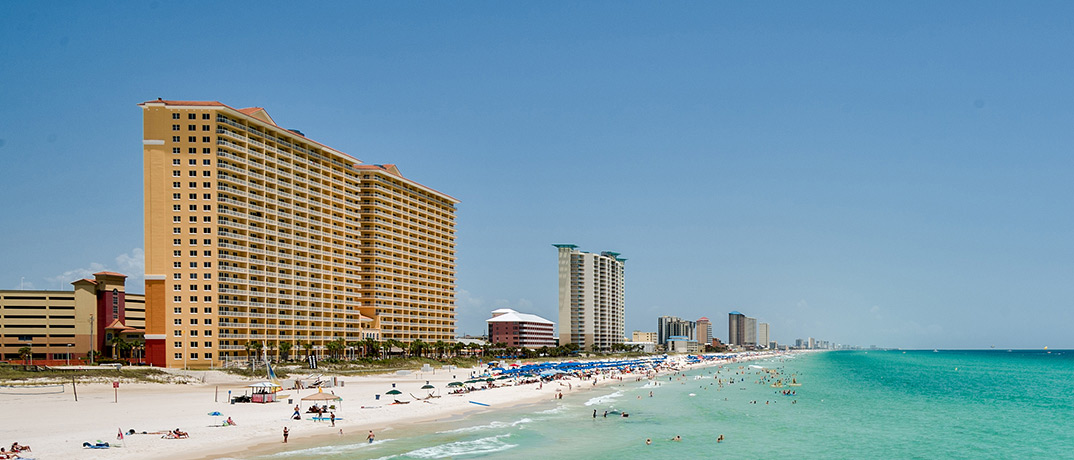 If you're looking for Panama City Beach condos just a few steps or a short drive from the PCB Summer Concert Series at Aaron Bessant Park or all the fun that Pier Park has to offer, check out Calypso Resort or Aqua Resort.
Event Summary
Name
​
Panama City Beach Summer Concert Series
Location
​
Aaron Bessant Park

,

600 S Pier Park Dr

,

Panama City Beach

,

FL

-

32413
Start Date
End Date
Description
Come to Aaron Bessant Park every Tuesday in the summer for a free concert from some of the best local bands and artists! Bring chairs and coolers, and enjoy the music!