Enjoy some ambiance with your seafood! Myrtle Beach has many oceanfront restaurants where you can watch the ocean waves while you enjoy fresh crab legs and a martini. Sit over the water at one of the piers or enjoy a beachfront restaurant like the Sea Captain's House, which is a locals favorite and a historical landmark in Myrtle Beach.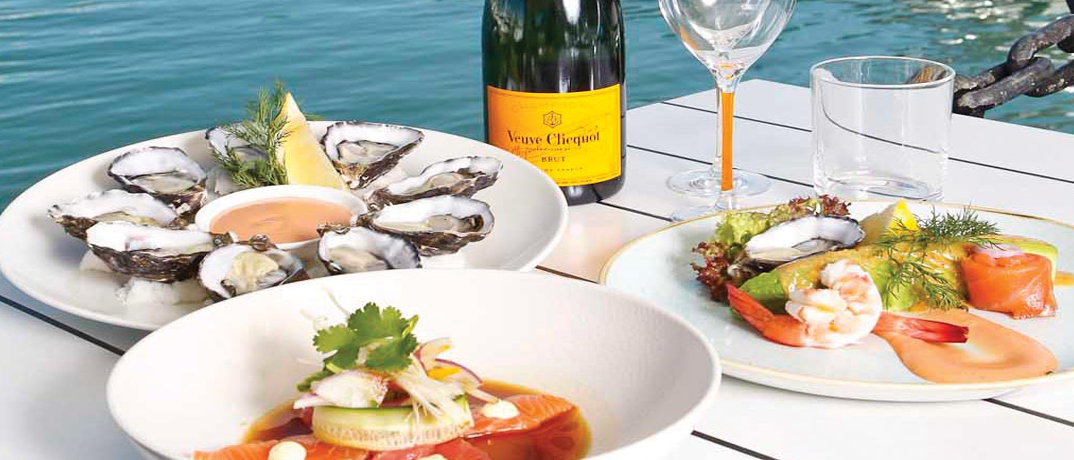 There are many Myrtle Beach restaurants on the beach and at local attractions. The Myrtle Beach Boardwalk technically runs between the two piers, but that same stretch of road is home to oceanfront dining. Find these options and more below!
Pier 14 – 1306 North Ocean Blvd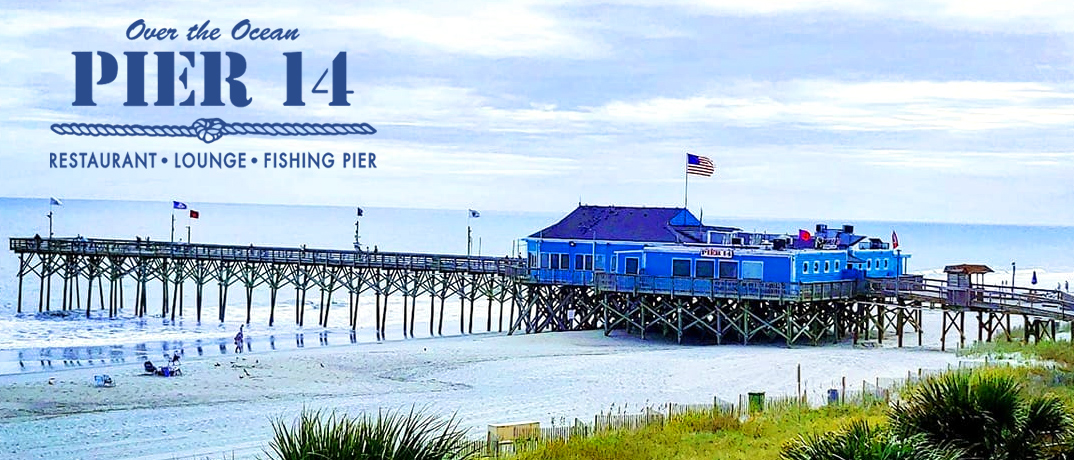 Enjoy fine indoor dining or outdoor casual seating above the Atlantic ocean at Pier 14. Their menu has a wide variety of crab cake sandwiches to crab legs and bacon cheeseburgers. Not in the mood for food? They have a full bar as well! Sit at the bar and watch the game or cake a drink out onto the pier and look at the ocean. If you purchase food or drinks at Pier 14 you can access the pier for free, but if you go through the gift shop you can pay a small fee to access the pier and even go fishing.
Wicked Tuna at the Pier – 2nd Ave North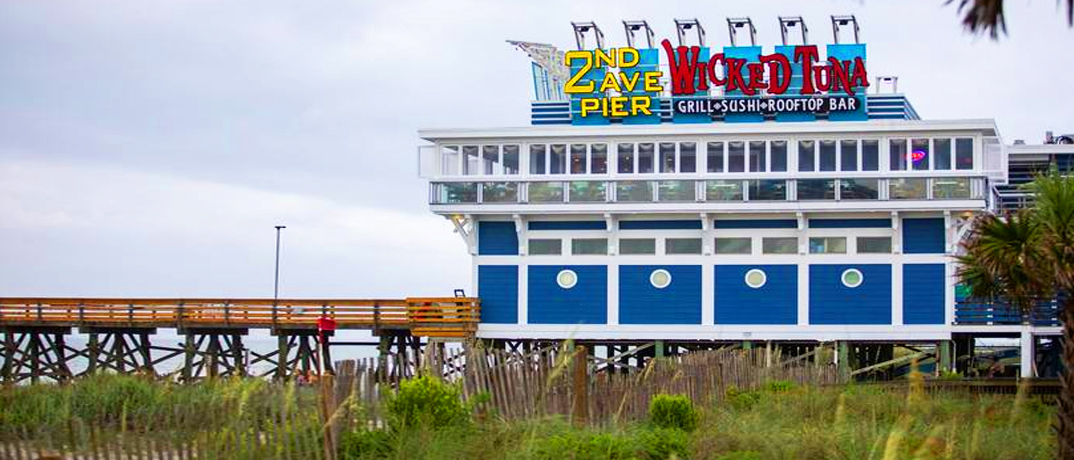 On 2nd Ave N and Ocean Boulevard you can fish and eat with friends! Walk 900 feet out over the Atlantic ocean and then have dinner at Wicked Tuna. The Second Ave Tackle and Bait Shop has everything you need to fish and they set off weekly fireworks during the summer. Enjoy a beautiful meal in the glass-enclosed restaurant sitting over the ocean today!
Sea Captain's House – 3002 North Ocean Blvd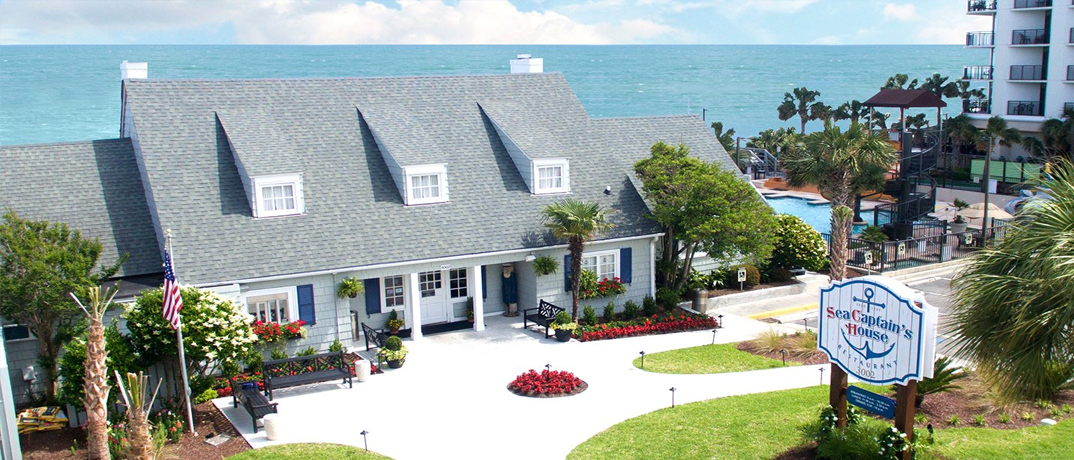 The Sea Captain's House has been a local's favorite for many years and is a staple restaurant in the history of Myrtle Beach. They offer a breakfast, lunch and dinner menu as well as a delicious breakfast buffet. Enjoy a bowl of their famous She Crab Soup or a dish of Avocado Seafare. They have a separate menu for their outdoor seating and they have menus for children, happy hour, desserts, gluten free, vegetarian, and an extensive wine list.
Oceanfront Bar & Grille – 9th Ave North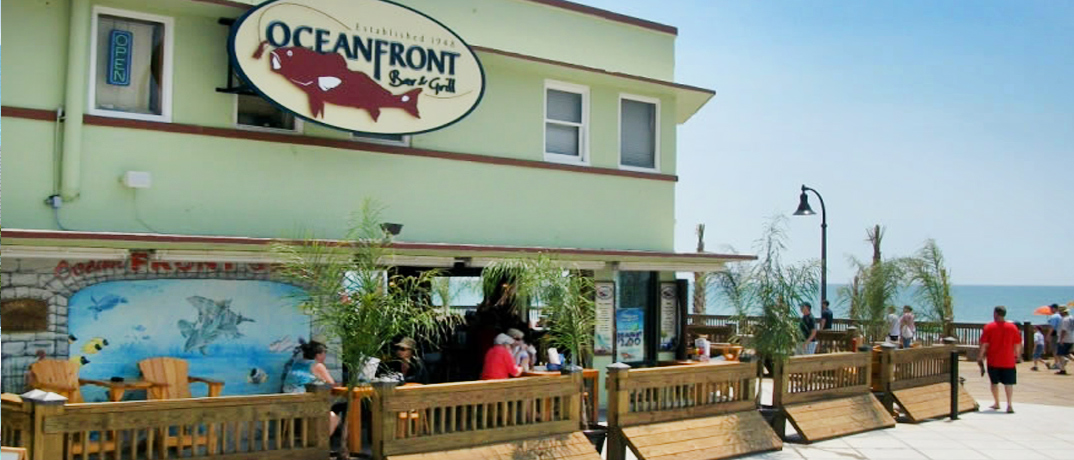 Enjoy an oceanfront lunch or dinner on 9th Ave North in Myrtle Beach or order online from uber eats! They have appetizers and salads to start with and a delicious boardwalk dessert menu. For lunch you can choose from Po-Boy subs, sandwiches and hot dogs and if you stay for dinner make sure to order some southern seafood. Bring the little ones and take advantage of the children's menu as well!
RipTydz – 1210 North Ocean Blvd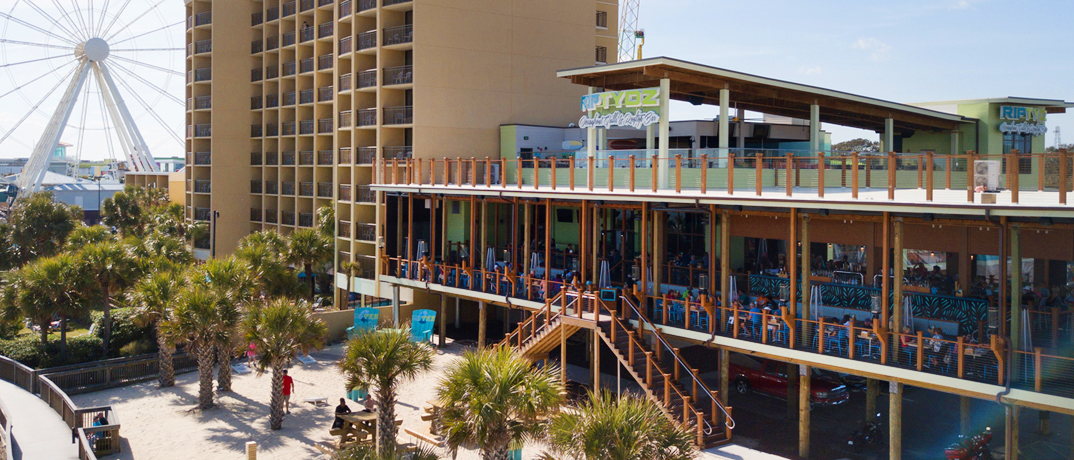 If you're looking for a wide variety of menu items, views and entertainment, check out RipTydz today! This is a three-story building with two floors of oceanfront seating. RipTydz has everything from appetizers, salads, burgers, tacos, sandwiches, seafood, steak, chicken, porkchop, ribs and desserts. Whether you come during lunch, dinner or after-hours, you will not be disappointed with the view or atmosphere.
Bummz Beach Café – 2002 North Ocean Blvd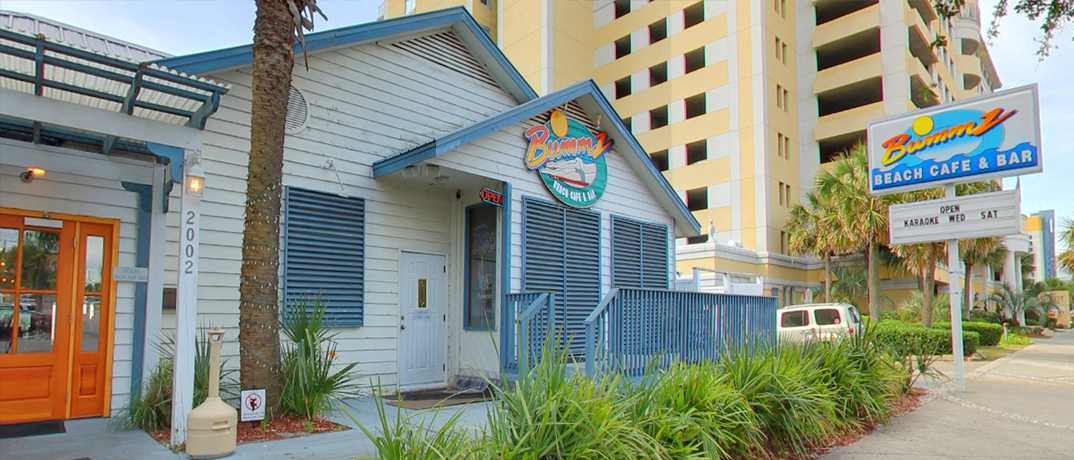 Whether you are looking for seafood or landlubbers dishes, Bummz is a good spot to grab a bite and look at the Atlantic. Have an appetizer of Grouper Fingers, a full pound of fresh shrimp, wings soup or salad to get started. If you're at Bummz for lunch or dinner, choose from tacos, burgers, sandwiches, blackened grouper, fish-n-chips, steak or ribs. They have a separate kids menu and drink menu, too.
Damon's – 2985 South Ocean Blvd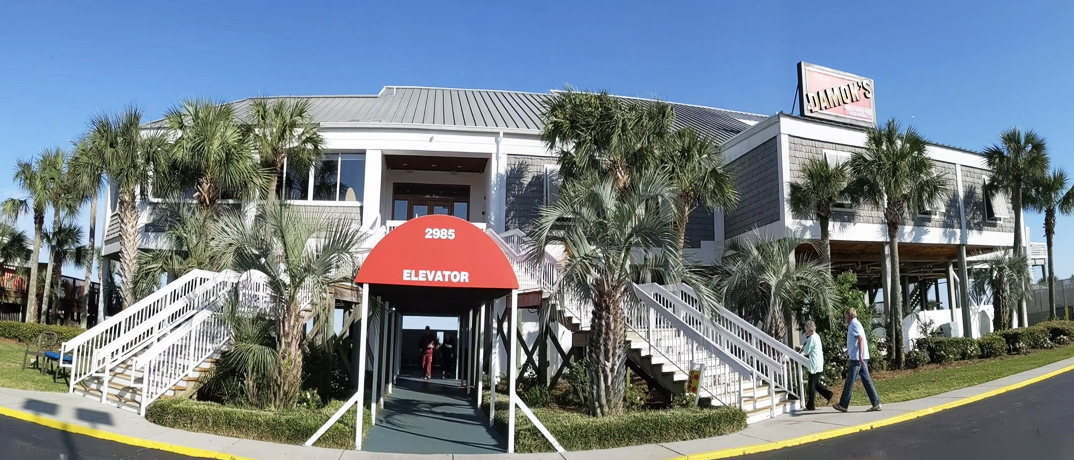 If you love ribs with your oceanfront views, Damon's is the place to be! They are famous for their meaty menu including meat loaf, pot roast, steak, pork, chicken, sirloin burgers and plenty of ribs. Visit the full service bar for your favorite beverage, appetizer and dessert before you go and if you're here for lunch, grab a sandwich or soup too!
Banditos – 1410 North Ocean Blvd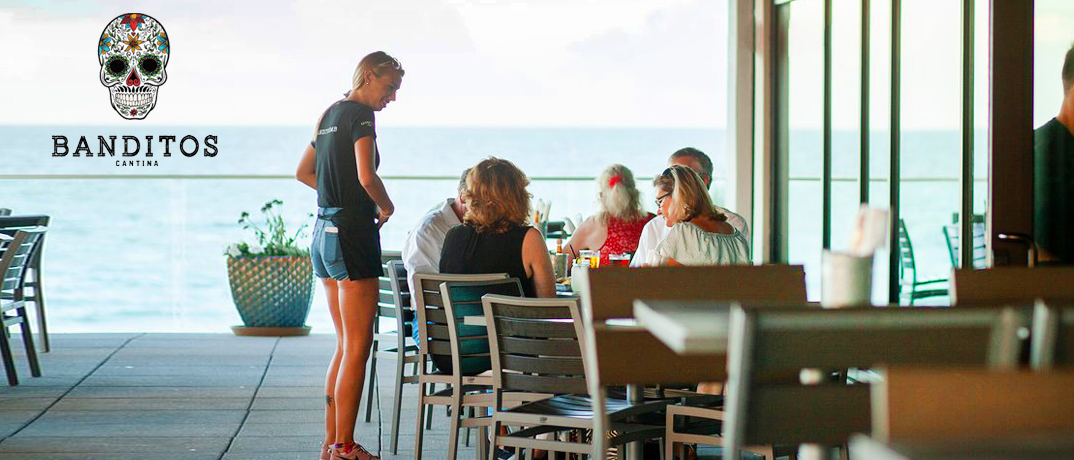 Are you in the mood for margaritas and Mexican food? Then Baditos is the place for you! Right on the boardwalk, you can look at the beach while eating a baja burrito. Watch the waves roll in while you are enjoying a salad, burger or taco and something from the drink menu. Margaritas, Tequila, Cocktails, Beer and Wine are all available at Banditos!
Moe Moon's – 918 North Ocean Blvd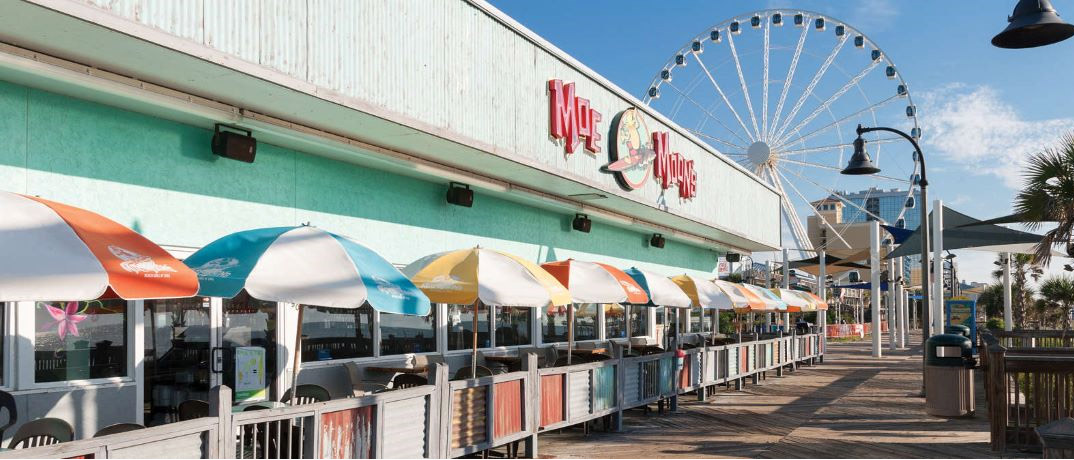 Moe Moon's is located right on the boardwalk, so you can stop by and enjoy a tropical lunch or dinner after taking a walk in the sand. If you're in the mood for seafood or grilled foods, Moe Moon's has it! Their menu includes everything from appetizers, salads, burgers, sandwiches, tacos, ribs, pulled pork and pineapple chicken. Or you can just stop in for a fishbowl or blender blaster and continue walking the boardwalk.
Beach House Bar & Grill – 1205 North Ocean Blvd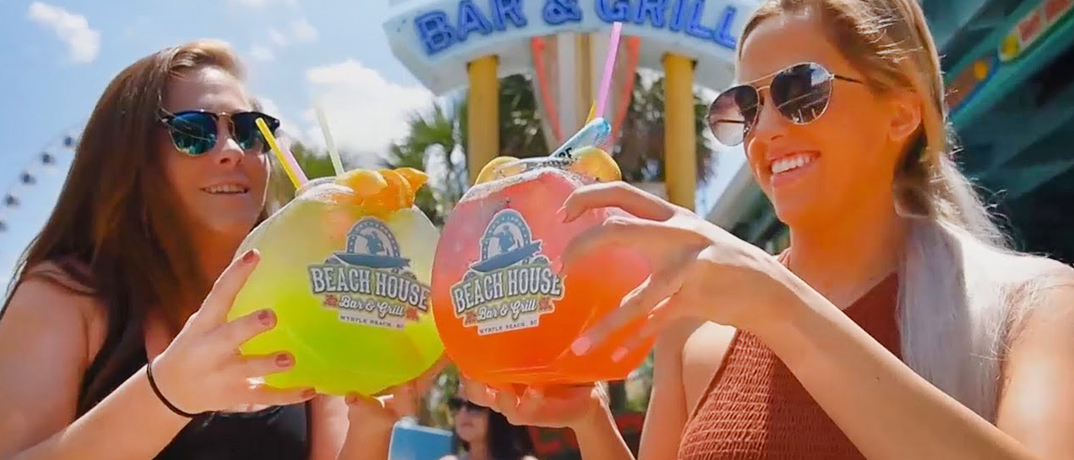 The Beach House on the boulevard is the best place to go for the beach and burgers. They have a long menu full of surf-atizers, grilled foods, wraps, seafood, sandwiches and salads. The view is just as good as the food and you can't miss the opportunity to have a drink and watch the waves.
Loco Gecko Beach Shak – 805 South Ocean Blvd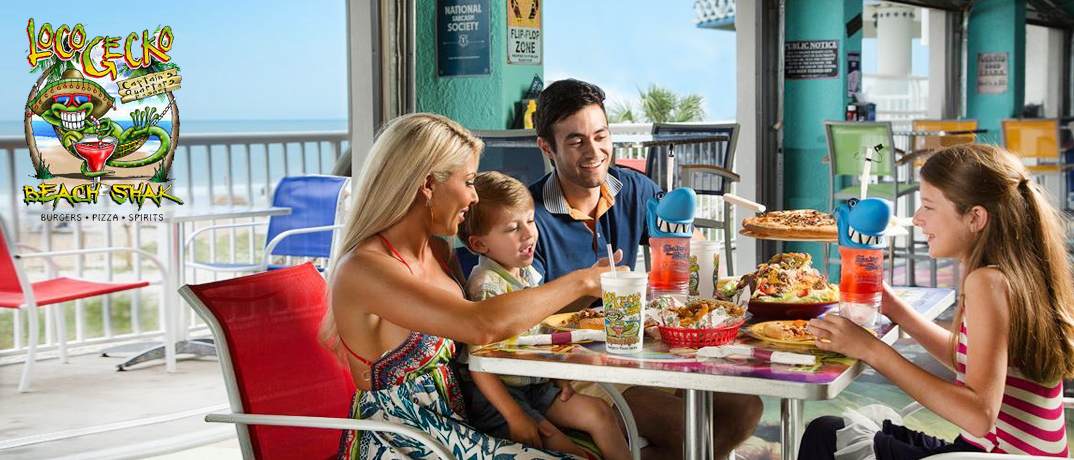 If you want a great place for nightlife and still having a great view of the ocean, Loco Gecko is where you need to go! Make sure to stop by the Gecko Shop after you've had a full lunch or dinner. Appetizers, burgers, sandwiches, wraps, baskets, salads, pizza and sides are all waiting for you! They also have a separate kids menu and dessert menu as well.
Landshark Bar & Grill – 1110 North Ocean Blvd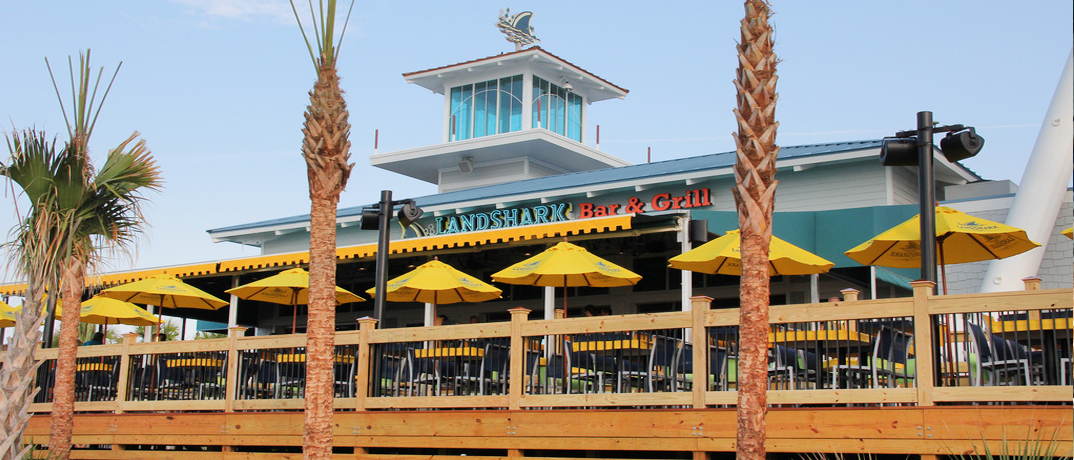 Right under the SkyWheel, you will find the Landshark Bar & Grill with nachos, wings, tacos, salads, sandwiches, stir fry, combo baskets and bowls, burgers and desserts. They offer a kids menu and, for the adults, a full alcoholic beverage menu. Landshark has a License to Chill and many other margaritas and other drinks to choose from.
Sharkey's Oceanfront Restaurant – 600 North Ocean Blvd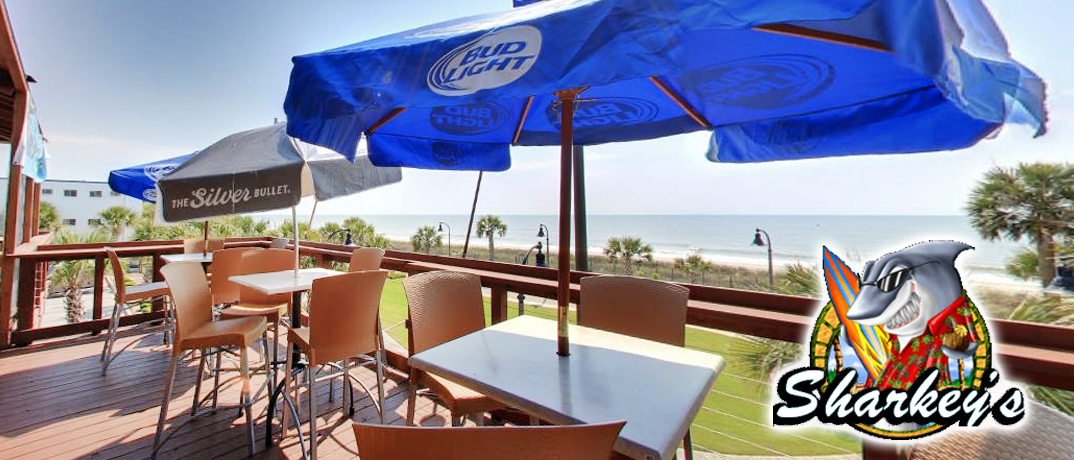 Sharkey's is another local's favorite for food and drinks on the ocean. Enjoy a salad, appetizer, sandwich or entrée while you look over the Atlantic. There is a specialty kids food and drink menu available, as well as frozen and tropical delights or the adults.
Make sure to experience one of the Myrtle Beach restaurants on the ocean the next time you come to visit. Enjoy the beach with your breakfast, lunch or dinner!
Where to Stay
Caribbean Resort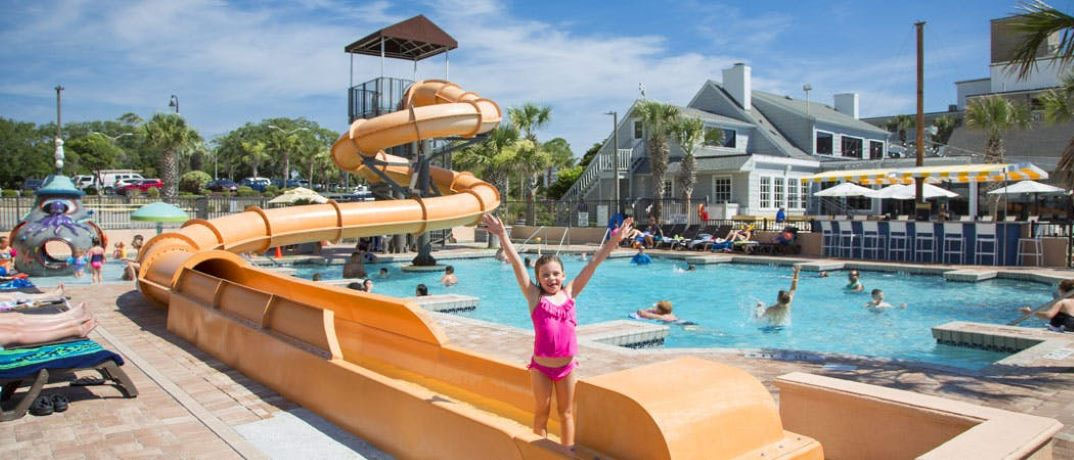 The Caribbean Resort is located on 30th Ave North in Myrtle Beach. The Sea Captain's House is located on-site and they serve an amazing breakfast buffet. This staple beachfront restaurant also has a delicious menu including She Crab Soup and Avocado Seafarer. After your done with lunch or dinner, come back to your three-bedroom oceanfront condo and watch the waves from your balcony.
Bay View Resort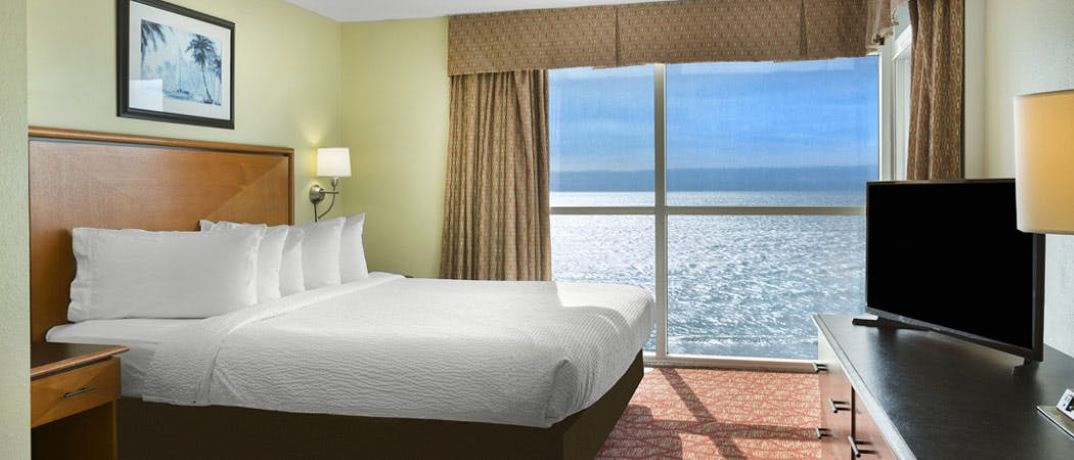 If you'd like to be near many of the beachfront dining options, you can stay right on the Myrtle Beach Boardwalk at the Bay View Resort. After walking back from RipTydz, Bummz Beach Cafe, Banditos, Loco Gecko or the Landshark, you can relax in the indoor pool. Choose from any of their one to four-bedroom penthouse condos and enjoy the beautiful views of the beach the next time you're on vacation.