Myrtle Beach is a melting pot of cuisines from around the globe, which includes restaurants rolling out some of the best sushi this side of the Asian continent. Here are a handful of our top picks in the Myrtle Beach and North Myrtle Beach areas that we recommend you check out for yourselves while you're staying here!
Co Sushi
3098 Deville St., Myrtle Beach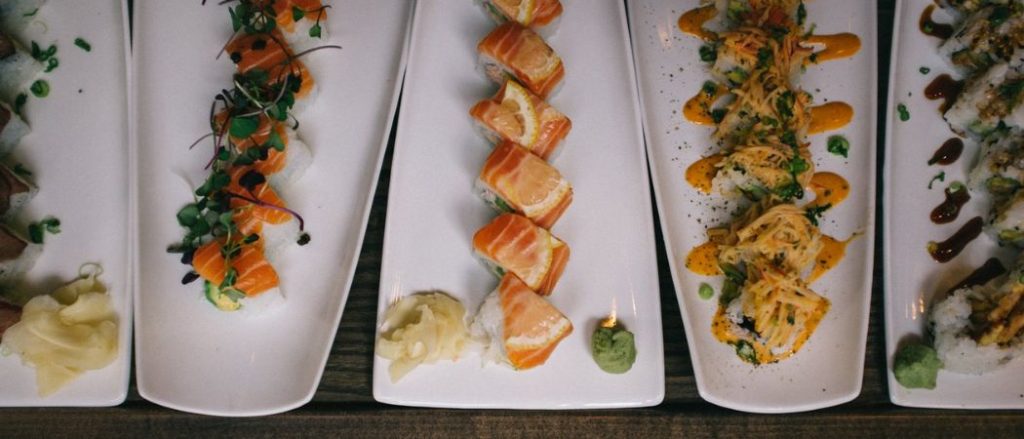 Located in The Market Common next door to the movie theatre, Co Sushi is a swanky spot serving the bright, bold flavors of Southeast Asia. The café has several locations throughout the Carolinas, and we think you'll love your dining experience – either indoors or out on the patio – here in Myrtle Beach. Choose from a plethora of fresh makimono rolls, nigiri, and sashimi, pressed sushi prepared with maze gohan rice, maki or temaki, or sushi small plates. Co Sushi is just a short drive to hotels near the Boardwalk!
Aquino's Japanese Steakhouse & Bar
4201 Highway 17, Murrells Inlet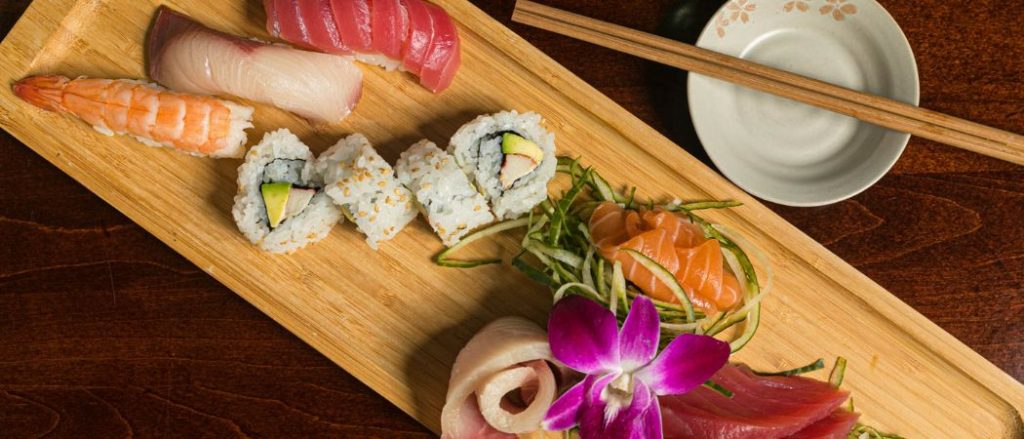 In addition to being known to be a packed house as a fun hibachi-style steakhouse restaurant to celebrate on the south end, Aquino's also knows its way around the sushi bar. They offer a long list of creative combinations. You won't be disappointed with Aquino's exotic surroundings and ordering sushi as a starter to dinner. Or, if you'd rather take a seat in the bar area and just stick to sushi, that's okay, too. Try their Myrtle Beach Roll on your visit which includes shrimp, cucumber, lettuce, smelt eggs, and a spicy mayo sauce. If you're staying in Litchfield Resort – this is just a short drive north!
Soho Steak & Sushi
407 21st Ave. North, Myrtle Beach
49715 North Kings Highway, Myrtle Beach
214 Main St., North Myrtle Beach (Coming soon!)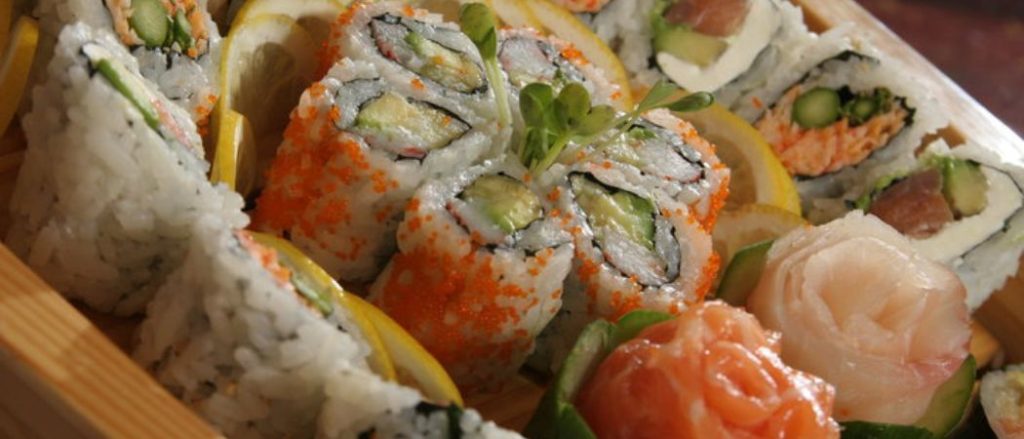 Pick a seat at one of Soho's several locations in the Myrtle Beach area – from the rooftop to the patio – and you're guaranteed to love it before you even see the lovely sushi presentations. From the Soho lunch box specials to sushi roll dinner platters. We love the Kamikaze Roll rolled up with salmon, avocado, tempura flakes, and spicy mayo. Whether you're staying in North Myrtle Beach or in the heart of Myrtle Beach there are plenty of resorts nearby.
Lil Tokyo Steakhouse & Sushi Bar
780 Coastal Grand Circle, Myrtle Beach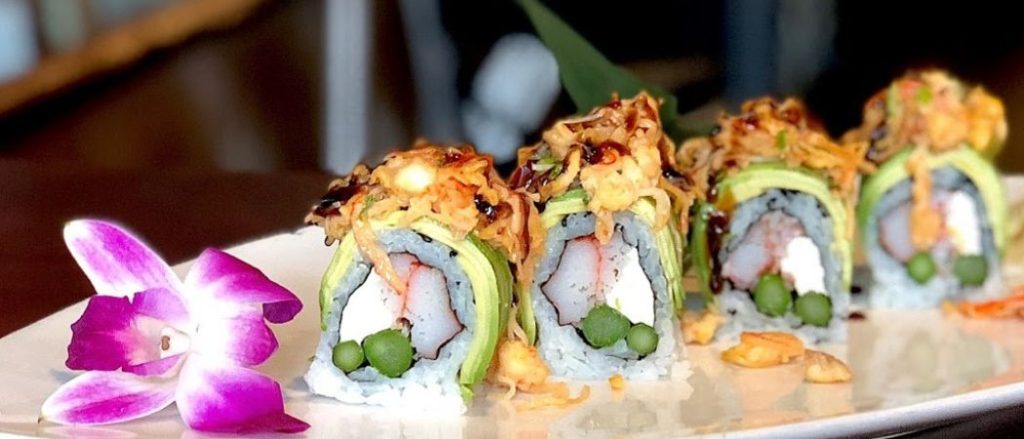 This combo hibachi-style steakhouse and sushi bar located just outside the Coastal Grand Mall is a cute eatery to stop in for sushi after a day of shopping. Sit at any of the high-tops or right at the sushi bar counter and order from the lengthy list of sushi selections, including riceless rolls, nigiri, sashimi, classic rolls, vegetarian rolls, and specialty rolls. Their special is a Spicy Tuna Salad mixed with avocado, cucumber, and orange with a spicy ponzu sauce.
Wicked Tuna
2nd Avenue Pier, Myrtle Beach
4123 US 17 Business, Murrells Inlet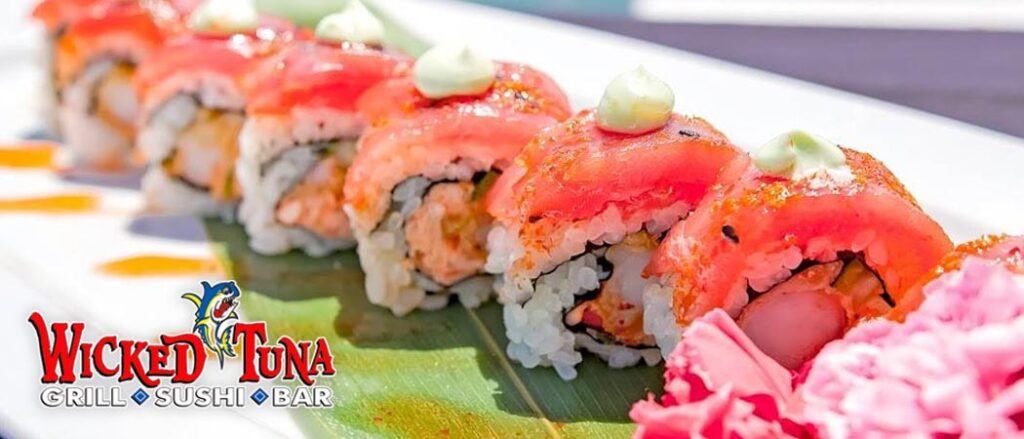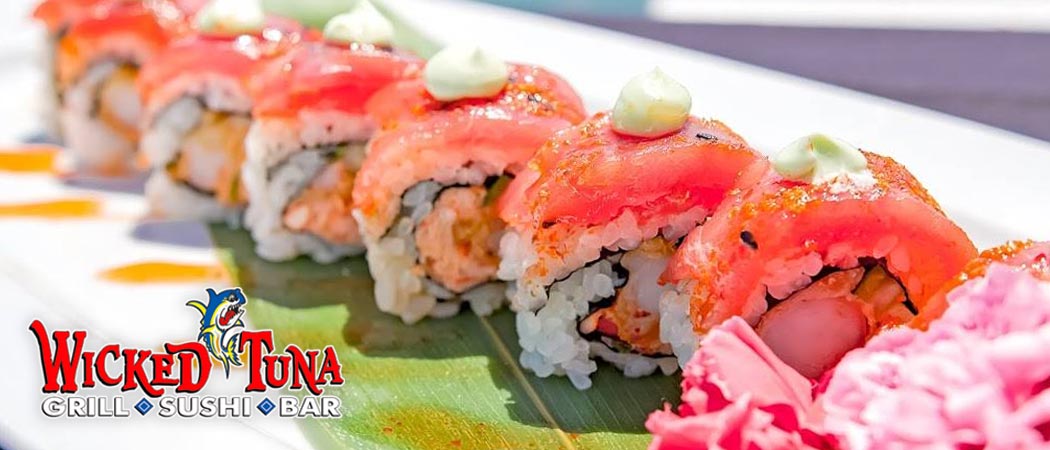 Fresh waterfront views and sushi go hand in hand, and Wicked Tuna has them both in its two beautiful locations on the 2nd Avenue Pier and Murrells Inlet creekfront. A host of sushi options await, such as sashimi, nigiri, and maki rolls. If you're looking for something unique (and delicious) try the Tuna Pizza! It's a lightly fried tortilla topped with ahi tuna, tomatoes, red onions, jalapeno, and queso fresco then topped with two special sauces.
King Kong Sushi
1306 Celebrity Circle, Myrtle Beach
2144 Oakheart Road, Myrtle Beach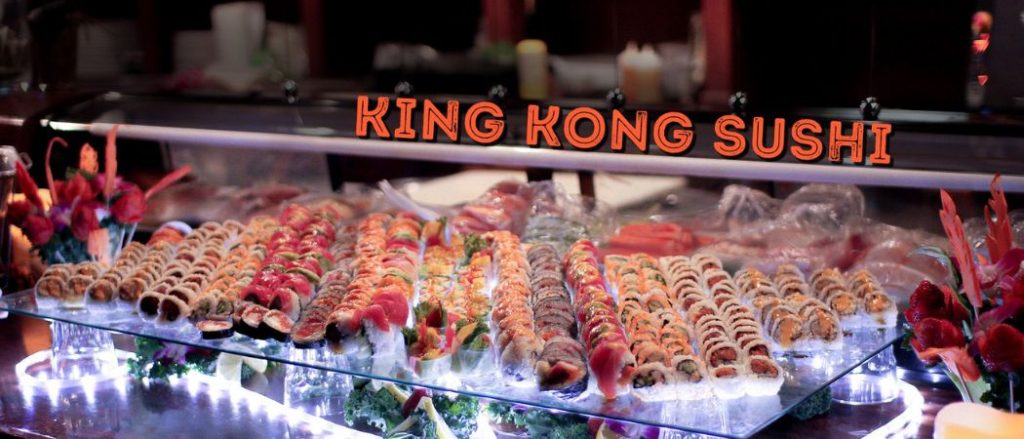 King Kong is big on sushi, as it should with that mammoth of a name! Both locations within Broadway at the Beach and Carolina Forest serve up cool, colorful vibes and an assortment of sushi, from riceless and specialty maki to maki, nigiri, and sashimi. Try their namesake specialty King Kong Roll, a deep-fried Kani salad roll, with spicy tuna, cucumber, avocado, wasabi mayo and eel sauce, sub sandwich style (available at the Carolina Forest only). Pro Tip: King Kong has a combination dinner for two that comes with soup, salad, edamame, an appetizer, and four rolls – affordable and definitely more than two people can eat! (Carolina Forest location only).
Yamato Japanese Steakhouse & Sushi Bar
1213 Celebrity Circle, Myrtle Beach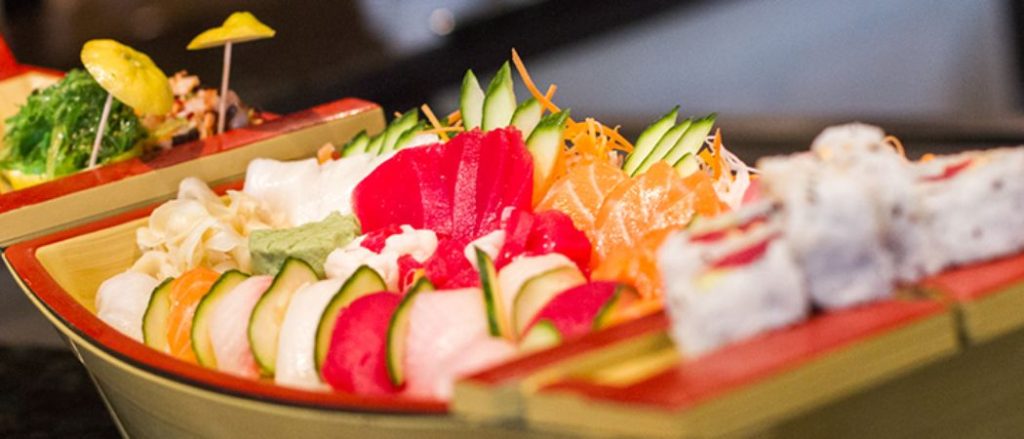 Another popular Japanese steakhouse, the lakefront Yamato in Broadway at the Beach has also been renowned for its sushi since opening in 1995. Their lobby sushi bar rolls up the regular offerings, plus amazing sushi specials, such as the Beef Asparagus Maki, asparagus wrapped with thin sliced NY Strip, cooked with teriyaki sauce, and topped with sesame seeds. You can also get traditional tableside hibachi at this popular Myrtle Beach restaurant.
The Grumpy Monk
4545 Highway 501, Myrtle Beach
1317 Celebrity Circle, Myrtle Beach
1409 Highway 17 S, Myrtle Beach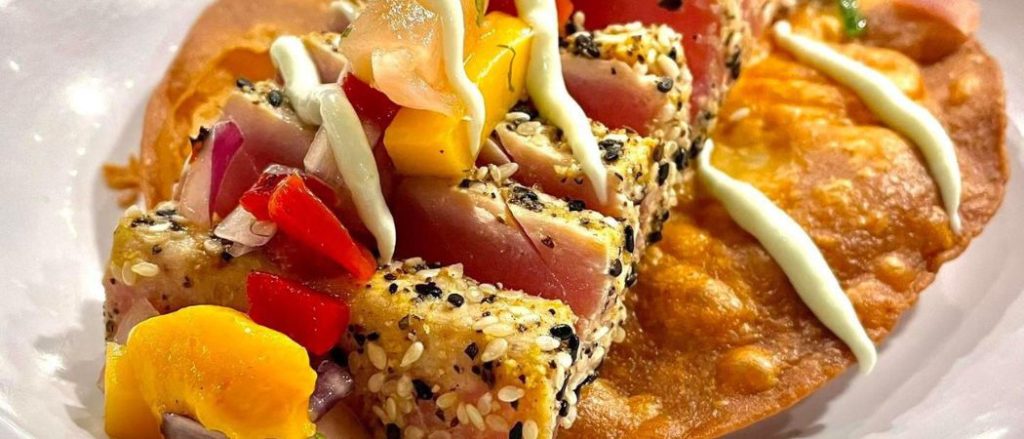 The trio of Grumpy Monk locations in the Myrtle Beach area feature menus that are packed with a wide variety of lunch and dinner offerings for just about any palate, including sushi foodie fans. The sushi menu doesn't list your typical combinations; try the Monk's Chicken Roll, blackened chicken, cucumber, teriyaki wasabi ranch, and eel sauce. They even make a Tuna Bacon Roll that comes with tuna, bacon, jalapeno, and topped with mango salsa. If you're staying in North Myrtle Beach, it's definitely worth trying the sushi at Grumpy Monk!
Kings Sushi
801 Highway 17 South, North Myrtle Beach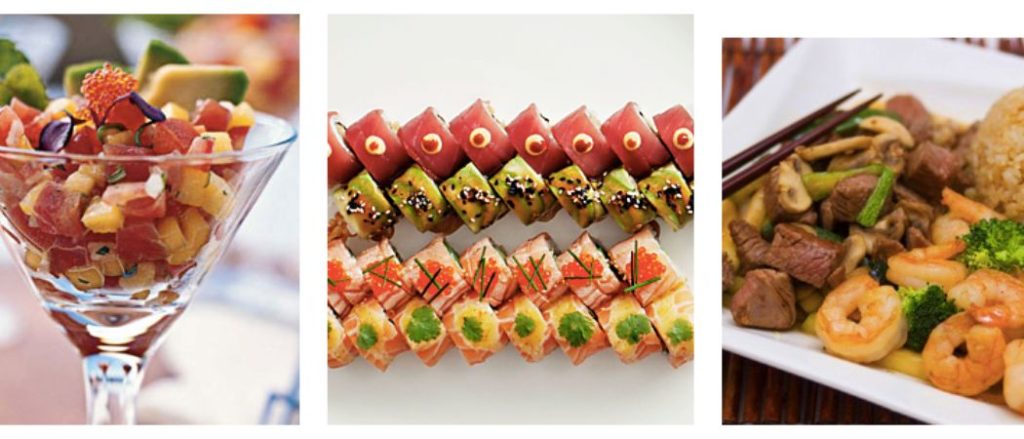 This casual Japanese eatery is definitely the royalty in the sushi market, with nearly 100 sushi offerings on the menu – plus, there is an all-you-can-eat option that includes appetizers and a dessert! One of the chef's specials is a Spider Roll with fried softshell crab, lettuce, masago, cucumber, and eel sauce. They also serve seaweed salad, kani salad, squid salad, and sashimi salad with assorted fish. Kings Sushi is just a stone's throw from many North Myrtle Beach resorts.
Filet's Waterfront
2120 Sea Mountain Highway, North Myrtle Beach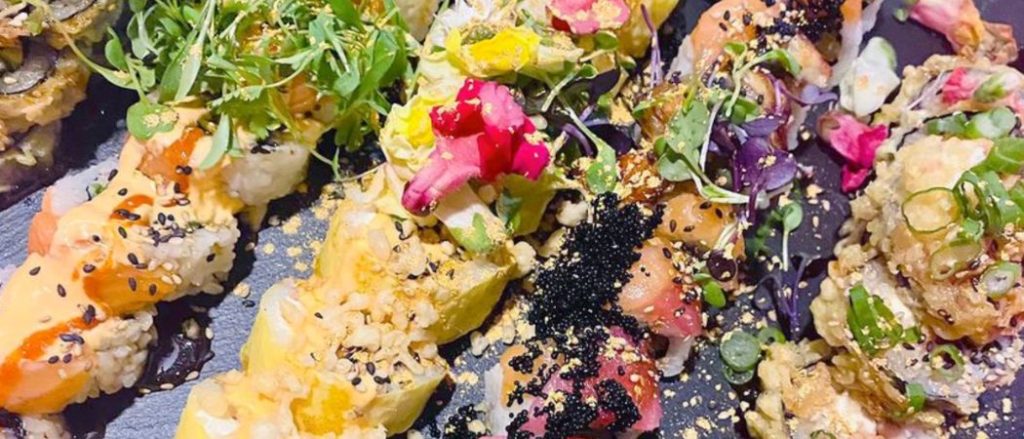 You'll walk away with a smile and a full stomach at this locals' favorite in the Harbourgate Marina of Little River. Take in the water views and their sushi bar menu that features cucumber rolls, regular rolls, specialty rolls, fried rolls, and chef select combos that plates enough rolls for the table. Try the Filet's 20 Specialty Roll made with shrimp, cucumber, kani, asparagus, avocado, and cream cheese then topped with royal dynamite. Did we mention that for a small fee you can have your specialty sushi rolls dusted with 24K gold?
Boardwalk Billy's
1407 13 th Ave. North, North Myrtle Beach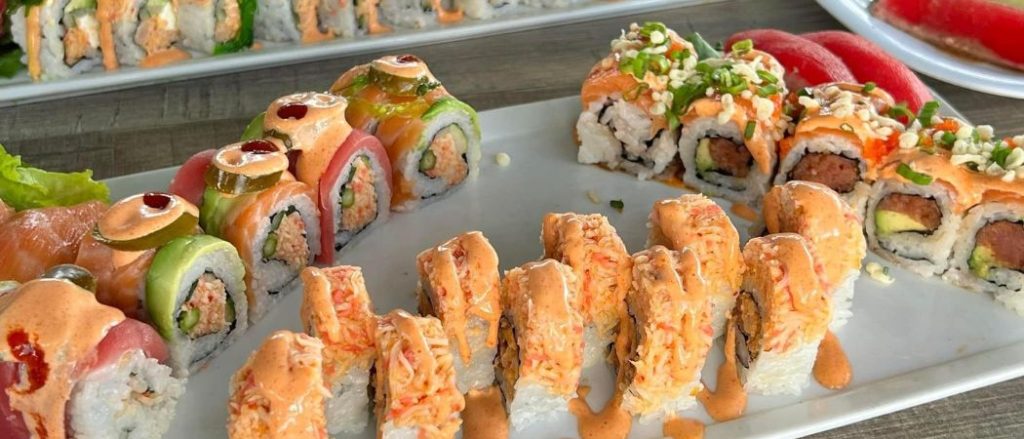 This popular, super-casual spot is located on the Doc Holidays Marina which overlooks the Intracoastal Waterway. You won't be disappointed in any of their regular or specialty rolls, along with sushi appetizers, like the I Roll (tuna, crab, lettuce cilantro, avocado, and cucumber stuffed in a rice paper wrap with house sweet chili dipping sauce). They have a long list of specialty sushi rolls including The Godfather, Mexican Roll, Rainbow Roll, and a Volcano Roll.
39th Ave Bar & Grille
3809 Highway 17 South, North Myrtle Beach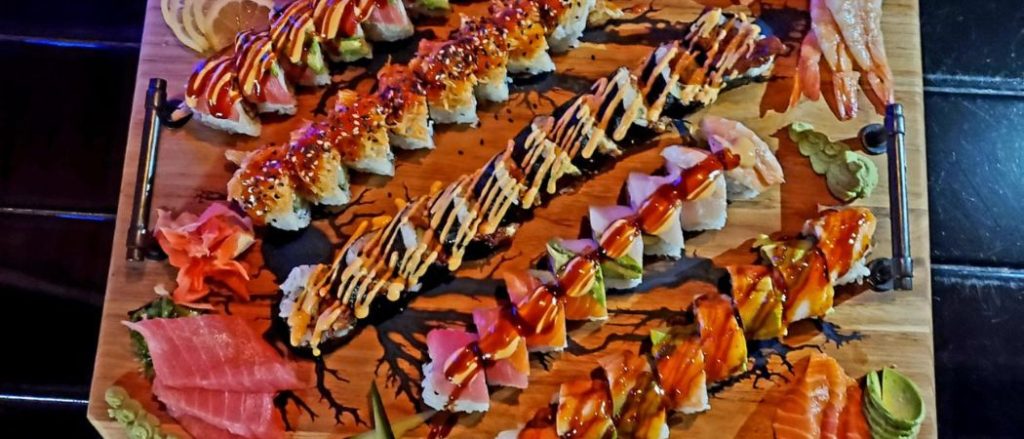 With "Sushi, Burgers, and Tacos" tagged onto the name of this bar and grille on 39th Avenue South, you get a good idea of the wide reach of this hot spot (and what they master). Make a point to stop by for sushi during their wildly popular happy hour inside or on their covered patio. During happy hour they offer discounts on California rolls, Crunch rolls, and spicy tuna rolls. This North Myrtle Beach restaurant is located just north of Barefoot Landing and its resort.
By: Ashley Daniels