Find the Best Underwater Adventures and Treasures by Snorkeling Destin FL
Come snorkel the crystal blue waters of Destin, Florida where dolphins, crabs, sea turtles, tropical fish, and magical seahorses await and find out which ones will become your favorite Destin snorkeling spots. Snorkeling in Destin FL is unlike any other snorkeling experience you may have had in the past. Experience seeing dozens of species and colors of fish of every size as well as sea urchins, crabs and other crustaceans that call the area home. And, if you're lucky, you'll have an up-close view of dolphins swimming nearby on your Destin snorkel.
To jumpstart your Destin snorkeling adventure planning, here's our list of some of the top Destin snorkeling spots, in addition to some of the best Destin snorkeling tours, in no particular order. Get ready to experience an amazing underwater journey that you'll never forget!
Top Destin Snorkeling Spots
Wherever you decide to snorkel, the beautiful emerald green waters of Destin will never disappoint those looking for the perfect Destin snorkel experience. Be sure to go to one or more of these "must visit" snorkeling spots in Destin:
Crab Island
While Crab Island is only accessible by boat, at Destin Harbor, you'll find companies with a full selection of fishing, pontoon, and power boats to rent, in addition to many tour and guide companies offering snorkeling lessons and excursions to Crab Island. You'll be amazed at all of the sea life to see on the outskirts of this popular sandbar, with plenty of crabs of all sizes as well as other crustaceans and a great variety of popular marine wildlife and fish.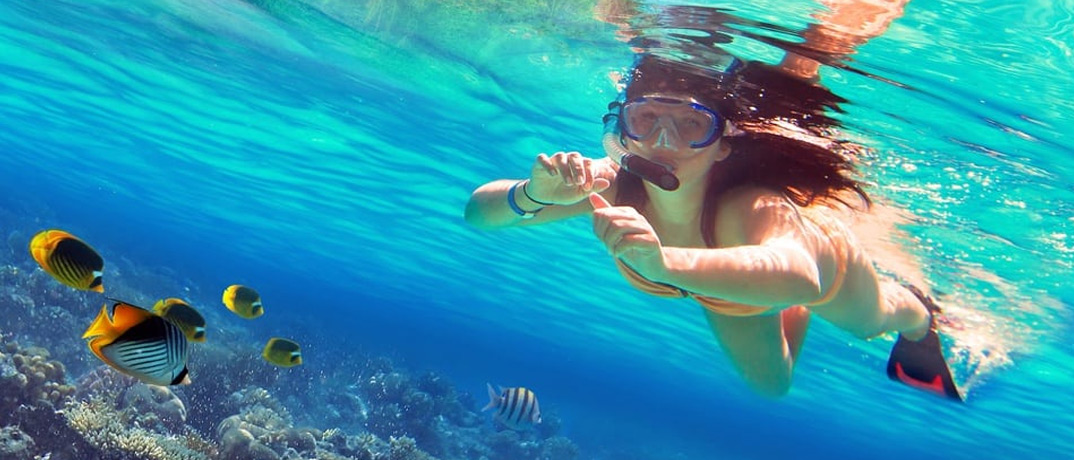 Destin East Jetty
With tons of large rocks covering the seafloor, Destin East Jetty is without a doubt the best location for snorkeling. The large rocks make it the perfect place to spot plenty of amazing sea creatures. You'll also marvel at the sheer volume of fish swimming nearby, which offers some of the best up-close and personal snorkeling experiences.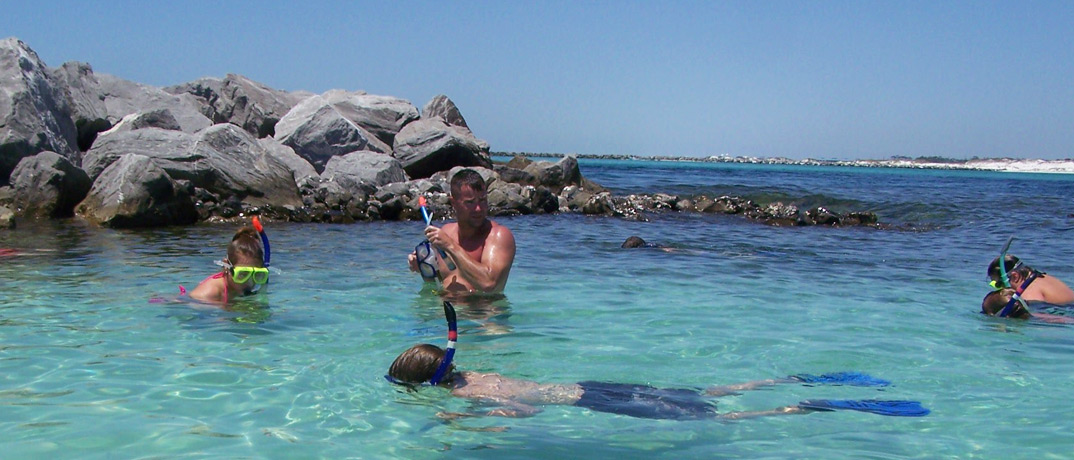 Destin Harbor
Destin Harbor is a quick and easy area to reach from anywhere in Destin. It's a great spot to explore the water, even if it's just for a quick getaway. In the Harbor and beyond, both novice and veteran snorkelers will be stunned by the array of marine wildlife to see including various fish species (redfish, puffer fish, flounder, wrasse, sheepshead, small snapper, barracuda and grouper), invertebrates (hermit crabs, blue crabs, and an occasional octopus), sea turtles, and incredible dolphins.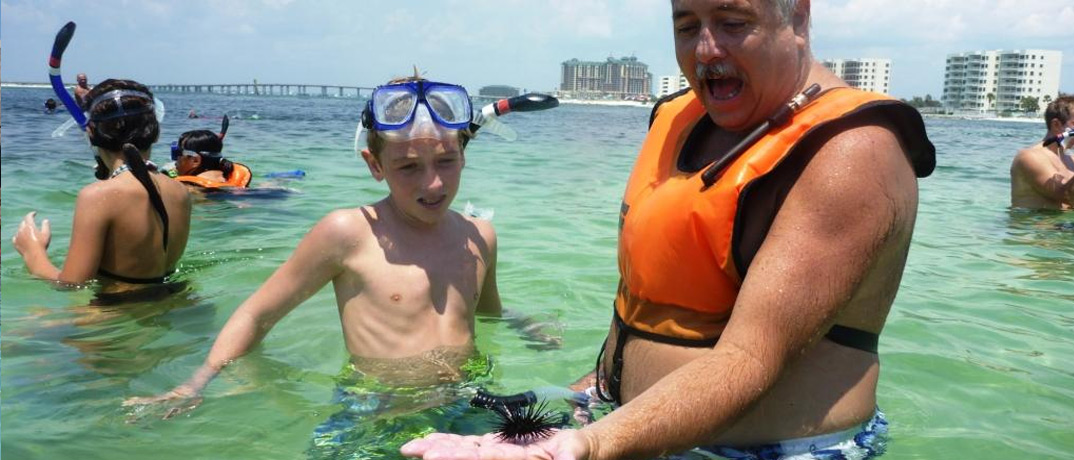 Destin Area Beaches
Grab some snorkeling gear and head out to explore the underwater marine wildlife available at one of the many public beaches in Destin. The best time for snorkeling beachside is in the mornings when the water is calm and clear. Be sure and explore shallow areas with large rocks where fish and other sea life congregate. You'll be delighted at what you'll see underwater and how easy it is to snorkel close to shore.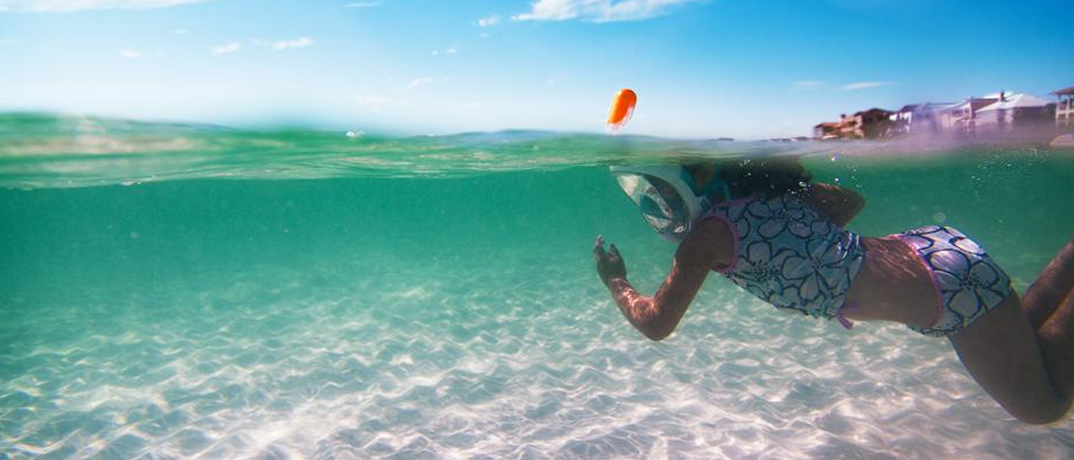 Best Destin Snorkeling Tours
Destin has a number of Destin snorkeling tours with specialized boat tour operators providing rental gear as well as their local knowledge of tides and conditions to ensure an optimal snorkeling experience. Here is our list of some of the finest snorkeling tours in the Destin:
AJ's Water Adventures
116 Harbor Blvd, Destin, FL
Features: 3 hour excursion aboard a U.S.C.G. inspected 85 passenger speed boat with plenty of time to swim, snorkel, suntan, or relax. All snorkel equipment is provided along with some swim toys and floats.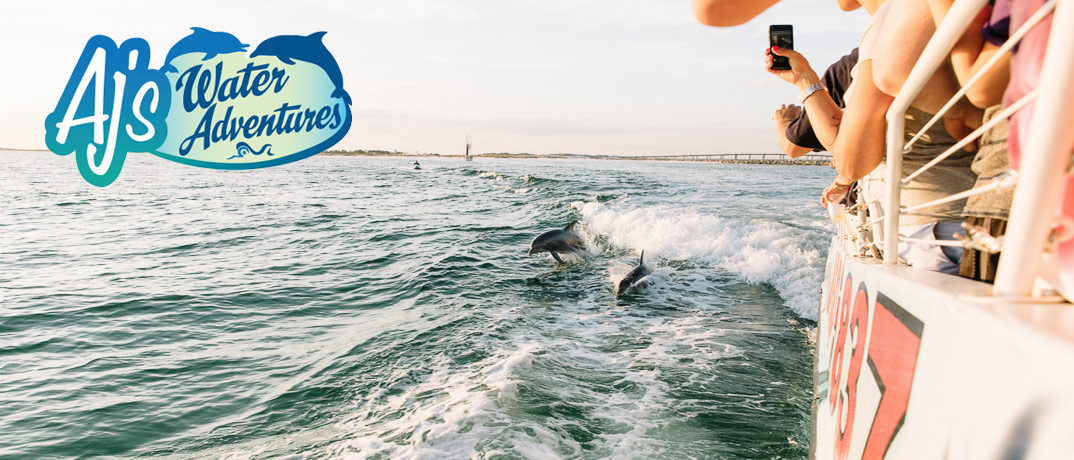 Captain Jambo's Destin Harbor
404 Harbor Blvd, Destin, FL
Features: 2-6 hour small group tours (up to 6 passengers) on a 30-foot double-hulled catamaran sailboat with U.S.C.G. licensed captain. Swim fins, mask, snorkel, and ice-filled chest included. Great for any skill level.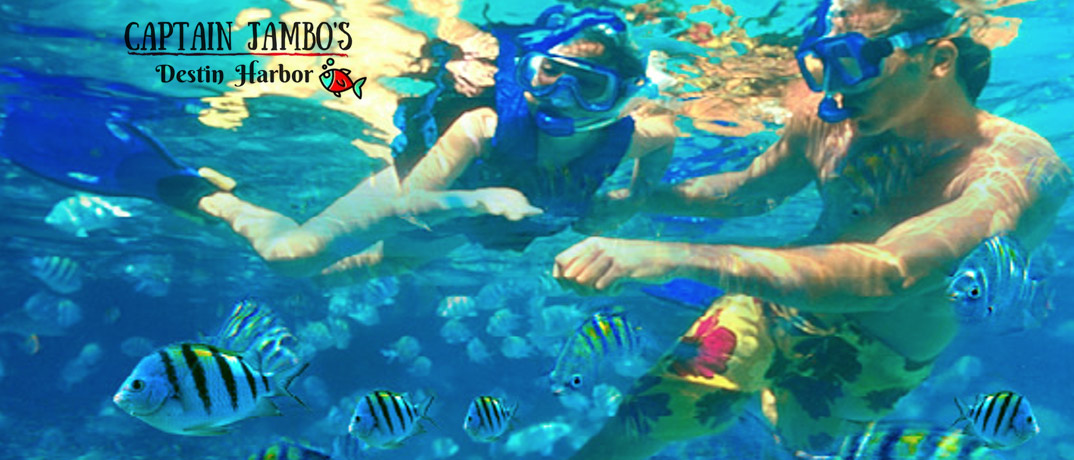 Destin Snorkel
10 Harbor Blvd, HarborWalk Village, Destin, FL
Features: 3 hour snorkeling and dolphin viewing tours that provide fun for all ages and abilities. Destin Snorkel has a fleet of U.S.C.G. approved vessels and provides all guests with snorkeling equipment (fins, masks, and snorkels) as well as free soda and bottled water. When snorkeling at the jetties, you'll also have free use of single and double kayaks as an added value.
Flipper's Adventures
500 Harbor Blvd, Destin, FL
Features: Unforgettable snorkeling adventures for non-swimmers, first timers, and the experienced with fun for the entire family. Tours are approximately 2.5 hours long and on U.S.C.G. certified boats with capacity for up to 30 passengers. Snorkeling equipment, beverages, and expert snorkeling instructions provided to all guests.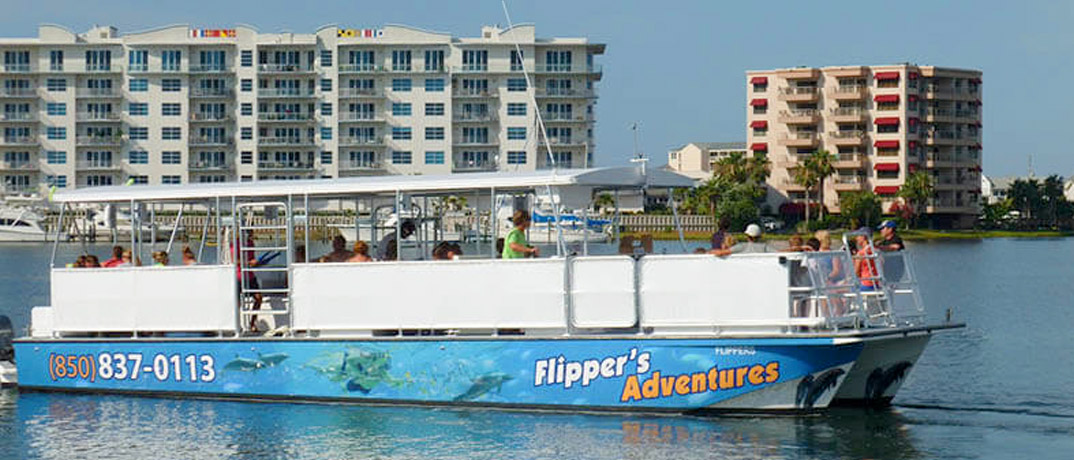 ScubaTech
301 Harbor Blvd, Destin, FL
Features: Snorkel tours are approximately 3 hours long on The Mongoose (U.S.C.G. certified), a shaded 33-foot custom pontoon boat designed to carry 25 passengers. Some snorkel trips also include the ever popular "Discover SCUBA" experience offered to individuals wanting to try scuba diving for the first time. No experience is necessary for the snorkel tours with snorkel equipment, instructions, beverages, and coolers provided to all guests.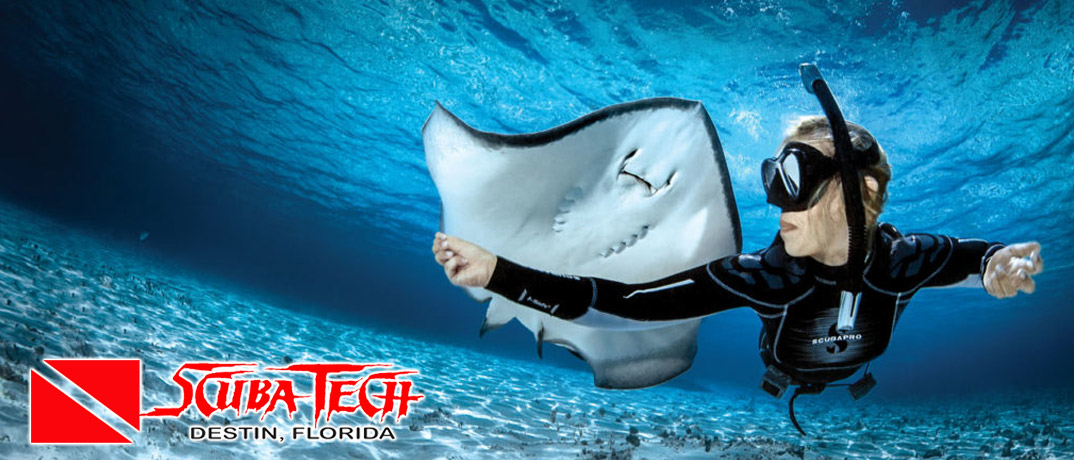 When you're looking to stay near some of the very best snorkeling in Destin Florida, be sure and take a look at Sterling Shores and The Resorts of Pelican Beach, both of which will provide you a perfect location and great convenience including nearby dining, shopping, golfing, attractions, entertainment, high-end amenities, and so much more.