We want you to be as prepared as possible for your stay in Panama City Beach – beyond the suitcase packing and itinerary planning. Which is why we've gathered a few fun tidbits and trivia facts on Panama City Beach history, culture, geography and special events that are longtime PCB traditions.
After you've read through our comprehensive list of interesting facts about Panama City, you may just be mistaken for a PCB local!
Incorporated as a municipality in 1909, Panama City Beach's history dates back to prehistoric eras, when native hunters and fishermen explored the region's sources of fish and oyster. The beach's high bluffs and hardwood trees were considered a refuge for natives, but proved difficult for European settlers until the English occupation of Florida from 1763-83.
Panama City Beach is ranked as having one of the world's best beaches along its 27 miles of coastline, partly because of its dazzling green water that laps up to powdery white sand beaches that give the Gulf area the nickname, the "Emerald Coast." Want to know why? We dig further into the reason for these brilliant colors, a reflection of the sand and water, in our blogs here: The White Sand of Destin Florida & What Makes The Emerald Coast Green
Panama City Beach boasts one of the highest concentrations of wild bottle-nose dolphins in the world.
PCB is known as the Wreck Capital of the South because its many shipwrecks off the Gulf Coast, including the SS Tarpon, a 95-foot cargo ship; the Gray Ghost, a 110-foot tug boat; the Chickasaw, a 60-foot tug boat; the Chippewa, a fully intact, 95-foot Navy tug; and Empire Mica, a 465-foot British tanker, the most famous shipwreck that was torpedoed by a German U-boat in 1942. These wrecks and 50 artificial reefs teeming with marine life also make it a premier diving destination in the South.
The best time to dive in Panama City Beach is April through September. Beginner divers can also enjoy the warm Gulf in more shallow waters around St. Andrews' jetties. 
Andrews State Park, in fact, is ranked as one of the United States' Top 10 Beaches. Located on Shell Island, the park uniquely boasts four habitats: lake, deciduous forest, sand dunes and ocean.
Because of its bounty of hundreds of seafood restaurants, Panama City Beach is known as the Seafood Capital of the South. 
Bring your shades! PCB averages 320 days of sunshine each year.
PCB hosts the only deep water diving museum in the United States: the Man is the Sea Museum.
Charter fishing is a regular activity at PCB, with charter boats heading out into the Gulf daily to catch tuna, blue marlin, sharks, dolphin fish, red snapper, grouper, cobia and pompano. Reserve your charter fishing trip today. 
Panama City is home to Tyndall Air Force Base and the Air Education and Training Command. This 325th Fighter Wing trains F-15 and F/A-22 pilots, plus air traffic and weapons controllers. The 20,000-acre military base employs more than 6,700 military and civilian personnel.
Travel offerings at PCB includes the Northwest Florida Beaches International Airport and a trolley system that runs hourly.
Panama City Beach has hosted the Florida Ironman Triathlon every year since 1999. 
Panama City Beach is the No. 1 Spring Break Destination in the United States, with nearly half a million students in town each year.
"The Truman Show," starring Jim Carrey, was filmed just down the road from PCB in Seaside.
Places to Stay in Panama City Beach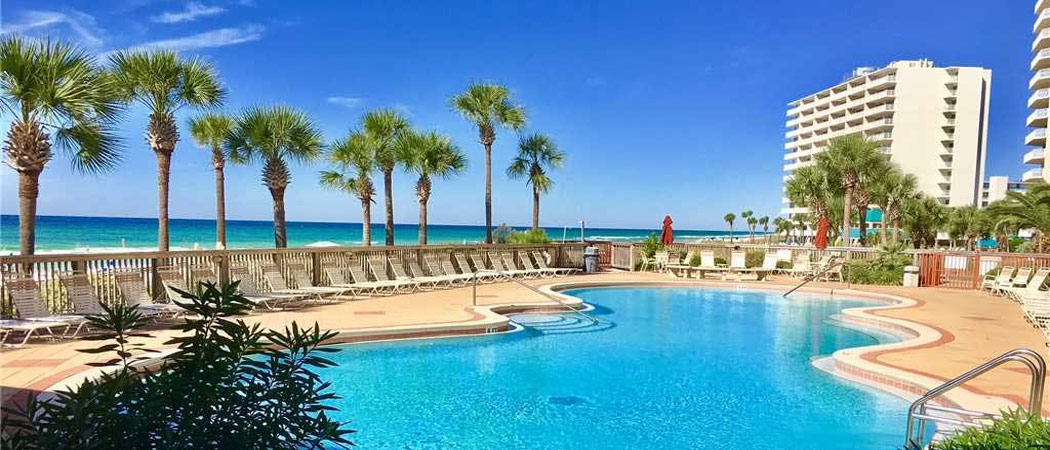 And, if you're on the hunt for a place to stay in Panama City Beach, Condo-World has you covered condo, with luxury condo rentals that feature can't-miss amenities, like Gulf views, outdoor pools, fully equipped kitchens, on-site restaurants and more. Browse through our comprehensive inventory of properties throughout Panama City Beach and book early because we sell out quickly!