Here we go for the 7th year in a row, Panama City Beach's very own Pepsi Gulf Coast Jam! This country music festival draws crowds from all over the Nation every year. Gates open at 2pm each day, so there is plenty of time to explore the World's Most Beautiful Beaches before experiencing the world's best country music, making this a vacation you'll never forget.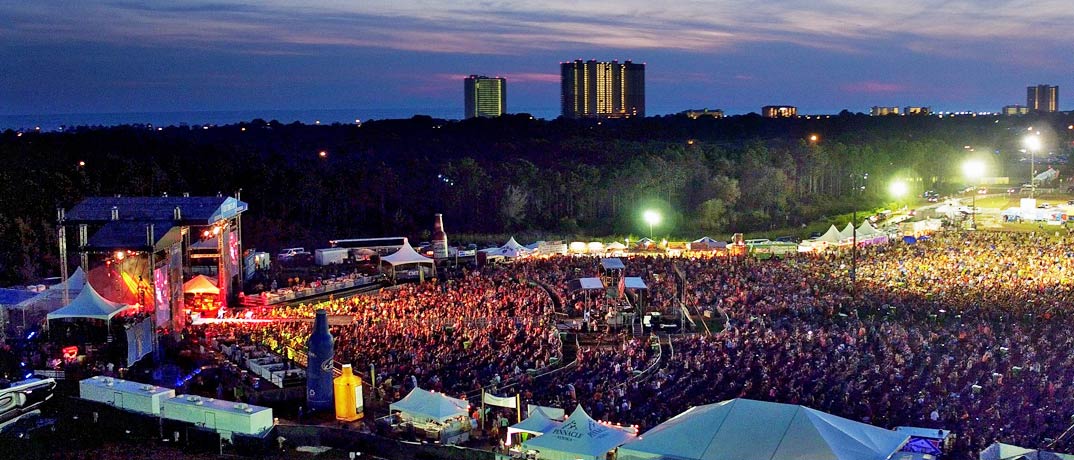 When to Plan Your Vacation
Friday August 30th, Saturday August 31st, Sunday September 1st
Gates open at 2pm. Early entry available for additional charge.
Where the Festival is Located
Frank Brown Park
16200 Panama City Beach Pkwy
Panama City Beach Fl, 32413
Gulf Coast Jam Lineup
Friday
Tim McGraw
Midland
LANCO
Lauren Alaina
Jamestown Revival
Nora Collins
Matt Bennett
Saturday
Jason Aldean
LOCASH
The Cadillac Three
Thompson Square
Runaway June
Kyle Mitchell
Dixie Jade
Sunday
Kid Rock
Big and Rich
Gretchen Wilson
Ashley McBryde
Outlaws
Gabby Barrett
Things you CAN bring
Foldable beach or canvass chair (this event does not provide seating), clear bags up to 1 gallon, one small clutch purse, hats, blankets, sun block, lighters, cell phones, sunglasses, dancing shoes, cigarettes, small beach towels, fanny packs, cameras (without removable lens), empty drink bottles, personal umbrellas, collapsible wagons, youth strollers.
Things you CAN'T bring
Coolers, backpacks, large bags or purses, lounge chairs, beach umbrellas, camelbaks, tents, flags, outside food and beverages, professional video camera, professional audio recording devices, sports action cameras (GoPro), inflatable items, pets, instruments, drugs and paraphernalia, knives, weapons, chains, chain wallets, fireworks, explosives, selfie sticks, and tailgating supplies, as tailgating will not be permitted within in the parking lots.
How to get your Gulf Coast Jam Tickets
Unlike most events, the Gulf Coast Jam will not be issuing actual tickets anymore. Instead you will receive a RFID (Radio-Frequency) wristband with your tickets pre-loaded. You can purchase these at the gates, but tickets sell out fast and are much cheaper if you buy in advance. If choosing to buy online, you will receive a digital receipt and your wristband will arrive via USPS First-Class Mail 3-6 weeks before the event. Prices will gradually increase as the event gets closer, so don't wait too long to get your tickets.
Gulf Coast Jam Ticket Prices
General Admission
$159 ($204.95 after tax, shipping and applicable fees)
This package includes 3-day access to festival grounds and complimentary shuttle access
Military
$129.00 (170.11 after tax, shipping, and applicable fees)
This package includes 3-day access to festival grounds, complimentary shuttle access, and access to the military appreciation tent.
VIP Pit
$429.00 (509.61 after tax, shipping, and applicable fees)
This package includes exclusive entry line to festival grounds, access to the Preferred Lodging viewing areas, access to the area in front of the main stage (but behind the Golden Circle), Priority Shuttle Boarding after the show, and air-conditioned VIP restrooms.
Golden Circle
$699.00 ($822.27 after tax, shipping, and applicable fees)
This package includes access to the area in the very front of the main stage, plus all of the perks of the VIP Pit and General Admission packages. Please note that chairs are not permitted within the Golden Circle.
Side Stage
$1,150 (1,346.19 after tax, shipping and applicable fees)
This is the ultimate package that Gulf Coast Jam has to offer. With it you'll have access to the double-decker stage additions to the left and right of the Headline stage, access to the Golden Circle, VIP Pit, and the Crossover Walkway. This also includes all the benefits of the Golden Circle, VIP Pit, and General Admission packages, plus hor d'oeuvres and 4 drink coupons per day.
Children 6 years old and younger
FREE
**Note: Do not put your wristband on before the day of the event. Any wristband that has been cut or tampered with will be invalid and non-refundable.**
Military Appreciation Tent
Pepsi Gulf Coast Jam would like to show their appreciation to our military with a special hospitality tent just for active duty/retired military personal and their families to come relax in during the festival. In this tent there will be lounge seating, massage chairs, cooling fans, and exclusive giveaways. If any military personnel purchased upgraded tickets, they may gain entry to the tent as well by showing military ID.
Parking
Parking is available at Frank Brown Park at Gate 1 for $20 a day or $50 for all 3 days. You may purchase parking passes at the parking lot or you can buy them online before the festival.
Free parking will be available at Pier Park where there will be a free shuttle service to the festival available to all ticket holders. There will be various shuttle stop locations, including many hotels. Stop locations and times will be announced at a later date.
Where To Stay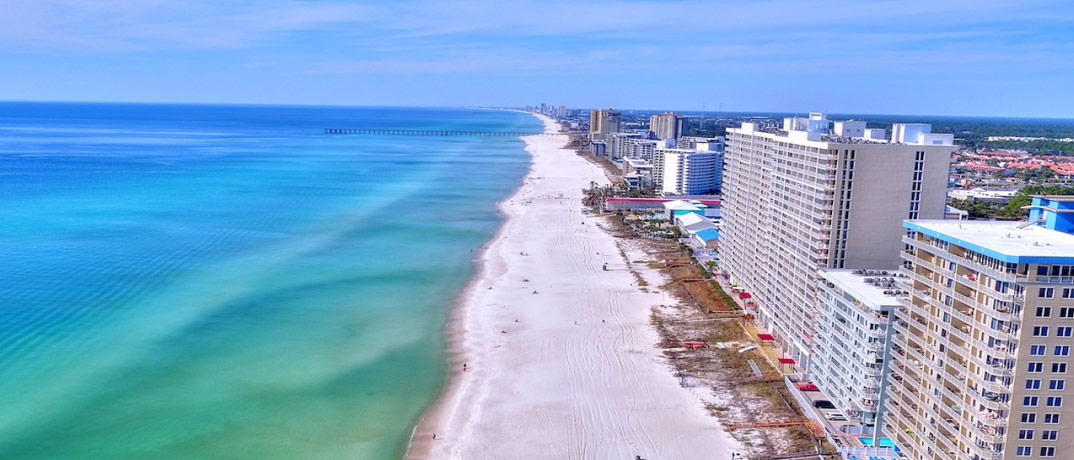 Now that you have decided to attend the Pepsi Gulf Coast Jam, all you have to do is plan where stay. Certain resorts have teamed up with the event to provide visitors with extra perks such as access to the Preferred Lodging area right behind the VIP Pit. Once the shuttle service releases their schedule, make sure to check it out as many of these resorts will have on site shuttle access. Here are a few examples of Preferred Lodging resorts available through Condo-World.
Calypso Resort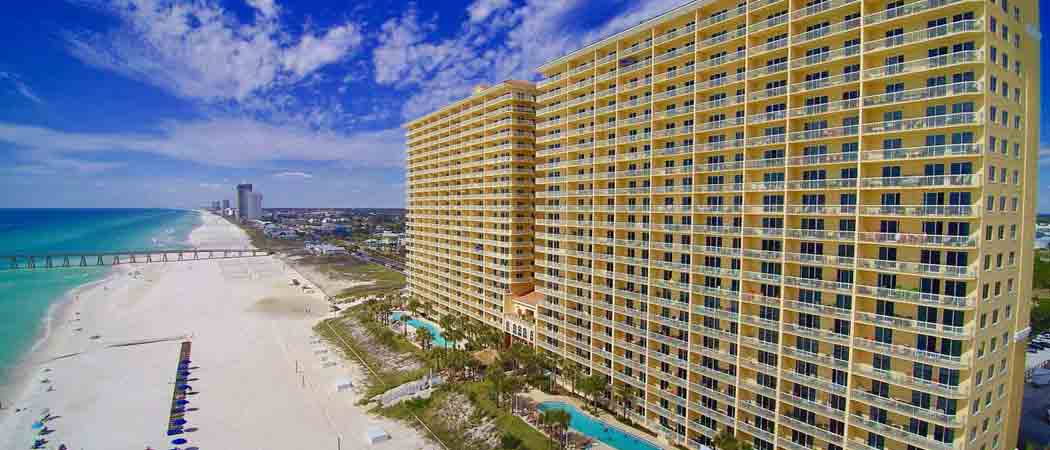 Calypso Resort and Towers is located right across the street from Pier Park. Being that it would only take a few minutes to walk to Pier Park, this would be the perfect place to stay if you plan to get in some early morning shopping or grab a bite to eat before the show. There are several restaurants in Pier Park that stay open late, so there will plenty of dining options for both before and after the show.
The Grand Panama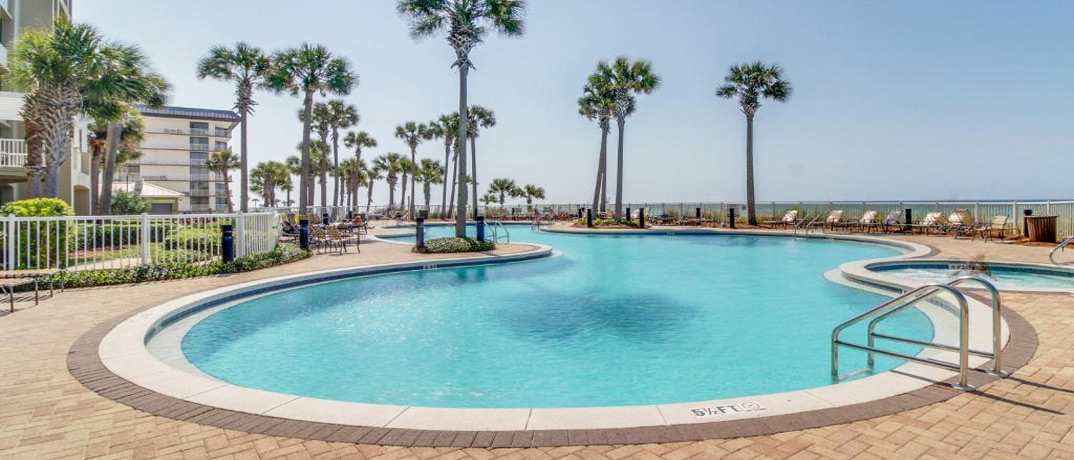 The Grand Panama Beach Resort is another great Preferred Lodging Partner option as they are centrally located between Richard Jackson Blvd and Alf Coleman Rd. This area is known for great dining option, activities for the whole family and accessibility to Pier Park. Grand Panama's goal is to provide a luxurious experience and indulge their resident's body, mind, and spirit during their stay.
Laketown Wharf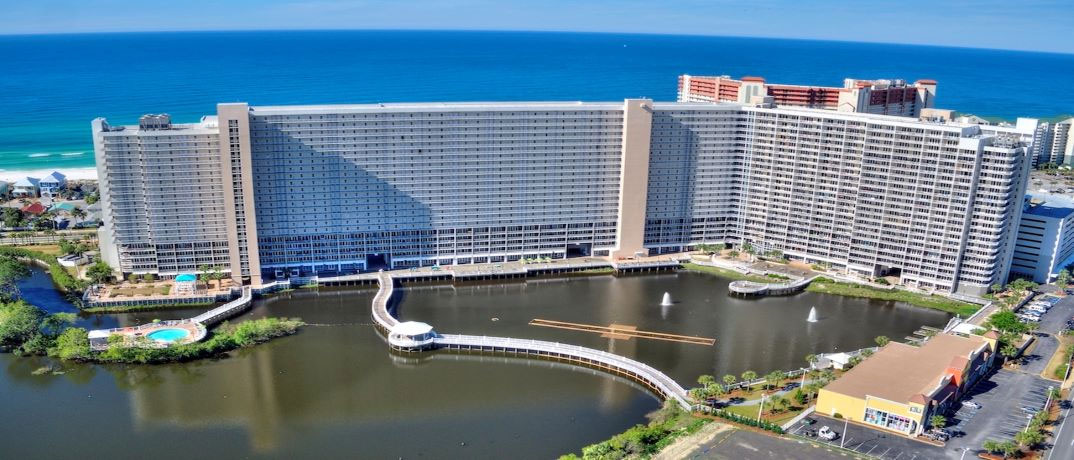 Laketown Wharf is one of the more unique resorts included in the Preferred Lodging resorts. There are several amenities to enjoy when you're not at the Gulf Coast Jam, including rooftops pools, rooftop golf greens, glass elevators with amazing views of the beach, plus tons of shopping and dining options right there below the rooms. Laketown Wharf is one of those resorts that you will probably want to plan an extra day onto your vacation, just so you can have time to enjoy all that it has to offer.
Event Summary
Name
Location
​
Frank Brown Park

,

16200 Panama City Beach Pkwy

,

Panama City Beach

,

Florida

-

32413
Start Date
End Date
Description
Attend Panama City Beach's incredible 3-day country music festival, the Pepsi Gulf Coast Jam. Enjoy performances from 2pm to Midnight every day over Labor Day weekend!
Tickets