A Grassroots Look at Farmers' Markets in Season in Myrtle Beach
The beauty of finding fresh produce in Myrtle Beach is the beautiful weather produced for fruits and vegetables to thrive nearly through November. And that's why it's not difficult to find a bounty of Myrtle Beach farmers' markets still in season to freshen up your dinners while on you're on vacation. Two organizations that make sure this happens are the Waccamaw Market Cooperative, overseeing Horry and Georgetown counties, and the statewide Certified South Carolina program.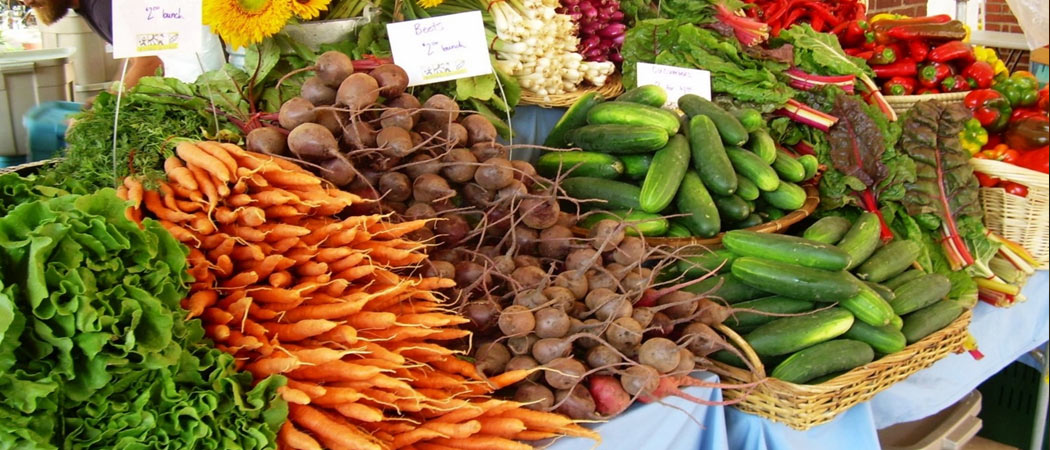 We've gathered (and hunted) a healthy list of farmers' markets along the coast from Little River to Georgetown, along with a handful of produce stands that are standing by to feed you with our coastal harvest.
Expect farmers' markets to yield an inventory of homegrown items such as beans (green, butter and more), beets, cabbage, corn, okra, onions, bell peppers, zucchini, cantaloupe, turnip greens, tomatoes, potatoes, summer squash, apples and more, plus farm-fresh goodies like jams, molasses, honey, hot sauces, apple butter, breads, cheeses and more.
Stock up and plan your trip to the farmers' market that's closest to you during your stay!
Myrtle Beach
Myrtle's Market Farmers' Market, Corner of Mr. Joe White Ave. and Oak Street, Myrtle Beach
Wednesdays, Fridays and Saturdays, 9 a.m. to 3 p.m.
Through Oct. 31
International Culinary Institute Farmers' Market, Horry Georgetown Technical College Grand Strand Campus, 920 Crabtree Lane, Myrtle Beach
Thursdays, 1-6 p.m.
The Market Common Farmers' Market, Deville Street, Myrtle Beach
Saturdays, 10 a.m. to 3 p.m.
April 21-Sept. 29
Myrtle Beach Produce, 609 29th Ave North in Myrtle Beach
Monday-Saturday, 9 a.m. to 6 p.m.
Cad's Produce, 3502 Holmestown Rd, Myrtle Beach
Mike's Produce, 506 Lake Arrowhead Rd, Myrtle Beach
Graham's Produce, 206 George Bishop Pkwy., Myrtle Beach
Daily, 8 a.m. to 6 p.m.
Indigo Farms Produce & Garden Center, 2000 Hwy. 57, Little River
Monday-Saturday, 9 a.m. to 5 p.m.
North Myrtle Beach Area
Little River Farmers' Market, 4460 Mineola Avenue in Little River
Wednesdays, 1 p.m. to 6 p.m.
May 2-Oct. 24
North Myrtle Beach Farmers' Market, 925 1st Avenue South in North Myrtle Beach
Fridays, 10 a.m. to 3 p.m.
May 4-Oct. 26
Conway
Conway Farmers' Market, Corner of Laurel Street and 2nd Avenue in Conway
Saturdays, 8 a.m. to 1 p.m.
May 5-Oct. 27
Coastal Carolina University Farmers' Market, Prince Lawn on CCU's campus in Conway
Mondays through Oct. 29
Carolina Forest Farmers Market, Carolina Forest Rec Center, 2254 Carolina Forest Blvd., Conway
Thursdays, 1-6 p.m.
May 4-Oct. 26
South of Myrtle Beach
Surfside Beach Farmers' Market, Corner of Surfside Drive and Willow Drive North (next to the library in Surfside Beach)
Tuesdays and Thursdays, 10 a.m. to 3 p.m.
May 1-Oct. 30
Lee's Farmers Market, 4883 17 Bypass North, Murrells Inlet
Monday-Saturday, 7 a.m. to 5 p.m.
Pawleys Island Farmers Market, 83 Duncan Ave. in Pawleys Island
Wednesdays, 9 a.m. to 1 p.m.
April 7-Oct. 27
Georgetown Farmers' Market, 122 Screven St. in Georgetown
Saturdays, 8 a.m. to 1 p.m.
May 5-Oct. 27
Mobile Farmers' Market
Coming soon, this farmers' market on wheels, sponsored by Waccamaw Market Cooperative, will park at various neighborhoods throughout Horry and Georgetown counties to bring their gardens to you. Check back for updates on www.waccamawmarkets.org.
Where To Stay
Like nature's bounty homegrown on our soils and sands, a vacation in Myrtle Beach is a breath of fresh air. There's a plethora of things to see and do on our 60 miles of beautiful coastline, on our pristine ocean, rivers and saltwater marshes, and throughout our endless entertainment venues, attractions and renowned restaurants. You can easily access all of these farmer's markets from a centralized resort in Myrtle Beach.  Book with Condo-World and save!