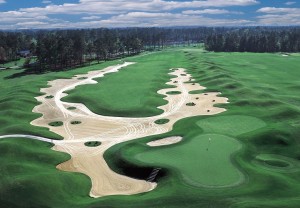 For decades, golfers from all over have flocked to Myrtle Beach in the Spring and Fall months to hit the links at the Golf Capital of the World! Over the last few years, we have noticed an addition to the Golf Vacation Industry, and that is the growing popularity of summer golf! Thousands of beach goers have tossed their clubs in the trunk along with their beach chairs to hit the links this summer during their annual Myrtle Beach golf vacation. Even some perennial Spring and Fall golf groups have chosen to move their golf trips to the summer months to take advantage of the sun and sand. The growing list of June, July, and August tee times give solid evidence that summer golf is a growing trend, and why wouldn't it be?! Summer golf in Myrtle Beach can appeal to any Condo-World or MBGolf vacationer on the Grand Strand:
A majority of the 80+ premier golf courses on the Grand Strand are composed of Bermuda Grass, which is a grass that thrives during the summer months! So our courses are in fantastic shape in the summer!
Families during their summer vacations love to be outdoors, and there are plenty of activities outside of the beach that offer fun in the sun for all ages! In addition to the variety of beautiful golf courses that offer excellent summer rates, there are several lighted driving ranges and par three facilities that provide fun for any skill level in the family.
Migration of golf groups to the summer is becoming more popular each year as golfers wish to bring their families, or just want to dip their toes in the ocean while they aren't on the course!
Summer golf in Myrtle Beach is going to be big this summer! So remember to pack your clubs this June, July, and August and add a tee time with your North Myrtle Beach Condo Rental or Myrtle Beach Condo Rental. You will not be disappointed!