We're Behind You: A Guide to Finding the Best Accessible Condos in the Myrtle Beach, SC Area
Here at Condo-World, we understand that our guests not only have a list of wishes and wants in a dream vacation any time of year in Myrtle Beach, but may also have specific needs in life, such as a stay that requires accessible friendly accommodations in Myrtle Beach.
We've mapped out a layout of our accessible vacation rentals in Myrtle Beach and North Myrtle Beach, S.C. – down to the specific units. Because we want you to be as relaxed, comfortable, and safe as possible!
North Myrtle Beach, SC
Ashworth 706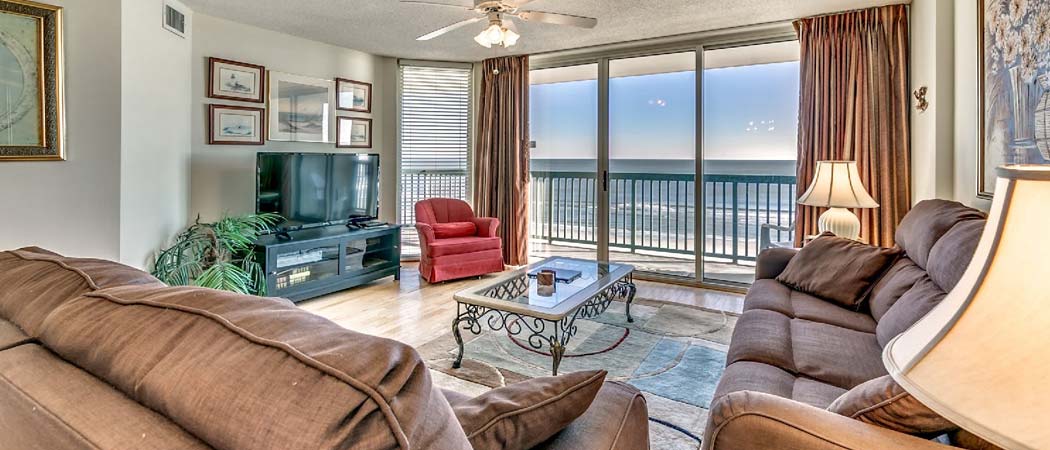 This two-bedroom, two-bath oceanfront condo sleeps six and features accessible amenities, such as a wheelchair accessible entry and a walk-in shower with safety bars in the shower bath. The AshWorth is a relaxing retreat, based on prime Ocean Drive real estate in North Myrtle Beach. Each condo is bathed in luxury, as well as the endless amenities meant for this trip, including multiple oceanfront pools, a lazy river, Jacuzzi and more.
Crescent Shores 1806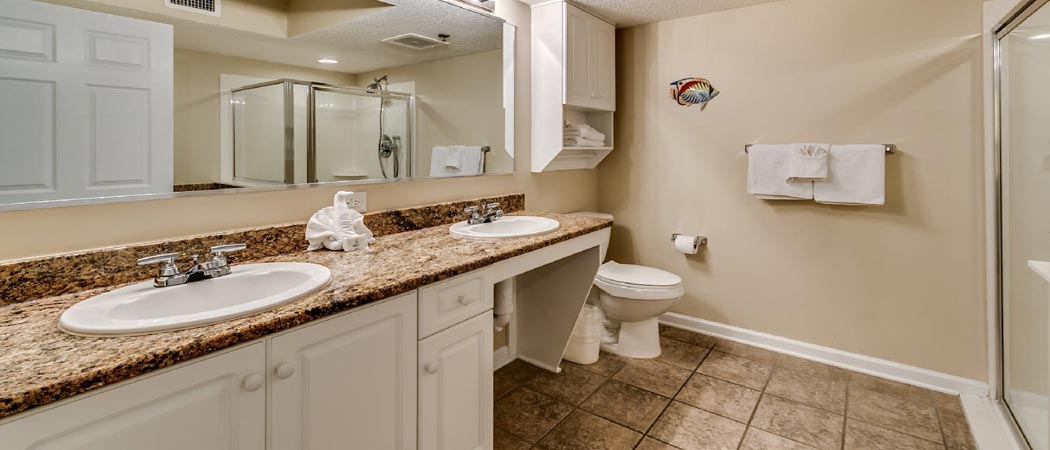 This breathtaking, oceanfront resort specializes in expansive oceanfront balconies with awe inspiring views from just about any angle in the condo, including this accessible four-bedroom, three-bath suite that sleeps a whopping 12 guests. Designer furnishings complement your necessary safety features, such as a wheelchair accessibility and a walk-in shower with safety bars in the shower bath.
Myrtle Beach, SC
Dunes Village Resort – Oceanfront King Condo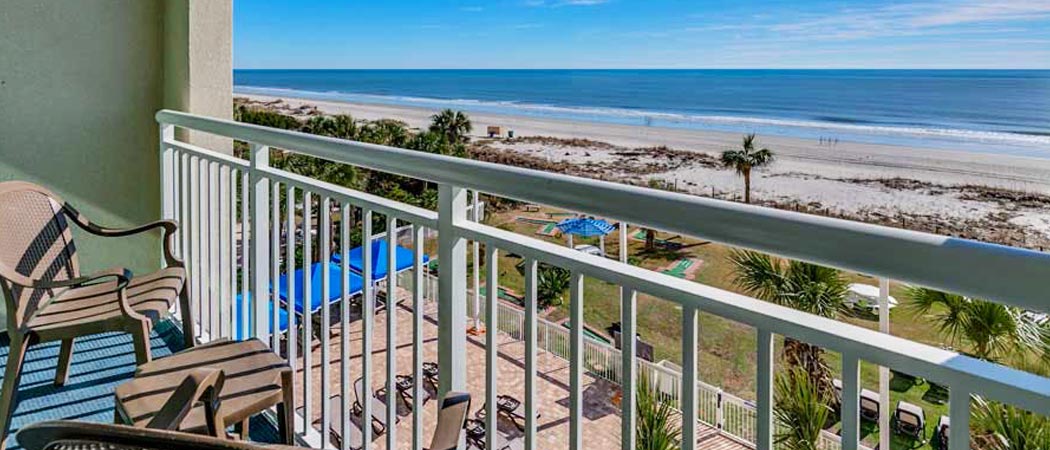 Live like a king in any of the Myrtle Beach wheelchair accessible rental oceanfront king condos, all available on the second floor. The modern, one-bedroom suite sleeps four and treats all to unbeatable views of the ocean. Inside, amidst designer appointments, are accessible features, such as slightly raised toilets and safety bars in the bathtub and shower area. The entire family will enjoy this resort that's known for its two indoor water parks totaling 3,0000 square feet of adrenaline of fun year-round. Additional onsite amenities include indoor and outdoor pools, hot tubs, a 250-foot lazy river ride, mini golf, brand new tennis courts, basketball courts, Wii games, pool tables, shuffleboard and more.
Caribbean Resort -1 Bedroom Oceanfront King Suite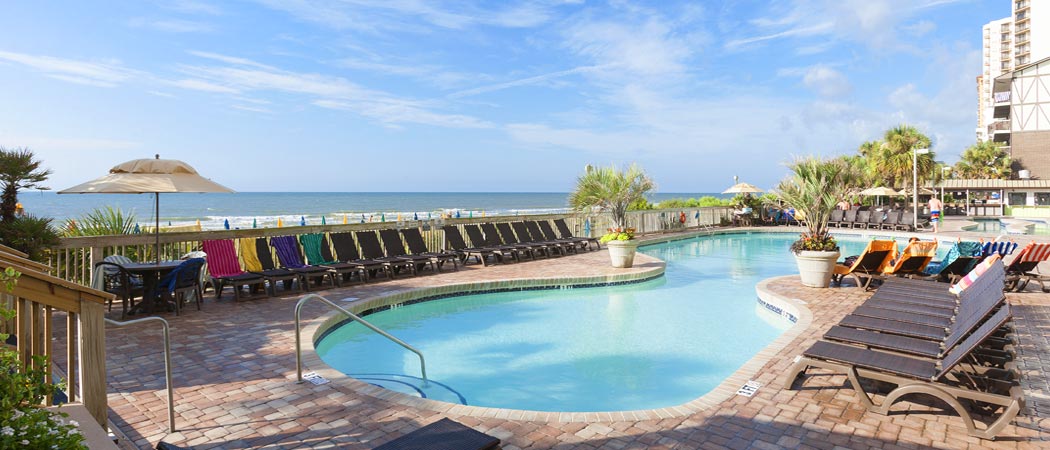 You will be amazed by Caribbean's oceanfront, two-room king suites with wheelchair accessibility. Each suite features a bathroom with bathtub and toilet safety bars, as well as an accommodating, open bathroom layout; a shower chair is available upon request. Interior renovations to the resort not only boast new bedding, tile kitchen, but also king suites with room doors and halls that are widened for wheelchair access. There's also a galley-style kitchen with a flat-top stove, roll-up accessible sink, microwave, coffee pot, toaster, and full-size fridge. The living room has a convenient sleeper sofa and double-size murphy bed.
Island Vista Resort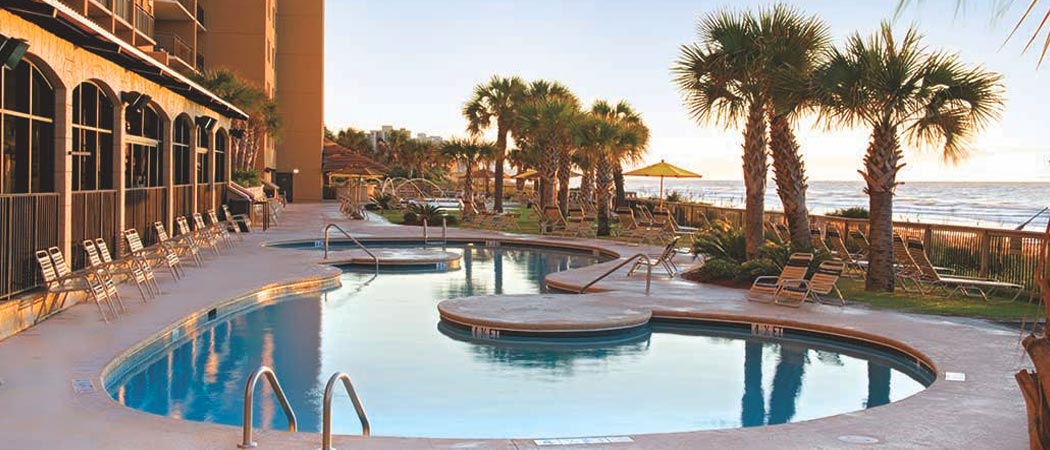 This resort, with a gorgeous vista of the ocean, is in a quiet, restful northern end of Myrtle Beach: the perfect spot for your trip. Each spacious, one- through four-bedroom oceanfront bedroom condo can be ADA-accessible upon request, complete with installable rails and wheelchair accessibility. All guests on this getaway can enjoy amenities like the onsite indoor/outdoor pools, indoor kids' area with lazy river, spa, and award-winning Cypress Room restaurant and more.
Sandy Beach Resort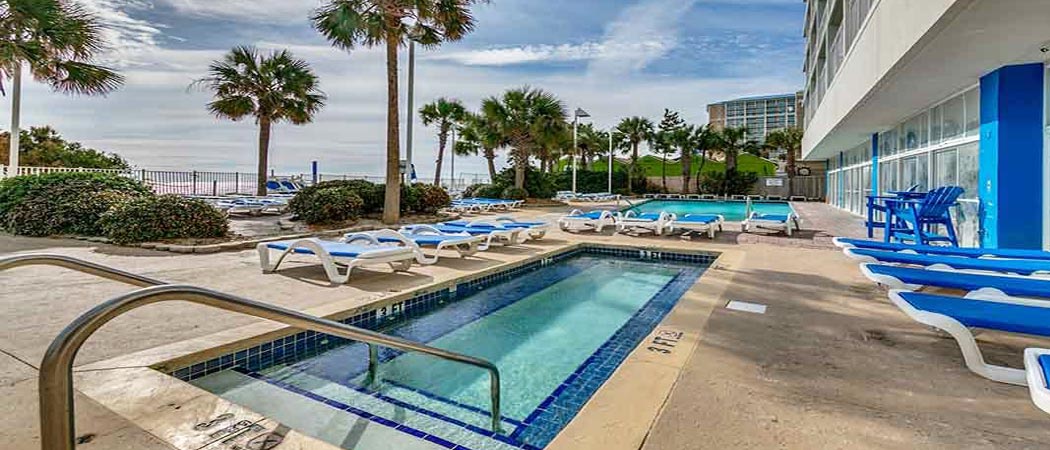 Sandy is luxurious and unforgettable. The newer oceanfront property is also one of the Myrtle beach wheelchair accessible hotels that will be a No. 1 in your picks at the beach. Two- and three-bedroom condos feature safety bars, with some roll-in showers. Sandy Beach is located at the heart of the beach, close to where your entire family can also check into the Myrtle Beach Boardwalk, hub of dining spots, shopping, the SkyWheel, concerts and more.
Oceans One Resort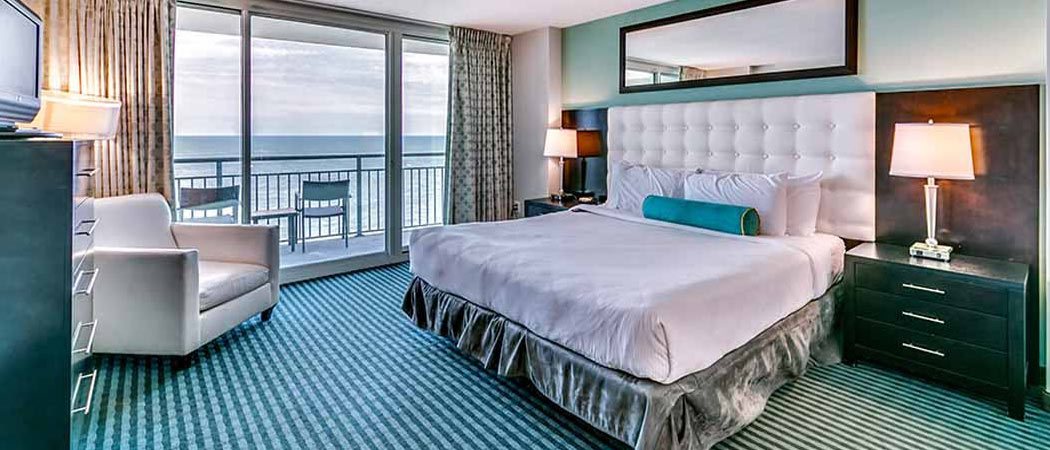 All accessible 2 and 3 bedroom units have safety rails and a few with roll in showers.
You are No. 1 at Oceans One Resort, one that offers wheelchair accessible hotel rooms in Myrtle Beach within the most contemporary interior design. All condos are wheelchair accessible, with two- and three-bedroom units offering safety rails and a selection of roll-in showers. Relax and unwind with your family in the indoor and outdoor mineral pools, hot tubs and more. Or, venture down the Myrtle Beach Boardwalk to take a ride to the sky aboard the wheelchair-accessible Myrtle Beach SkyWheel.
How to get a Free Beach Wheelchair
Note for wheelchair-access Myrtle Beach: For your treks to the sand, Myrtle Beach offers free beach wheelchairs, free of charge, to residents and visitors who visit all city beach accesses. For more info on how to reserve one, visit the City of Myrtle Beach's accessibility webpage.
Motorized Wheelchair Delivery Services
Sand Helper is a rental company that offers a patented four-wheel drive electric beach wheelchair. You can ride your wheelchair right down a ramp or street access and down onto the sand with ease. They even offer delivery right to the parking garage inside your Grand Strand resort.
Here's a great review from a very satisfied customer: "In the event you have anyone with a handicapped person with them, we found the neatest thing – called Sand Helpers – it is a motorized sand wheelchair with the big tires.  It is AWESOME!  Joshua had the best time with it, and felt independent on the beach.  Just thought I would pass that along.  It's a little pricey, but so worth the money.  They deliver it to the parking garage and send you an e-mail with the code to the lock box on it with the key in it.  And, they come and pick it back up.  Runs by battery, but has a back up battery on it.  We loved it! Would recommend to anyone who has a handicapped person in their family."
Wheelchair Accessible Public Beach Accesses
North Myrtle Beach
-Main Street
-Sea Mountain Highway
-4th Ave. North
-6th Ave. South
-9th Ave. South
-15th Ave. South
-17th Ave. South
-21st Ave. South
-27th Ave. South
-39th Ave. South
-46th Ave. South
If you need to rent a wheelchair during your stay in North Myrtle Beach, The Pilot Club of North Myrtle Beach has several beach wheelchairs available for visitors for a maximum of one week at a time in the Beach Services Warehouse, 1024 6th Ave. South (behind the Midcou building). Large vehicles are required to transport the chairs (SUV, van, or pickup truck). Delivery and pickup are provided for a $25 charge per service during the summer. To reserve your beach wheelchair, call Beach Services at 843-663-8600.
Myrtle Beach – Fully Accessible
-29th Ave. South
-Hurl Rock Park at 20th Avenue South
-15th Ave. South
-12th Ave. South
-Ninth Ave. South
-Third Ave. South
-First Ave. North
-Second Ave. North
-Fourth Ave. North
-Seventh Ave. North
-Ninth Ave. North, north side of Plyler Park
-11th Ave. North
-13th Ave. North
-1600 N. Ocean Blvd.
-1802 N. Ocean Blvd.
-Anderson Park at 20th Ave. North
-25th Ave. North
-31st Ave. North
-38th Ave. North
-41st Ave. North
-48th Ave. North
-53rd Ave. North (fully accessible)
-Gardens by the Sea, 5400 N. Ocean Blvd.
-Seaside Place
-64th Ave. North
-70th Ave. North
Myrtle Beach – Partially Accessible
-24th Ave. South
-23rd Ave. South
-19th Ave. South
-17th Ave. South
-16th Ave. South (one step at beach end)
-11th Ave. South
-7th Ave. South
-1708 N. Ocean Blvd.
-2104 N. Ocean Blvd.
-2302 N. Ocean Blvd.
-2504 N. Ocean Blvd.
-34th Ave. North (steps at beach end)
-44th Ave. North
-47th Ave. North
-51st Ave. North
-65th Ave. North
-66th Ave. North (steps at beach end)
-69th Avenue North (steps at beach end)
-75th Ave. North
-76th Avenue North (steps at beach end)
Beach wheelchairs are available free on a first-come, first-served basis. To reserve yours, call the Police Department communications desk at 843-918-1488; wheelchairs will be delivered to (and picked up from) your location.
Family Friendly, Wheelchair Accessible Entertainment
These venues are wheelchair accessible, and are sure to please everyone in the group!
Theatres
Carolina Opry: This award-winning live theater features a rotating lineup of music variety shows that are responsible for giving it the honor of the only theater that received "The Most Outstanding Attraction" by the state of South Carolina. Book your tickets, they're happy to tell you more about their Wheelchair Transfer Disability aisle seats and other needs for you. Call 1-800-843-6779 or visit https://www.thecarolinaopry.com for more details.
Pirates Voyage: Arrghhh you ready for a pirate adventure? This dinner theater features acrobatics, high dives and full wheelchair accessibility. Just let members of their crew about your needs when you book your show, so they can accommodate you. Call 843-497-9700 or visit https://piratesvoyage.com
House of Blues: Don't miss your chance to rock out to a full schedule of live concerts at this legendary venue that features national acts. Just call the box office for special needs accommodations at 843-272-3000 or visit https://www.houseofblues.com
Alabama Theatre: Musicals that rival Vegas and national music acts grace the stage of Alabama Theatre and we don't want you to miss a beat. Wheelchairs are available for reservation in advance, as well as parking lot assistance, to transport you from your vehicle to your seat. Just let the box office know when you're ordering tickets at 843-272-1111 or visit https://www.alabama-theatre.com
Shopping & Dining
Barefoot Landing: Beautiful dock walkways wind around a 27-acre lake that anchors Barefoot Landing, a popular shopping, dining and entertainment village on the banks of the Intracoastal Waterway Immerse yourself in the atmosphere of a quaint Southern shopping village. Wheelchair services are located at the Barefoot Landing Visitor Center in its Low Country Village section. For more information, call 843-272-8349 or visit https://www.bflanding.com
Outdoor Recreation
Adaptive Surf Project: This local group of surfers with giant hearts regularly takes those with disabilities out in the Atlantic on specially made surfboards near the Cherry Grove Pier. It's something the nonprofit has been committed to since 2013. Line something up with them during your stay at www.adaptivesurfproject.com
The Cherry Grove Pier: This landmark pier is always a flourish of activity, from fishing tournaments to fireworks shows. Public parking spaces are only a few feet from the pier and accessible ramps roll right out to the pier. For more info on options for fishing gear, visit www.cherrygrovepier.com