Arriving At Pirates Voyage
Pirates Voyage Dinner and Show in Myrtle Beach and the entire Grand Strand area are celebrating the Christmas spirit all season long! Your evening out at the dinner theater features fun holiday songs, crowd interactions, dueling pirates and plenty of food for your crew. It's the perfect place to get into the holiday spirit along the Grand Strand.
I brought my family to the show including my two small children ages 3.5 and 1.5 in early November. They were excited to see the animals outside as we pulled up as well as the giant Christmas tree outside. We entered the building to find more holiday decorations with a pirate twist and plenty of pre-show fun.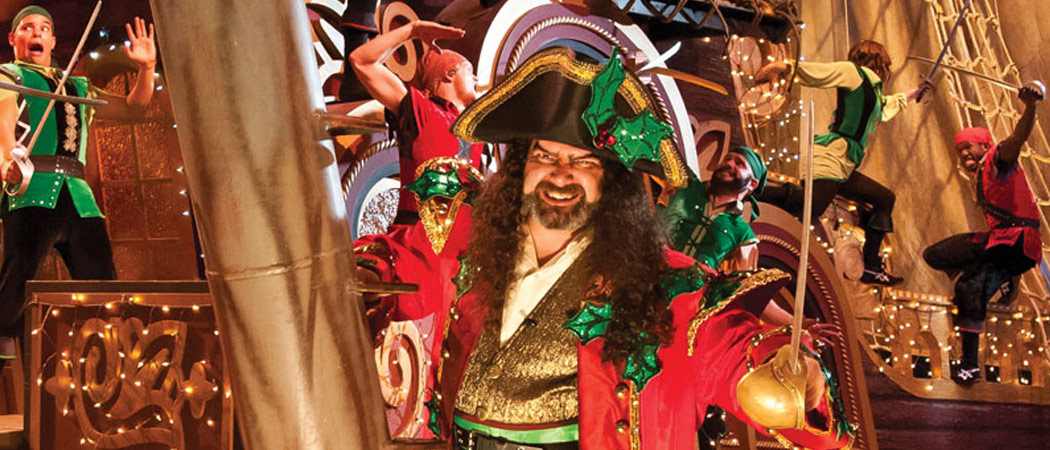 We started off the night by treating our daughter to their "Join the Crew" face painting special where they transformed her into a sparkling mermaid complete with magic wand, earrings, bracelet and souvenir flag. She loved it so much that she slept in it that night!
From there we made our way upstairs to catch a great view of the pre-show entertainers. They had pirate-themed trivia, Christmas carols, daring jugglers and balancing acts and even a visit from the adorable Sea Lion. There are several bars located in the pre-show area that serve mixed drinks, beer, wine and fun cocktails in take home glasses.
Pirates Voyage Christmas Show
Once it was time to enter the main theater, we were all excited to see what excitement was up for us next! We were seated on the Emerald side (known as the Sapphire team outside of the Christmas season) in the front row for the best views in the house. We had plenty of room in the booth-style seating for our family of four and were given a choice of beverages from our server as well as a list of cocktails from a bar wench.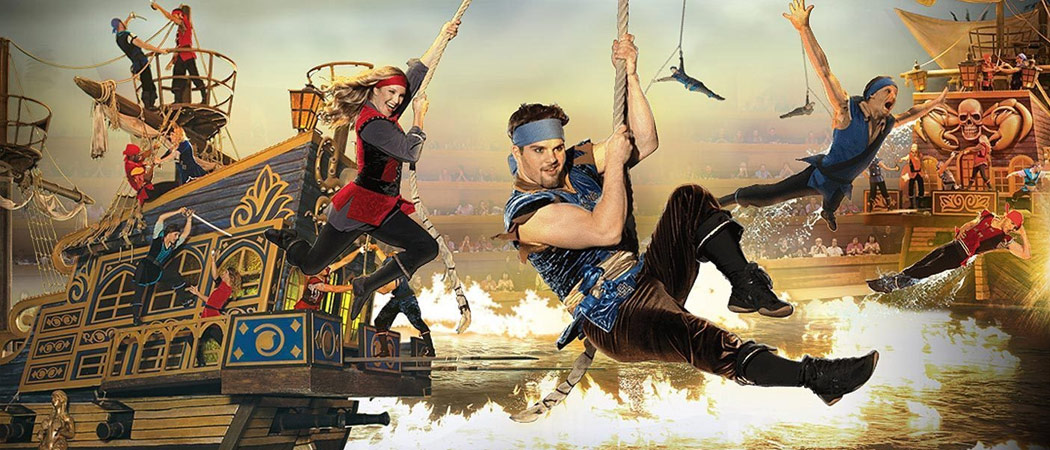 The show started with parrots of each side's color flew in circles around the pirate ship set. They stopped right in front of us and even said "hello" to the crowds. The fun continued with acrobatics, songs, and a visit from Captain Scrooge and his first mate. The show takes Captain Scrooge along an emotional journey to find the true meaning of Christmas. You'll see a visit from the ghosts of Christmas Past, Present, and Future and a special live nativity scene complete with Mary, Joseph, Baby Jesus, the Three Wise Men, and live camels. An appearance from the angel completes this beautiful scene about the true meaning of Christmas.
Once Captain Scrooge finds the meaning of Christmas, the fun begins again as the pirate teams compete for the sunken treasure. They take part in amazing diving competitions, sword fights, relays involving the crowd and animal races. The kids loved seeing the divers and the exciting fire show on the ship and watching their faces light up may have been the highlight of our night. There's so much going on that you almost forget to eat!
What's For Dinner?
Speaking of food, Pirates Voyage certainly knows how to fill you up. Your dinner comes with a creamy vegetable soup, roasted chicken, BBQ pork, corn on the cob and a potato wedge. Save some room for the delicious apple pastry served for dessert. It was safe to say that everyone at our table had a great meal – even our little ones couldn't get enough!
Our night at Pirate's Voyage could not have been more fun. The kids had an absolute blast and keep asking when we can go back again. If you're looking for something fun to do with your family this Christmas season in Myrtle Beach, this is definitely one show you want to consider! The Christmas Show at Pirate's Voyage is held through November and December.
Myrtle Beach Resorts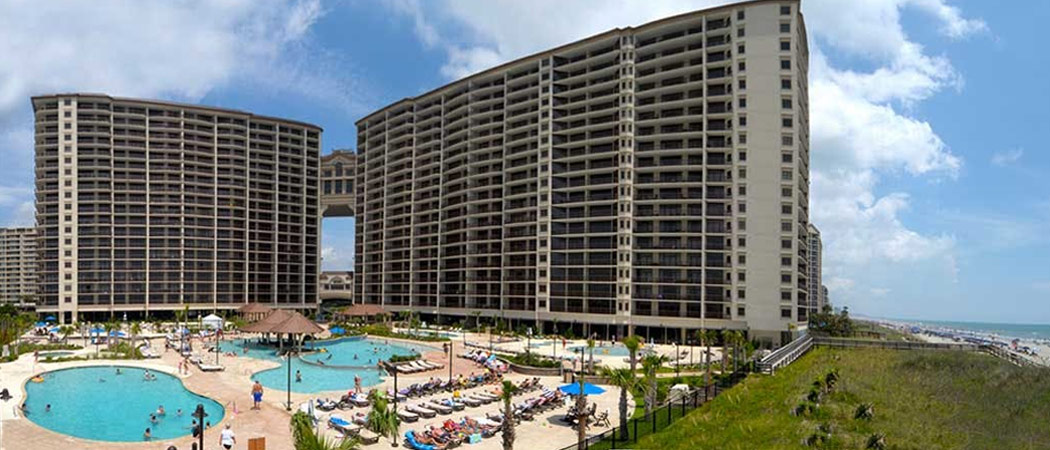 Don't wait to book your accommodations in Myrtle Beach and North Myrtle Beach! Whether you are coming this holiday season or planning a vacation next year, Condo-World will get you set with the best places to stay, from one-bedroom units to sprawling 7-bedroom penthouses. In addition to Pirates Voyage, be sure to check out the other Christmas events in Myrtle Beach.