Get away from the crowds and back to nature in its finest form at Shell Island in Panama City Beach, approximately 7 miles of undeveloped island between the Gulf of Mexico and St. Andrews Bay. Locals and visitors alike love this Panama City Beach hot spot, and it offers visitors not only beauty and relaxation away from the hustle and bustle, but also an opportunity to make memories with friends and family.
What is Shell Island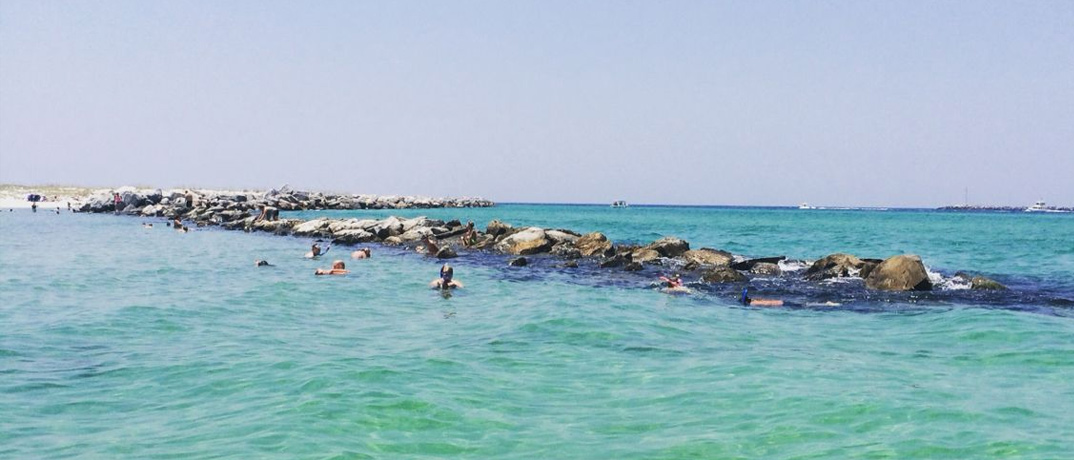 Shell Island is a barrier island, and along with its stunning beaches, it's home to sand dunes, coastal forest, an inland lake, and an array of coastal animals and birds. It was named for the vast array of shells found amongst its shores, but visitors might find shells few and far between in the heavier-trafficked areas. Shell Island is divided in two by the St. Andrews Shipping Channel (also known as "the pass"), and the western portion is part of St. Andrews State Park and the eastern portion is property of Tyndall Air Force Base.
Visiting Shell Island
Shell Island is a natural environment, so planning your trip in advance is vital to an enjoyable experience. There are no restaurants or concession stands, restrooms, pavilions, or trash receptacles on the island, and it can be accessed by boat via St. Andrews State Park. We've put together this Shell Island Visitor's Guide to help you plan your next visit!
Getting to Shell Island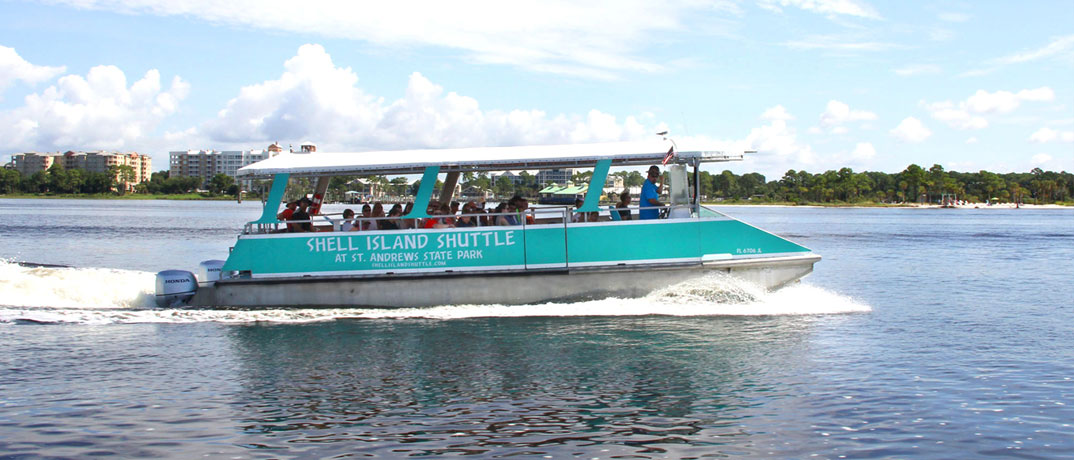 There are a few different ways Shell Island visitors can access the island. The first way is via The Shell Island Shuttle, the official shuttle service of Shell Island that departs out of St. Andrews State Park. This shuttle is the only service that drops you at the safest location, inside the Jetty Rocks, and is the easiest and quickest way to get to the island. Pricing for The Shell Island Shuttle starts at $19.95 for adults and $10.95 for children for round trip tickets.
There are other shuttle companies that can also take you to other parts of the island. The other option for getting to Shell Island is to rent a pontoon boat for your group from Shell Island Pontoon Boat Rentals or another boat rental company. This would be a fun option for exploring around the island and enjoying a boat day.
Packing List for Shell Island
Since Shell Island is a natural environment, be sure to pack all of the essentials! Beach chairs, umbrellas, and/or a beach tent will make for a good break from the sun when you're planning to spend a day of fun in the sun. Sunscreen, hats, sunglasses, and protective clothing will also keep you and your family protected from the intense summer heat. If you're looking to avoid lugging all of the beach equipment to the island, there are companies that rent beach chairs and umbrellas, but we recommend contacting the company for availability and to ensure they are open when you're visiting.
For a full day, we recommend packing a cooler with water and liquids to stay hydrated, plus plenty of food and snacks. Paper towels and other paperware might help when prepping your meals. To lighten the cooler load, use gel cooler packs in place of ice.
Other essentials for the day include towels/blankets, a change of clothes, water floats, goggles and snorkel gear, beach toys, and maybe even a good book.
Just remember, there are no shops or concessions, so take everything you need and plan to bring it back. Help keep Shell Island beautiful!
Things To Do at Shell Island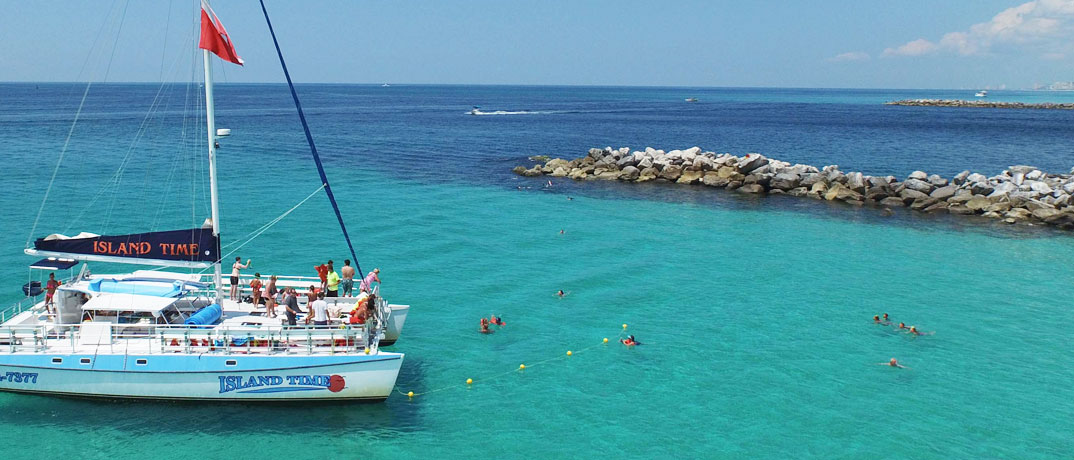 There are plenty of activities to partake in when you visit Shell Island! Snorkeling and dolphin tours are two favorites, but visitors can also rent kayaks and paddle boards to complement their Shell Island excursion.
If you're just there to relax with friends and family, enjoy some fun in the sun with a good book in hand, grab some beach games and bring with your, or take a stretch on your blanket and enjoy a nice nap.
Whatever you're planning for your day of fun in the sun at the beloved Shell Island, bring your good attitude and big smile. It's going to be a good day spent at one of Florida's most beautiful beaches and natural settings.
Stay Close to Shell Island
Stay close to the natural beauty in Panama City Beach. There's nothing better than waking up and being minutes from your destination during your beach vacation.
Treasure Island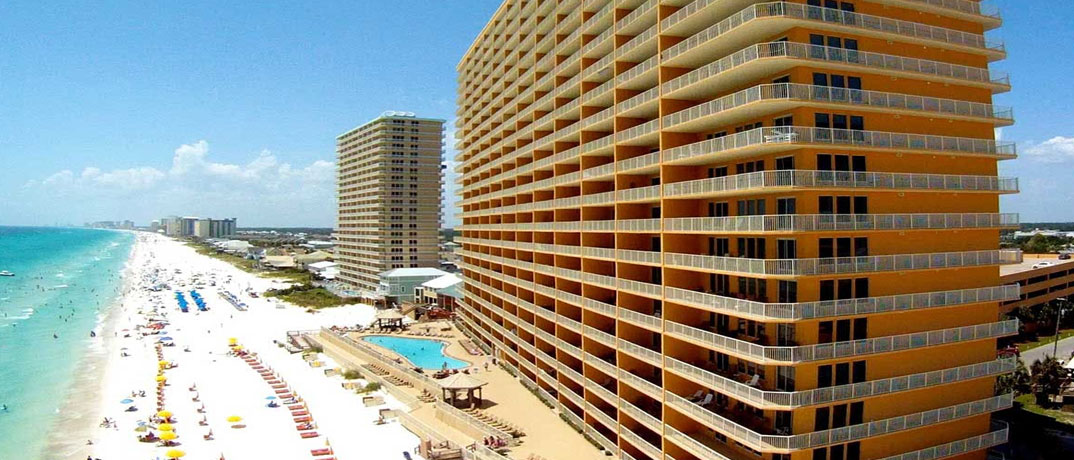 Book your dream vacation at Treasure Island, gulf-front condos are located near the award-winning St. Andrews State Park where you can easily reach Shell Island. Treasure Island condos offer an amazing array of luxurious amenities, vibrant nearby dining options, plenty of daily activities to choose from (or not). Book a 2 or 3 bedroom spacious and beautifully-furnished and relax with a stunning beach view on your next Panama City Beach vacation.
Regency Towers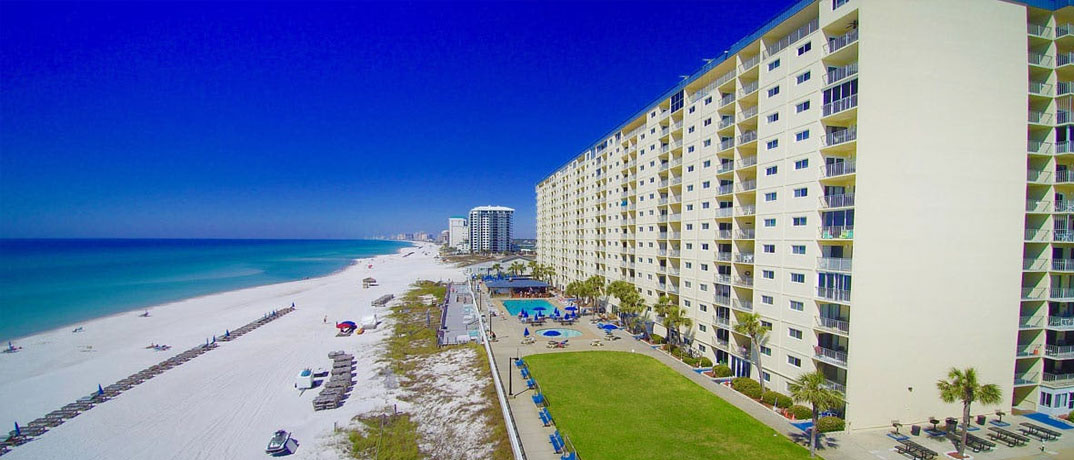 Stay in style at Regency Towers, a gated community situated on the white sandy beaches of Panama City Beach. This upscale, family-friendly, high-rise condominium sits close to St. Andrews Park for those looking to enjoy Shell Island as well as minutes from many other Panama City Beach attractions and restaurants. With 1, 2, and 3-bedroom options, Regency Towers is perfect for a couples getaway weekend or a family summer vacation at one of world's most beautiful beaches.