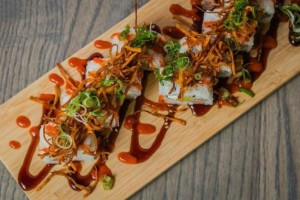 Are you a sushi lover? The Japanese dish has become extremely popular in the Myrtle Beach area. There are now more than a dozen Myrtle Beach seafood restaurants that offer some delicious sushi. Here are the top five sushi restaurants in Myrtle Beach, SC we recommend checking out.
Soho
Soho offers two great locations in the area. The two restaurants can be found at 21st Ave North in Myrtle Beach and at Highway 544 in Conway. Each location offers a super relaxed atmosphere with delicious food and drinks. Soho opens at 11:30am with both lunch and dinner menus. The most popular rolls are the rainbow roll and spicy tuna.
406 21st Ave N, Myrtle Beach, SC 29577
1300 SC-544 #109, Conway, SC 29526
King Kong Sushi
There are two Myrtle Beach locations for King Kong Sushi that open daily at 11:30a.m. During the week guests of the restaurant can partake in a number of specials including discounted specialty rolls, half off bottles of wine and more. The most popular sushi roll is the No Name roll that includes fried shrimp plus crab topped with tuna, spicy mayo, avocado and eel sauce.
1306 Celebrity Cir #163C Myrtle Beach, SC
Forest Square, 2120 Oakheart Rd Myrtle Beach, SC
Miyabi 
Miyabi is perfect for parties who have sushi lovers and non-sushi lovers. Guests can enjoy the full hibachi experience or hang out in the dining area. Some of the hibachi items include ribeye, chicken, filet mignon and more. Miyabi offers a full sushi menu for all guests. We recommend the Myrtle Beach roll!
9732 N Kings Hwy, Myrtle Beach, SC 29572
Mr. Fish
Mr. Fish is a unique Myrtle Beach seafood restaurant. The dining experience is one of a kind with the laid-back atmosphere and excellent service. The sushi is a top-selling item in the restaurant and is highly recommended. A crowd favorite is the nay nay roll. The nay nay rolls consists of tuna on the inside topped with spicy tuna and avocado.
6401 N Kings Hwy, Myrtle Beach, SC 29577
Art Burger – Sushi Bar
Art Burger – Sushi Bar is new to the grand strand area and located along the Myrtle Beach Boardwalk. The restaurant has amazing burgers and delicious sushi options to choose from. Guests can enjoy an oceanfront view while eating some delicious treats. A very unique sushi roll that has become a fan favorite is the chicken mac and cheese roll. Yum!
706 N Ocean Blvd, Myrtle Beach, SC 29577