If you're on the hunt for water activities while you're here in Myrtle Beach, you won't have to look far because we're surrounded by it! From the Atlantic Ocean to the Intracoastal Waterway and manmade lakes and attractions in between, there is no shortage for you and your family to splash, slide, and ride the day away.
Here are our 8 best water activities you can't miss in Myrtle Beach:
Myrtle Waves Water Park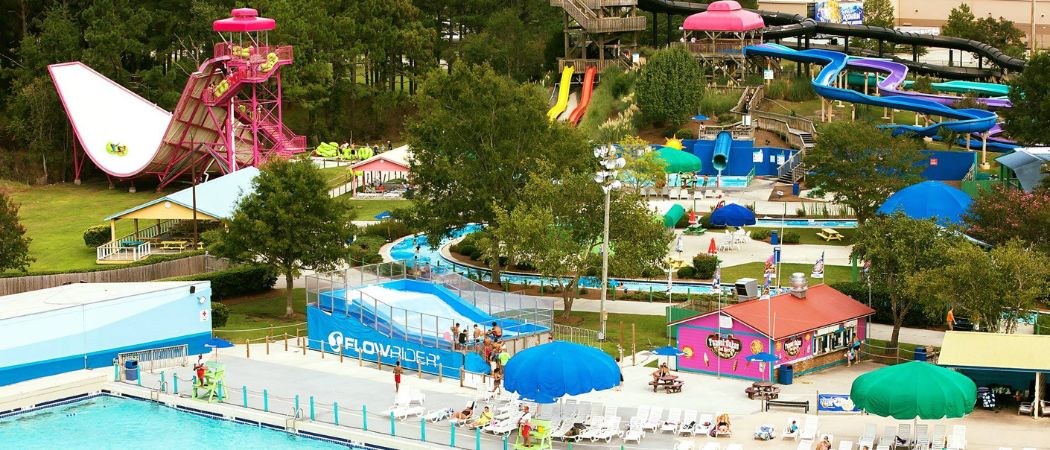 Make a water playdate at this landmark waterpark in Myrtle Beach, or just splash the day away in the Ocean in Motion Wave Pool. Choose from more than 30 attractions including water slides, tube slides, the FlowRider surfing experience, and plenty of kids' play areas. They have plenty of food and beverage vendors throughout the park as well as lockers and a gift shop in case you forget something important (sunscreen anyone?). There's something for everyone here in the water!
Shark Park 843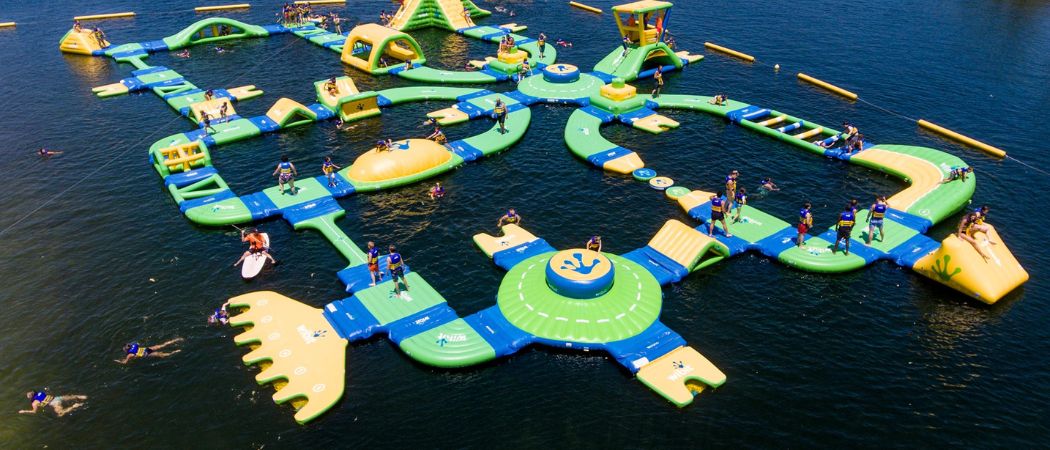 Get an adrenaline rush at this water attraction that is double the fun on a manmade lake in North Myrtle Beach: a cable wakeboarding park and an inflatable obstacle course. The state-of-the-art Shark Wake Park operates by a pulley system and is perfect for all skill levels – from beginners to seasoned pros who want to perform tricks and jumps. Also at Shake park is the family-friendly Obstacle Island, a massive floating playground that features monkey bars, climbing towers, slides and more.
Kayaking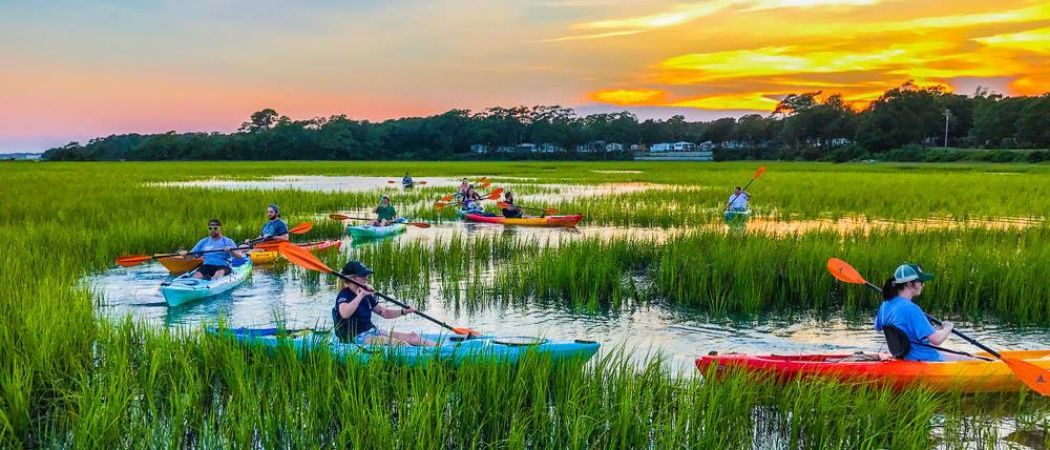 Slice a kayak paddle through any of the natural waters in the Myrtle Beach area, from the  marshes of North Myrtle Beach and Murrells Inlet to the waterway. Choose to rent a single or double kayak and explore the routes on your own at your own pace or book a guided tour that will educate you more on the history and the marine and wildlife of our coastal waters or feature special packages, like sunset paddles, bird watching, or shelling excursions. (Photo courtesy of J & L Kayak Tours).
Parasailing, Jet Skiing, and Banana Boat Rentals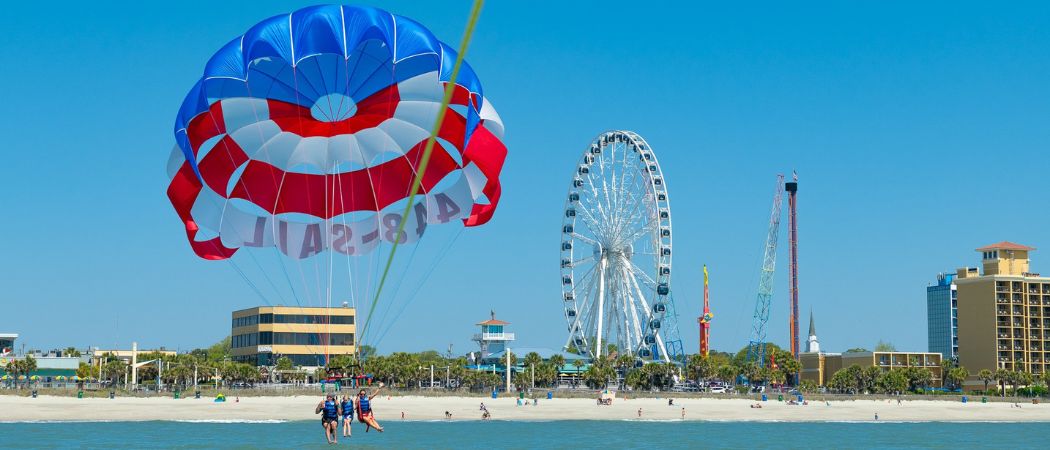 From Little River to Murrells Inlet and Georgetown, reputable rental companies docked on the inlet marshes, on the river, or on the sands of an ocean beach access provide a fleet of different water toys awaiting your next adventure! Fulfill your need for speed on a jet ski, bounce along hanging onto a long banana boat raft that's pulled behind a jet ski, and fly high above the ocean on a parasail ride for breathtaking views – you may even be lowered to dip your feet in the salt water! (Photo courtesy of Downwind Sails Water Sports).
Learn to Surf
We may not boast the biggest waves on the coast, but Myrtle Beach has still produced a few surfers on the pro circuit, so take a surfing lesson from one of our many surf shops and instructors. Or you can rent a board and attempt to pop up and ride it solo. There are plenty of camps during the summer months for both children and adults who want to learn how to surf. (Photo courtesy of Kokopelli Surf Camp).
Beach Rider Jet Boat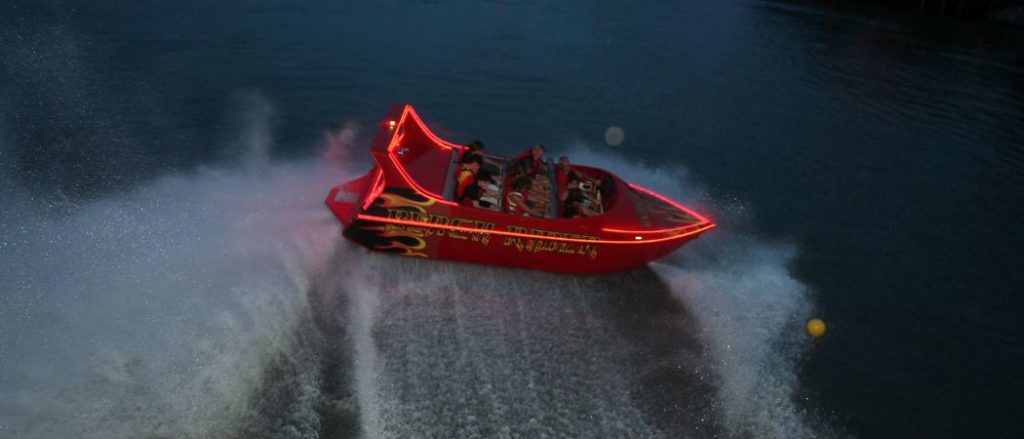 Thrill-seekers will love this cool extra attraction at Broadway at the Beach. The Beach Rider Jet Boat will whip you around the lake at Broadway, what they describe as a "roller coaster on the water." Hold on tight and get ready to feel the speed of this awesome ride!
Brew Boat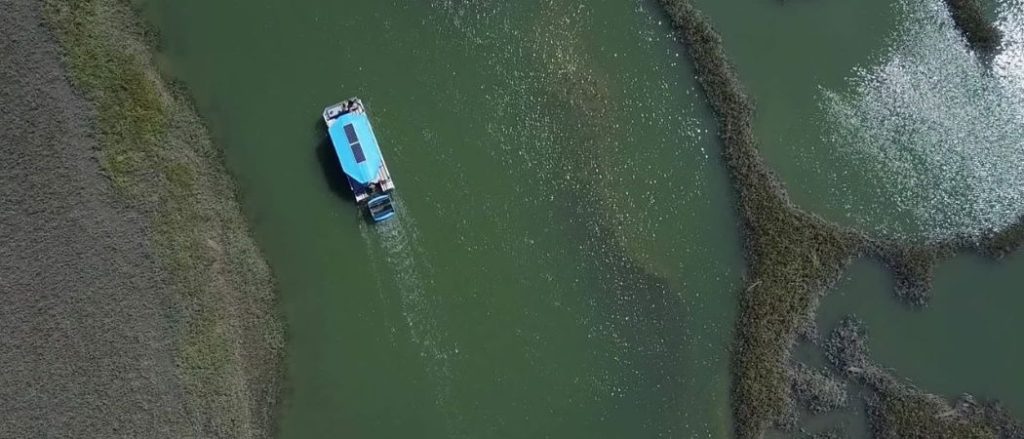 Do you want something a little stronger than H2O? Those over 21 can have both while on board the Inlet BrewBoat that departs from the Crazy Sister Marina in Murrells Inlet. Take a seat on a bar stool on this pontoon boat and start peddling your way out into the marsh (the engine is there for backup if you want to sip for exercise), which is all powered by the ice-cold beer or wine you bring on board with you. Cheers!
Blackbeard's Pirate Cruise of Myrtle Beach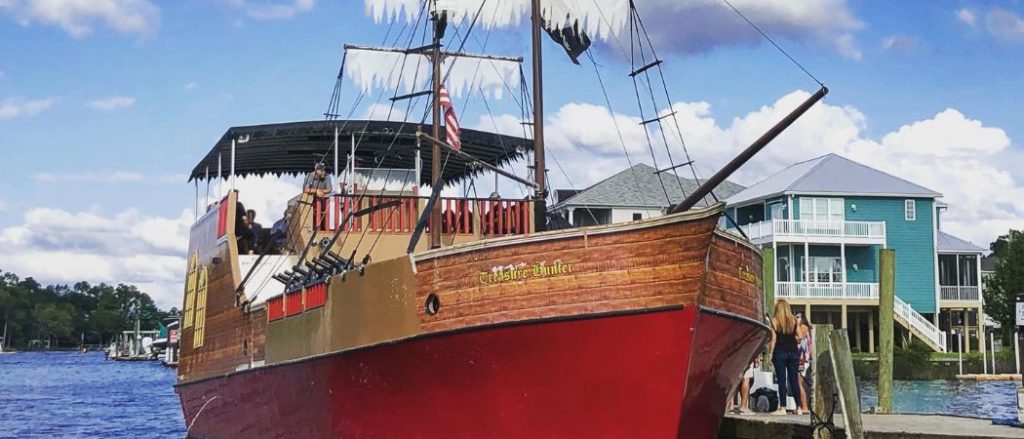 Kids of all ages will love setting sail with this pirate ship that sets out from the Intracoastal Waterway in central Myrtle Beach. The hour-long family adventure begins on dock, where wee mates are transformed into buccaneers, complete with a mustache, tattoo, and costumes. Once in the waterway, all pirates will be on the lookout for Blackbeard's treasure and in the middle of an action-packed adventure, encountering Bad Billy Bones, who will be firing a water gun at your ship – but you're armed with 16 high- powered water cannons! Arrghh!
By: Ashley Daniels