Why is the Myrtle Beach Area Called "The Grand Strand?"
Most visitors and locals have heard the Myrtle Beach and surrounding areas called "The Grand Strand" for quite some time whether they've understood the term or not. If you're not sure where exactly that name came from, we're here to give you a little history of this famous nickname.
The Grand Strand is comprised of a sixty-mile stretch of beaches along the Atlantic Ocean. It ranges from Little River all the way down to Georgetown, South Carolina and encompasses all the towns in between including Murrells Inlet, Surfside Beach, Garden City, North Myrtle Beach and, of course, Myrtle Beach.
The term "The Grand Strand" actually came about a few years before Myrtle Beach was officially incorporated as a city. Back in late 1949, the Myrtle Beach Sun published a column called "From the Grandstand" followed by another titled "From the Grand Strand" in the Myrtle Beach News and thus the nickname was born.
Now that you know where the name comes from, you'll be sure to win a few rounds of trivia in Myrtle Beach.
One thing's for sure, everyone seems to have their favorite place along the Grand Strand. With world-class golf courses, top-rated hotels and resorts and endless things to do, it's one of the top vacation spots in the United States drawing in millions of visitors each year.
Hotels along the Grand Strand
Caribbean Resort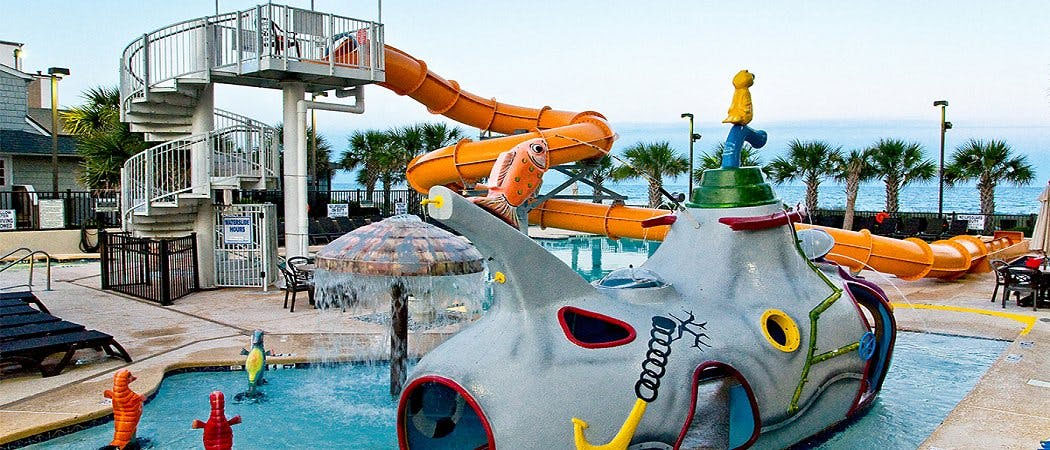 The Caribbean Resort has been a family favorite along the Grand Strand for decades. The newly renovated oceanfront condos offer one-, two-, three- and four-bedroom floor plans with full kitchens and free WiFi. Your family will love the fun water features including a full-size slide, the Silly Submarine, a wading pool for the kids and so much more. Be sure to enjoy a meal or two at the historic Sea Captain's House Restaurant located next door. Its history runs as deep as the Grand Strand nickname!