810 Billiards & Bowling
A brand-new hangout opened at The Market Common this year and it's got a little bit of something for everyone in your crew. 810 Billiards and Bowling is home to a full bar with unique drinks, bowling lanes, games, pool tables and a full-service kitchen.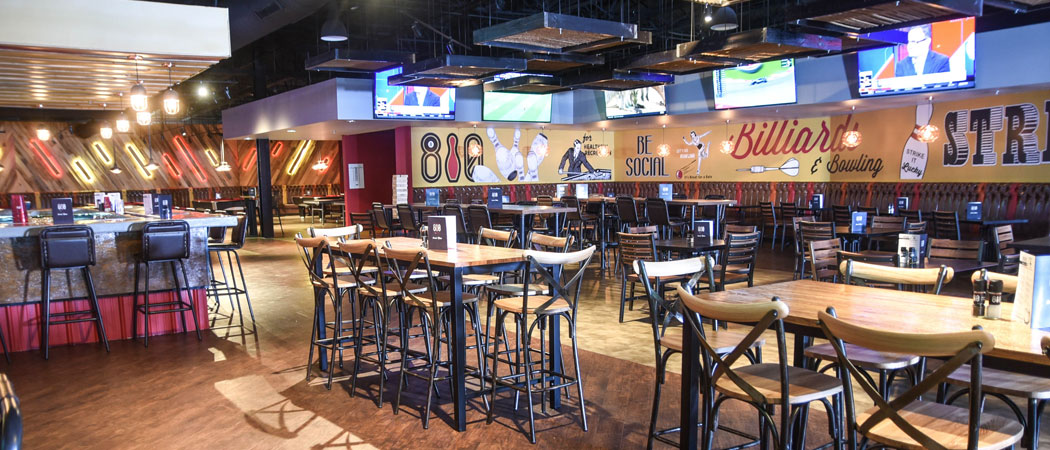 Get your group of friends together for a fun night out at 810 Bowling in Myrtle Beach and start with a few frames of bowling. The comfy couches at each lane create the coziest environment to sit back with a few drinks and appetizers while you wait for your next turn.
810 is more than just your average bowling alley in Myrtle Beach! They also offer billiards and table tennis for some more friendly competition. The fun doesn't stop here! Check out the shuffleboard, corn hole boards, air hockey, skee ball, darts, basketball and even more board games.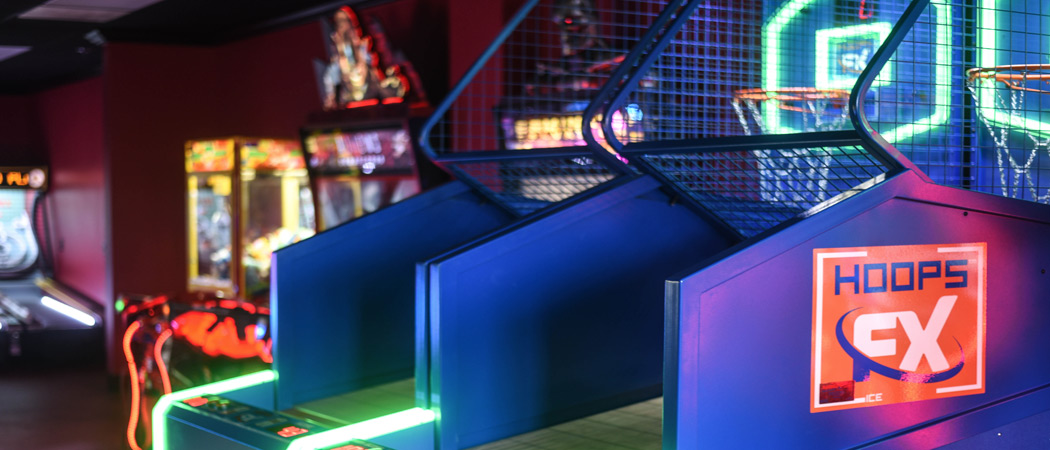 Come for the games and stay for the amazing food served at 810 Myrtle Beach. Their menu is packed with salads, shareables, brick oven pizzas, burgers and sandwiches. Try the Buffalo Chicken Dip served with grilled flat bread to start then move on to some Mahi Mahi Tacos or Rosemary Parmesan Fries drizzled with truffle oil. Pizzas are made from scratch with fresh sauce and fired up in an 800-degree brick oven for the perfectly crisp crust. Nearly a dozen specialty pizzas are served or make your own creation to share while you bowl.
The drinks menu at 810 Billiards and Bowling offers a variety of wines, rotating craft beers, domestics and imports, specialty cocktails and mixed drinks in buckets. They also serve a wide variety of cocktails made with teas and coffee including an Iced Green Tea Mojito and Chai Honey Old Fashioned. Other popular cocktails include the Key Lime Pie Martini, Cucumber Lemonade Martini and the Hammerhead Bucket made with three types of rum mixed with pineapple and cranberry juices served in a souvenir bucket.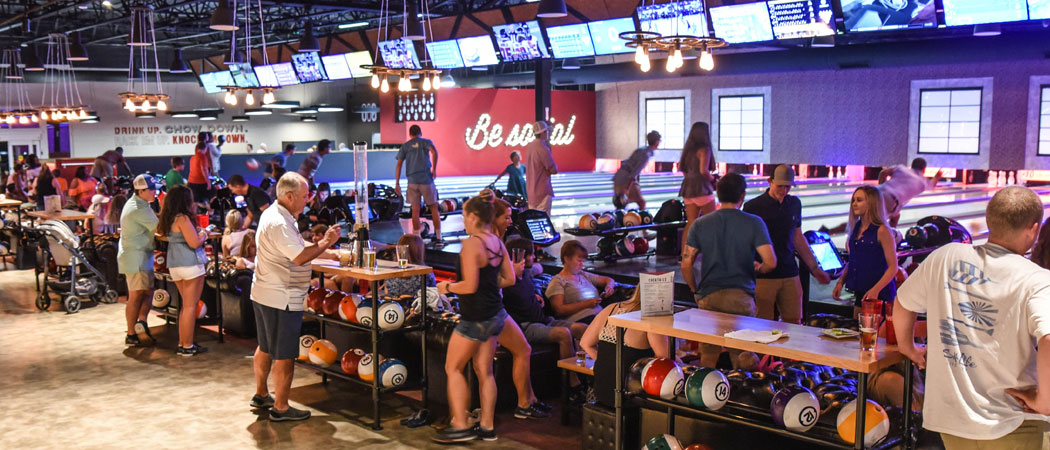 If you're staying in North Myrtle Beach, be sure to check out 810 Billiards and Bowling just off Highway 17 South. A brand-new location on Highway 501 in Conway is coming soon.
Resorts Near 810 Billiards in Myrtle Beach
Captain's Quarters Resort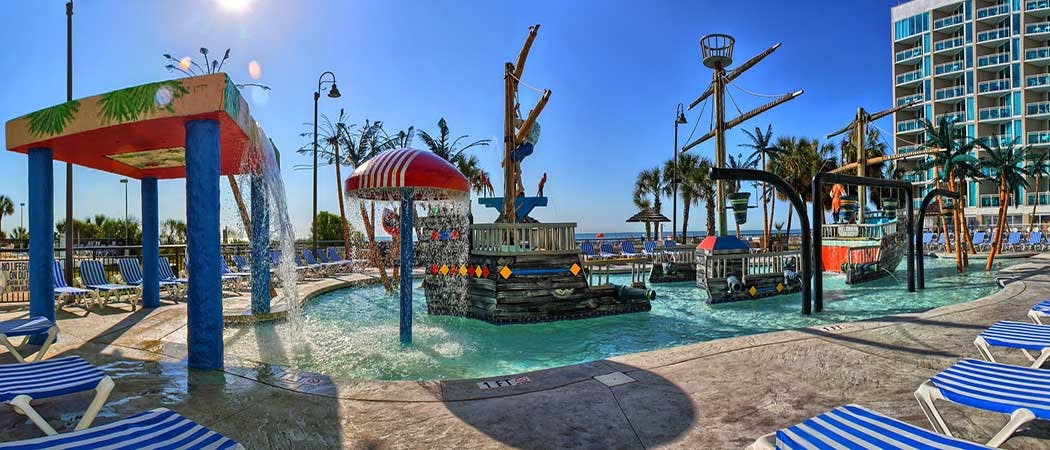 Captain's Quarters Resort is one of the top family-friendly hotels in the Myrtle Beach area and it's not hard to see why. It's home to amazing beach views, its own bowling alley and 15 different water features! Take your pick from their amazing one- and two-bedroom suites, rooms and efficiencies to create the perfect space for your family vacation. Hit the bowling alley at the Level 6 Entertainment center complete with 20 lanes, a full bar and arcade games. Captain's Quarters has indoor and outdoor pools, lazy rivers, a water park for the kids and five whirlpools for all your water needs.
Crown Reef Beach Resort and Waterpark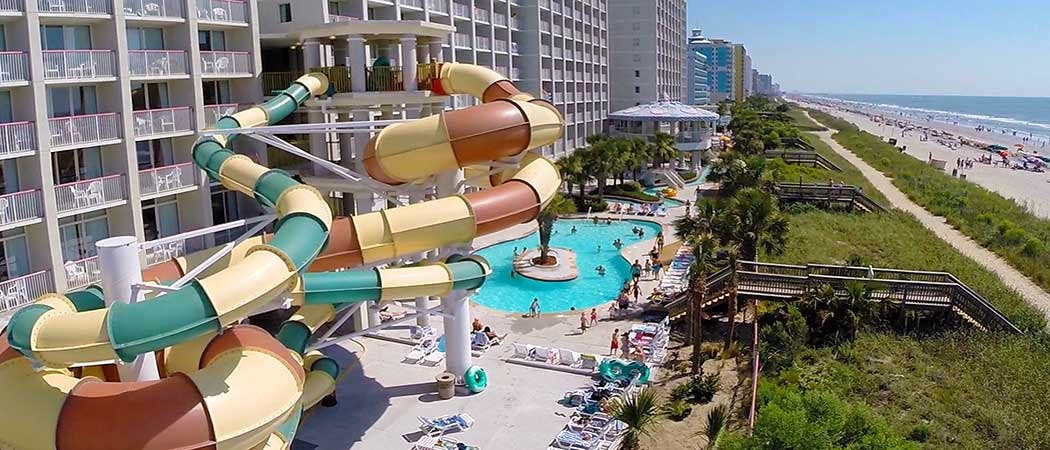 The fun can be found year-round at Crown Reef Beach Resort and Waterpark, just a short drive from 810 Bowling in Myrtle Beach. The expansive resort features 500 newly updated rooms, efficiencies and suites with up to three bedrooms. The main attraction at Crown Reef is The Waterpark featuring Salty's Splash House home to the Twister Body Slide and Explosion Tube Slide. There are plenty of other water features as well as an oceanside pool bar and four-story sundeck. Other perks at the resort include a Town Center, arcade, on-site dining options and so much more.