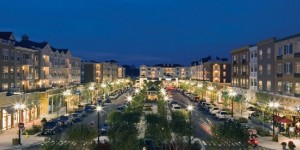 The Market Common is a premier shopping and dining area located in the heart of Myrtle Beach. The district features a blend of local vendors and popular national brands, plus amazing restaurants and a movie theater. During the year, The Market Common also has popular events that keep visitors coming back time after time.
You can shop till you drop with the number of boutiques and stores located in The Market Common. The stores range from Francesca's Collection, White House | Black Market, Anthropologie and more. If you are looking for something unique to take home from your vacation, there are plenty of options. The shops are scattered among the avenues and include Pottery Barn, Hand Picked, Current XXVII Boutique and Bijuju.
Once you have finished shopping, it's time to find a bite to eat. Some of the restaurants include P.F Chang's, Divine Prime, Gordon Biersch Brewery, and Ultimate California Pizza. A fan favorite is a delicious Mexican restaurant, Nacho Hippo. The restaurant offers heaping platters of nachos, unique taco creations, and house margaritas. It doesn't get much better than that!
Walk around and enjoy the scenery after you've finished your meal. There are many family friendly events that take place during the year, so be sure to stay tuned when you are visiting Myrtle Beach. If you are looking to do something more relaxing, then head on over to Grand Cinema 14 and find that movie you've been waiting to see.
The Market Common offers a variety of entertainment, shopping, food and more. We highly recommend checking the area out next time you are in town!