You splurged on a beautiful oceanfront condo and have arrived in Myrtle Beach, planning to load up the kitchen with the necessary provisions to cook your meals.  You toss your bags down in the bedrooms and then congregate in the common area, where the slider is open and the breeze is warm and inviting.  You can hear the ocean lapping at the shore, and everyone is immediately itching to get out and explore the area's attractions.  Cooking almost immediately leaves your mind.  This wasn't the plan! Don't fret— there are plenty of fun, affordable, flexible local dining options here at the beach to get you fed while you're out and about on the town.
The "Heartbeat of Cherry Grove" – Boulineau's
212 Sea Mountain Highway, North Myrtle Beach, SC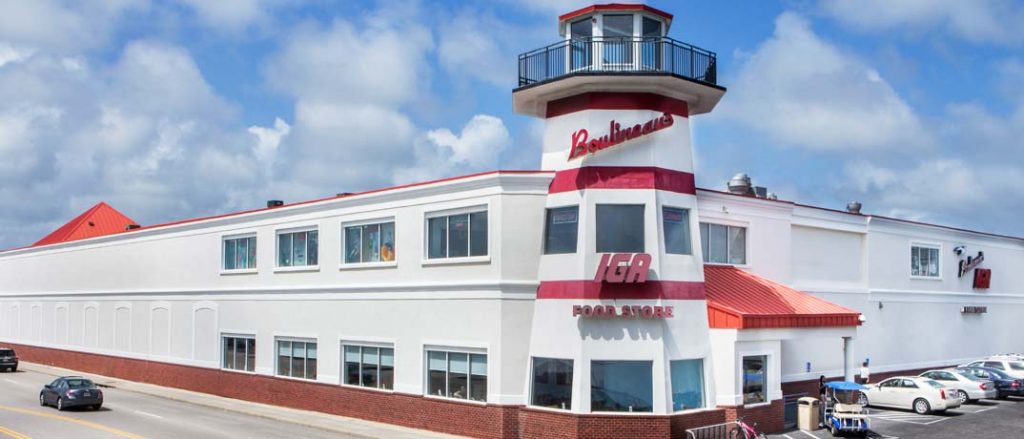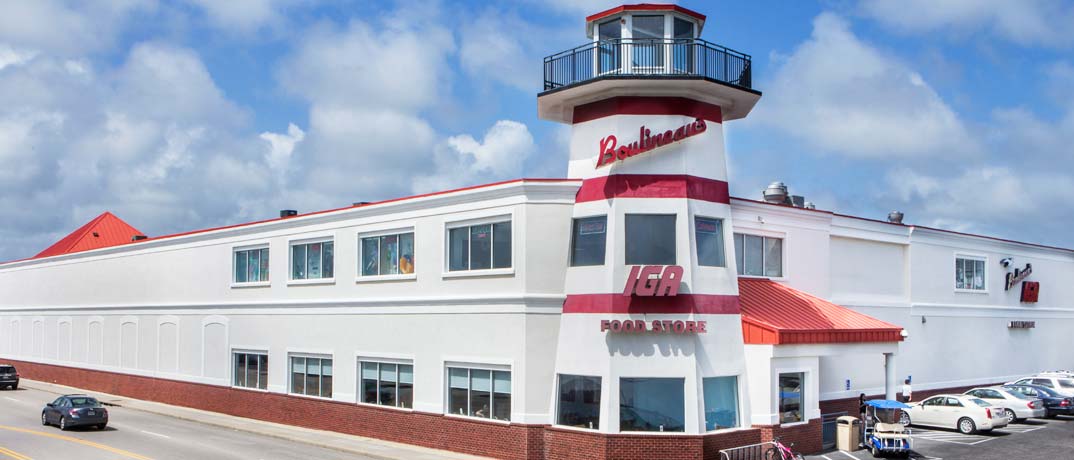 This family-owned suite of businesses has graced the Cherry Grove neighborhood of North Myrtle Beach since 1948.  It is truly, unexpectedly an experience of its own, located just a block from the beach and outfitted with a wide variety of services under one welcoming roof.  Boulineau's offers hot meals at Elizabeth's Kitchen, cold deli favorites and fresh sushi at Buddy's Deli, baked goods at Betsy's Bakery, and seafood at Frank's Seafood.  Try the famous fried chicken or a daily lunch special, and satisfy your sweet tooth with a sticky bun for only $1.18! Besides the in-house dining options, Boulineau's offers a more traditional grocery area; propane exchange, fishing tackle, hunting and fishing licensing, and an entire second floor dedicated to unique souvenirs – many very reasonably priced.  The building is 175,000 square feet (!!!) and features a large red lighthouse on the exterior.
Deli Sandwiches Done Right – Dagwood's Deli North
4200 Hwy 17 S, North Myrtle Beach, SC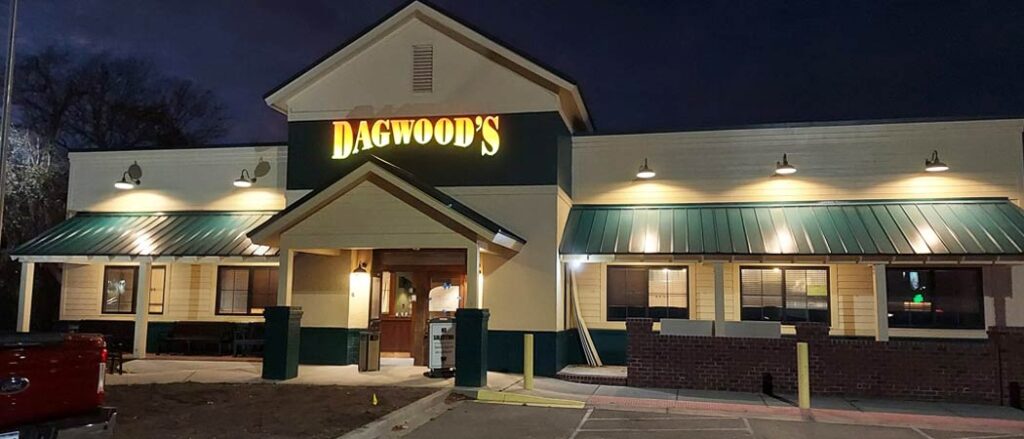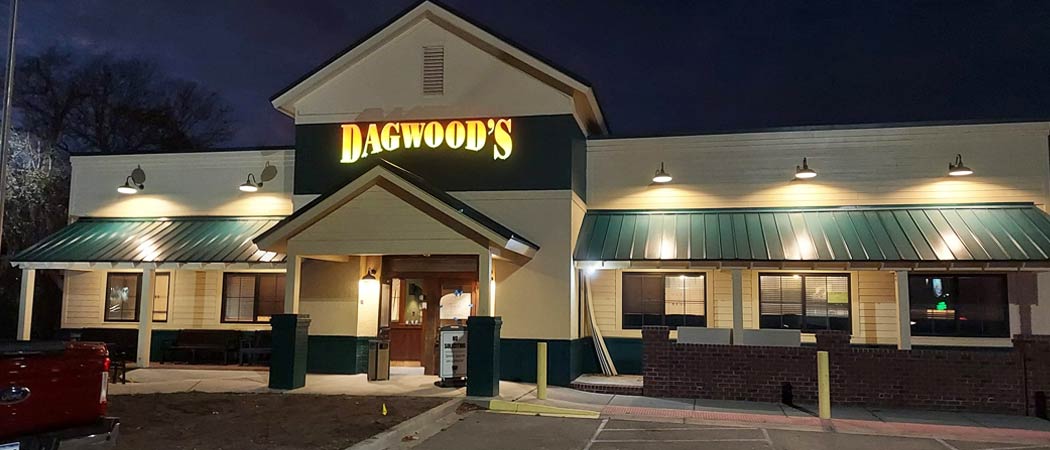 With locations in Surfside, Myrtle, and the newest addition in North Myrtle, Dagwood's has become a staple across the Grand Strand.  Their restaurants offer a pub feel with large bar areas, high tops, and tons of tvs–  making them local's favorites for sporting events – but the sandwiches are the real attraction.  Dag's bakes their fresh bread nightly and serves up absolutely massive sandwiches loaded with fresh Boar's Head ingredients.  Housemade salads and delicious cold plates such as chicken or tuna salad make great lighter options, but if the whole family is hungry two jumbo sandwiches can feed a crowd.  Try the Northern – fresh baked bread piled high with pastrami, corned beef, cole slaw, and 1,000 island dressing.  All sandwiches are served with chips, slaw or homemade potato or pasta salad.  Make sure to throw in some fresh baked chocolate chip cookies, too!
Backyard Brews – The Crooked Hammock Brewery
4924 Highway 17 S, North Myrtle Beach, SC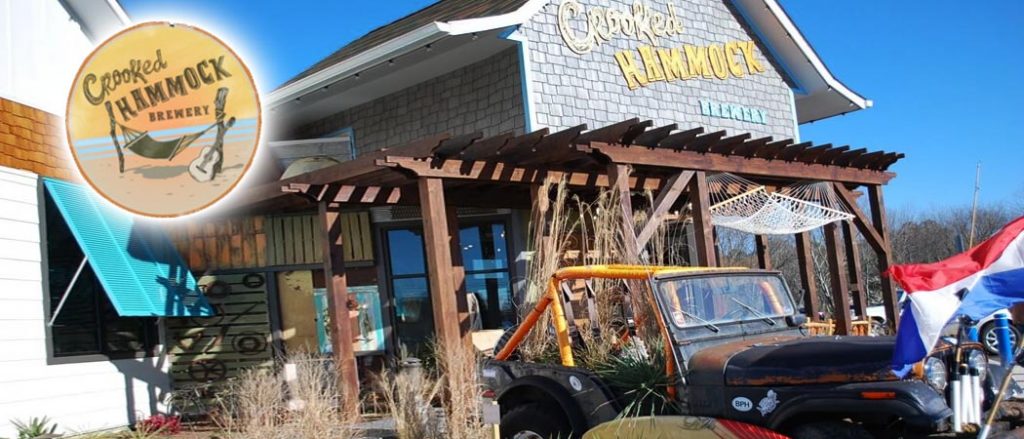 The Crooked Hammock opened their North Myrtle location at Barefoot Landing in 2021 and became an instant attraction.  Featuring backyard games such as Cornhole and Jenga, grouped outdoor seating with adirondack chairs, and a 360 degree tiki bar that sits on the lake, Crooked Hammock has the tropical feel that both locals and vacationers seek.  Because of the outdoor appeal, this brewery is family (and dog!) friendly.  While they do brew their own beers, they have a full bar and feature Happy Hour specials Monday to Friday 4-7 with $6 wine, $7 Crushes, and $9 Painkillers.  Their brewed beers are $4 at happy hour – try the South to Somewhere, a Golden Ale brewed with coconut for a subtle tropical flavor.  The food specials include unique, crowd-pleasing options like $3 pulled pork or meatball sliders, $8 grilled kielbasa on a griddled bun, and $10 apple or peach grilled cheese with bacon on challah bread.
Southern Staples – The Shack
1128 Sea Mountain Hwy, North Myrtle Beach, SC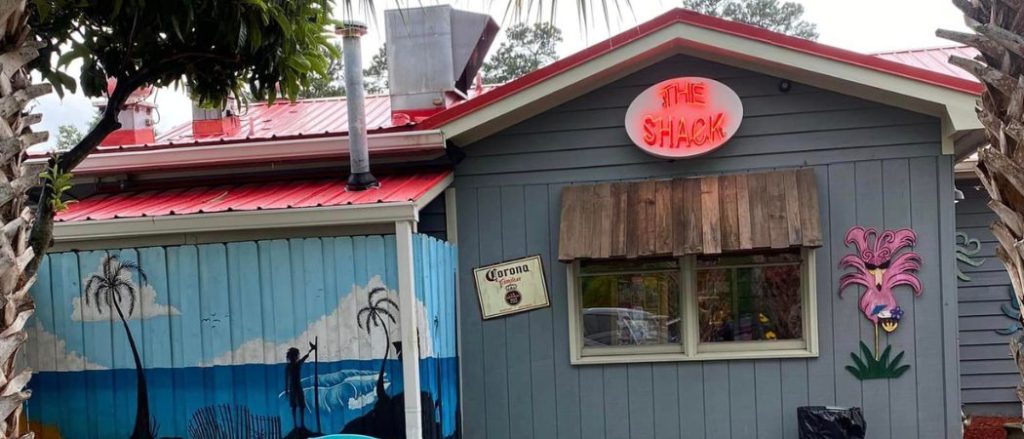 The Shack has only been in North Myrtle Beach's Cherry Grove Beach area since 2010, but the throwback beach vibes make it seem as if it has been a staple forever.
The slogan at The Shack is "A true taste of the South at an affordable price" and they full-on deliver.  The cozy spot serves breakfast, lunch, and dinner, but the true bargain is their lunch specials.  Their rotating specials for $11.49 plus tax include a meat, bread (Cornbread or a biscuit), three sides (we're talking southern sides, which are hearty like a meal on their own–  mac n cheese, mashed potatoes and gravy, fried okra, etc), AND a tea.  In spite of the audible chatter of guests, the server who answered their phone was incredibly friendly and helpful.  While rattling off the Monday specials (fried chicken or fish, beef stew over rice with potatoes and carrots, or chicken and dumplings) she made sure to emphasize that one of the three sides included can be HOUSEMADE DESSERT.  Y'all! Get to The Shack for lunch.
Beach Bring-alongs – Burky's Grille
4001 N Kings Highway, Myrtle Beach, SC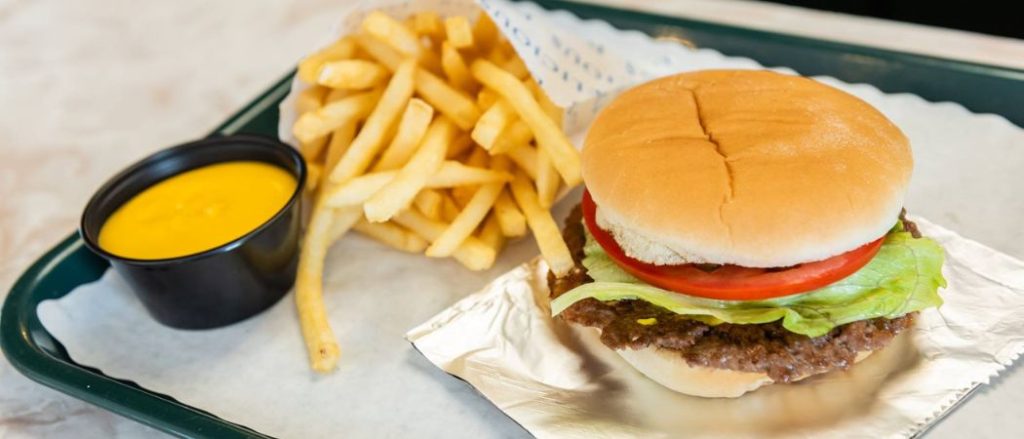 When you inevitably find yourself in the heart of Myrtle Beach, 39th Ave North provides a drive through option that is unexpectedly hearty and inexpensive.  The menu is far from your standard fast food, including the Cincinnati-famous chili 3-way (spaghetti, chili and cheese for only $3.70!), baked potatoes loaded with broccoli and cheese, bacon and cheese, or sour cream and chives (all under $3), and fresh burgers (only $5.20 for a double cheeseburger).  Burky's has great options for cleaner eats with soup of the day for $2.75 and fresh garden salads for under $6.  The kids will love the junior menu which offers standard favorites like a burger or dog, corn dogs, grilled cheese, pb&j, fries, a drink AND a coupon for an ice cream scoop at $4.20.  Head across the street to the beach with a picnic feast!
Off-campus Cuisine –  Jimmy Burger
1502 Church St., Conway, SC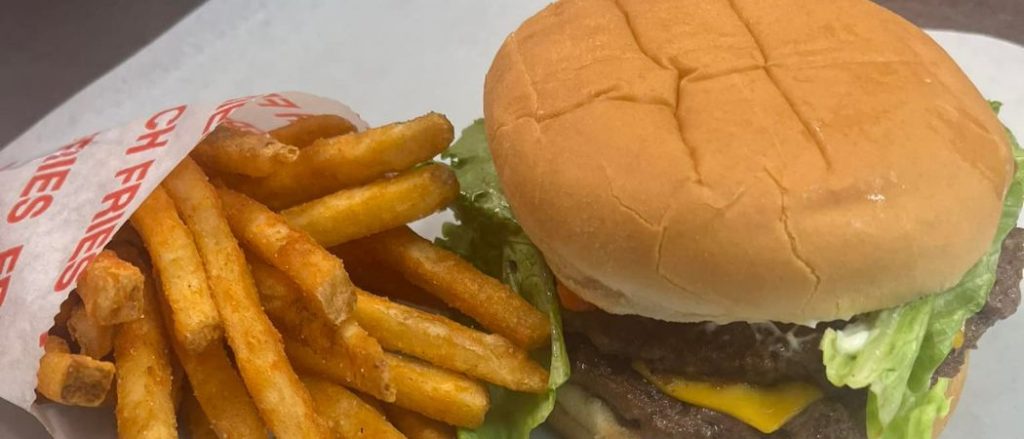 If you find yourself in charming Conway, SC – maybe after touring Coastal Carolina's campus or visiting a student –  you will be shocked to learn there is a Jimmy Burger (formerly Central Park).  This former Central Park is not a park at all, but the tiniest drive-through you ever did see.  Housed inside the tiny structure is a small kitchen that cranks out surprisingly delicious burgers and fries on the go, sure to please the wallets of vacationers and students on a budget.  Be sure to order a cheeseburger their standard way, with mayo, mustard, ketchup, pickles, onions and lettuce.  For less than $10 a person, a massive burger and personal cup of crisp french fries will have each visitor planning their next trip back here off the beaten path.
By: Julie Genga