On Saturday, August 8, 2020, the Emerald Coast Foundation will be holding The Original EMERALD COAST POKER RUN. This year, however, it will become The Original Emerald Coast Poker Run Lite, due to concerns regarding COVID-19.
For a $25 donation, have a fun day out on the water in Destin, FL, with The Emerald Coast Foundation, then play poker for prizes at AJ's on the Bayou. As an addition to the "lite" version for 2020, not only boats can participate, but also automobiles and motorcycles are invited to be a part of the fun. The goal remains to raise as much money as possible for local children!
What is a Poker Run?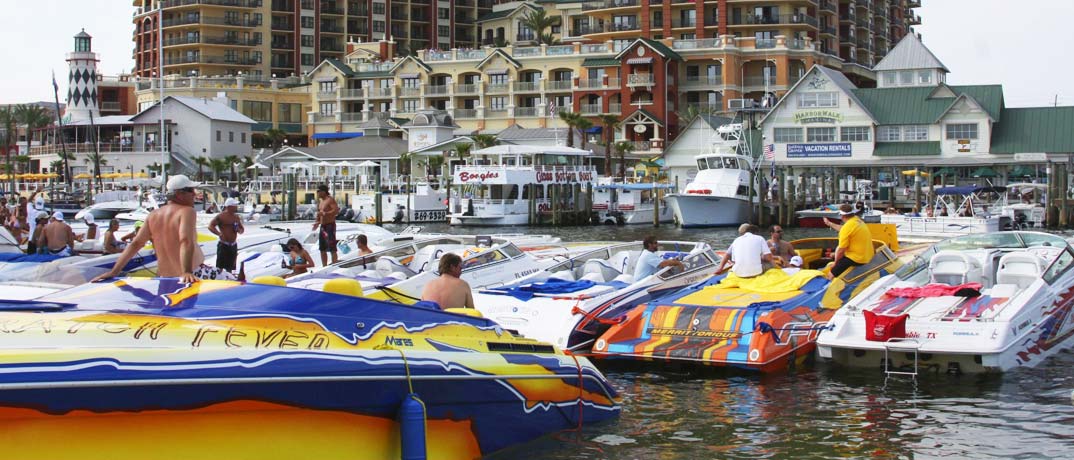 Fondly called "The Big One," this Destin, Florida, poker run is one of the largest and most popular charity poker runs in the USA. Do you know what a poker run is? It is an organized event in which participants, using different forms of transportation, such as motorcycles, boats, all-terrain vehicles, snowmobiles, horses or on foot, must visit 5 to 7 checkpoints, drawing a card at each stop. Typically poker runs end with a party where the participants play their cards (hand) they acquired and the rider with the best hand is the winner and the proceeds benefit a charity.
2020 Emerald Coast Poker Run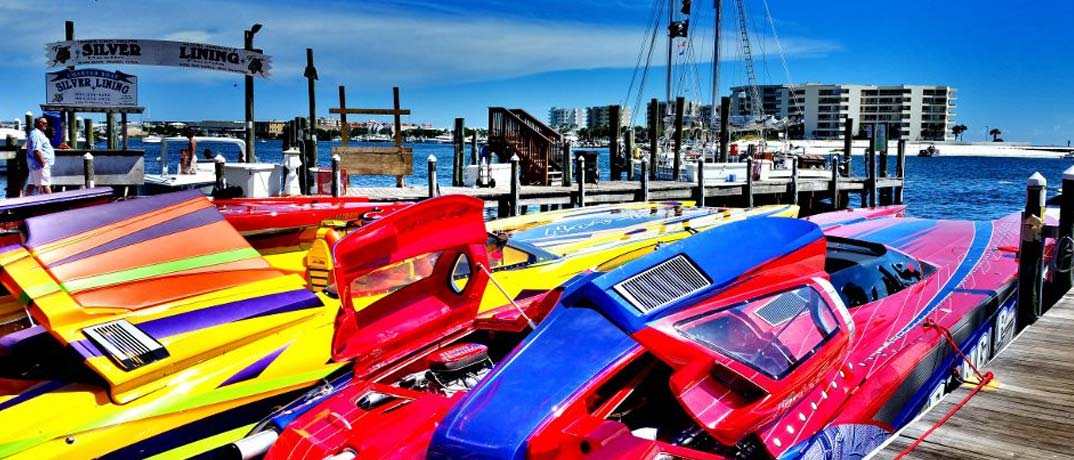 For more than 25 years, Powerboats, fishing boats, pleasure boats, and all in between, have filled the beautiful waterways in and around Destin for The Emerald Coast Poker Run which usually rounds out the end of "Boat Week." Although this year's Boat Week will be condensed, plans are already in place for it to be back in full in 2021! Boat Week includes an array of different events from Wednesday through Saturday night. If you are familiar with poker runs, this is like none you'll see anywhere else! The 2021 Boat Week will definitely be a week of excitement, boating, fun and helping kids.
The Emerald Coast Foundation proudly highlights on their website that "all proceeds from Emerald Coast Boat Week and Poker Run go to the recipient children's charities of the Emerald Coast Foundation. This event was started over 25 years ago to help the youth of our local area have a chance at a brighter future. Without the Emerald Coast Foundation, these kids would go without, and that is not acceptable to us." They continue to mention, "As of Boat Week last year, the Emerald Coast Foundation has raised over $2.5 million dollars for our local kids in need. What an impact! This is a volunteer run event. There are no paid employees. Every penny goes to the kids. We do it out of love and dedication to our community and our kids. Please join us for the one and only ORIGINAL Emerald Coast Poker Run! Help us help the kids who need it most."
Give and Get:
By your entry fee you will be donating (giving) to the Emerald Coast Foundation's cause of helping kids in the community and with that all entrants get all sorts of awesome swag/goodies.
With VIP registration ($200), you receive:
Boat Entry for the Emerald Coast Poker Run
2 hands to play for the grand prize
Free Crown and Down at the Poker Run Party for 2
A Complimentary Stay at the IP Casino
"Vintage" Emerald Coast Poker Run Cooler Bag and 2 T-shirts (circa. 2019 and older)
This tremendous event, hosted by The Emerald Coast Foundation, is one of the largest boat poker runs in the country. The Emerald Coast Foundation is the only not-for-profit organization that puts forth such effort, for the sole purpose of expanding its charitable reward and helping our most precious resource: the children of our community.
This year's lively schedule is geared for fun:
5+ poker run stops, open 10 a.m. – 2 p.m.
$25 donation to participate
*fee includes one poker hand. Additional cards and hands will be available for sale.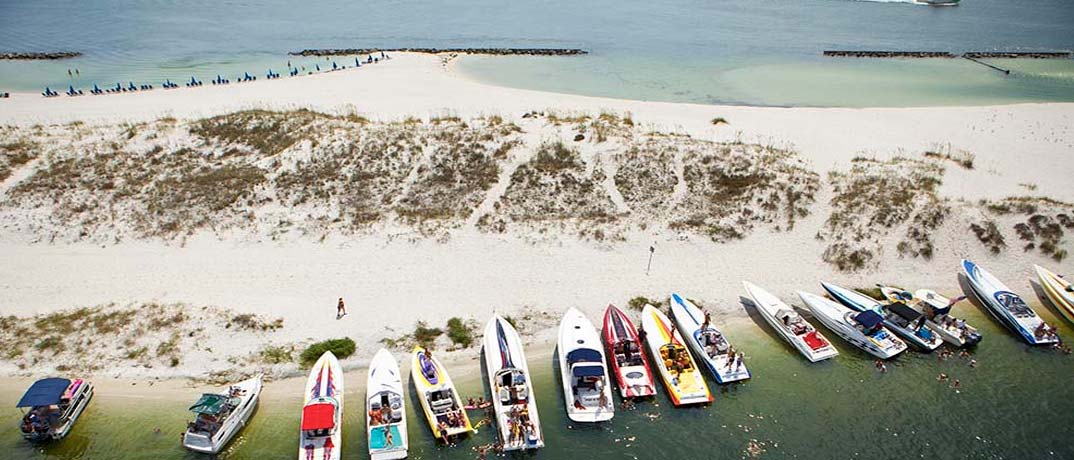 $200 VIP package available:
Poker Runners and guests that make a $200 donation, will receive complimentary drinks at the Poker Run Party at AJ's on the Bayou in addition to a complimentary weekend stay at the IP Casino Resort Biloxi, and other VIP swag.
Poker run party:
AJ's on the Bayou: 4 p.m. – 8 p.m.
There will be live music, black jack and a silent auction.
Fabulous prizes for 1st, 2nd & 3rd place in poker
including a first place prize package valued at over $5000
Poker run merchandise, food, and beverages will be offered for sale
Poker run registration, check-in and safety meetings:
Date: Friday, August 7
Time: 4 p.m. – 8 p.m.
Location: AJ's on the bayou
Merchandise, food and beverage available for sale
If you're looking forward to 2021's poker run, you can pre-register Friday (8/7) or Saturday (8/8), and receive a complimentary upgrade to VIP for 2021.
Destin Condo Rentals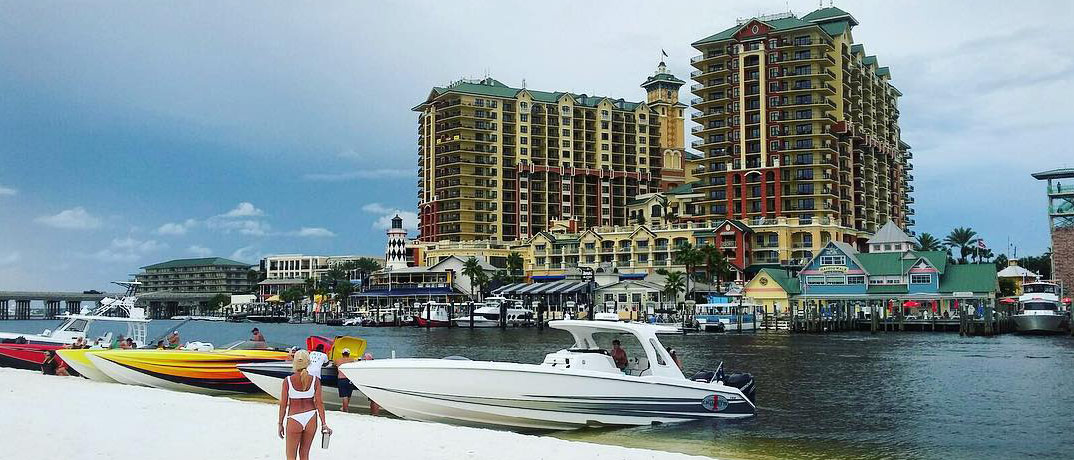 Find the best condo rentals in Destin. Tickets can be bought separately, so you don't need a boat to join the fun. But another idea is to rent a boat or jet ski to include every detail. There are so many other things to do in Destin, so let our experienced Destin travel experts help you make the best of memories for you and your friends or family.
Event Summary
Name
​
28th Annual Emerald Coast Poker Run
Location
​
AJ's on the Bayou

,

200 Eglin Pkwy NE

,

Fort Walton Beach

,

FL

-

32547
Start Date
End Date
Description
The 2020 Emerald Coast Poker Run is a charity boating event (not a boat race) that features stops from Miramar Beach, by Destin, nearly to Pensacola.
Tickets