Beach Yoga In Panama City Beach, FL
Whether you are a yoga enthusiast or just have an interest in yoga with its core strengthening, flexibility improving, and relaxation benefits, what better place to do it than on the beach? Panama City Beach has one of the most beautiful and softest beaches in the world with a scenic emerald green Gulf as a backdrop. This makes an ideal setting for practicing yoga and there are some awesome choices for beach yoga classes in Panama City Beach, FL.
The gentle rhythmic lapping of the waves reaching the shore encourages an ease of centering oneself. Renew your senses and breathe in the cleansing salt air to the rhythm of the waves with the horizon as the focal point making the ideal environment for Sun-Salutations. We have researched the options for beach yoga in Panama City Beach and we can put you in just the right spot with one of our scenic Panama City Beach condos or beach homes.
Each yoga instructor and studio have their own unique and soothing way about them, and offer a variety of styles and levels for all types of participants. We are focusing on yoga on the beach in Panama City Beach, but each studio has a list of yoga classes of all kinds within a studio setting. So below is where you can find beach yoga. Then we add on some extra cool and distinct characteristics as they come up.
Namaste a Mermaid's Oasis: Mermaid Heather Garace has a special niche designing a combination of land and sea as only she can. Being a local surfer starting at age 13 and practicing yoga starting at age 16, she designed Yoga for Surfing, a class that teaches control of breath and heart rate while building upper body and core strength. Mermaid Heather's beach yoga is FREE and offered TWICE on Fridays; early at 8:30 AM, as well as Sunset Beach Yoga at 6 PM and says to bring a towel, not a mat. Naturally Heather also offers several paddleboard yoga classes, surfing lessons, and can do mermaid parties. INFO: http://mermaidheather.com/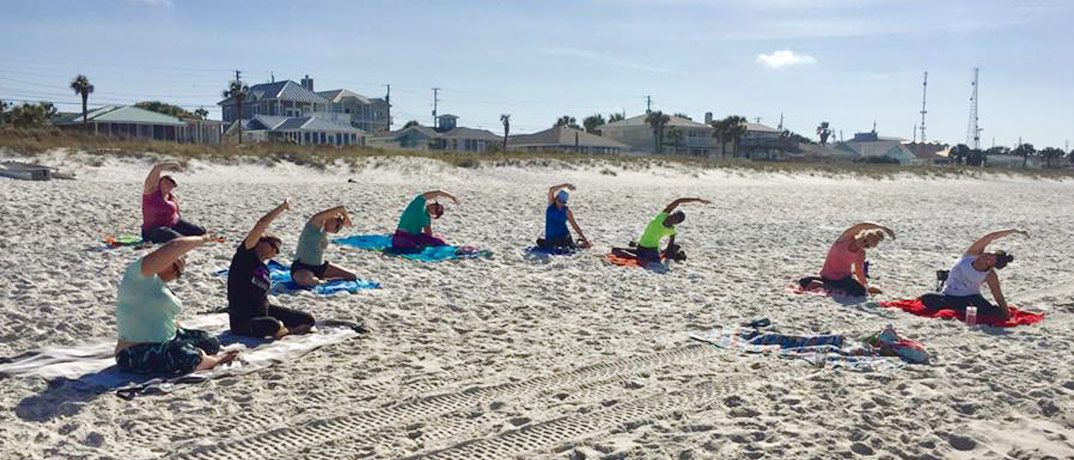 Yoga Elements, located in Carillon Market offers yoga on the beach Wednesdays 8 AM – 9:15 AM. This boutique style studio starting in 2012, encourages individuals at any health level to thrive beyond prior experiences and connect through practicing yoga. They offer specially designed classes in the air (aerial), one the water (stand up paddleboard) and on the earth (mat). For beach yoga you will meet at the studio and take a brief walk to the beach. INFO: http://yogaelements108.com/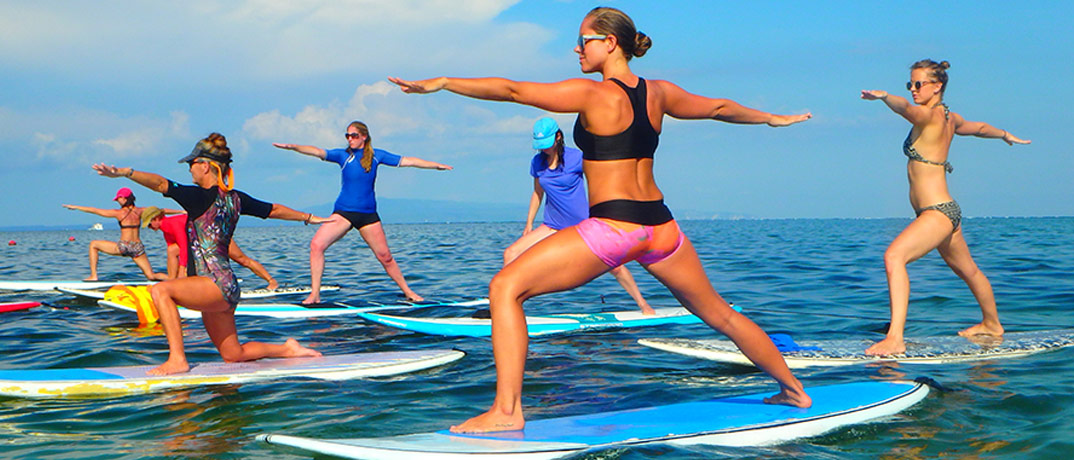 PC Beach Yoga offers beach yoga on Thursday mornings 8:30 AM and Friday Sunset 6 PM. You are to meet at the beach at beach access #11. Inside the studio they also offer aerial yoga and a whole list of specialty classes for every type of yogi or enthusiast. We think it's unique that they hold a $5 candlelight yoga session on Sunday's at 6 PM. INFO: PC Beach Yoga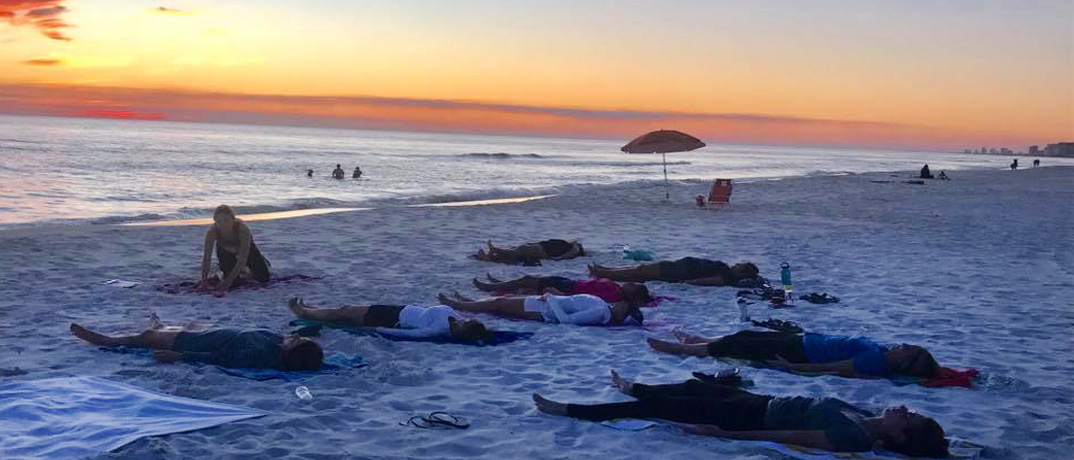 Studio By the Sea holds sunset beach yoga in Panama City Beach on Wednesdays at 6:30 PM and morning beach yoga on Saturdays at 8 AM. They say their sunset and early morning yoga classes on the beach provide an organic catalyst for connecting with nature as you connect with your breath. A glorious way to experience the breathtaking beauty of Panama City Beach! INFO: http://studiobytheseapcb.com/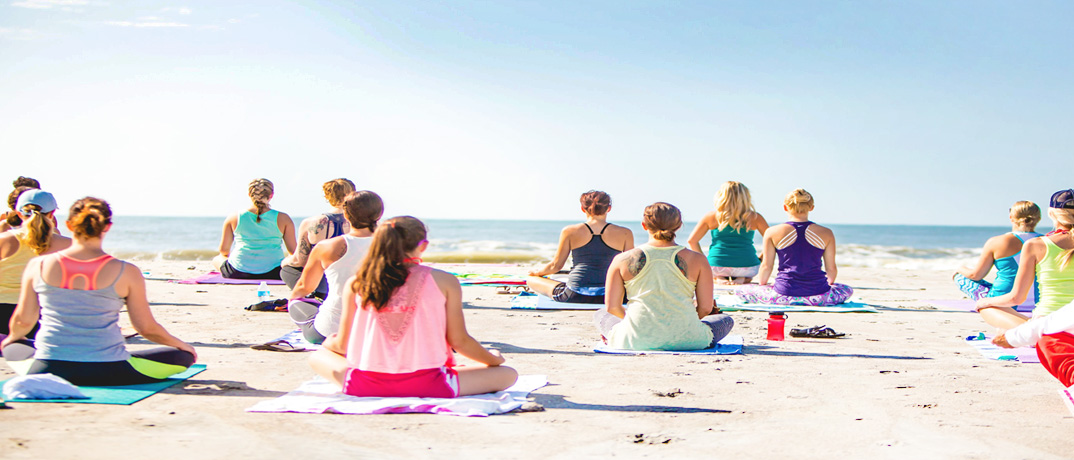 We have listed the top Panama City Beach Yoga classes offered on the beautiful pure white beaches looking out at the pristine turquois Gulf of Mexico. But there is one more retreat style yoga destination we would like to present to you. It's not on the beach but it is a serene sanctuary developed to bring the authentic yoga feel you can rarely find without leaving the country. Tucked away just off of Hwy 98 on R. Jackson Road, there is a registered Yoga Alliance teacher training school and continuing education provider, now also offering Aerial Hammock Yoga teacher training. With a Costa Rica style atmosphere you will find Zen Life International Yoga Studio holding a daily variety of outstanding classes by extensively trained instructors. You will also find the Wild Root Coffee Bar and fresh healthy food at Lotus Café which offers live music and a laid back atmosphere. Shop through their unique gifts and relax and stay awhile in the beautiful Zen Garden designed to restore and center your mind body and spirit. This place is an experience in and of itself and is right here in Panama City Beach, Florida. Check it out for yourself, https://www.zenlifeinternationalyoga.com/about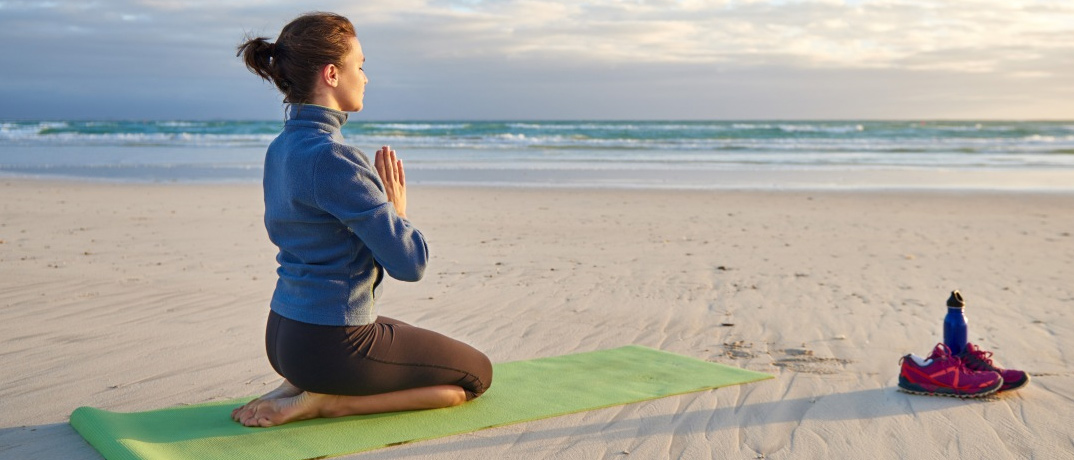 We think yoga on the beach in Panama City Beach, FL is special and rejuvenating and wanted to share the benefits and extraordinary experience of moving about outdoors with the healing salt breeze and rhythm of the waves… it takes you away and lets you go on your own personal worry free journey.
Condo-World is your place to find that one-of-a-kind destination vacation with scenic Panama City Beach gulf front and gulf view condos. With so many to choose from you are sure to get close to all things to do in Panama City Beach, especially waking up to Sun~Salutations on the beach. ~NAMASTE