Find the Best Margarita in Panama City Beach
Are you looking for the best margaritas in Panama City Beach? Whether you're in search of a frozen, on the rocks, salty, or sweet margarita, Panama City Beach surely won't disappoint. No matter what you're craving, here are the best Panama City Beach bars and restaurants to visit for mouthwatering margaritas.
Margaritaville Panama City Beach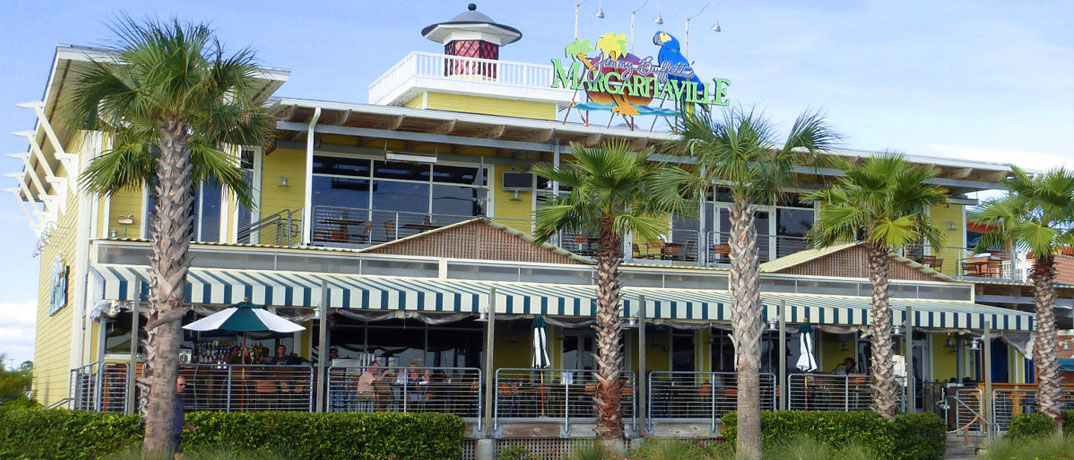 Would it really be a vacation without a visit to the famous Margaritaville in Panama City Beach located in Pier Park? As the name suggests, they're clearly margarita experts, and we suggest this being one of the first stops in your search for the best margarita in PCB. The margarita lineup includes the Uptown Top Shelf Margarita, the Last Mango in Paris, the Who's To Blame, and the Livin' It Up margarita. You're sure to get 'wasted away at Margaritaville.' (See what we did there? Just be sure you have a designated driver.) Are you looking to check out the Panama City Beach nightlife? The late-night Happy Hour Menu boasts $5 Whose To Blame margaritas. Can't beat that. Thanks, Jimmy!
Diego's Burrito Factory & Margarita Bar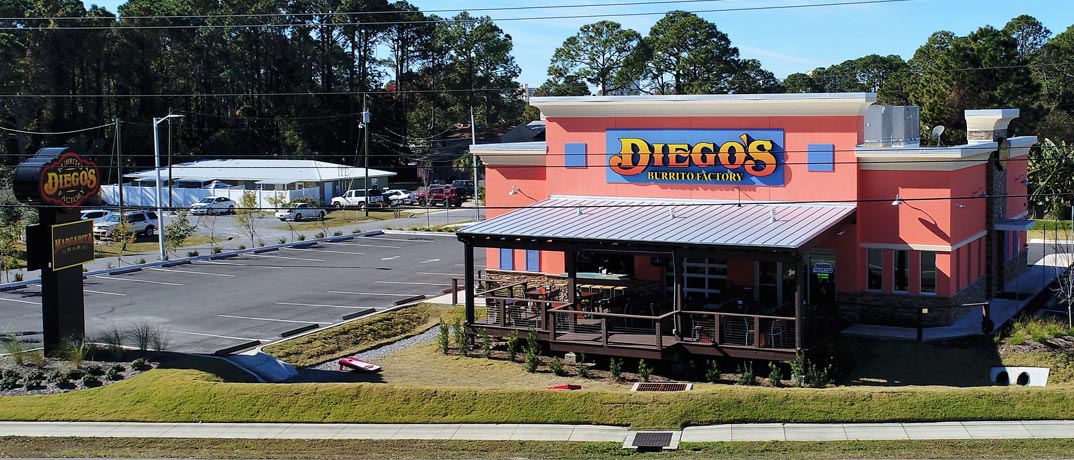 Well, if the name doesn't say it all, we don't know what will! This crowd favorite boasts thirst-quenching beverages and happy hour specials every day along with Mexican-inspired food that will give you something to taco 'bout! (Get it!?) Diego's Margarita Bar offers a full bar for the festivities, and visitors can choose from a variety of margaritas to treat their taste buds. Their hefty margarita line up includes Diego's Margarita, La Ola Margarita, the Blue Margarita, the Diablo Margarita (for the spicy lovers), a Coronarita, and of course, a Skinny Margarita! And this is just a few off of their extensive Margarita list!
Barefoot on the Beach Bar & Grill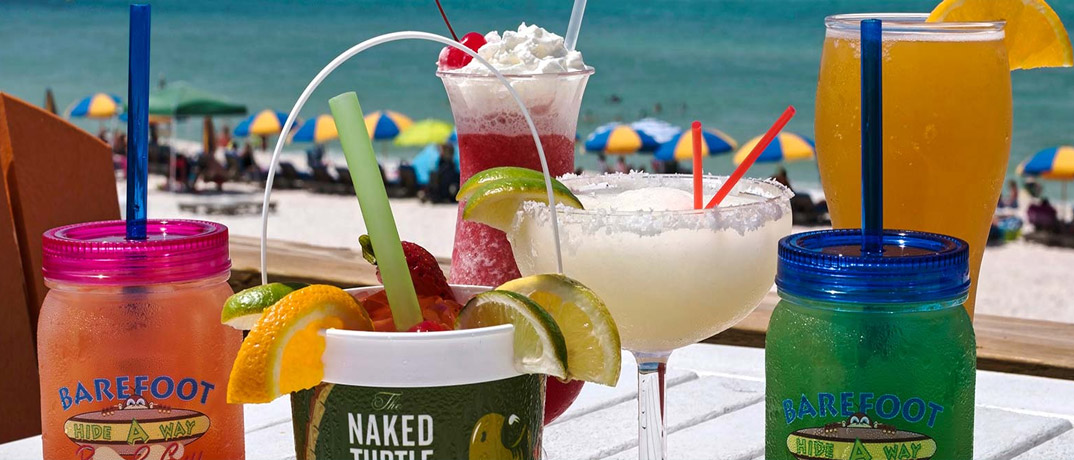 No shirt or shoes required at Barefoot on the Beach Bar & Grill! This newly-opened restaurant offers stunning views of the Gulf of Mexico, and open-air bar, and serves up seafood, sandwiches, surf, and sunshine… and, of course, margaritas! The White Lightning Margarita is served in a souvenir cup, and combines Junior Johnson's 100-proof Midnight Moonshine with Gran Gala Triple Sec, sour mix, lime juice, a splash of Sierra Mist, and orange juice.
Sharky's Beachfront Restaurant & Tiki Bar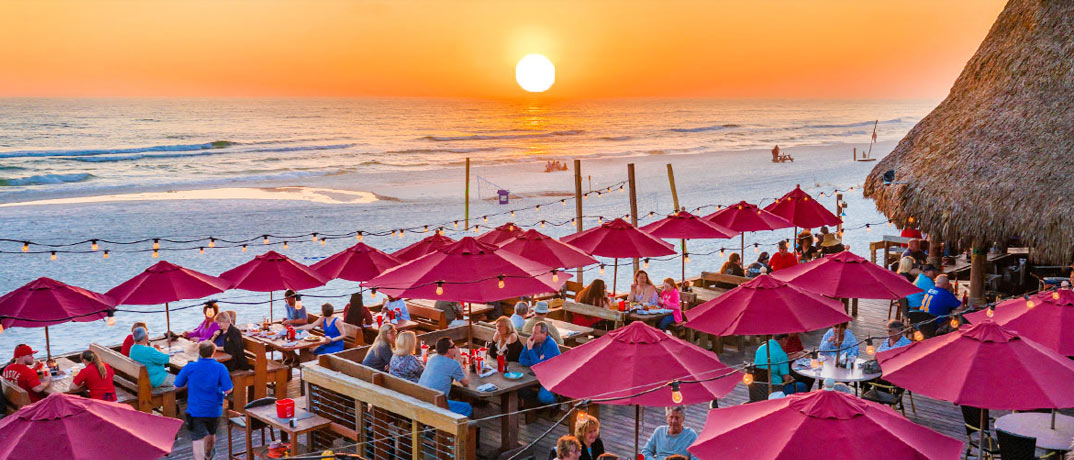 This local's favorite is not one to leave off of this list! Sharky's has been serving up its menu of fresh seafood, steaks, and more, since 1986, and shows no signs of changing that. Plus it offers a regular entertainment lineup of bands on the outdoor deck, and, of course, those magnificent views of the Gulf of Mexico. We can't forget the margaritas! May we recommend the Sharkerita, made up of El Jimador Blanco Tequila, Triple Sec, orange juice, and sweet & sour with Rose's Lime juice. Watch out! That one might bite!
Condos in Panama City Beach

We wouldn't be doing you a favor if we didn't mention some of the best places to stay in Panama City Beach! Condo rentals in PCB by Condo-World will perfect your stay with plenty of amenities such as Gulf views, outdoor pools, fully-equipped kitchens, on-site restaurants and so much more! Stay a while, relax, and enjoy the let-your-hair-down kind of charm found only in Panama City Beach.
If you're looking for the best restaurants, bars, or clubs in Panama City Beach to sip on a tasty margarita, we hope this list leads you to your new favorite spot! Here's to beach sittin' and margarita sippin' at some of the best Panama City Beach bars and restaurants!