The Best Mini Golf In Pigeon Forge
On your next family vacation in Pigeon Forge, take part in one of the most popular family fun activities to do is mini golf in Pigeon Forge. We've picked our favorites in Pigeon Forge and a couple that are just a few backswings away!
Crave Golf Club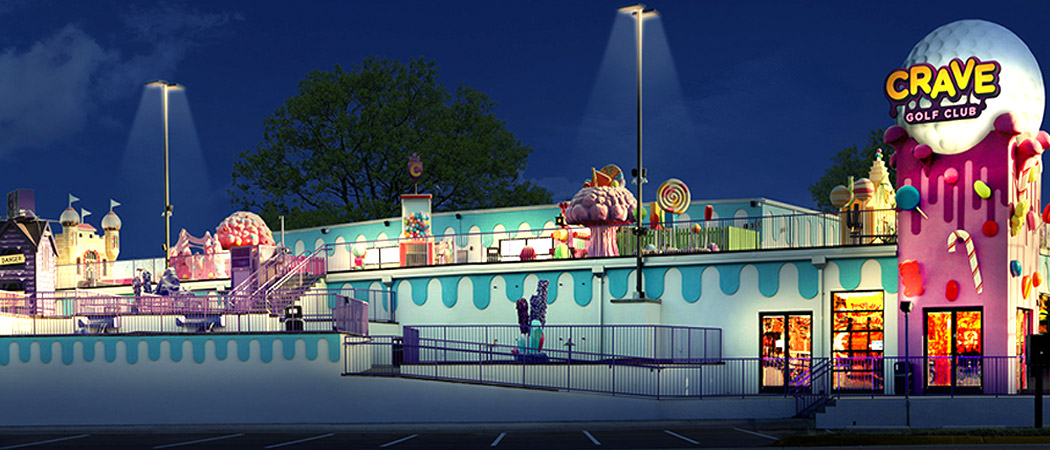 The latest addition to mini-golf goodness is the Crave Golf Club. Thirty-six candy-themed golf holes, indoor, outdoor and rooftop, plus a game spinner at every hole. Spin it and have a chance to win a yummy-inspired prize. For about $10 a child and $16 for adults (plus free water), enjoy a full day of fun. There's 18,000 square feet of golf and goodies – a sweet shop, milkshake bar and the ultimate mini bowling alley, complete with lights, music and big screens. It's a kaleidoscope of fun! "Come get your CRAVE on!" at 2925 Parkway in Pigeon Forge. Visit Crave Golf Club to learn more.
Lazerport Fun Center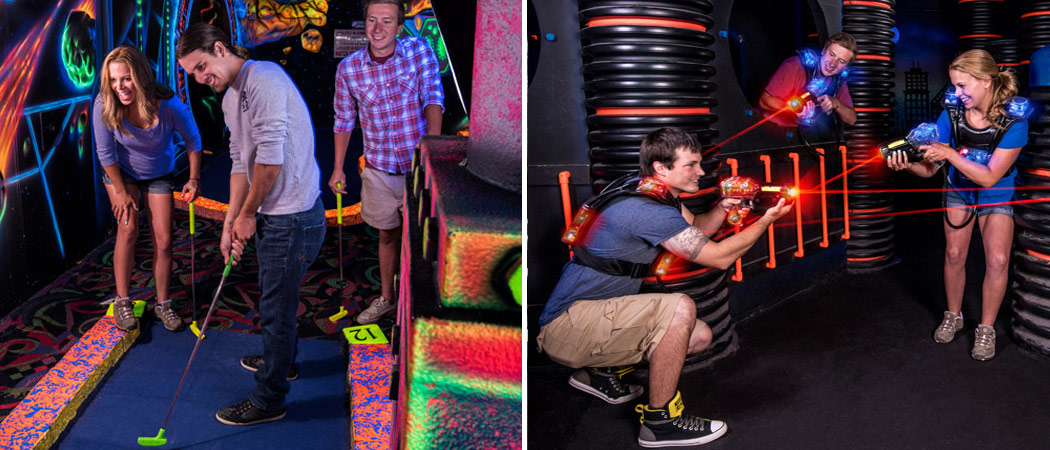 This one is on our list because of its indoor mini golf-Pigeon Forge glow-in-the-dark style but once you've played the indoor 18 holes, you can hop over to another activity-go karts, an arcade and laser tag. The so-cheezy-it's-cool course is the only one of its kind in the area and you and the kids will love the otherworldly atmosphere. Surrounded by neon colors (think Star Trek, Aliens and Star Wars all rolled into glowy brightness), get a hole in one with the most colorful golf balls ever seen on a mini golf course. It's on 2782 Parkway in Pigeon Forge. Visit Lazer Port Fun Center for more info.
Professor Hacker's Lost Treasure Golf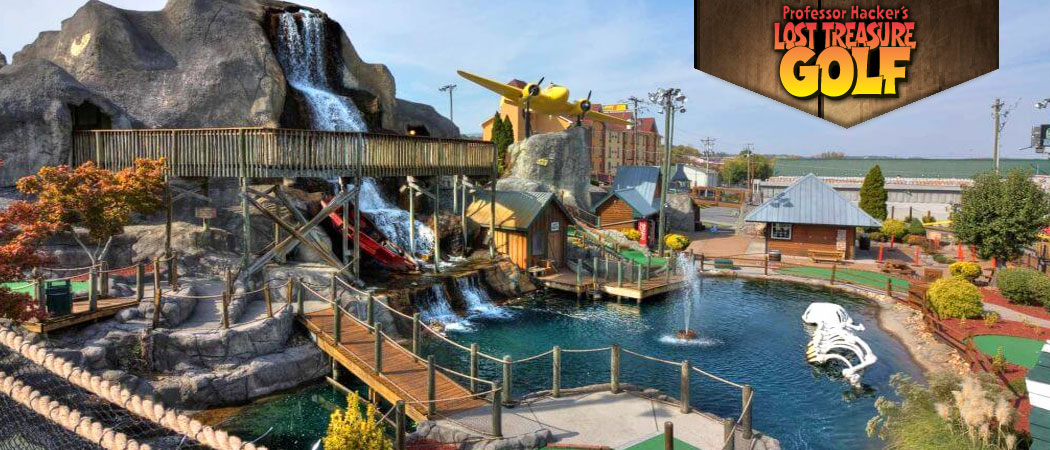 One of seven locations in the U.S., this mini golf course in Pigeon Forge is named after an explorer named Professor Hacker who allegedly led expeditions in South America in the 1920s. Modeled after his finds, gold and diamond mines, mining trains, waterfalls, a pirate ship, temple and volcano, kids get a mini depiction of all of it. There's two 18 hole courses and a mining train chugs you and the little ones to the first holes. After that, you'll discover some "treasures" and hopefully a few hole-in-ones along the way. Location: 3010 Parkway. Visit Lost Treasure Golf for more info.
Ripley's Davy Crockett Mini-Golf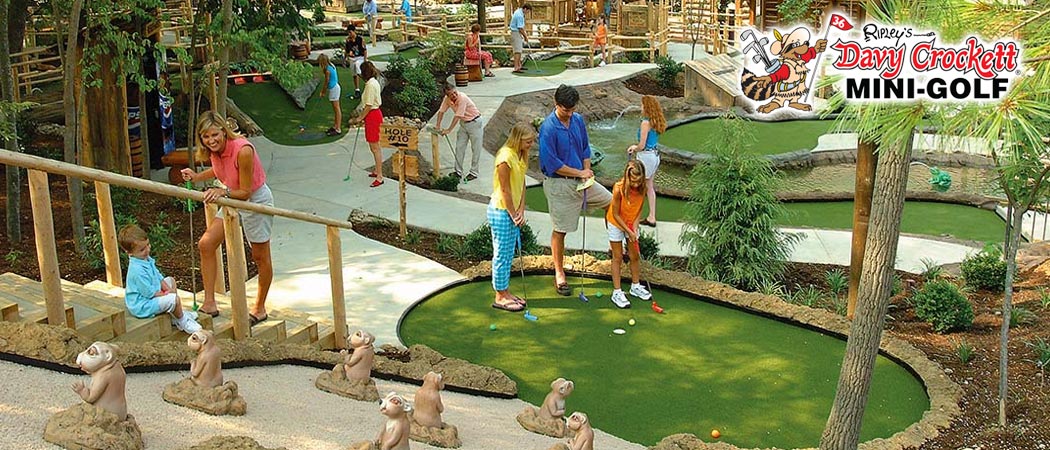 Next on our list is just down the road a bit at 188 Parkway in nearby Gatlinburg. Whimsical, fun and challenging, it's everything you'd expect from a Ripley's attraction. There's two 18-hole courses, Fort Crockett and Village. Talk back to talking and laughing bears, raccoons, chipmunks, possums skunks, cows and gophers! There's ramps, tubes and water that you and your children will have to navigate your best shots through, but if you get a hole-in-one, you may just win a prize! Adults play 36 holes for $13.99 and kids (3-11) play for $9.99. Combo deals to Ripley's make the golf less expensive and encourage even more fun for the family. This one's a favorite for visitors. Visit Ripley's Gatlinburg to learn more.
Hillbilly Golf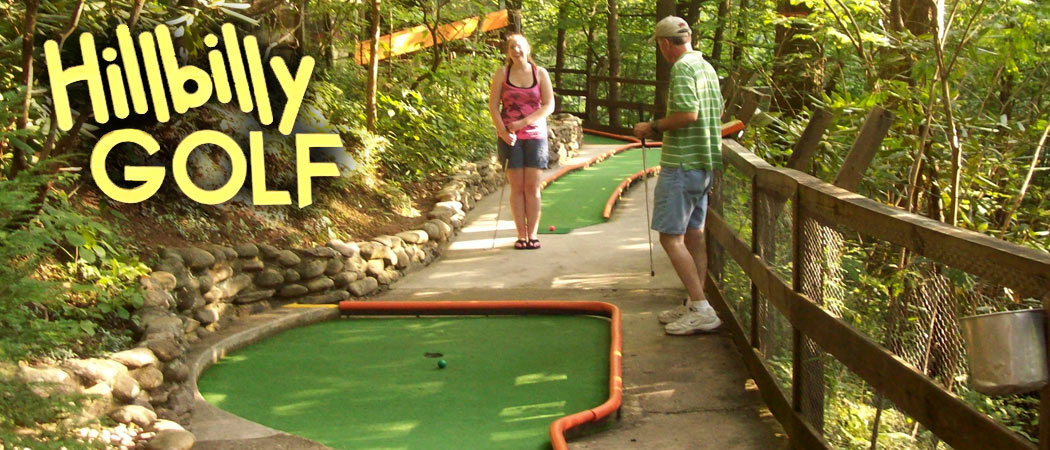 Another mini-golf go-to is Hillbilly Golf on 340 East Parkway in Gatlinburg. Set on a mountain, the ambiance is pure East Tennessee mountain fun. A tram takes you to the top to the first hole and then families can choose one or two courses. As the course winds through the hillsides, you're mostly encased in shaded areas from the indigenous trees and greenery, so playing outdoors is nice without battling the harsh summer sun. You may even get a glimpse of some real mountain critters. Military and first-responders get discounts and return visitors swear by the staff's attentive and Southern hospitality. Beautiful views, golf, mountains and nice people-it's a Great Smoky Mountains' tradition!
That's our list of the best mini golf in Pigeon Forge. What are some of your favorite putt-putt courses in Pigeon Forge? Let us know on Facebook!