Best Pizza In Myrtle Beach
Pizza is a staple for nearly every family and when you're vacationing around the Myrtle Beach area, it can be tough to find the right place. There's everything from NY-style pies to crazy creations that are bound to make any mouth water. We've broken down a few of our favorite places to find pizza from North Myrtle Beach to Surfside.
Rapone Italian Kitchen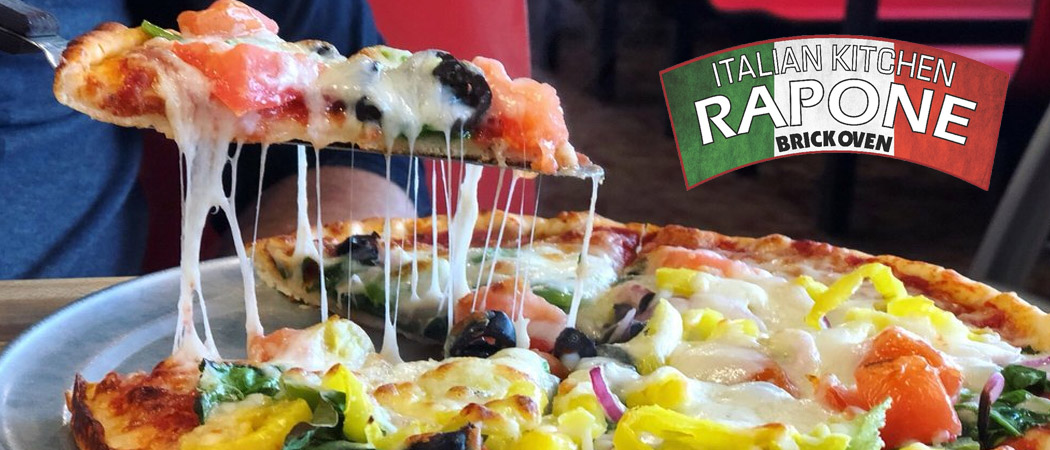 Rapone Brick Oven and Italian Kitchen in North Myrtle Beach will have even the pickiest New Yorkers thinking they're eating the real deal when it comes to pies. Each New York-style pizza is 12 inches and fired up in a brick oven that reaches well over 700 degrees! Don't believe us? See it for yourself in the quaint dining room with open-style pizza kitchen. They offer a handful of specialty pies or you can build your own with toppings like meatballs, ricotta, bacon, fresh tomato and more. If you like a more traditional Italian pizza, they also proudly serve Napoletane made with "00" flour and San Marzino tomatoes straight from Italy.
Benito's Brick Oven Pizza & Pasta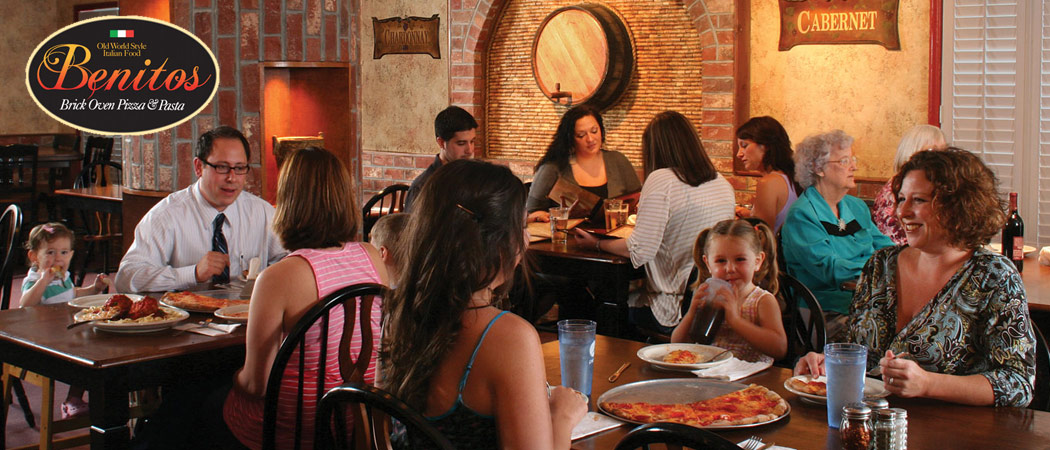 Benito's Brick Oven Pizza & Pasta opened in the late 80s in North Myrtle Beach in what is now the center of their parking lot. Their New York-style wood-fired pizzas aim to please every palate – from seafood lovers to meat eaters. The Southern Style is also a hit with visitors and features toppings like Benitos' special BBQ sauce, grilled chicken, pork sausage and onion. This popular pizza restaurant is open from noon to 9:00 p.m. daily. Delivery is available in the North Myrtle Beach area and a Conway, SC location is opening soon!
Mellow Mushroom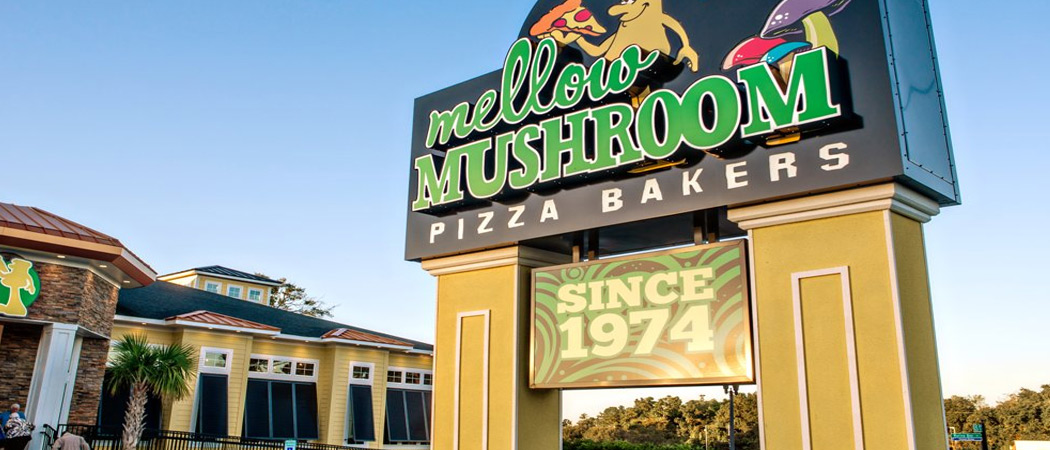 With three locations to serve you (Myrtle Beach, North Myrtle Beach and Murrells Inlet), Mellow Mushroom has quickly become a favorite among locals and visitors alike. Their groovy pizza recipes are unlike any others on the beach and come with your choice of thin or classic crust. The Kosmic Karma is one of the most popular pies on the menu and comes complete with feta, mozzarella, spinach, sun-dried roasted tomatoes and Roma tomatoes on Mellow red sauce and a pesto swirl on top. Make your own with toppings like artichoke hearts, all-natural grilled chicken, ground beef, Kalamata olives, all-natural ribeye, tofu and much more.
Ultimate California Pizza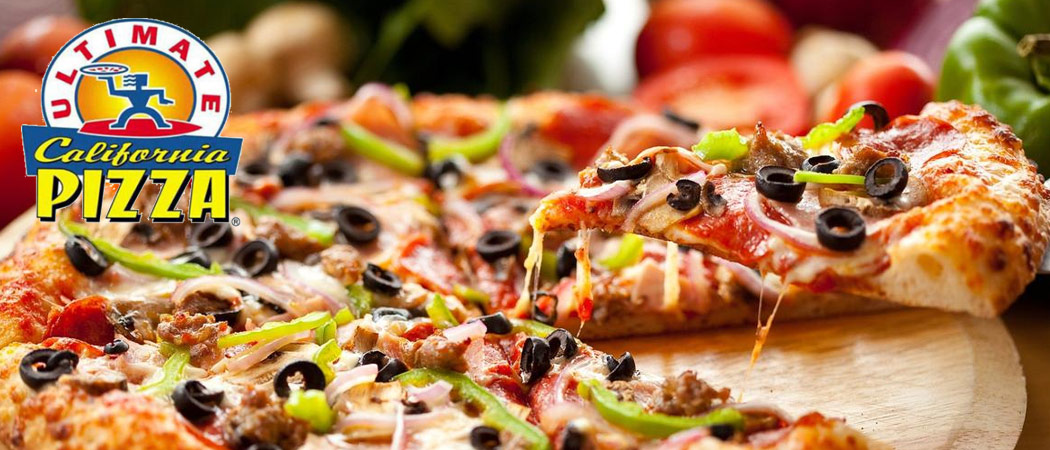 Consistently ranked among the Best on the Beach, Ultimate California Pizza has four casual-dining locations in the Myrtle Beach, Surfside, and North Myrtle Beach areas. They serve up a long list of signature pizzas with everything from Buffalo Chicken to Surf N' Turf atop their pies. Order the Big Kahuna with Ultimate red sauce piled with pepperoni, smoked ham, ground beef, Italian sausage, sautéed mushrooms, green peppers, onions, black olives, tomatoes, mozzarella and smoked gouda. These hot spots also offer pizza delivery around their Myrtle Beach locations!
Scatori's Pizzeria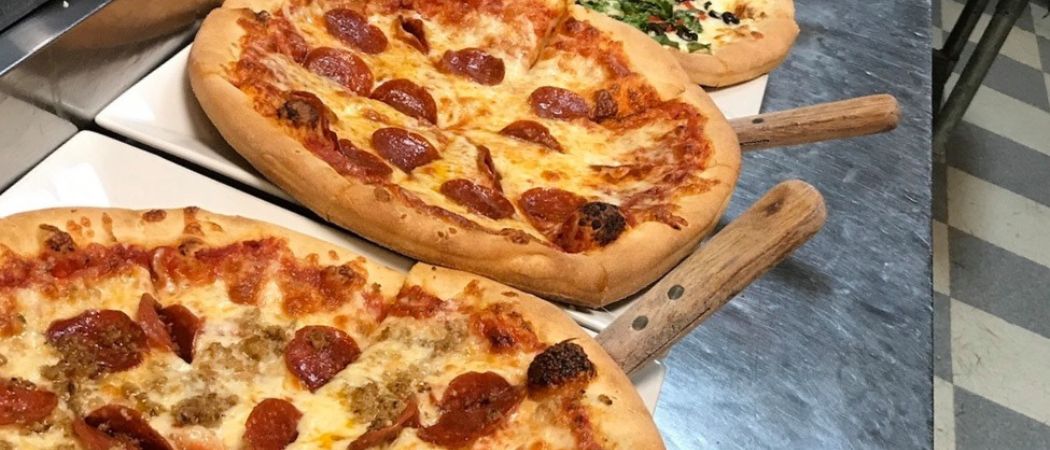 Scatori's is divided into two sections – a pizzeria to the left and Italian restaurant to the right. Located just south of Myrtle Beach, the New York style pizza spot is one to check out! All pizzas are hand tossed to order and topped with whatever meats, veggies and seafood you want. Try a unique twist on pies like the Baked Ziti, Double Bacon Cheeseburger or Buffalo Chicken. Want a more classic pie? The Scatori Supreme comes with Italian sausage, pepperoni, green peppers, onions and mushrooms. One bite and you'll see why Scatori's has been voted best pizza in Myrtle Beach for several years.
Tavern In The Forest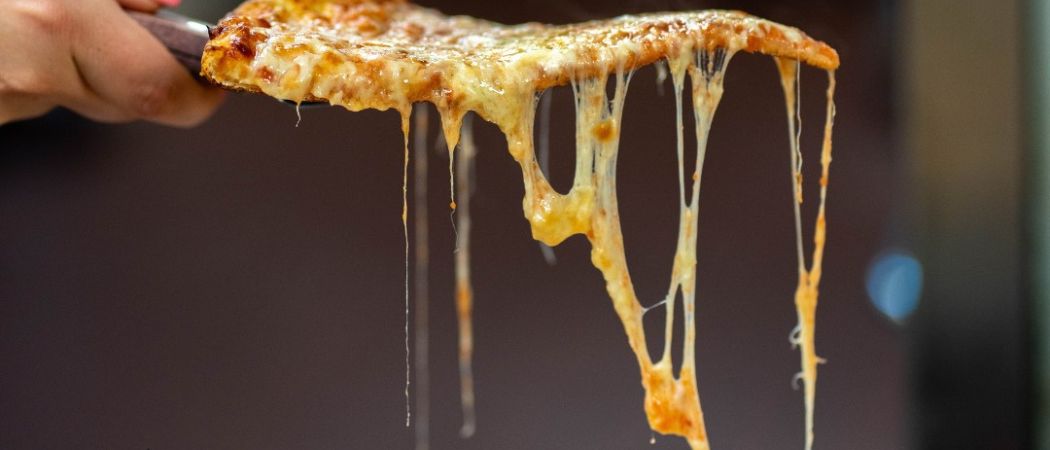 From the outside you'd never guess that Tavern in the Forest serves some of the best pizza right inside their doors. One New Yorker even described it as "the best Myrtle Beach pizza he's ever had!" The pub-like atmosphere features a giant bar front and center as well as a covered patio with additional seating. They offer a variety of toppings and a few specialty pies. The crust is thin with just enough bite with a tangy red sauce and tons of cheese. If you love a good beer with your pizza, this is definitely a spot to check out.
Michael's Pizza, Pasta & Grill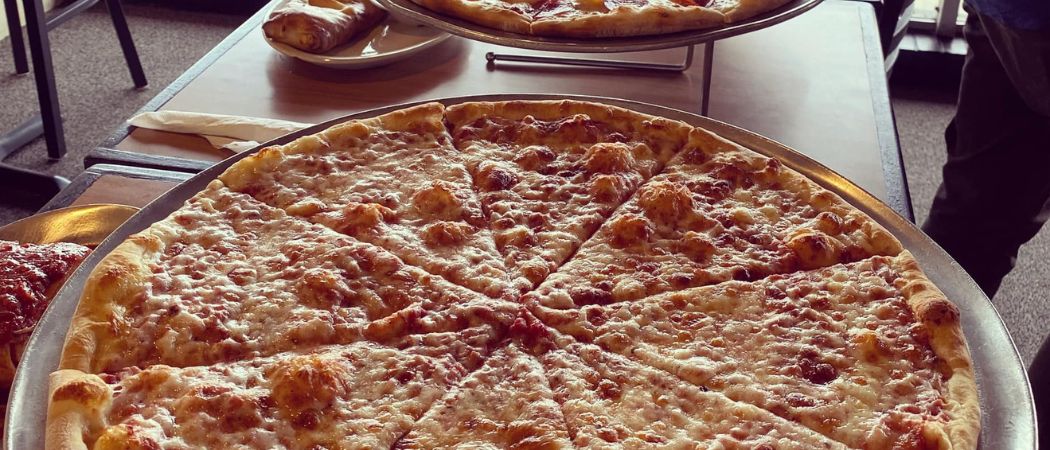 Michael's New York Style Pizza, Pasta & Grill is located along Kings Highway near the heart of Myrtle Beach. This popular spot is home to stuffed pizzas, Sicilians, Baked Ziti pizza, Gluten free pizzas and even a salad pizza. They also have one of the best Buffalo Chicken pizzas in Myrtle Beach! Pizza is available by the slice and comes with almost any topping you can think of including black and green olives, broccoli, ham, roasted red peppers, feta cheese and so much more.
Gino's Real New York Pizza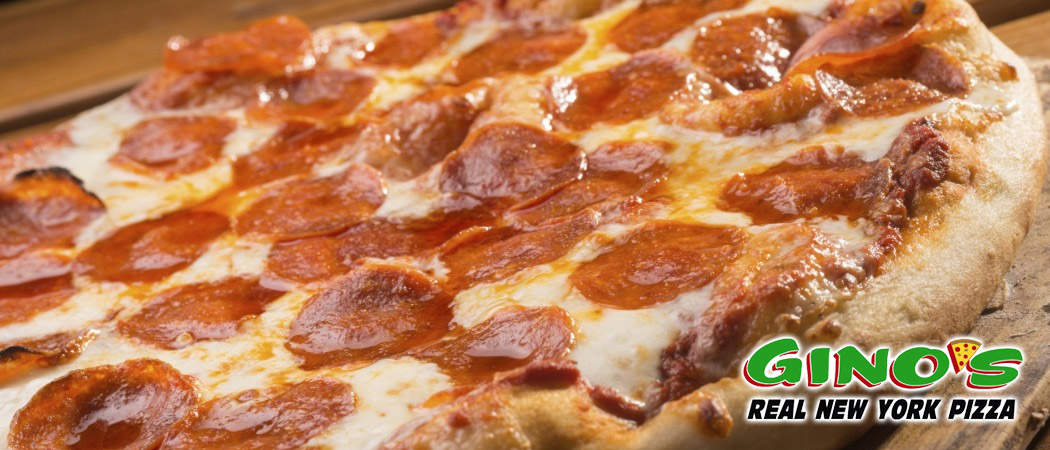 Gino's Real New York Pizza has two Myrtle Beach locations as well as a pizzeria in North Myrtle Beach. Their thin crust pies are served by the slice or whole (pro tip – the small is 16 inches). Add your favorite toppings like ground beef, ham, green peppers, meatballs, garlic, pineapple or even chicken. Each Myrtle Beach area location has dine-in, take-out, and pizza delivery.
Myrtle Beach Resorts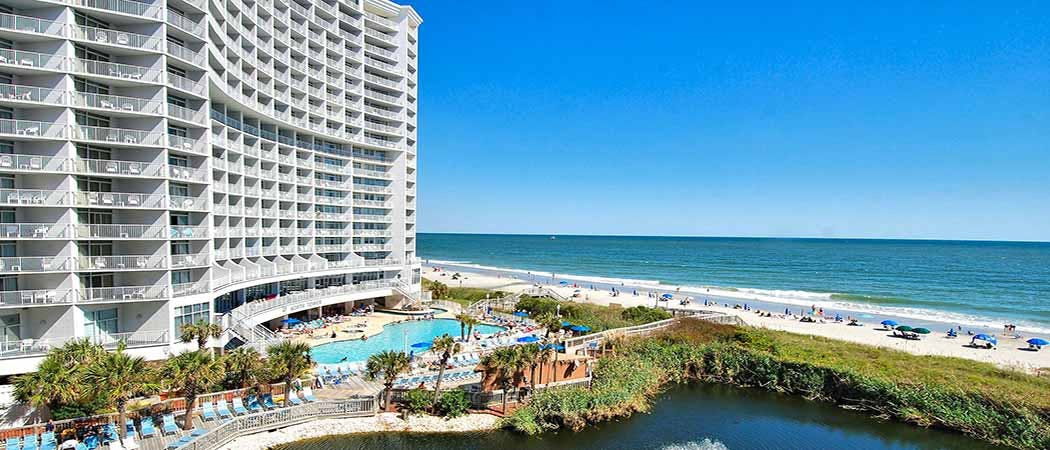 Located in the northern section of Myrtle Beach, Sea Watch Resort offers amazing accommodations with endless amenities. The oceanfront resort offers one-, two- and three-bedroom options with up to three bathrooms. Take a dip in one of their six oceanfront pools, two lazy rivers or ten hot tubs after a long day at the beach. Captain's Cove offers a buffet breakfast and great lunch options like pizza, salads, wings and more. Captain's Nook proudly offers Starbucks coffees as well as ice cream, breakfast sandwiches and snacks. Other amenities include a large playground and fire pit open nightly until 11 p.m.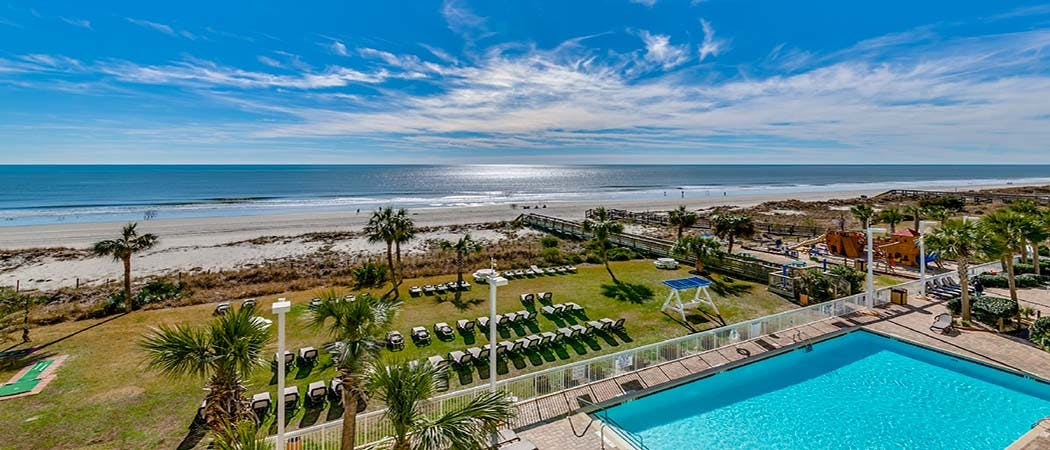 Dunes Village Resort is ranked the top hotel in Myrtle Beach by TripAdvisor and Today. This popular resort is home to an expansive indoor water park with full sized slides, kiddie play area with dump buckets, and pools. They also have plenty of outdoor water amenities, a seasonal tiki bar, and quick beach access. Two towers make up Dunes Village Resort and house one-, two-, three- and four-bedroom suites and condos with a variety of floorplans and balconies with fantastic ocean views.