TOP 10 SEAFOOD RESTAURANTS IN PANAMA CITY BEACH, FL
Many know Panama City Beach for its friendly service, casual atmosphere, and amazing food. But, you may be surprised to learn that Panama City Beach is also known for its nickname "Seafood Capital of the World."
Panama City Beach restaurants prepare the finest seafood you'll ever find, whether it's steamed jumbo Gulf shrimp, Cajun crawfish, char-grilled grouper, blackened Amberjack, or fresh Apalachicola oysters.
Here's our Top 10 Seafood Restaurants in Panama City Beach, in no particular order. We've included a variety of the best seafood dining options for you including family-friendly establishments, fine-dining restaurants, and popular local seafood hangouts.
After a beautiful day at the beach or in the water, sit back and enjoy your perfect dining experience served with the flavors and ambience found only in Panama City Beach.
THE BACK PORCH SEAFOOD & OYSTER HOUSE
16220 Front Beach Road, Pier Park, Panama City Beach, FL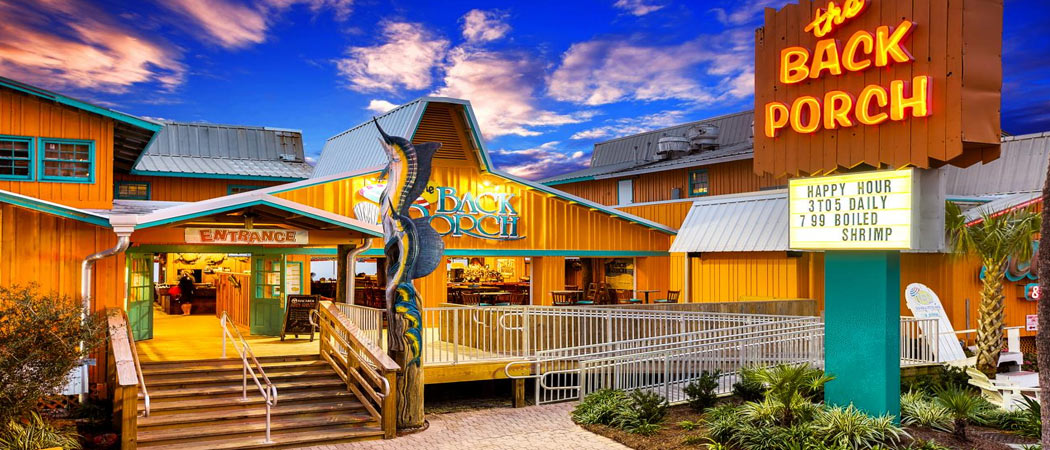 Conveniently located inside Pier Park, this family-friendly restaurant offers something for everyone. The Back Porch is known for their chargrilled Amberjack sandwich, which they invented and first served at their original location in Destin, FL and carried forward to their Panama City Beach restaurant. Take one bite and the rest is history. Their seafood gumbo is splurge-worthy must, filled with shrimp, fish, and crabmeat. But they're best known for their oysters, including the local favorite Back Porch Oysters, baked and topped with crabmeat and cheese.
POMPANO JOE'S SEAFOOD HOUSE
16202 Front Beach Road, Panama City Beach, FL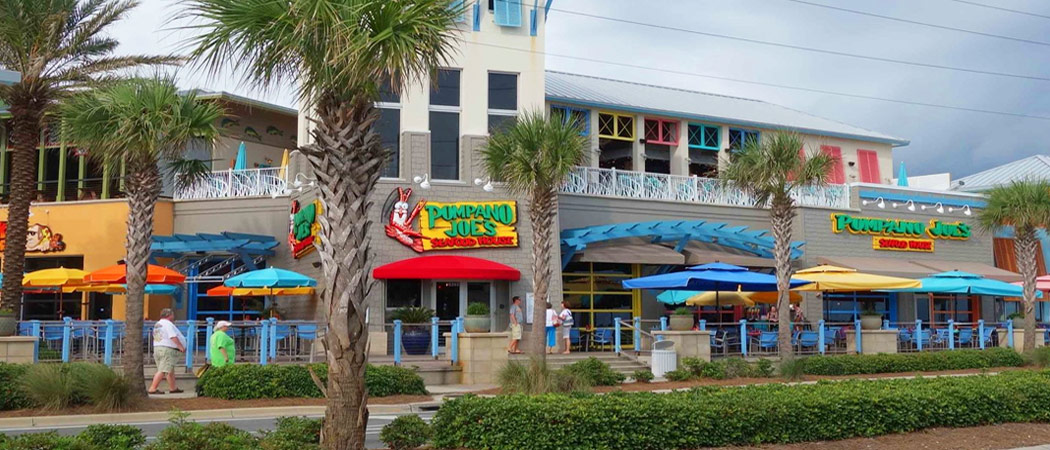 Located beachside at Pier Park, you'll enjoy incredible Gulf views and amazing local seafood with a Caribbean twist at Pompano Joe's Seafood House which is a "must visit" destination restaurant. Within a few minutes of arriving, you'll find that this is a local beach hangout where you can enjoy the company of locals and visitors as you choose fresh, affordable local seafood seasoned and presented with the "flavor" of the Islands. In addition to its award-winning Seafood Gumbo, the crab and shrimp stuffed flounder, fish tacos, and coconut shrimp are at the top of the "must try" list. A local tip is to be sure and try their famous pineapple coleslaw – you won't be disappointed!
HOOK'D PIER BAR & GRILL
16201 Front Beach Rd, Panama City Beach, FL 32413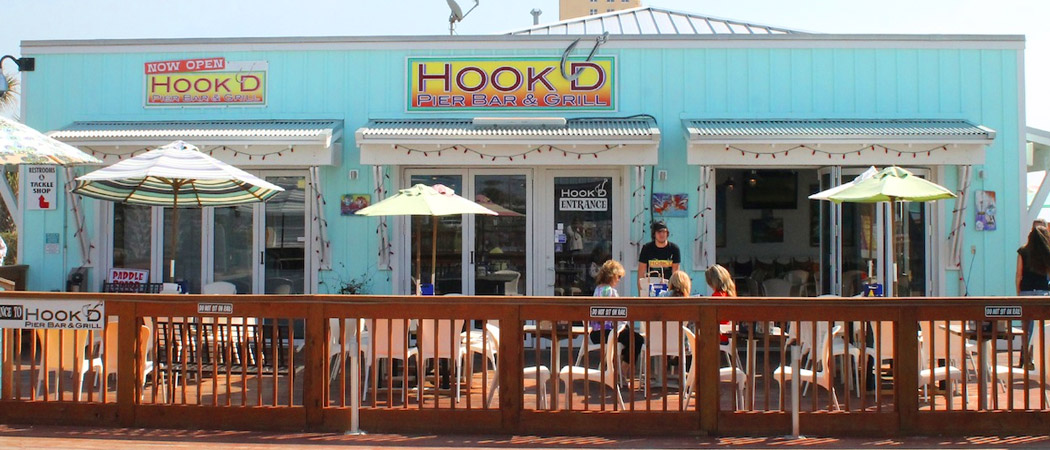 Their slogan is "One bite and you're…HOOK'D!" After visiting this locals favorite, you'll quickly see why. The location is perfect – next to the Pier, on the Boardwalk, and overlooking the incredible views of the beach, and your first decision will be whether to sit inside or outside, or at the bar, depending on if you want to see a spectacular sunset or simply listen to live music. Hands down, visitors and locals alike love the blackened fish and shrimp tacos which many profess to be the very best in the city. But, runners-up include the smoked tuna dip, crab claws, shrimp and oysters. Can you say yummy?
SANDBAR SEAFOOD & BBQ JOINT
275 S Highway 79, Panama City Beach, FL 32413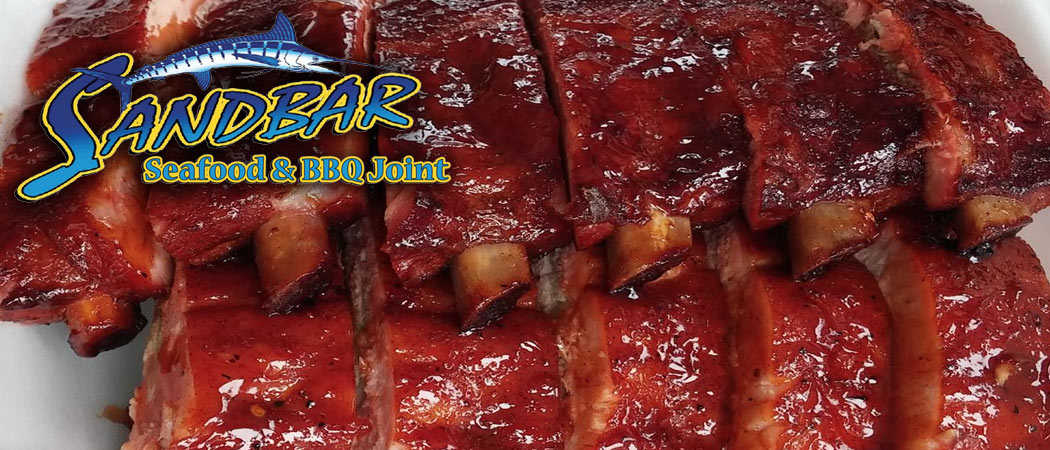 This Panama City Beach restaurant comes from a very humble beginning as a simple deli which sold fresh meats, cheeses, salads, and steamed seafood. Over the years it has expanded to focus even more on seafood, while also incorporating steak and some Southern BBQ into its menu. The Sandbar offers some of the best seafood in Panama City Beach including their amazing grouper sandwiches. Some of the most popular seafood options are Commander Dave's Shrimp (spicy), a pound of steamed royal shrimps, and the Sandbar Sampler Baked Oysters, followed by a few pounds of local crawfish coupled with a 30A beach blonde beer. Fresh local seafood doesn't get any better than this! Be sure and try the hushpuppies – you'll be raving about them for days to come.
CAPTAIN ANDERSON'S RESTAURANT & WATERFRONT MARKET
5551 N. Lagoon Drive Panama City Beach, FL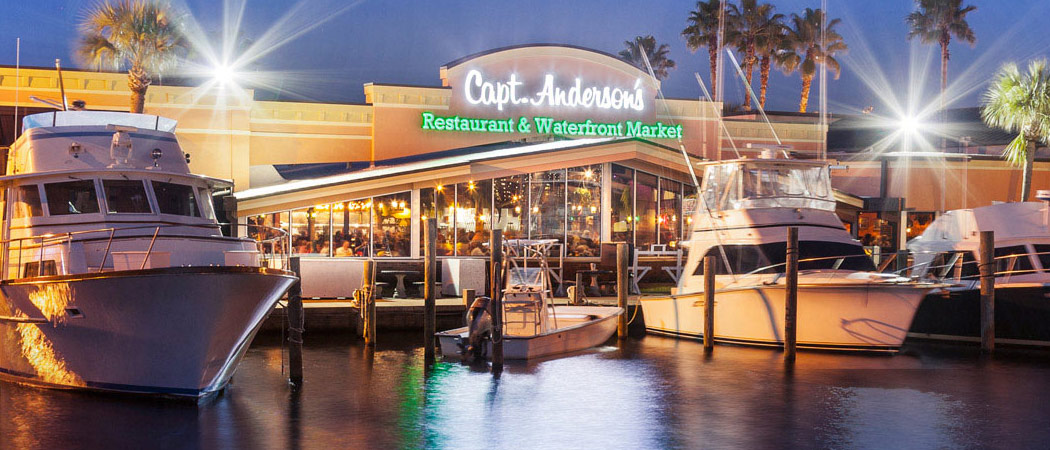 It's quite the local tradition to arrive early and dine at Captain Anderson's Restaurant in Panama City Beach, FL. You'll be amazed watching the many fishing fleets unloading their catch which are then cooked by the restaurant's amazing chefs. In addition, you'll want to note that Captain Anderson's is among America's Top 50 restaurants, recipient of the "Best Seafood Restaurant" award from Southern Living, as well as a recipient of the Wine Spectator's "Award of Excellence." Whether you're celebrating a family milestone or simply enjoying a romantic dinner, Captain Anderson has been a classic "go to" seafood restaurant since 1967. Some local and visitor favorites are the Maryland jumbo lump crab cakes and the charbroiled fish on the Greek-style hearth that is caught fresh. Or, choose the crab stuffed grouper or flounder (these are great mouth-watering options) while also being teased by the She Crab soup and surf & turf. Sit back, enjoy the views, and enjoy the ambience of this classic "Old Florida" restaurant. You'll be glad you did.
SCHOONERS, LAST LOCAL BEACH CLUB
5121 Historic Thomas Drive, Panama City Beach, FL 32408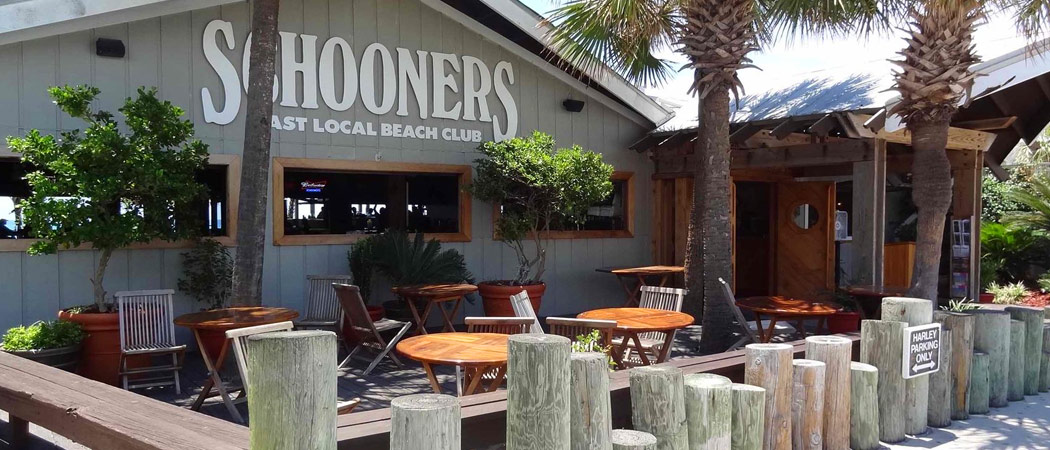 Known as the "Last Local Beach Club," Schooners is a great place to catch some live music, kick off your flip flops and watch a beautiful Panama City Beach sunset. The Gulf Front view is stunning, and you can order your beverages and take them to watch the sunset. The menu at Schooners is simple, but very good and tasty – with local fresh seafood with a mostly Southern twist. Some of the best appetizers are the Loco shrimp combined with fried or sautéed crab claws. For entrees think about the redfish sandwich, "The Beach Party" Seafood Combo platter with blackened shrimp (add the smoked gouda and tasso cheese grits!), and the Southern Oven Oysters. Take advantage of seeing the daily sunset cannon firing amidst the sunset. It's a view and experience you'll remember for some time to come!
FIREFLY RESTAURANT & LOUNGE
535 N Richard Jackson Blvd (at Shoppes at Edgewater), Panama City Beach, FL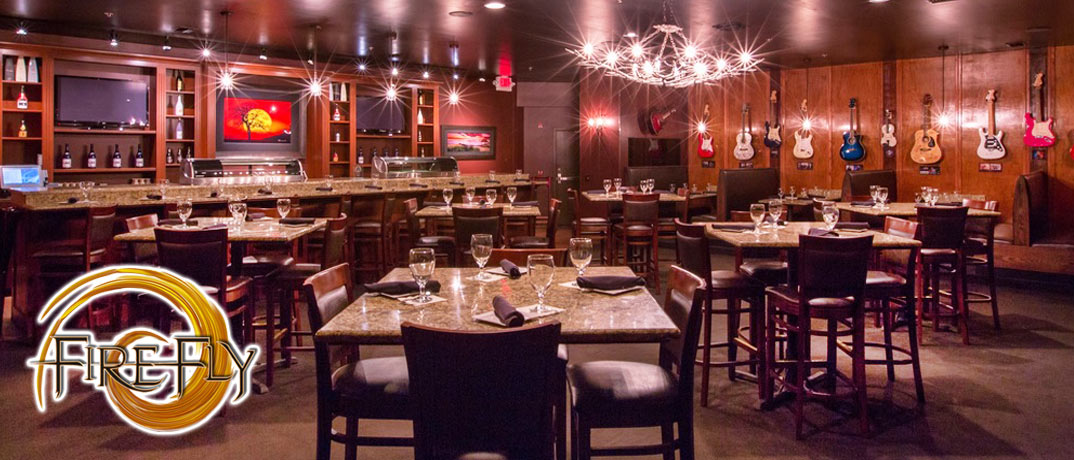 Offering a truly unique dining experience in Panama City Beach, Florida's Firefly Restaurant provides guests with an upscale and romantic experience not found in most local dining establishments. From the moment you step into the breath-taking entry, you'll quickly realize that this is not your typical beach restaurant. While there are many seafood restaurants in Panama City Beach, Firefly sets itself apart by not only providing an array of seafood and steak options, but also including some incredible sushi choices for the most discerning foodie. Voted a Diner's Choice on OpenTable, Firefly is a splurge-worthy restaurant that receives acclaims for its She Crab soup, peppered rings of calamari, jumbo lump crab cakes, and the incredible sautéed Gulf grouper. This is one place that will exceed your tastebuds' expectations and more.
DUSTY'S OYSTER BAR
16450 Front Beach Rd, Panama City Beach, FL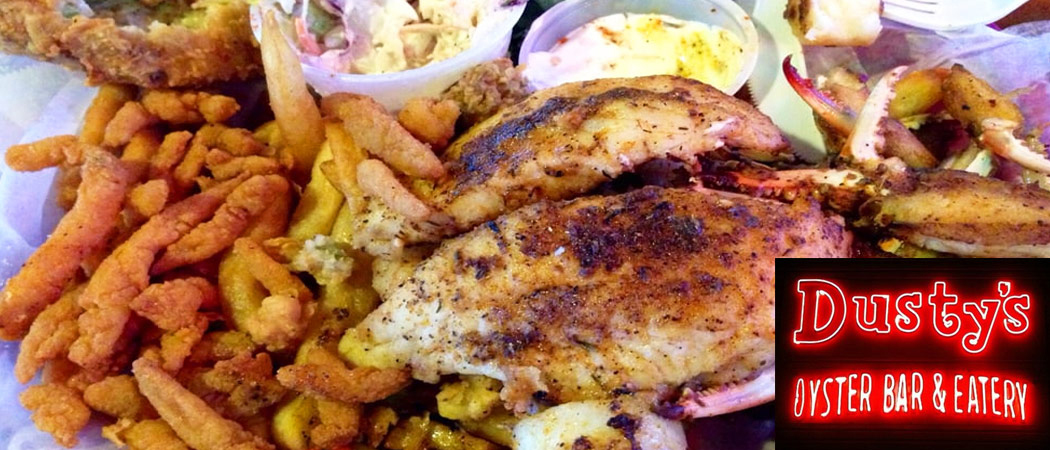 With a menu highlighting "Oysters," "Appetizers," "Seawitches," and "For the Maneaters," this local joint is recognized as perhaps the best oyster bar in Panama City Beach. Enjoy the casual atmosphere, take advantage of great raw oysters (be sure and have fun watching the entertaining bartenders shucking the oysters!), and relish taste-worthy grilled grouper po-boys. Whet your appetite with fried shrimp, blackened scallops, and jalapeno baked oysters, and so much more. And, if that's not enough, you'll want to try Dusty's baked oysters, grilled and fried shrimp and grilled grouper. This Panama City Beach seafood hangout truly delivers!
SALTWATER GRILL
11040 Hutchinson Blvd (Between Gulf Highlands Blvd & S Glades Trail), Panama City Beach, FL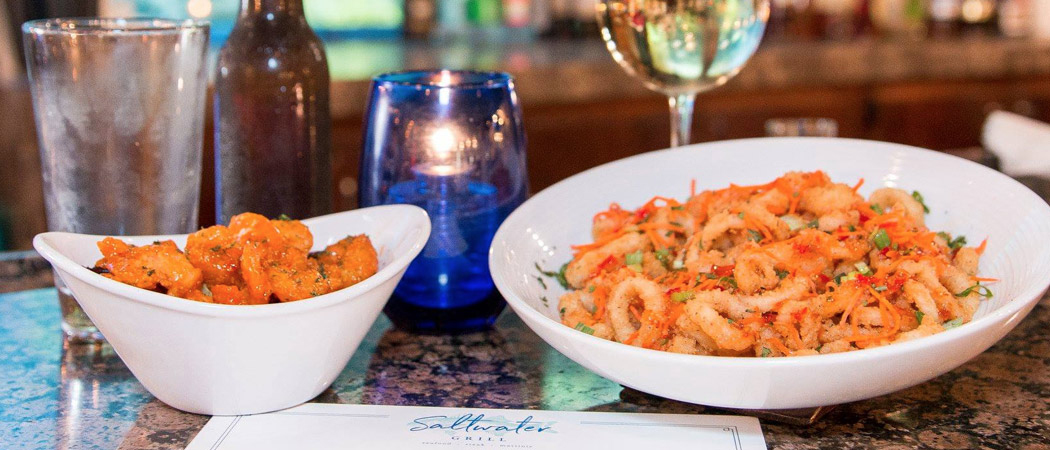 As soon as you enter this stunning Panama City Beach restaurant, you will be completely wowed by the panoramic view of its 25,000-gallon tropical saltwater aquarium. And, that's just the beginning. Both sides of this restaurant offer dazzling views complemented by live piano music in the evenings, fantastic food and impeccable service. Guests rave about this special place being the most romantic dinner spot on Panama City Beach. Enjoy an incredible Martini happy hour and mix and match your evening dinner with amazing lobster rolls, smoked tuna dip, broiled lobster tails, Creole Redfish, and diver scallops.
DEE'S HANG-OUT
529 Richard Jackson Blvd, Panama City Beach, FL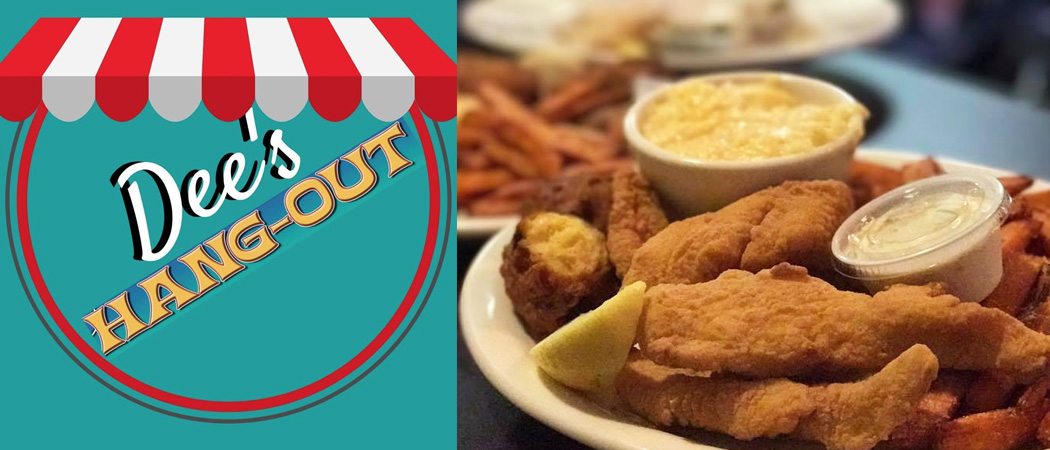 It's time to hang-out at one of the fun places that locals and new and returning visitors love to visit, Dee's Hang-Out for southern, coastal, Cajun cuisine. While Dee's is known for its smoked tuna dip, a little unknown treasure is their crab cakes (also be sure and try the She Crab soup). For entrees, there's plenty to please any palate including tasty barbecue shrimp, fresh fish, and delicious baked oysters (try them with parmesan, three cheese, jalapeno, and Cajun accompaniments). Or, go with a fried shrimp po-boy, the enormous Creole platter, the Hang-out Seafood Trio (shrimp, oysters, and catfish), and/or Dee's scrumptious shrimp etouffee. We know you'll have difficulty choosing just one!
When it comes to seafood, you have plenty of options when you're in Panama City Beach. From hole-in-the-wall spots to fine dining, there is something to suit you no matter the mood you're in. But these are gems that are cherished by locals and visitors alike.
When you're looking to stay in Panama City Beach near great seafood restaurants, be sure and take a look at the Calypso Resort and Sterling Beach which will provide you with the perfect location, great convenience with nearby dining attractions, and shopping, high-end amenities, and so much more.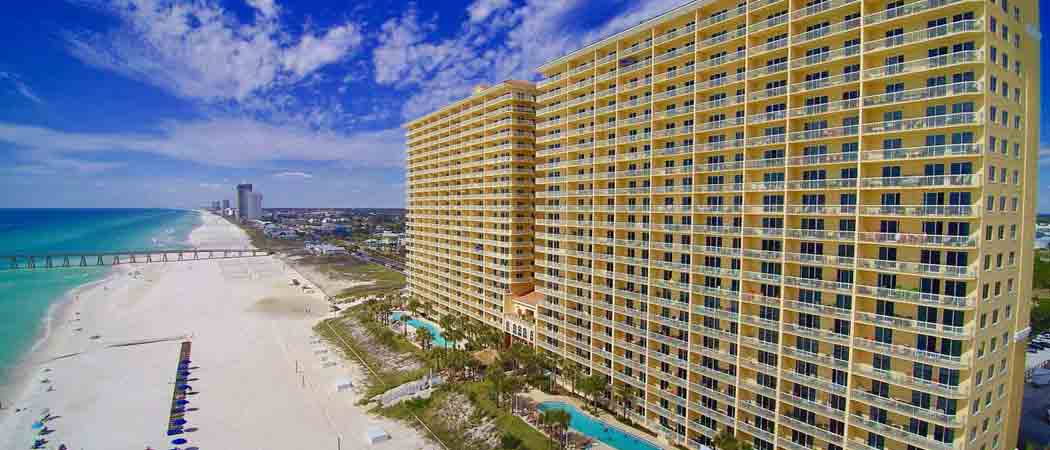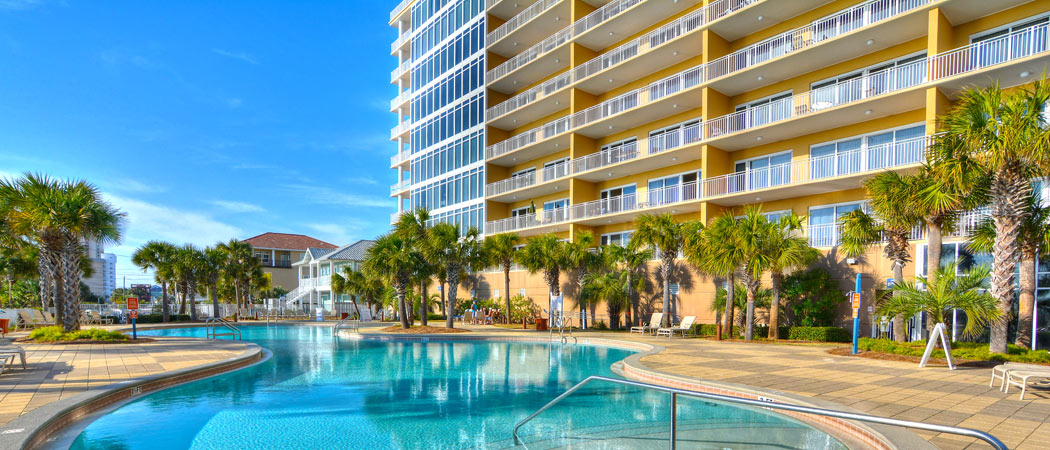 If you decide to check out any of these best seafood restaurants in Panama City Beach, let us know what you think (and post some pictures too)!