Nothing quite fills you up after a long day at the beach like a sizzling steak and a cold beer or glass of wine. Myrtle Beach and the Grand Strand are home to a number of top-rated steakhouses and restaurants serving some of the best beef in town. Here we've named a few of our favorites including some you may not have discovered yet. Which one will you try first?
21 Main at North Beach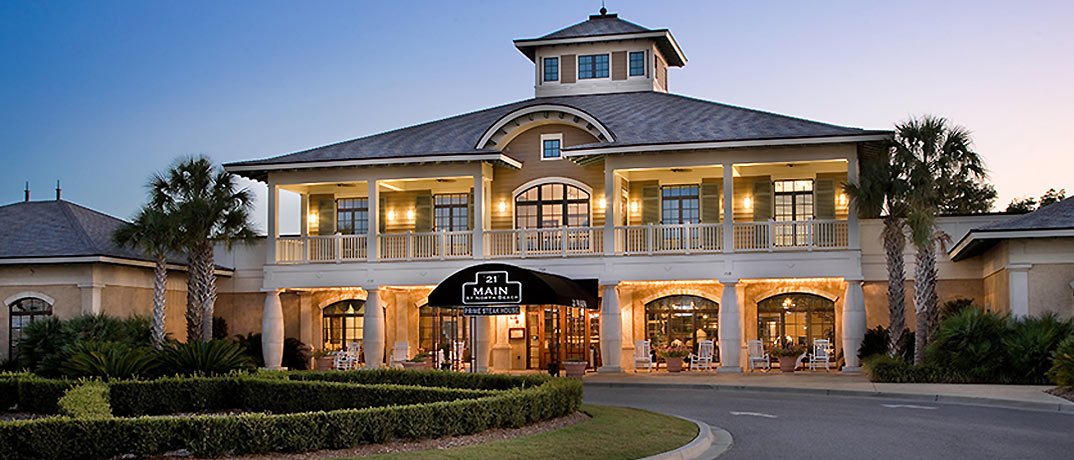 719 North Beach Blvd., North Myrtle Beach, SC
21 Main is located at the prestigious North Beach Resort & Villas in North Myrtle Beach near Barefoot Landing. The steakhouse consistently ranks as one of the top restaurants along the Grand Strand and offers private dining, live music and a seasonal Prix Fixe menu. Steaks are grilled to perfection and are served a la carte with your choice of sauce. Lobster, Bacon Mac and Cheese, garlic balsamic asparagus and creamed spinach with pancetta are just a few of the shared sides available at 21 Main.
Angelo's Steaks & Pasta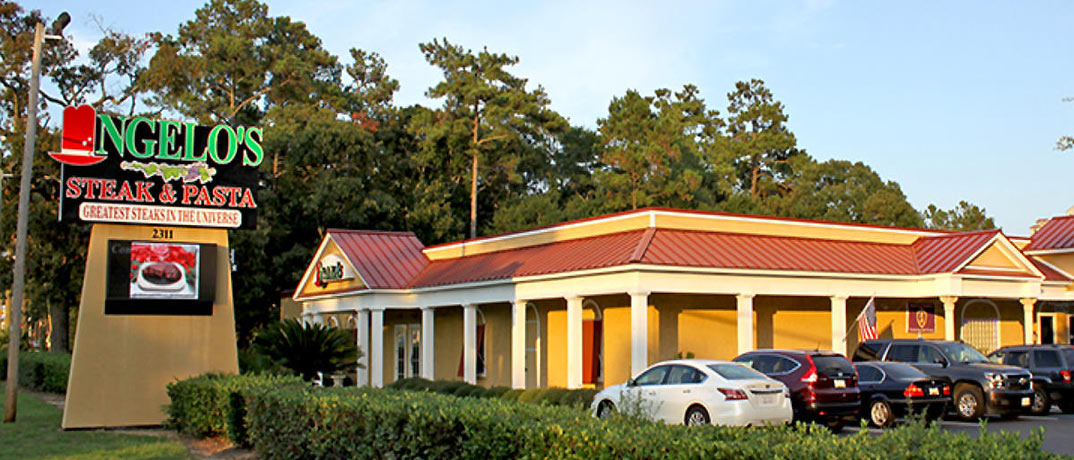 2311 S. Kings Hwy., Myrtle Beach, SC
Angelo's Steaks and Pasta has been serving "The Best Steaks in the Universe" for more than 40 years. This Myrtle Beach steakhouse is always jam-packed with tourists and locals waiting to get their hands on the sizzling steaks served on cast iron plates. Ribeye, New York Strips, Porterhouse and Filet Mignon cuts are all served with sides like spaghetti with meat sauce, garlic mashed potatoes and Italian Green Beans.
Baron's Steaks & Spirits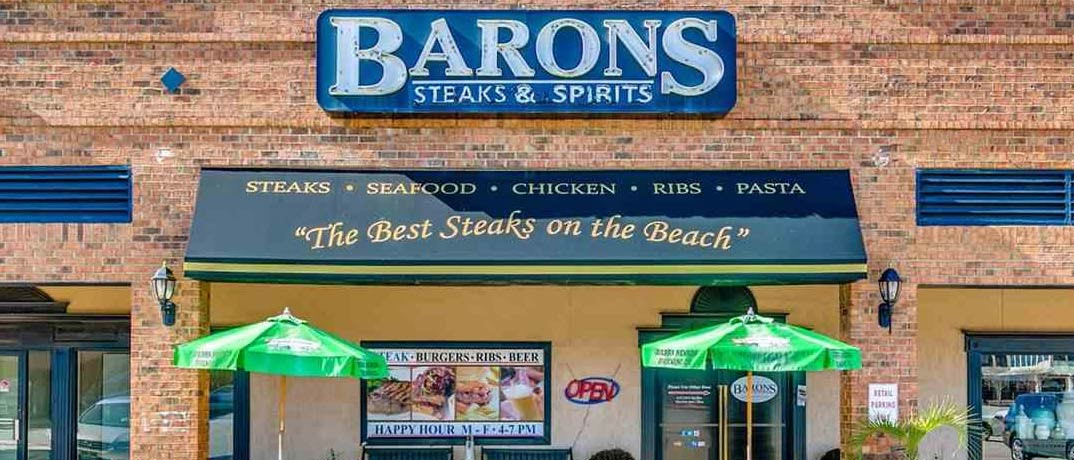 9650 N. Kings Hwy., Myrtle Beach, SC
Baron's Steaks and Spirits is located in the Restaurant Row section of Myrtle Beach and was recently renovated to include a piano bar, bistro and patio. Their hand-cut steaks are served with house salad or coleslaw and a choice of a side. Steaks can be served Black and Blue, Fulton Mountain Style, Oscar Style or Fenway style topped with a crab cake and creamy lobster and crab meat volute (a restaurant specialty).
Chuck's Steak House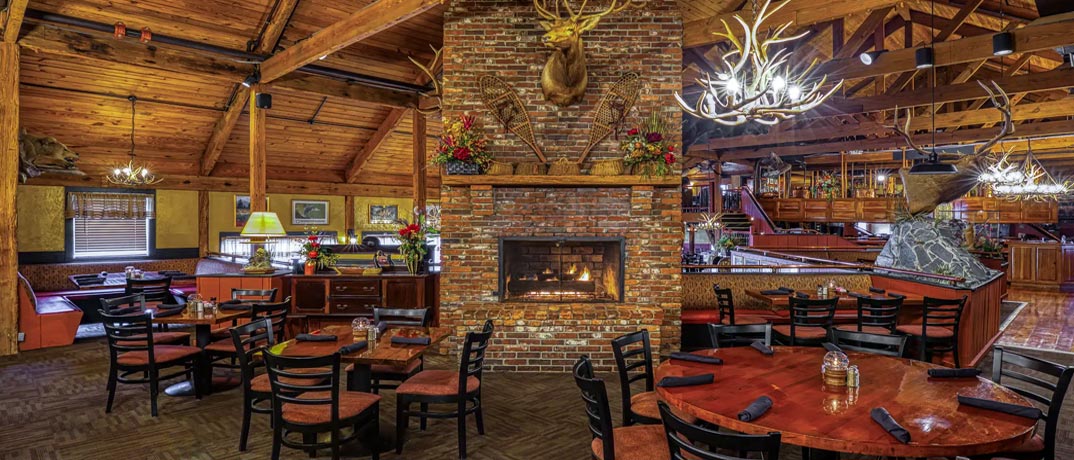 9695 N. Kings Hwy., Myrtle Beach, SC
Chuck's Steak House has been serving up their famous hand-cut steaks in a casual lodge-like atmosphere since 1979. This Restaurant Row staple ages their Certified Prime Angus Beef cuts for 28 days before cooking them to your desired temperature. Chuck's Best Sellers include a Teriyaki Sirloin, Prime Rib and Sirloin and Lobster Tail. Your entrée includes a trip to their expansive salad bar, homemade rolls and a side.
Clark's Seafood & Chop House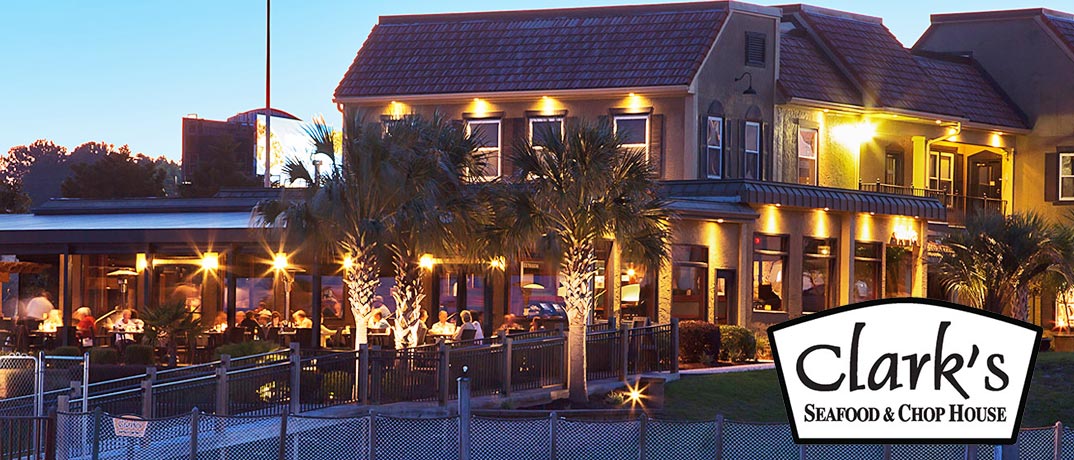 720 Hwy. 17, Little River, SC
Located in the Coquina Harbor in Little River you'll find Clark's Seafood and Chop House. The steakhouse offers water views and fresh steaks and seafood. The 100% Certified USDA steaks at Clark's are served with salad and a side item. They can also be served Oscar style, with bacon wrapped scallops or blackened shrimp. The Filet Napoleon is a unique twist on a classic steak served over parmesan risotto and topped with a crab cake with a bearnaise and balsamic reduction.
Fire & Smoke Gastropub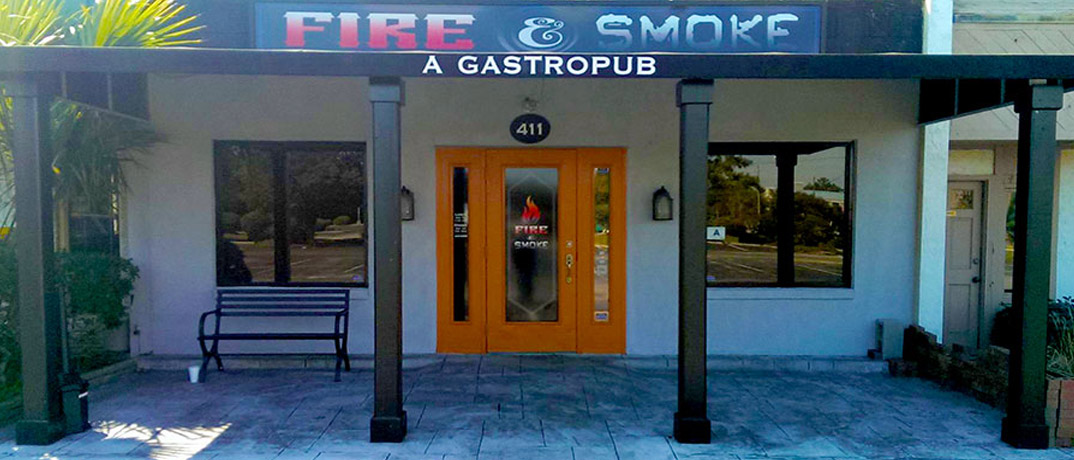 411 79th Ave. N., Myrtle Beach, SC
Tucked around the corner off Kings Highway in Myrtle Beach is Fire and Smoke Gastropub. This quaint restaurant packs a powerful flavor punch in all of their unique dishes and offers a wide variety of steaks. All of the steaks at Fire and Smoke are USDA Prime and char-crusted over a wood fired grill and include selections like Kansas City Strip, Porterhouse for two, Prime Lamb Chops and Mountain River Elk Chops. They also offer additional sauces like truffle butter, smoked bleu cheese, Brandy peppercorn and Cabernet Demi-glace.
Greg Norman's Australian Grille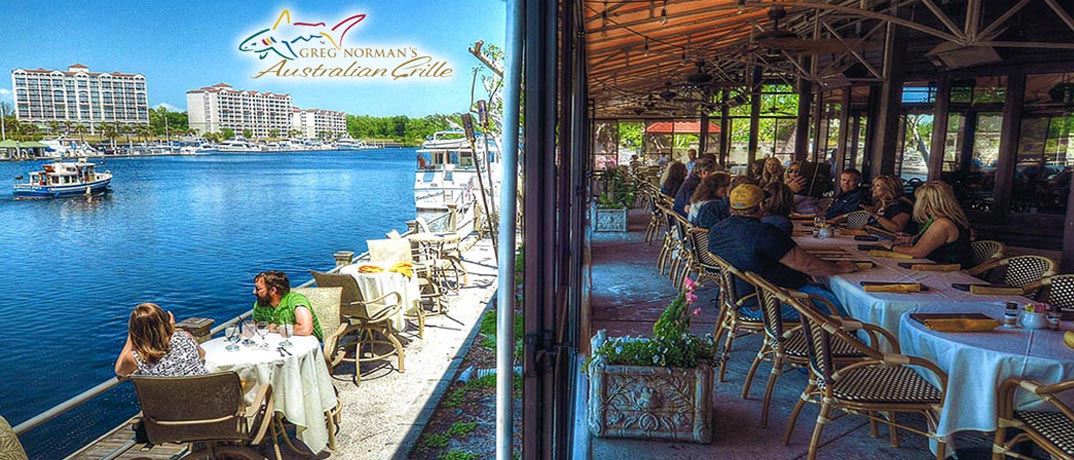 4930 US 17 S., North Myrtle Beach, SC
Located on the waterfront at Barefoot Landing, Greg Norman's Australian Grille has been a long time favorite for steaks and seafood. This North Myrtle Beach steak house consistently ranks at the top for favorite restaurants in the area. Steak entrees include the Wood-grilled Ribeye with a red wine demi glaze, Filet Au Poivre with wild mushrooms and crispy leeks, and a slow-roasted 28-day aged Black Angus Prime Rib.
Joe's Bar & Grill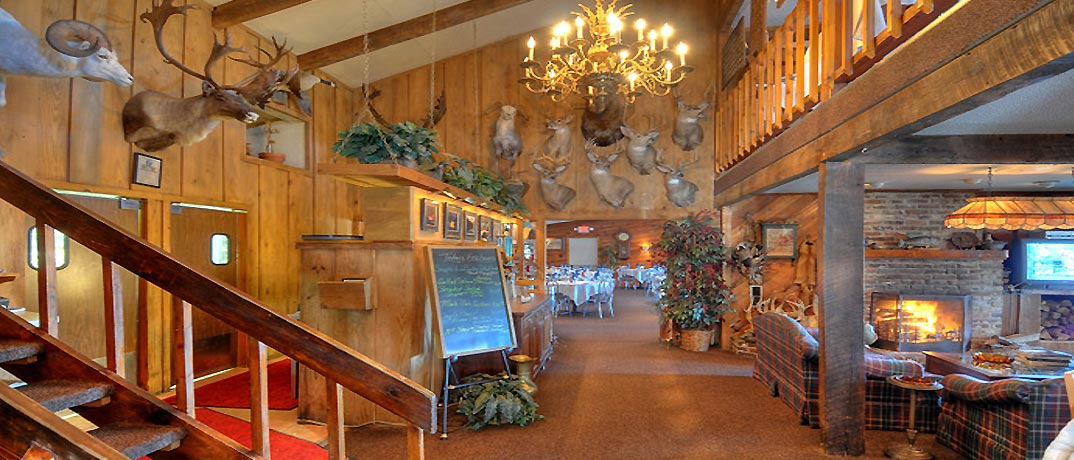 810 Conway St., North Myrtle Beach, SC
Joe's Bar and Grill takes its role as the "Best Kept Secret on the Grand Strand" very seriously. The restaurant is a casual fine dining establishment serving steaks almost any way you can imagine. Try the Steak Diane topped with sautéed mushrooms in a Marsala sauce, or the Filet Neptune topped with fresh crab meat, shrimp, scallops and a tasty bearnaise sauce. Steaks are hand-cut daily, and Joe's only uses Certified Angus Beef.
New York Prime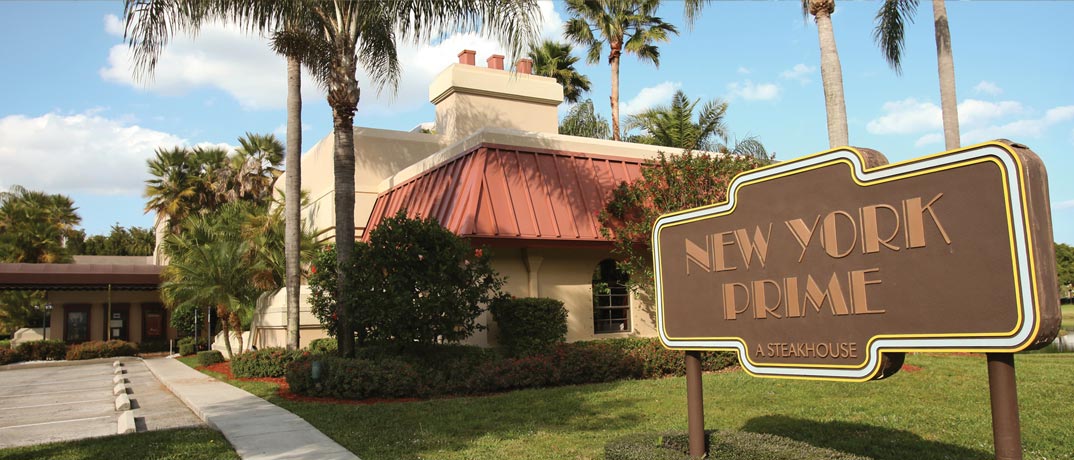 405 28th Ave. N., Myrtle Beach, SC
Perhaps the best steakhouse in Myrtle Beach, New York Prime is the perfect restaurant for a romantic date night or special celebration. Their sizzling steaks are specially broiled USDA prime cuts and filets are barrel cuts only – making them one of only few steakhouses in the entire country who does them this way. Steaks are served a la carte and table-sized sides offered include creamed spinach, asparagus with Hollandaise, onion rings and brussels sprouts. Reservations are strongly suggested at New York Prime.
Ruth's Chris Steak House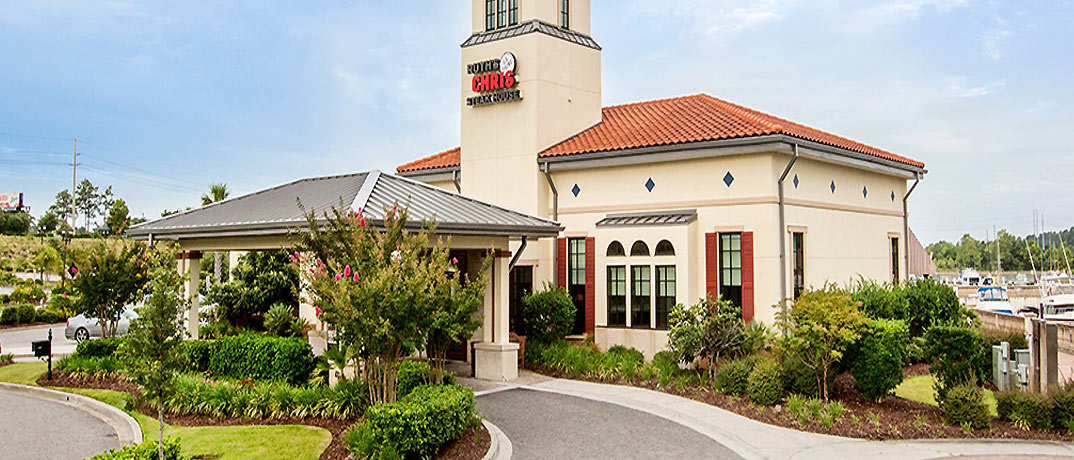 8211 Marina Parkway, Myrtle Beach, SC
For incredible food and impeccable service, there's no place quite like Ruth's Chris Steak House in Myrtle Beach. Steaks are broiled to your taste and served on a 500-degree plate at your table. Specialty cuts include the Bone-in New York Strip, 16-ounce Bone-In Filet Mignon and 40-ounce Tomahawk Ribeye. Blue cheese crust, Oscar style, Bearnaise or Hollandaise can be added for an additional fee as well as fresh shrimp or a cold-water lobster tail.
Sea Blue Restaurant & Wine Bar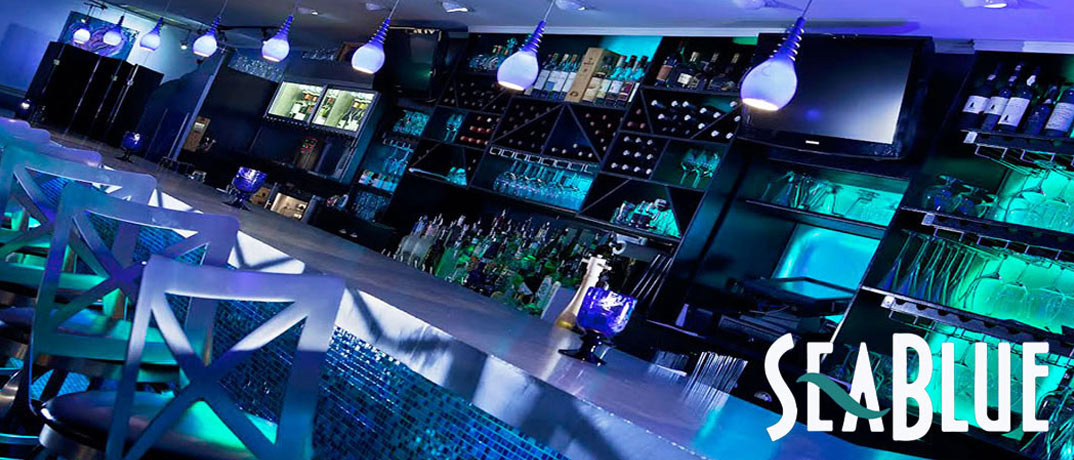 501 Hwy. 17 N., North Myrtle Beach, SC
Sea Blue Restaurant and Wine Bar in North Myrtle Beach was named the #1 Restaurant in the Country in 2014 by OpenTable.com and when you take a peek at their menu, it's not hard to see why. The romantic setting offers guests a cozy atmosphere with an extensive wine list and freshly prepared dishes by Chef Kenneth Norcutt. The USDA Prime Steaks served at Sea Blue include Center Cut Filet, NY Strip, Dry Aged Porterhouse, Delmonico Ribeye and a rotating list of Chef's Feature cuts.
Thoroughbreds Chophouse & Seafood Grille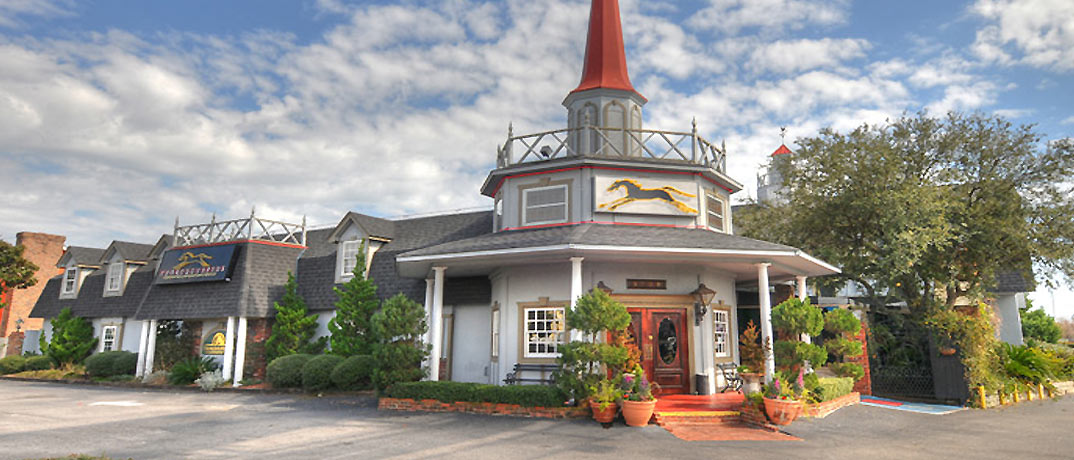 9706 N. Kings Hwy., Myrtle Beach, SC
Thoroughbreds Chophouse on Restaurant Row in Myrtle Beach is well loved by visitors and locals alike. The steakhouse has been in operation since 1988 and features six different dining areas including The Paddock Porch which is happy hour hot spot. The Thoroughbreds steaks are wet-aged for 40 days and carved in-house. Couples can feast on the Chateaubriand Bouquetiere which offers a seasoned center cut filet mignon cooked tableside and served with creamed spinach, sautéed chardonnay mushrooms, pommes Robuchon and fresh asparagus.
Condos in North Myrtle Beach
North Beach Resort & Villas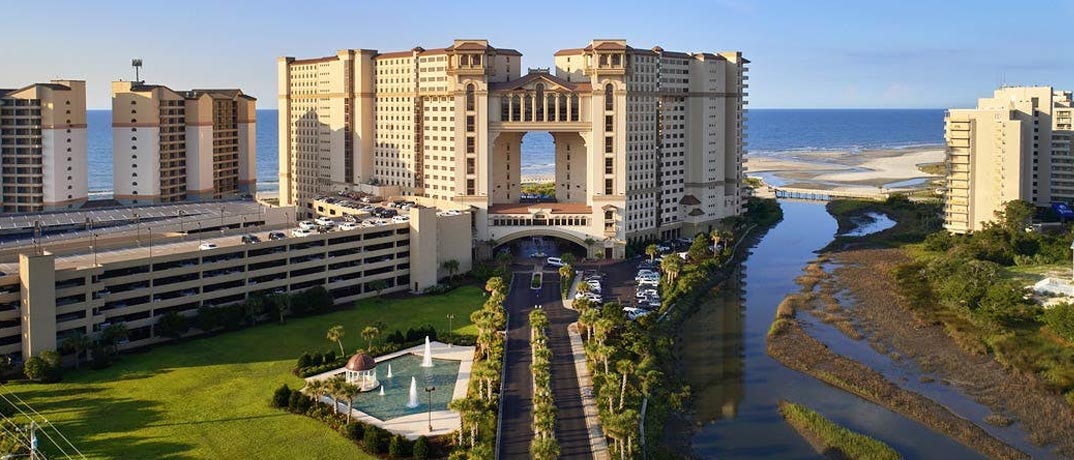 North Beach Resort & Villas is a luxurious property spanning a large, private stretch of North Myrtle Beach. There you can rent everything from family cottages, multi-bedroom condos and even a seven-bedroom penthouse. Condos at North Beach are fully equipped with private balconies, luxury bedding, jetted tubs, washer and dryer and much more. The large Caribbean-themed outdoor pool deck offers private cabanas, bubbling whirlpools, a swim-up bar and lazy river.
AshWorth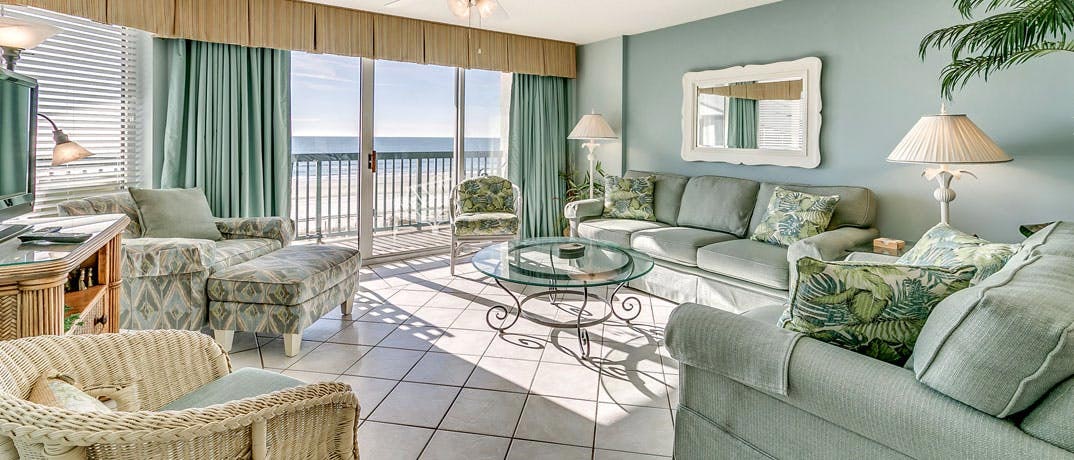 AshWorth is located in the heart of North Myrtle Beach along Ocean Drive and just a short walk from Main Street. These popular two-, three- and four-bedroom condo units rent quickly so be sure to book yours early! The AshWorth property features garden and whirlpool tubs, oceanfront balconies off the Master bedroom and living area, an oceanfront outdoor pool, lazy river, kiddie pool, fitness room and free wireless internet.