Restaurant Row offers visitors and locals access to some of the best restaurants Myrtle Beach has to offer. This stretch of road is located along Kings Highway in northern Myrtle Beach and is home to everything from premium steakhouses and seafood restaurants to giant buffets serving up almost any entree you can think of. Come along and take a tour of some of our top restaurant picks along Restaurant Row.
Thoroughbred's Chophouse & Seafood Grille
9706 N. Kings Hwy., Myrtle Beach, SC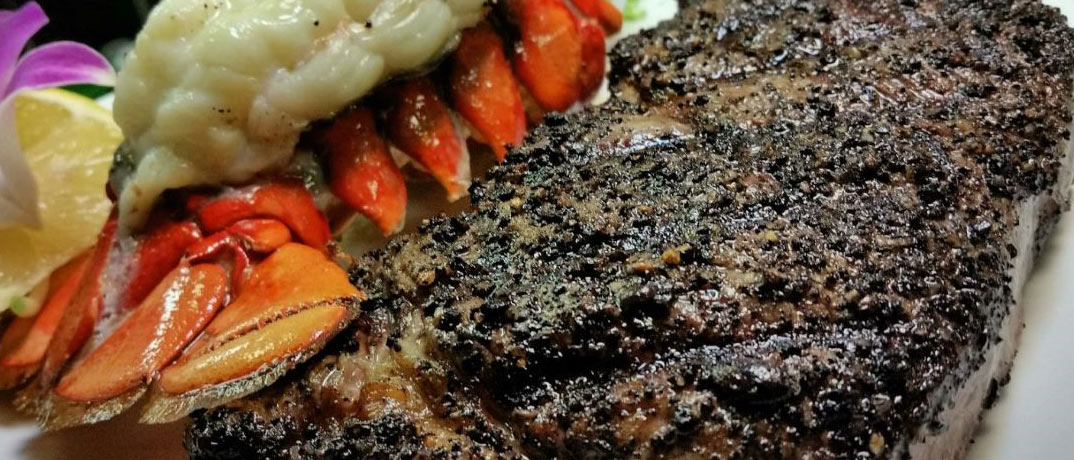 Steaks and seafood take center stage at Thoroughbred's Chophouse and Seafood Grille. This famous Restaurant Row eatery dates back to 1988 but recent renovations have managed to turn it into quite the hot spot. Find a table in one of six different horse-themed dining areas including an outdoor porch with community-style seating. The dinner menu offers a variety of cuts of aged steaks plus entrees like Seabass Framboise, Grouper Homard and Australian Rack of Lamb. A long list of wines are served by the glass or bottle and the bar offers a full list of craft beers, liquors and more.
Chuck's Steakhouse
9695 N. Kings Hwy., Myrtle Beach, SC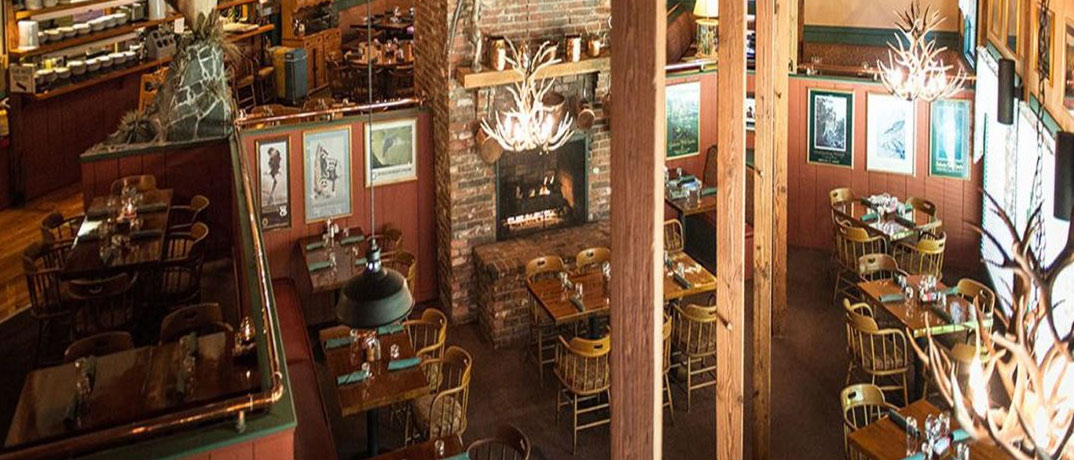 Chuck's Steakhouse opened in Myrtle Beach in 1979 and has a long list of accolades including "Best Steakhouse 2017-2019" and "Best Happy Hour 2014-2019." The casual atmosphere features waterway views in the back and antler chandeliers hanging throughout the restaurant. Entrees include Certified Angus Beef steak selections as well as 10-ounce burgers, sandwiches, seafood options and a long list of appetizers. Your dinner entrees include a trip to the salad bar. An Early Bird Menu is served from 4:30-6:30 p.m. and Happy Hour specials are served up in the bar and lounge from 4-7 p.m. nightly.
Giant Crab Seafood Restaurant
9597 N. Kings Hwy., Myrtle Beach, SC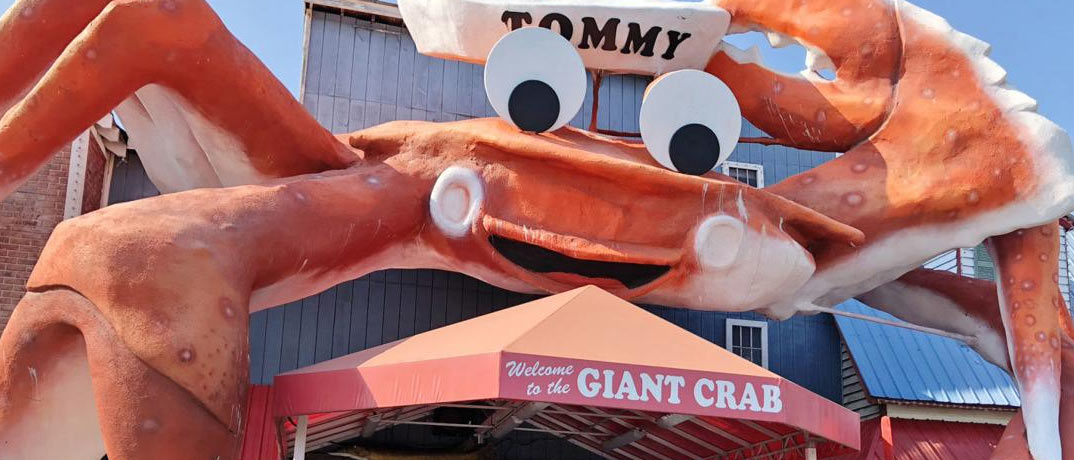 It's tough to miss the enormous crab perched atop Giant Crab Seafood Restaurant. It's basically one of the mascots of Restaurant Row! This large buffet restaurant serves more than 170 different items each day including Alaskan Snow Crab Legs, steamed and raw seafood, soups, made-to-order pastas, a deluxe salad bar and even a hibachi grill. Stop in Pirate's Island Tavern for a fruity concoction like the Giant Crab Hurricane or Pirate's Punch. The Myrtle Beach buffet is open daily at 2 p.m. June 1 through September 2 and at 3:30 p.m. in the off-season. Tour groups and buses are always welcome.
The Original Benjamin's Calabash Seafood
9593 N. Kings Hwy., Myrtle Beach, SC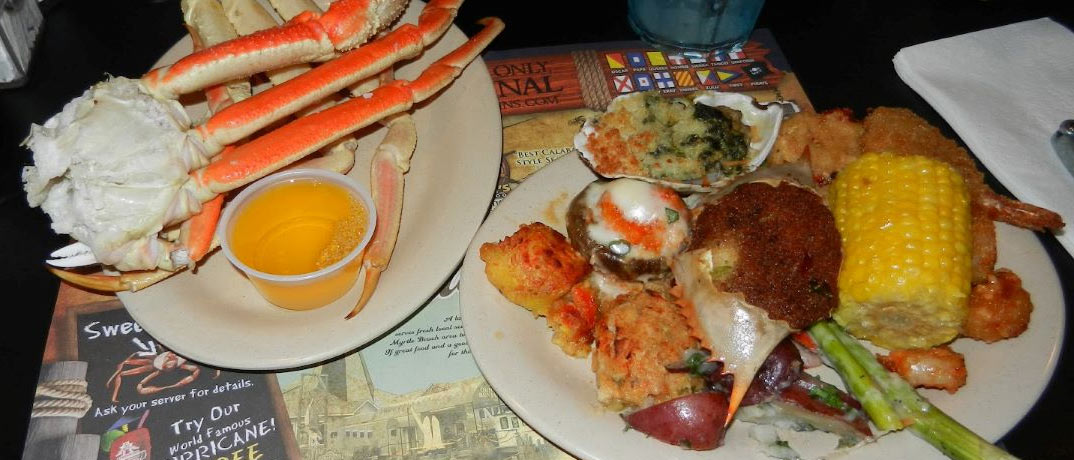 The Original Benjamin's Calabash Seafood has been a family tradition for more than 30 years along the Restaurant Row section of Myrtle Beach. This popular buffet has been named "Best of the Beach" each year because visitors and locals can't seem to stay away. More than 170 items are served on the buffet including fried oysters, Cajun crab legs, pepper steak, shrimp and grits, steamed clams and much more. The museum at Original Benjamin's has its own Master Shipwright who replicates all the ships seen inside and little ones love the Pirate's Corner, Dry Sea Aquarium and Nautical Adventure with an interactive boating experience.
Baron's Steaks and Spirits
9650 N. Kings Hwy., Myrtle Beach, SC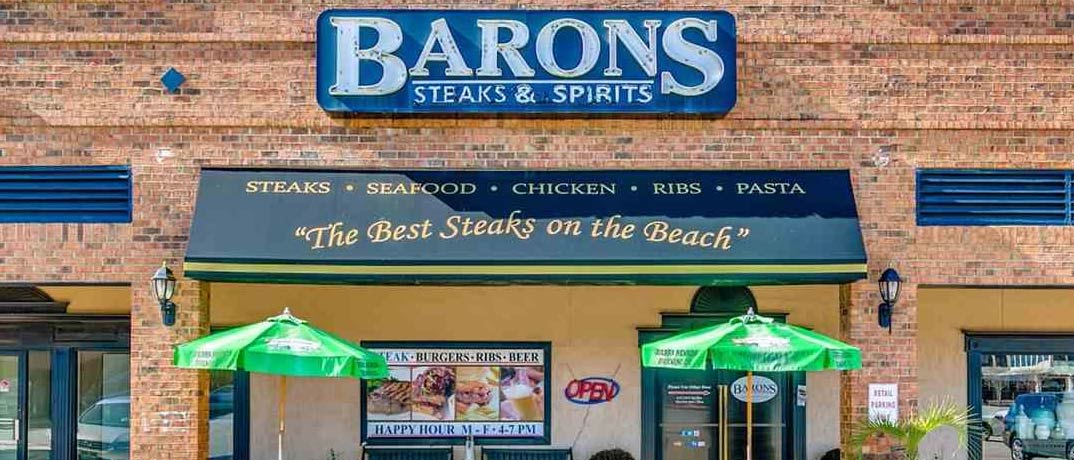 Tucked away in a shopping plaza, you'll find Baron's Steaks and Spirits that's now home to a piano bar, bistro and patio. Everything on the menu is cooked to order and favorites include hand-cut steaks with your choice of topping, Baron's Signature Crab Dip, seared scallops, Baby Back Ribs and Salmon Oscar Style. The Piano Bar menu offers munchies like shrimp or fish tacos, chicken bites and bacon cheese fries. The restaurant is open from 4-10 p.m. Wednesday through Sunday and the bar stays open until midnight.
Chesapeake House
9918 Hwy. 17 N., Myrtle Beach, SC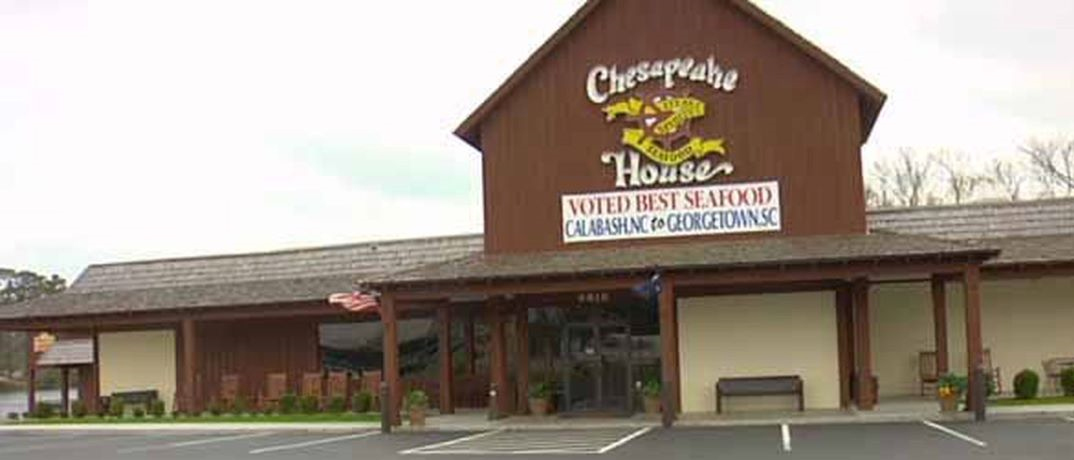 Chesapeake House has been one of the best restaurants in Myrtle Beach since 1971 and continues to please visitors year after year. The Low Country way of cooking is still present at the family-owned and run restaurant that caters to all ages. The dinner menu features classics like Low Country Shrimp and Grits, Fish Stew and Rice and Chesapeake Baked Flounder covered with a homemade crab concoction. Early Bird and Senior menus are also available, and the restaurant opens at 4:30 p.m. each day.
Chestnut Hill The Restaurant
9922 N. Kings Hwy., Myrtle Beach, SC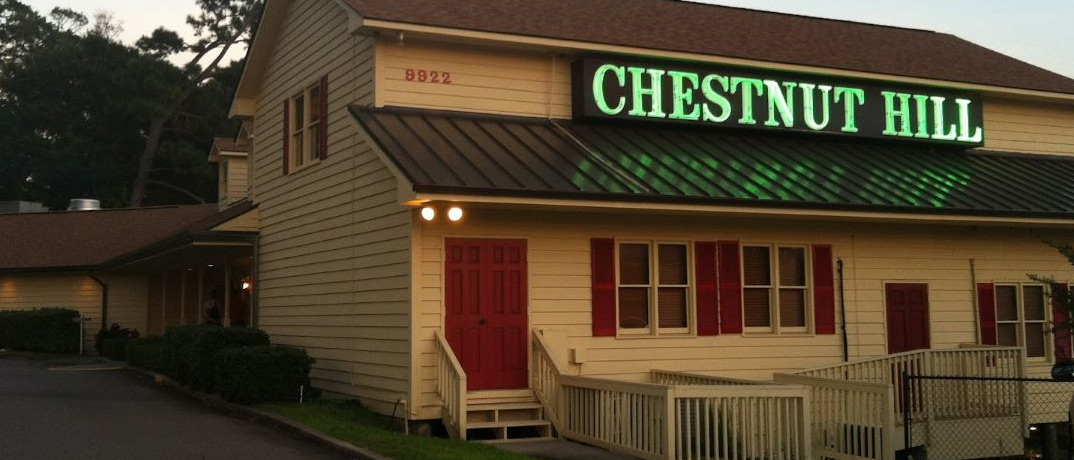 The owners of Chestnut Hill The Restaurant pride themselves on serving food that's fresh, homemade and local and that's just what they do at this popular Restaurant Row location. The lengthy menu includes fresh seafood, Stock Yard Angus Beef cuts, Veal and Chicken specialties and several vegetarian options like Cauliflower Risotto, Eggplant Parmesan and Portabella Marsala. A "Best of the Beach" Sunday Brunch buffet is served weekly with more than 30 hot and cold items on the line.
Bimini's Oyster Bar
930 Lake Arrowhead Rd., Myrtle Beach, SC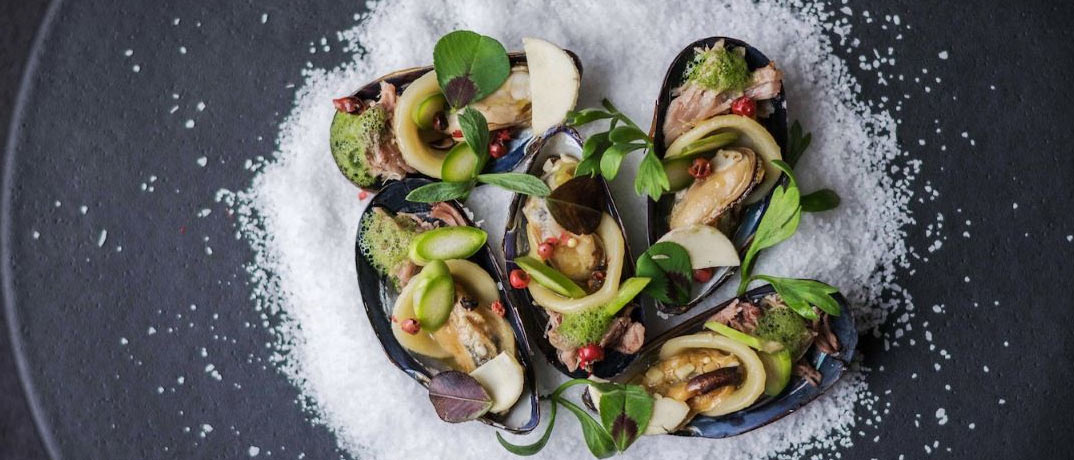 Though not technically on Restaurant Row, Bimini's Oyster Bar and Seafood Café is still worth the mention! The raw bar serves up some of the freshest seafood in Myrtle Beach in its quaint location just down the street. Steampots and Oyster Roasts are the highlights at Bimini's but other features include a grilled catch of the day, Deviled crab or fried seafood platters and a crab cake dinner. Happy Hour is served from 4-6 p.m. daily and includes 25% off a dozen or half dozen oysters, drink specials, munchies and more. Grab a seat early as they tend to fill up quickly.
Myrtle Beach Hotels Near Restaurant Row
Sea Watch Resort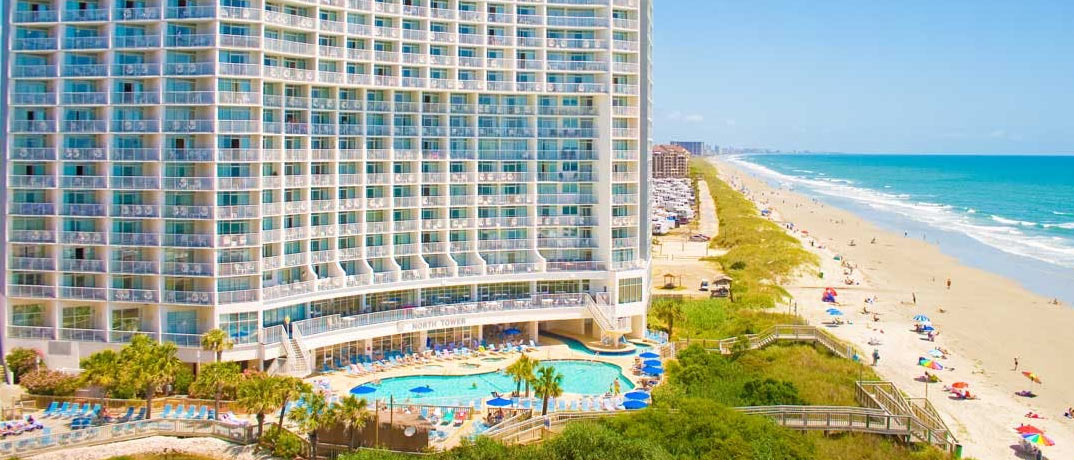 Sea Watch Resort is nestled on a quiet strip of beach just off Shore Drive in Myrtle Beach. The exclusive resort is perfect for families of all sizes and is home to one-, two-, three- and four-bedroom oceanfront condos. As one of the top hotels in Myrtle Beach, guests have access to six oceanfront pools and more than a dozen other water features as well as on-site restaurants and snack shops and a fire pit. Surrounding attractions include golf courses, shopping centers and some of the best Myrtle Beach restaurants.