We have scoured the coastline of Okaloosa county and compiled a list of the very best waterfront beach bars Destin, Florida has to offer. Let's face it, there is nothing more refreshing than a cold drink overlooking the bay on a hot day. Here is a list of our favorite places to do exactly that.
Tailfins Ale House & Oyster Bar
172 Harbor Blvd., Destin, Fl 32541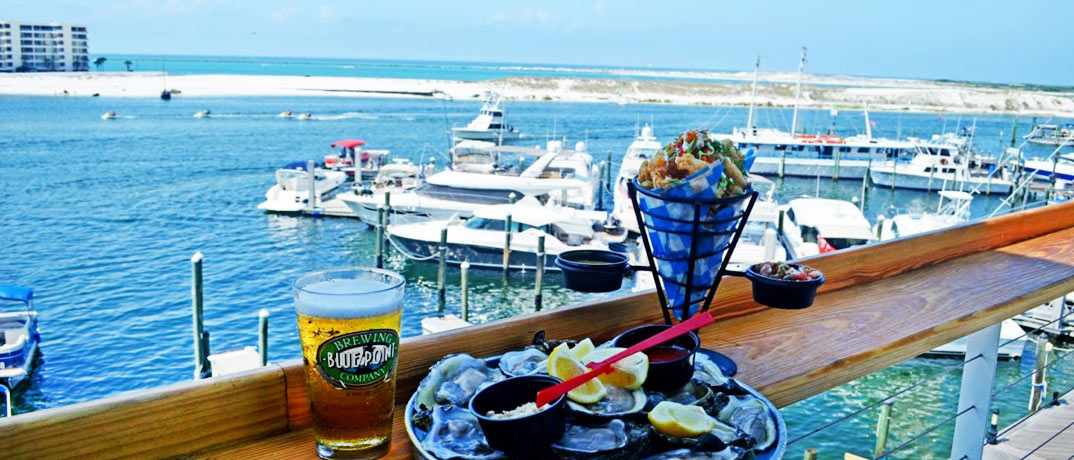 When you walk into Tailfins, you'll realize why locals recommend this 3-story restaurant. Famous for their KC Ribs, they are also known for their open air restaurant, 100 flat screen TVs, 2 mega screen TVs, and of course the rooftop bar with live music and dancing. Locals also praise this establishment for their extensive selection of both American and local craft beers on tap as well as a couple dozen of your favorites by the bottle. Don't forget to try their signature frozen drink, the "Tailfins Bushwhacker" served in their official souvenir glass.
Lulu's Destin
4607 Legendary Marina Dr, Destin, Fl 32541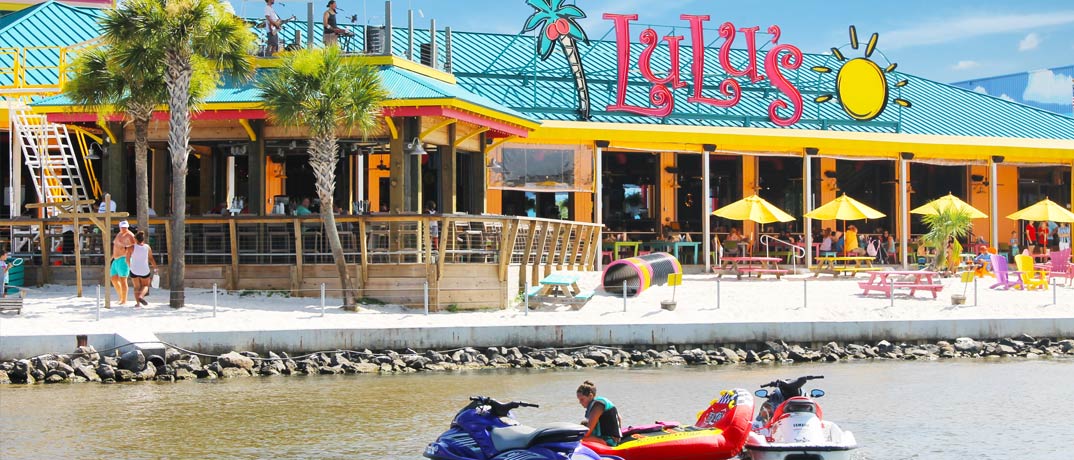 Attention moms and dads! This one is for you! Now, I can't say that we condone excessive drinking around your children, but it's not uncommon to have a drink or two to unwind while the little ones play. This open-air restaurant is the perfect spot for exactly that. There are picnic tables out back on the white sand beach, where Lulu's provides beach toys, a "fountain for youth" that allows kids some water play, and an outdoor shower for rinsing all that sand off. On top of all that, their menu has healthy options and is allergy friendly. Ok, maybe the bread pudding made from local Krispy Kreme donuts isn't the healthiest for your body, but definitely good for your soul.
Crab Island Cantina
2 Harbor Blvd #100, Destin, Fl 32541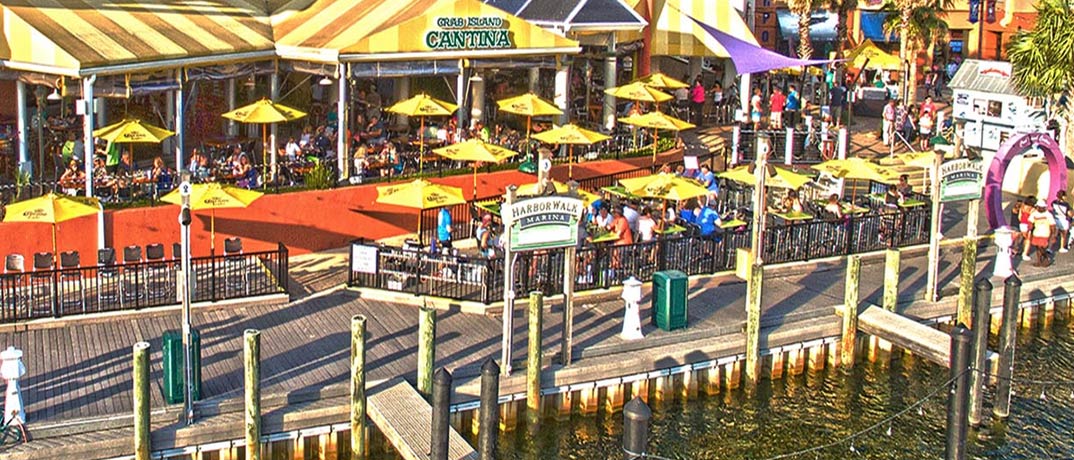 Ever dream of eating the finest Latin inspired Gulf seafood while sipping mojitos with a gulf view? Then Crab Island Cantina is your dream come true. The bright colors and smells of South America absolutely transforms this spot, taking you straight to the Latin Coastline. We highly recommend the Red Snapper Enchiladas and Grouper Tacos. However, if you are able to make time to come out here while on a vacation, try to do so during Sunday Brunch. Not only is there breakfast food, but Bottomless Margaritas as well! Make sure to check out the other two restaurants located within the Cantina: Carlito's Kitchen and Charlie's Burger Bar. The burgers are huge at Charlie's Burger Bar and you can build it however you want, right down to choosing your own meat if you're bored with the same old beef patty. Here you can pick from Angus beef of course, Bison, Wild Boar, and even Elk. The options to customize your burger go on and on. While many places are becoming popular for their craft beers, Charlie's provides a vast selection of craft bourbons. Now you're talking my language. Not the Whiskey type? They still have something for everyone including wine, fruity cocktails, over 20 different options for beer, and their "shameful shakes" including the "Cinnamon Toast Crunch" made with Fireball Whiskey and Rumchata.
Jester Mardi Gras Daquiris
34 Harbor Blvd. #106, Destin, Fl 32541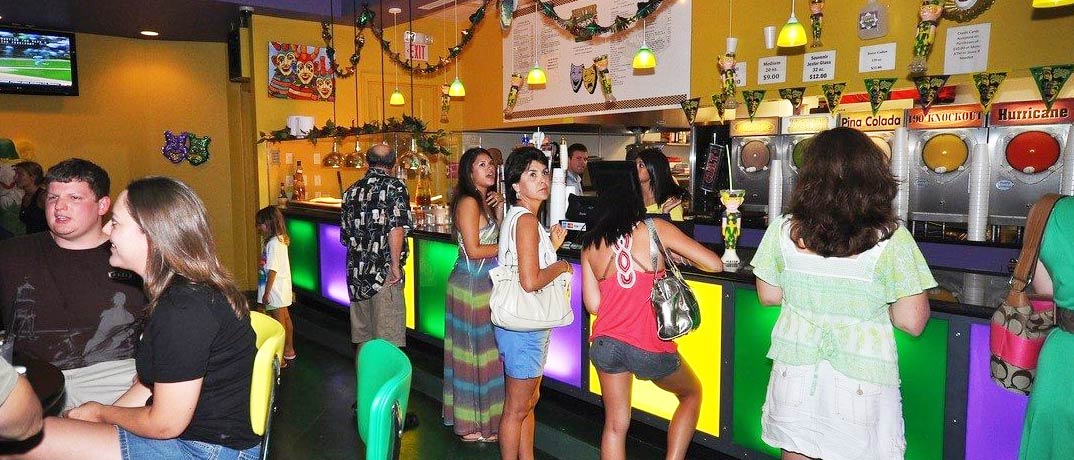 Get a taste of Bourbon Street right here in Destin, Florida! The only other place short of New Orleans to get the world famous "Jester" Daquiri. It's green, tastes like strawberry kiwi and packs quite the punch! Plus, you get the cool novelty cup to take home. If this lime green frozen concoction is just isn't your thing, don't fret! Jester's has all the best daquiri flavors including: Margarita, Mango, Orange, Fruit Punch, Mudslides, and White Russians. All Frozen and made with a lot (I mean, A LOT) of alcohol.
AJ's Seafood and Oyster Bar
116 Harbor Blvd., Destin, Fl, 32541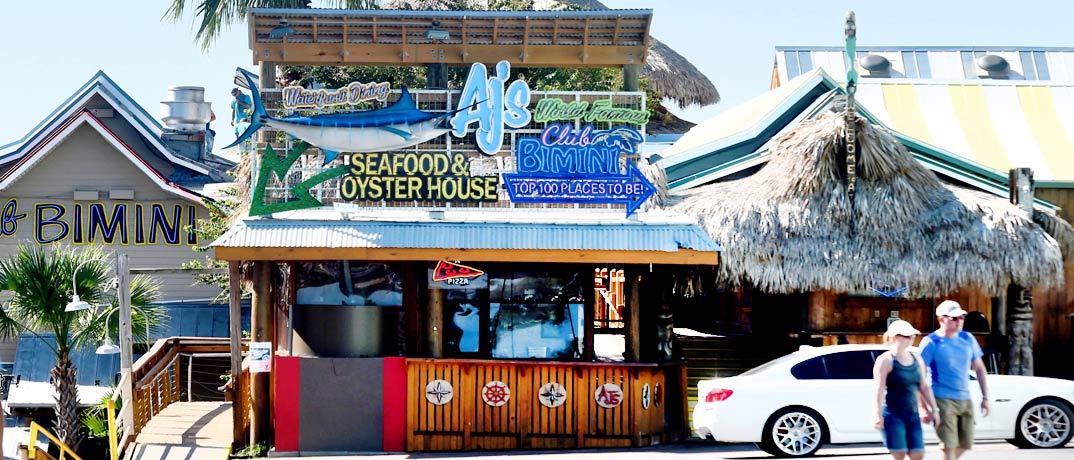 This wouldn't be an article about Destin if we didn't include AJ's Seafood and Oyster Bar. There is a reason that when you ask about the best Destin beach bars, all the locals will tell you, AJ's is the place to be. What started out as a small oyster bar in the 1980's has now flourished into one of Destin's most iconic beach bars. It's more than a bar though! It's a village! There are tiki huts, tiki bars, live music, concerts, drinks, vendors, docks, and upscale dining along with casual game food. There is even a club for the younger generation: Club Bimini where the house DJ plays todays best music until 4am. All of this with the best view of Destin Harbor. Whether you arrive by car or by boat, AJ's is a spectacle that you absolutely must visit.
Crab Island: From Floating Bar to Sand Bar
Crab Island, Gulf of Mexico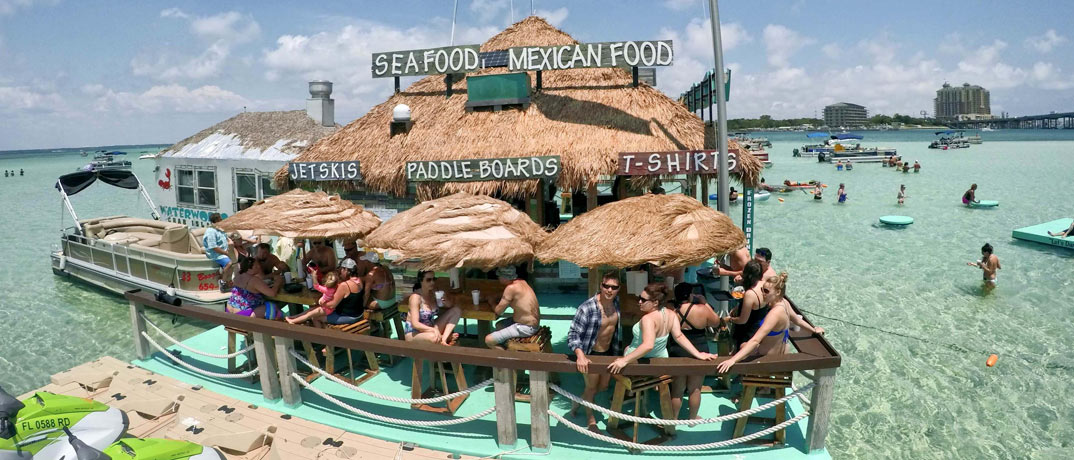 In July 2018 Okaloosa County commissioners voted and approved an ordinance immediately banning the sale and/or gifting of alcohol by commercial businesses on Crab Island. In other words, no more floating bars on Crab Island. Don't give your hopes up on the tiny sandbar just yet! Visitors are still allowed to bring their own alcoholic beverages along with them. Crab Island is still the funnest place to be and you can still find a great burger out there, but we will now have to BYOB (Bring Your Own Booze). Just keep in mind that boating under the influence is dangerous and will land you in jail. So just like if you were driving a car, make sure to bring your designated driver along.
The emerald coast invites you to come and have a great time, BUT it is more important that you have a SAFE time. Always make sure to have a designated driver or plan to take a taxi. Okaloosa County Jail does not have a waterfront view and that is not where you want to spend the majority of your vacation. Please drink responsibly.
Destin Condo Rentals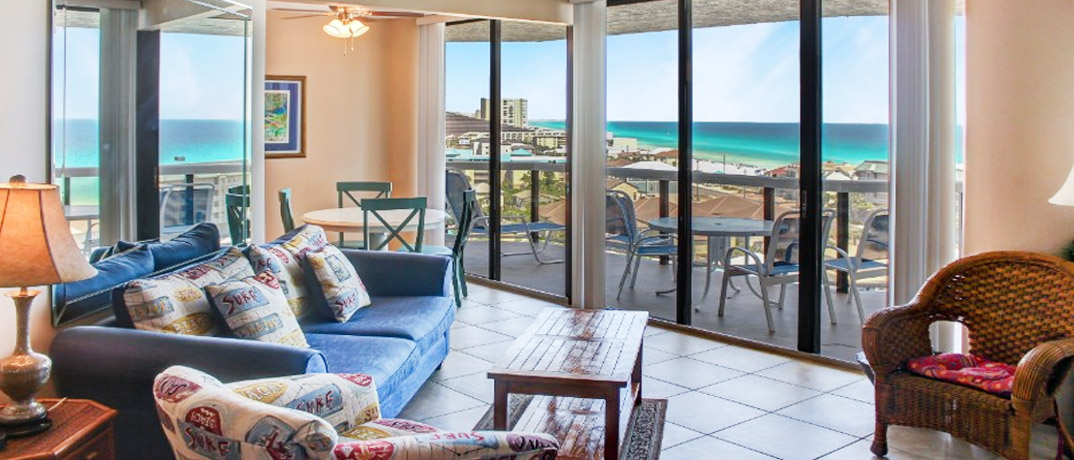 While exploring these oceanfront bars can be fun, let's not forget the classy bars that are already in your condominium building! No maps, navigating, parking or any of that hassle. Just take the elevator down, enjoy your favorite drink under the stars while the gulf breeze surrounds you. When your heart is content, your room is only an elevator ride away. Here is list of our favorite condos in Destin.