TOP 10 SEAFOOD RESTAURANTS IN DESTIN, FL
Many know Destin for its friendly service, casual atmosphere, and amazing food. But, you may be surprised to learn that the best seafood in Destin can be found at many of the restaurants below.
Whether you prefer casual dining in beach attire or are seeking the very best fine cuisine, the abundance of dining options in the Destin area provides reasons to come back again and again. With 13 area restaurants making the Florida Trend 500 Best Places in Florida to Dine list, your culinary experience is just a reservation away.
Destin area restaurants prepare some of the finest seafood you'll ever find, whether it's steamed jumbo Gulf shrimp, cajun crawfish, char-grilled grouper, blackened amberjack, or fresh Apalachicola oysters. In addition to the best seafood in Destin, you'll find cuisine that is innovative, creative, palate-pleasing, and simply delicious.
Here are our Top 10 Seafood Restaurants in Destin, FL, in no particular order. We've included a variety of the best seafood dining options for you including family-friendly establishments, fine-dining restaurants, and popular local seafood hangouts.
With so many of restaurants lining the harbor and the Gulf with spectacular views and sunsets, it's time to relax, enjoy a glass of wine and prepare for your special dining experience in Destin.
BOSHAMPS SEAFOOD & OYSTER HOUSE
414 Harbor Boulevard, Destin, FL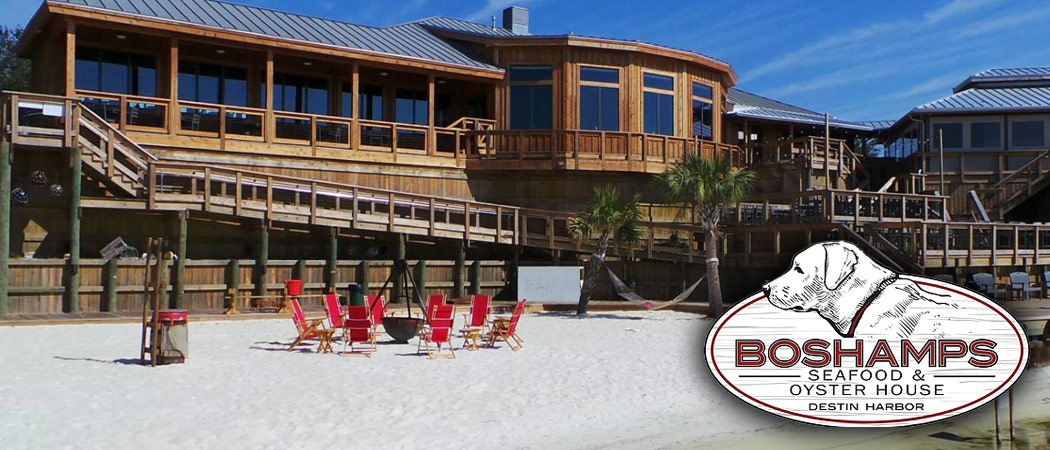 Recognized for its sustainable fresh seafood dishes, Apalachicola oysters, and modern seaside-inspired cuisine prepared by Executive Chef Andi Bell and team, Boshamps is a "must visit" restaurant for lunch or dinner in Destin. Bring your appetite for fresh coastal, Caribbean and Southern favorites with most dinner entrées served with braised local greens and cheese grits. Favorites on the menu include fried green tomatoes, smoked tuna dip, corn and crab crowder, blue crab claws, and a well-known splurge-worthy treat, Boshamps' lobster mac & cheese, complete with a heaping serving of southern style mac & cheese topped with plump juicy pieces of lobster. Locals love the "The Original" Snapper Destin topped with jumbo lump crab and fresh Gulf shrimp. If you're an oyster lover, be sure and try some of the varieties of oysters by the shot, half-dozen, dozen and baked. Arriving by boat to Boshamps Seafood & Oyster House is also an option, as docking facilities are available. After a day of fishing or enjoying Crab Island, just tie off your vessel and enjoy the live music and amazing cuisine. Learn more about Boshamps and their menu at their website.
THE BACK PORCH SEAFOOD & OYSTER HOUSE
1740 Scenic Highway 98, Destin, FL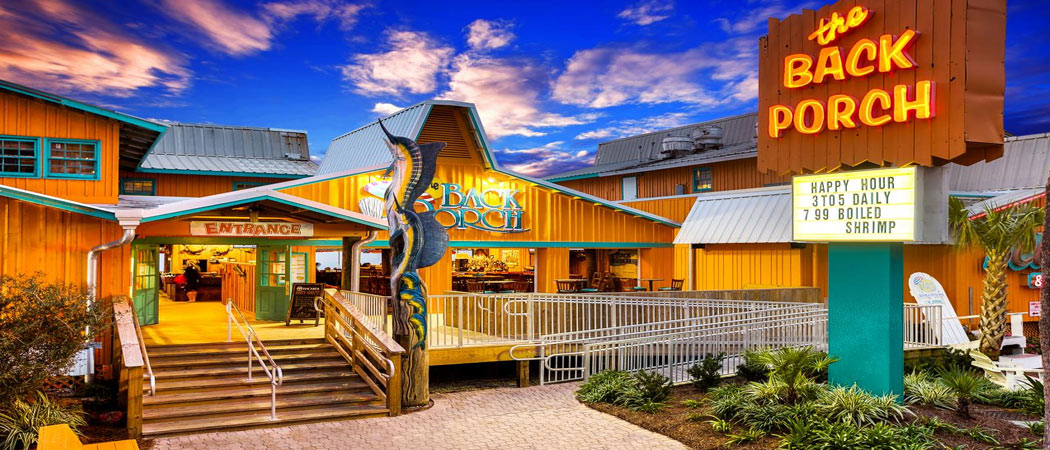 Recognized as a Gulf tradition and locals favorite since 1974, The Back Porch Seafood & Oyster House in Destin started in a small A-frame building on the beach, making it great for sunset-watching. The restaurant, made famous for inventing the amberjack sandwich, is also noted for its fresh seafood including Apalachicola oysters (your choice of raw or baked – the locals favorite is the Back Porch Oysters, baked and topped with crabmeat and cheese), Gulf snapper, and firecracker shrimp. Their seafood gumbo is a "must try" dish, filled with shrimp, fish, and crabmeat. And, if you have room, be sure and try their signature key lime pie – you'll be glad you did. Kick back and enjoy some incredible seafood, and amazing views at The Back Porch. The Back Porch has another location in Panama City Beach, and they made our list for top seafood restaurants in Panama City Beach.
BEACH WALK CAFÉ AT HENDERSON PARK INN
2700 Scenic Highway 98, Destin, FL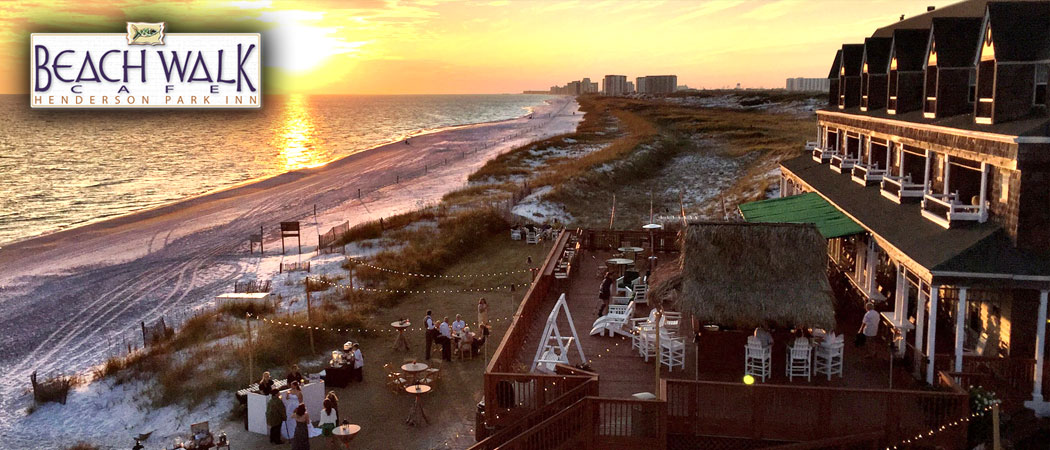 The Beach Walk Cafe at Henderson Park Inn is a fine-dining establishment located directly on the emerald waters of the Gulf coast, serving dinner only with stunning views from its spacious veranda. Tantalize your taste buds and experience gourmet delights and local favorites including eggplant medallions with crab meat, smoked tomato soup, blue crab cakes, and shrimp and grits. As a complement to your award-winning culinary experience, the Beach Walk also has an extensive wine list. You'll want to note that all dining guest must be 13 years or older. Reservations are strongly encouraged, especially for their private VIP dining packages including the "Toes in the Sand" experience where the culinary team will serve dinner and dessert to you and your guests right on the beach. Bon Appétit at The Beach Walk Cafe.
BOATHOUSE OYSTER BAR
288 Harbor Boulevard, Destin, FL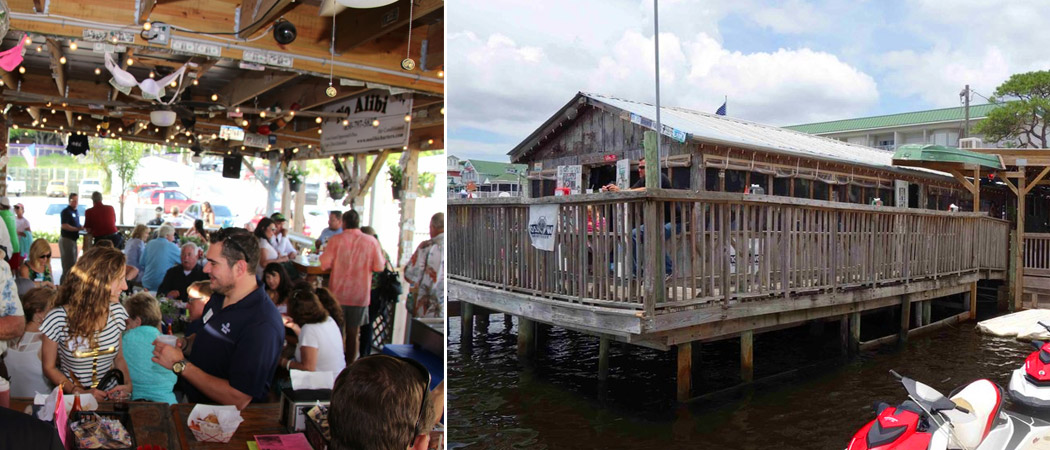 The Boathouse Oyster Bar is located on the harbor in Destin and is a favorite locals hangout. In fact, it's such a well-kept secret that you could almost walk past it and not realize the great food and entertainment that you've just now stumbled upon. In this low-key waterside "shack," you'll find plenty of seafood delights including gumbo, po-boys, raw oysters, sandwiches, and so much more. And, if you're looking for a laid-back place with great food and live music each night, the Boathouse is the place for you. As an added bonus, some really famous musicians have stopped in to play with the local bands on occasion, including Keith Urban. Enjoy the outside views from the deck that borders the outside of the Boathouse where you and your friends can sit, eat, drink and watch the boating activities. After one visit, you'll be hooked! Check their menu out today.
LULU'S DESTIN
4607 Legendary Marina Drive, Destin, FL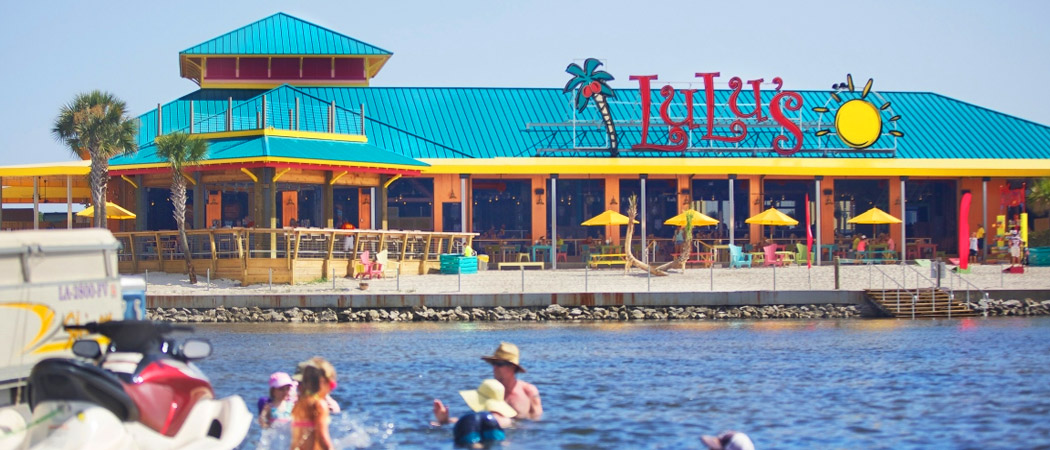 LuLu's Destin is a funky, eclectic waterfront hangout known for its coastal cuisine flavored with lots of fun, for families and couples alike. Lucy Anne Buffett, also known by her childhood nickname LuLu, and the official "Crazy Sista" of the Buffett clan, is a self-proclaimed gypsy rebel, having come from a long line of sailors, salesmen, storytellers, and generation after generation of staunch, Southern matriarchs who were stellar cooks. The little sister of singer Jimmy Buffett, Lucy was born in Mobile, Alabama, to her Mississippi coast parents who both worked at the local shipyard. Lucy cites two central themes that have molded her journey and made her the successful restaurateur that she is today: "First, that I am Southern—and not just Southern but Coastal Southern. And second is my love of food, cooking and entertaining." Visit LuLu's to enjoy sea bass sandwiches, blackened shrimp, fresh Gulf red snapper, and seafood baskets, in addition to a great fun kid's menu. Stop by for lunch or a sunset and let LuLu's serve you some delicious fresh seafood, beach music, fun times and great memories, all with heap of "Gumbo Love"! We visited LuLu's in North Myrtle Beach when they opened this past June. Check out LuLu's website for learn more.
THE CRAB TRAP DESTIN
3500 Scenic Highway 98 East, Destin, FL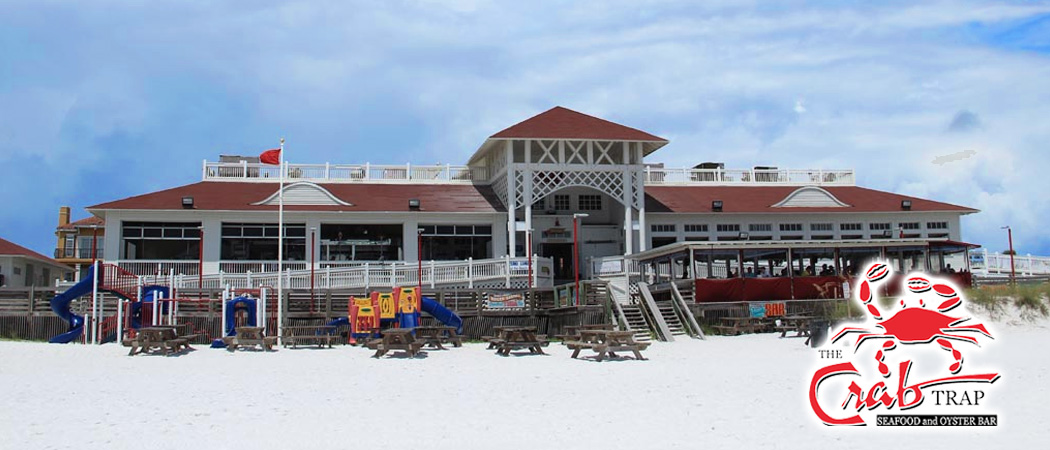 Tucked away on Florida's Scenic Highway 98, The Crab Trap Destin is a staple in the lives of both visitors and locals. This rustic and roomy eatery dishes out seafood in a family-friendly setting, with spectacular views of the Emerald Coast. Choose from a wide variety of menu options including the Crab Trap's signature hot crab dip, jumbo crab and shrimp linguine, Crab Trap amberjack, blackened red fish Orleans, southern-styled crab cakes, po boys, Alaskan crab legs, and more. Is your mouth watering yet? Kids will love that The Crab Trap has a special menu just for them, with crayons and a special treat to keep. The Crab Trap Destin is located at James Lee Park, complete with open-air windows, sun-bleached wood, a tiki bar, local art and hand-carved seaside sculptures. Come for the food and views, and make The Crab Trap a new family tradition.
HARBOR DOCKS
530 Harbor Boulevard, Destin, FL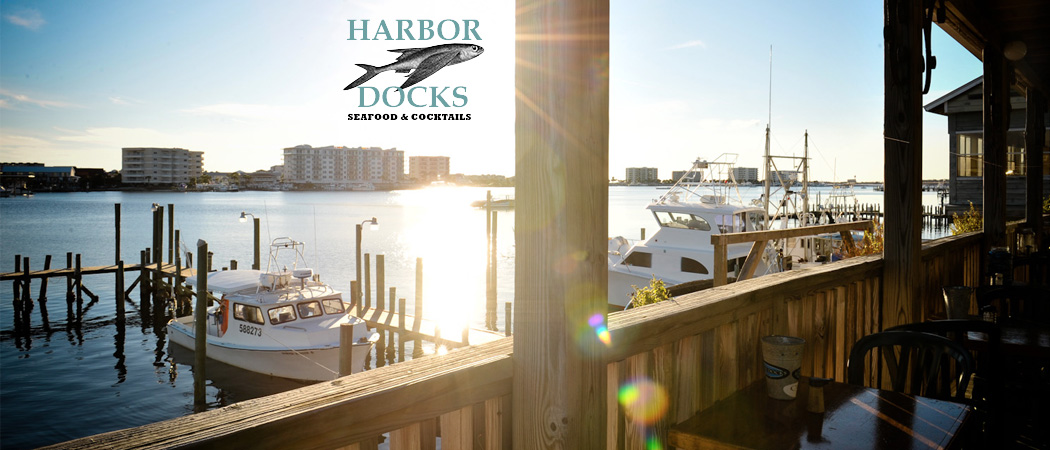 Harbor Docks has been locally sourcing food for more than 35 years with a menu that offers a fresh variety of seafood, with local taste and exquisite flavor. When you visit Harbor Docks, you'll find a hopping waterfront hangout with deck seating where you can enjoy an extensive variety of fresh fried and grilled fish, plenty of seafood specialties, and fresh sushi. Harbor Docks has operated its own wholesale seafood market since 1982, with all seafood coming fresh from the Gulf of Mexico where it is unloaded on the docks, cleaned in their market, and delivered upstairs to the Harbor Docks restaurant. It doesn't get any simpler than that. Open for breakfast, lunch, and dinner, you're sure to find a new favorite seafood dish – the only difficult choice will be to choose just one! Visit Harbor Docks today.
DEWEY DESTIN'S SEAFOOD
9 Calhoun Avenue, Destin, FL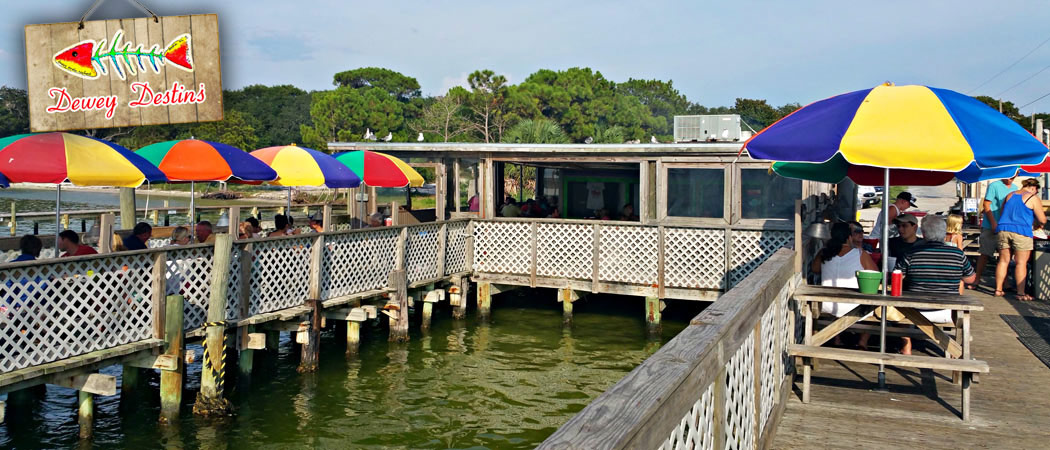 Dewey Destin's Seafood is a little difficult to find, but you'll be glad you made the effort. Try looking for a little nondescript shack which overlooks Crab Island. Once you're inside, you'll find a casual and relaxed restaurant which offers a huge selection of excellent local seafood, all of which can be served grilled, fried or blackened. Some of the most popular favorites are the local "catch of the day" fresh fish, fried shrimp, stuffed shrimp baskets, gumbo, and crab cakes. Can you say yummy? Sit outside and enjoy spectacular sunset views overlooking Crab Island from the picnic tables. You'll be raving about Dewey Destin's for days to come!
BROTULA'S SEAFOOD HOUSE & STEAMER
210-D Harbor Boulevard, Destin, FL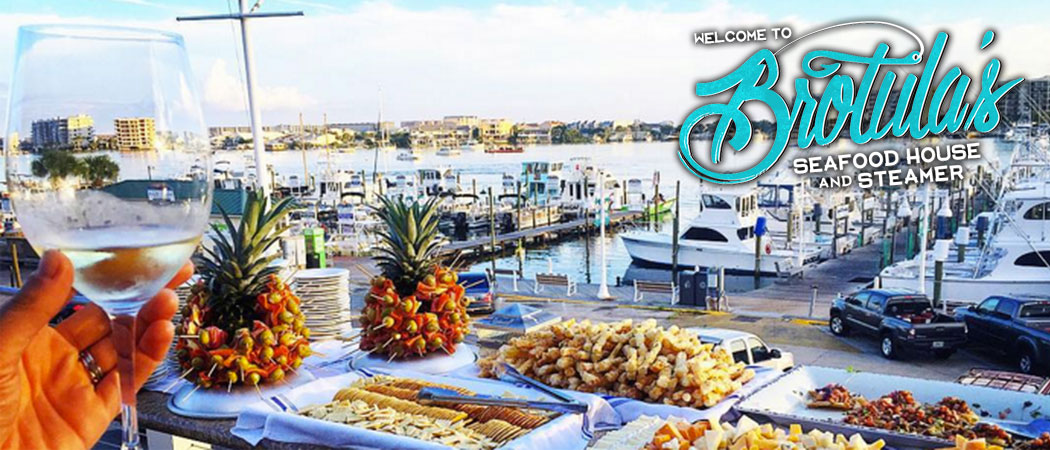 Brotula's Seafood House & Steamer is a locally-owned and operated, casual, family-friendly seafood restaurant on the Destin Harbor. The name Brotula's was derived from the Bearded Brotula or Cusk Eel that is caught right here in Destin local waters at depths of 350 feet (this amazing tasting fish is one of the best kept secrets among the local fishing community, so be sure and try it!) Brotula's is known for specializing in fresh from the Gulf locally-sourced seafood, produce, and a wide array of steamed and boiled shellfish platters that are integrated into a fun and rustic, yet sophisticated southern fish house. Locals and repeat guests love the steamed snow crab, lobsters, mussels, fish tacos, and shrimp steamers. With outstanding seafood, great atmosphere, and one-of-a-kind dining experience, this will quickly become one of your favorite "must visit" restaurants in Destin! Check out their menu now.
LOUISIANA LAGNIAPPE
775 Gulf Shore Drive, Destin, FL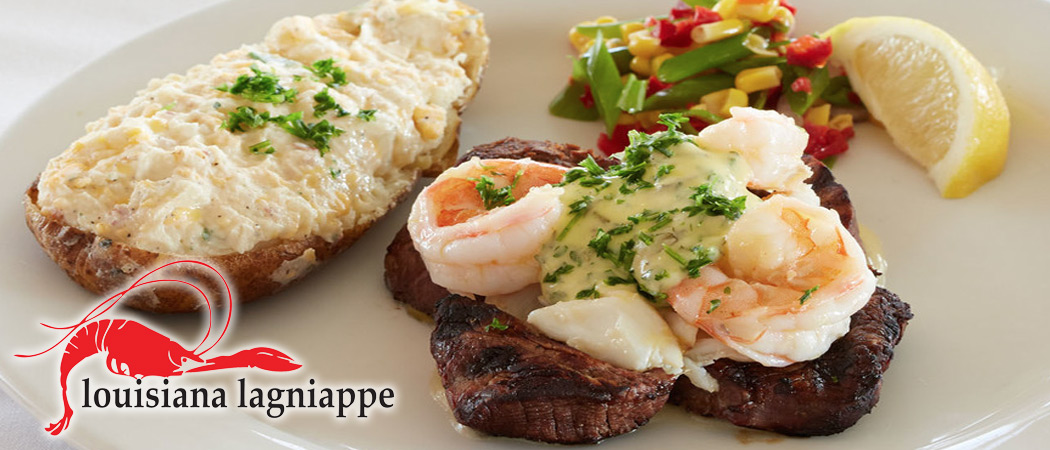 Their slogan is "Gulf Seafood…At Its Best!" After visiting this locals favorite, you'll quickly see why. For over 30 years, Louisiana Lagniappe has been known for its Gulf seafood with a Creole flair where it consistently ranks in the Top 10 restaurants on TripAdvisor and receives the Award of Excellence each year. Open daily year-round for dinner, the attire is casual, but provides a classic upscale waterfront dining experience for the entire family. Locals and visitors have many favorite appetizers including the lobster rangoons, barbecue jumbo shrimp, oysters lagniappe, and the blue crab claws. For your entrée, you'll want to try the grouper louisianne (sautéed or grilled) and the house special stuffed grouper (this is truly mouth-watering!). A local tip is to order the blackened shrimp with a side of Lousiana Lagniappe's famous hushpuppies – you won't be disappointed!
When it comes to seafood, you have plenty of options when you're in Destin, FL. From hole-in-the-wall spots to fine dining, there is something to suit you no matter the mood you're in. And, to start your food journey, we hope you'll try one or more of these seafood restaurant "gems" that are cherished by locals and visitors alike.
When you're looking to stay in Destin, FL near great restaurants, be sure and consider booking your accommodations at either the Sterling Sands or Majestic Sun, both of which will provide you with the perfect location, great convenience with nearby dining attractions, shopping, high-end amenities, and so much more.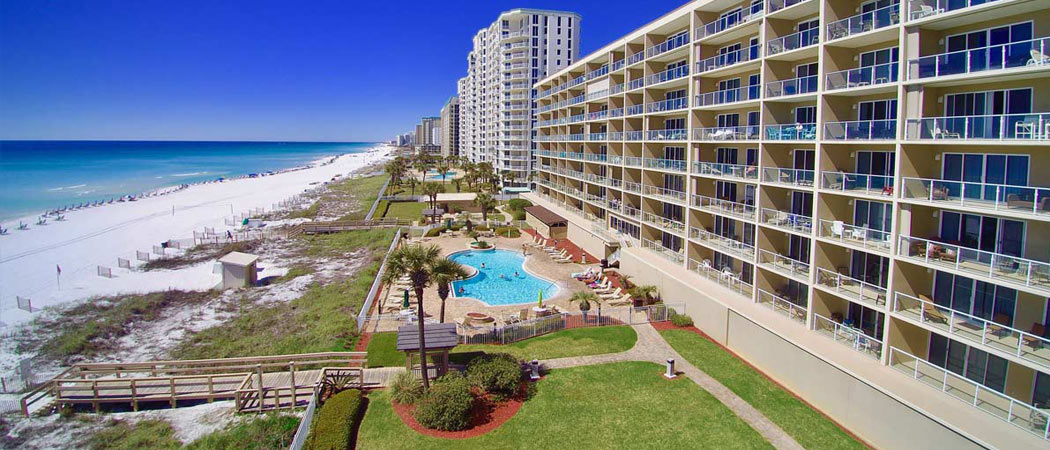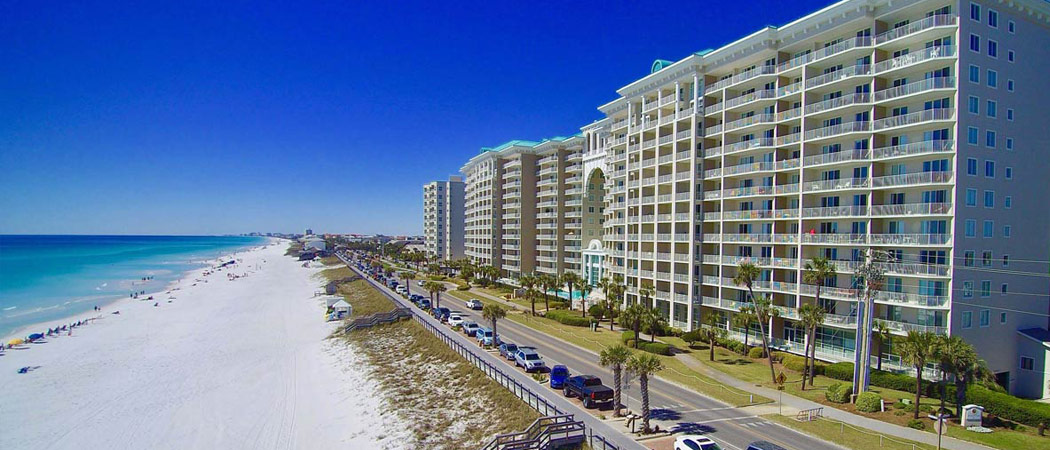 If you decide to check out any of these best seafood restaurants in Destin, let us know what you think (and share your best food photos with us, too)!