Color yourself beautiful at Crayola Experience Orlando, where the entire family will love the hands-on magical adventures created every step of the way by the one-and-only Crayola crayons. From art to technology to entertainment, shopping, dining and more, Crayola Experience will far exceed your expectations and feed your creative brain in this destination's 70,000 square feet filled with 27 attractions.
We've drawn it all up for you in a pretty picture of what to expect the day of your visit so you can plan ahead!
Find Your Inner Artist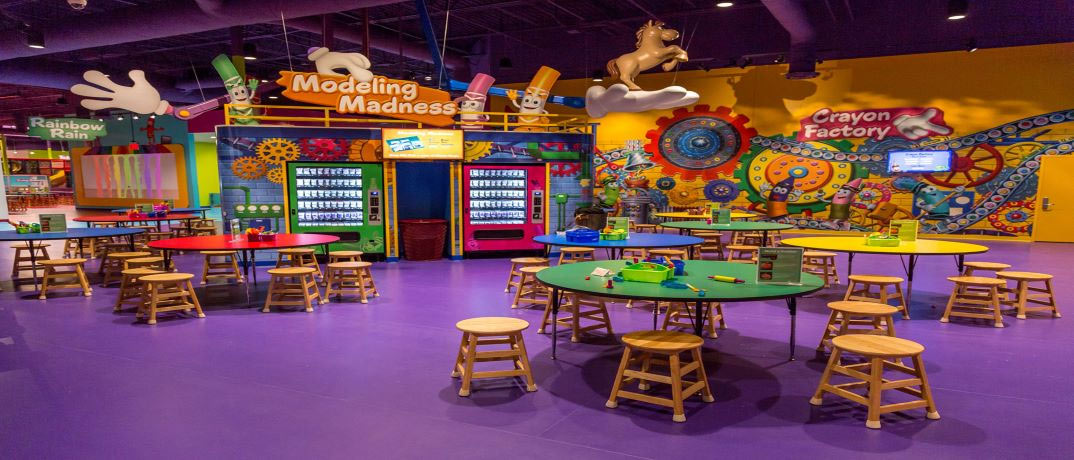 Activity Studio
Enter the Crayola craft studio and leave with a completed project that you've cut, colored and pasted with your own two hands. Project themes rotate between a rock star, jungle explorer and superhero.
Be A Star
This coloring page photobooth will magically transform a photo of you into a coloring page scene with Crayola characters. All you need to do is push a button, pose and smile!
Colossal Caddy
Be prepared for hours of coloring at this giant caddy equipped with thousands of crayons.
Kaleidoscope
This all-new station sheds a whole new light on artwork that blends color and light.
Drip Art
You won't be able to get enough of this art project that involves loading a fresh crayon into a machine that melts the wax onto your paper as it spins and creates a spiral art masterpiece.
Melt & Mold
Crayons can be melted and molded into all shapes and sizes here at this magical machine, like rings, critters or special characters.
Meltdown
The melted wax from Crayola crayons are used in the form of a meltdown pen to paint a melty piece of art.
Modeling Madness
This Model Magic station allows you to sculpt creations with the dough and even custom-color them.
Paint Palette
This paint area will have you painting your best work and then running it through Crayola's huge drying oven before you take it home for display.
Scribble Scrubbies
It's new to Crayola Experience and you'll love every minute of the chance to color, scrub and play with your free Scribble Scrubbie washable pet.
Scribble Square
Choose to draw in chalk or dry-erase markers to brighten the neighborhood with your own designs.
Trading Post
Featured here are exclusive activities, like specialty crafts, wax hands, sand art, gem mining, arcade games and more for additional fees not included in admission.
Attractions & Things To See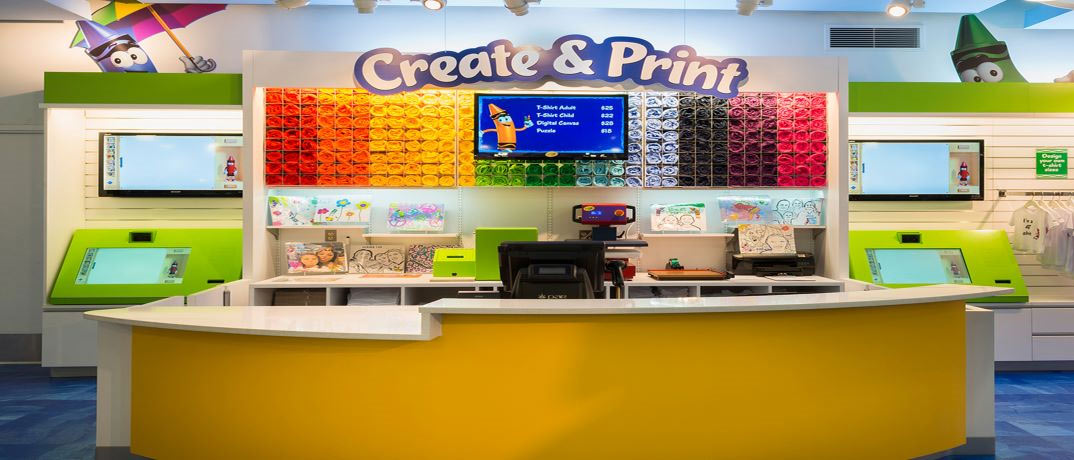 Adventure Lab
This attraction will brighten your day and clear your mind through a series of challenging puzzles and riddles with a "magic" tablet.
Bluetiful
You'll never be happier to be blue when you lay your eyes on this display of Bluetiful, the world's largest Crayola crayon weighing 1,352 pounds and 15.6 feet long.
Color Magic
Welcome to the future in this virtual reality attraction that allows you to interact with the characters that you just colored as they all come to life.
Color Playground
Playtime is anytime on this two-story playground that features a melted wax tower to climb, a paint bridge to bounce on, and obstacles like a giant crayon box to wiggle and squeeze their way through.
Cool Moves
You will be the star as you turn into a Crayola crayon before your eyes on a massive screen! Jump, move and dance to see what happens!
Create & Play
This new attraction combines playtime with pets you've created, arcade games and color experiments.
Rainbow Rain
This interactive attraction digitally morphs you with melted wax droplets on-screen, and moves as you move.
Say "Crayola"!
This green screen photo booth will capture a photo for your memory book (requires additional fee).
Silly Selfies
This new attraction will take a photo of you, but as one of 6,000 possible silly characters, like a robot unicorn, rock star parrot, pirate bunny and many more. On top of that, you can animate your selfie into a storybook of scenes using your imagination.
Stomp & Play
Use your feet on this area's interactive floor laid out with a myriad colorful games that will require fancy footwork.
Toddler Town
Designed especially for tiny tots, this area houses a multi-colored peg board, climbers and more.
You Design
This interactive virtual studio will place you in the designer hotseat to custom-create your own original car or fashion design, then show it off on the runway or raceway on a mega projector screen.
Live Shows
Character Meet-n-Greets
These colorful characters will make their rounds for hugs and pics throughout Crayola Experience at different spots and times of the day.
Crayon Factory Show
This live theatre show features animated crayon friends Scarlet and Turk, as well as Crayola Experience's crayonologist, who reveals unknown facts and tidbits you probably never knew about Crayola crayons.
Rockin' Paper
Your craft will steal the spotlight in this multi-sensory show as it comes to life set to music.
Dining & Restaurants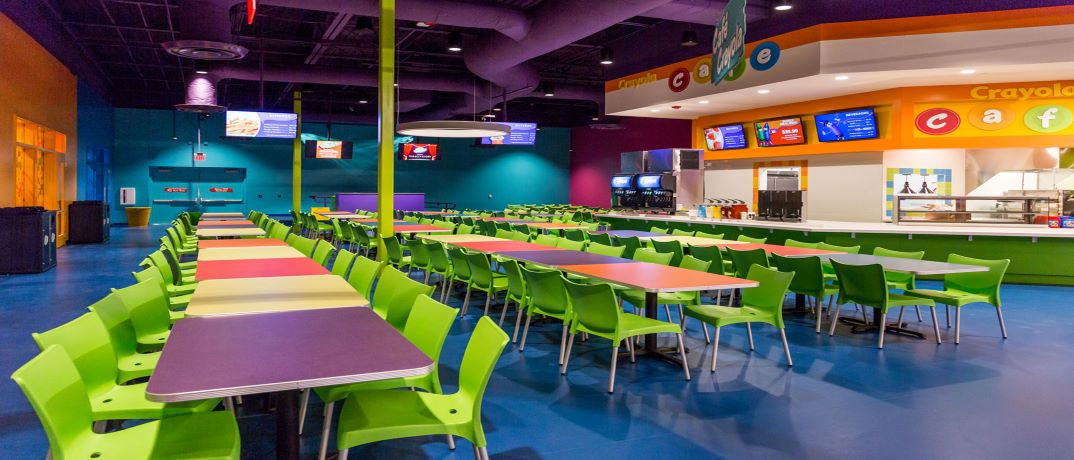 Café Crayola
Refuel with a beautiful palette of Crayola-inspired foods available here for your palate.
Café Stage
And while you're dining, enjoy a live show that will take you behind the scenes and science poured into all of the remarkable Crayola products.
Gift Shops & Stores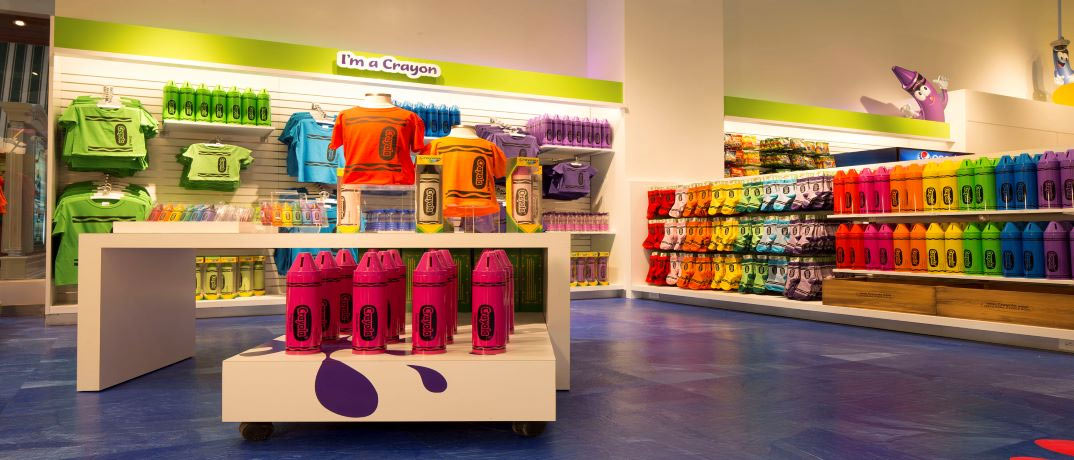 Crayola Store
This is the place to shop for crayons. That's an understatement. You'll actually find the world's largest selection of Crayola crayons, products, souvenirs and more, including a two-pound crayon that you can customize with your own name or a customized pack of crayons or markers from the Pick Your Pack wall.
Wrap it Up
Create a Crayola crayon as unique as you, personalize the name and wrap it with an authentically printed crayon label to take home.
Location & Hours
Crayola Experience is located at the Florida Mall on 8001 South Orange Blossom Trail, Orlando. It's recommended to plan on spending three to four hours to properly explore this large facility.
Crayola Experience Hours
Monday through Friday: 10 am to 6 pm
Saturday and Sunday: 10 am to 8 pm
For changes in hours, upcoming events and tickets, visit https://www.crayolaexperience.com/orlando.
Where to Stay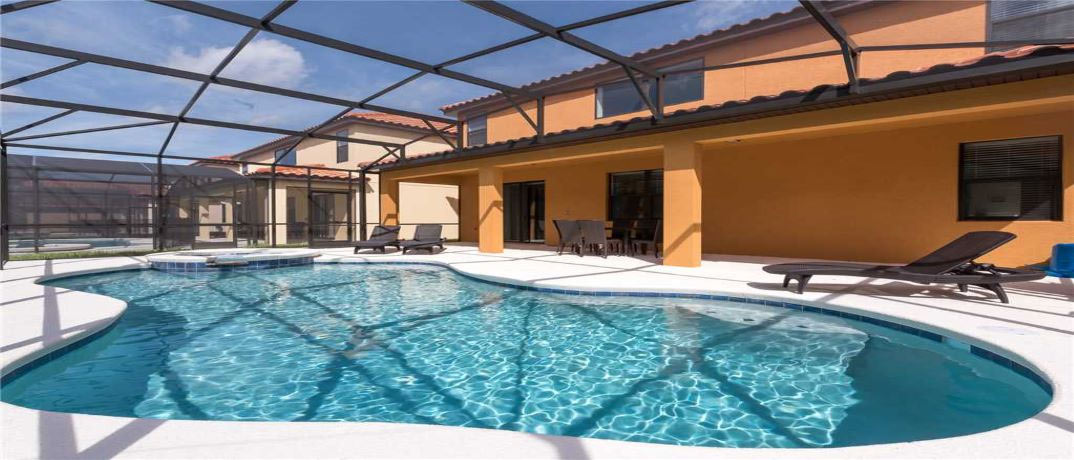 And when you've exhausted your creative flow, relax in one of our vacation rentals in Orlando, Florida. Condo-World offers plenty of options in luxury rentals and home rentals for your family, no matter the size of your group. After you're done exploring Orlando's magical theme parks or the activities the city has to offer, you'll love returning to one of our properties to relax and unwind, with private pools, hot tubs and more.