Where will you go if you're in the know of where to go and go and go? Seuss Landing, of course! Dr. Seuss is vibrant and alive within this section of Universal's Islands of Adventure. The colorful, family-friendly Dr. Seuss Land is a welcome respite from the thrills and chills of neighboring sections for your younger kiddos – and we guarantee you'll be laughing right along with them.
Here's what to expect in rides and attractions, dining and shopping when you start a new chapter at Seuss Landing.
Attractions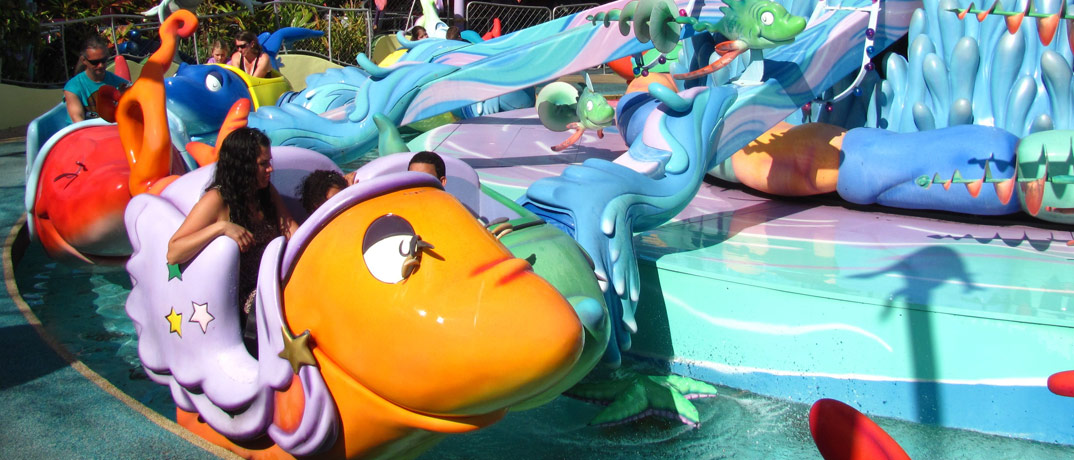 One Fish, Two Fish, Red Fish, Blue Fish
If fish could fly, it would be possible on this ride in Seuss Landing Universal Studios. Maneuver around fountains in your very own flying fish equipped with controls that allow you to go up and down as you please. Listen closer to the fountains, as they squirt water in time to a musical rhyme!
Cat in the Hat
Sit back and enjoy this ride that travels through Dr. Seuss' recreated classic children's story. The Cat in the Hat ride Universal will twist and turn, bump and thump, from room to room, as Seuss' beloved characters make an appearance, including Thing One and Thing Two, who are known to make quite a mess!
Caro-Seuss-el
Round and round you go! Little ones will love climbing aboard this twist on the carousel ride that features characters with eyes that blink and heads that turn, including Horton the Elephant.
The High in the Sky Seuss Trolley Train Ride
The preshow to this trolley ride involves a storytelling of the Sneetches. Choose from two different tracks that either continue along with the Sneetches or drift off into a trip through other Seuss classics. Each trolley then winds high above the buildings and rides of Seuss Landing – one of the cars even ride inside Circus McGurkus Café Stoo-pendous!
Dining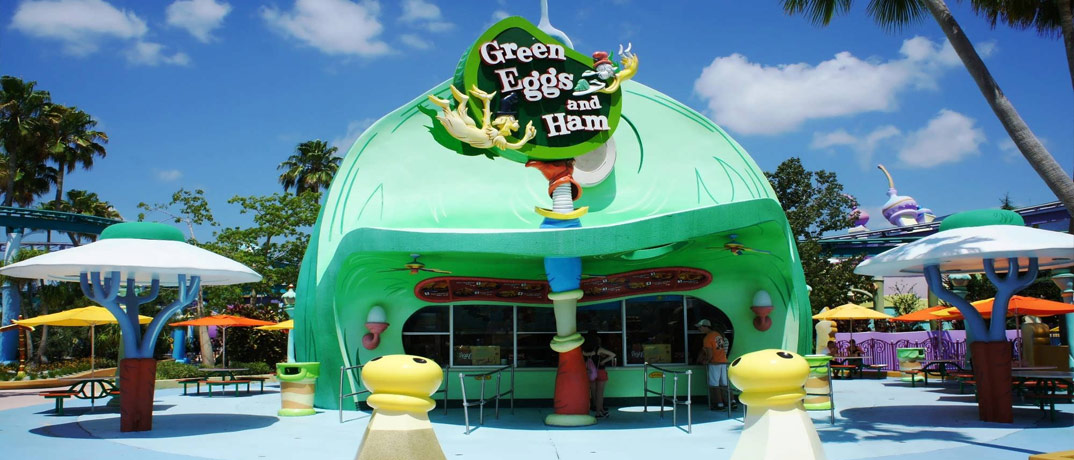 Circus McGurkus Café Stoo-Pendous
Welcome to the Big Top in this quick-service restaurant that features fun-filled, Seuss-themed circus acts. Menu fare includes fried chicken, spaghetti, pizza, cheeseburgers and more.
The Grinch & Friends Character Breakfast
What better way to start the day than with the mischievous Grinch, tableside? Fresh from Mount Crumpit, The Grinch will serve up popular buffet breakfast options that is sure to fill your belly – and fill the Grinch's heart with joy. Reservations are required.
Green Eggs and Ham Café
You can't miss this giant, green ham-shaped building topped with a massive fork that serves a mean green eggs and ham sandwich, as well as delicious cheeseburgers and more.
Hop on Pop Ice Cream Shop
When it's time to cool off, stop by this shop ready to hand out frozen treats, like Pop's signature sundae on a stick, traditional sundaes, waffle cones, Dippin' Dots, root beer floats and more.
Moose Juice, Goose Juice
Whet your whistle at this juice stand inspired by "Dr. Seuss's Sleep Book." Choose from a full lineup of juices, plus snacks such as fresh fruit cup, churros, pretzels, cookies and more.
Shows & Entertainment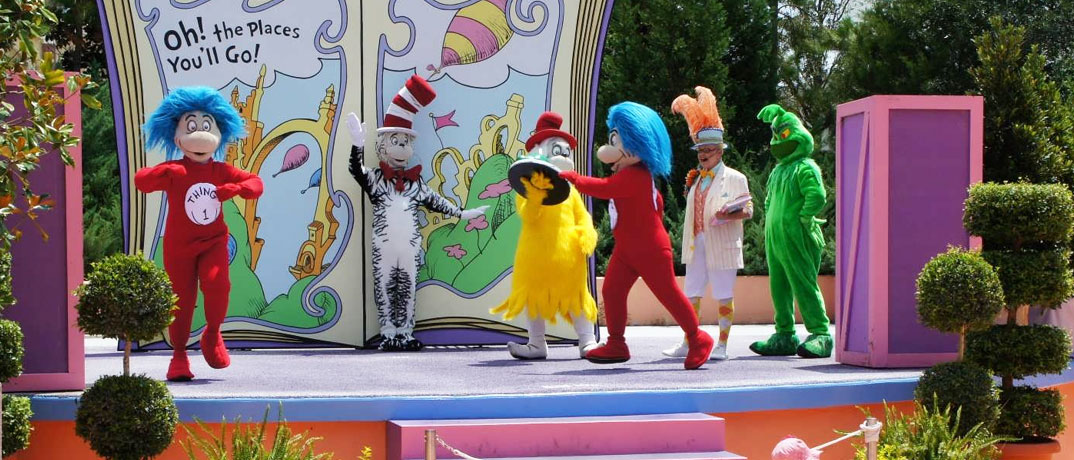 Oh! The Stories You'll Hear
These daily shows are a delightful, musical presentation of your favorite Dr. Seuss characters within Seuss Landing Islands of Adventure. On-stage appearances include The Cat in the Hat with Thing One and Thing Two, Sam-I-Am, The Grinch and the Lorax.
Shops & Stores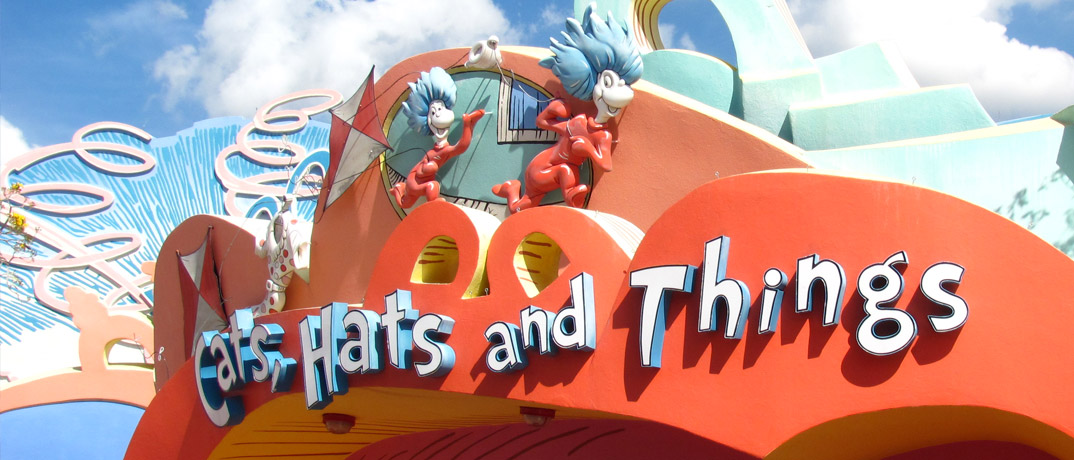 Mulberry Street Store
Pick up something memorable to take home from this store's collection of Dr. Seuss merchandise, including apparel, glasses, toys, souvenirs, novelty hats, and wigs. You can even customize a gift with the Personal-Who-Zation station.
Cats, Hats & Things
Located right outside The Cat in the Hat ride, this boutique is the best stop for all your Cat in the Hat goodies, toys, gifts and T-shirts, including a host of children's and baby apparel.
All The Books You Can Read
Seuss Landing, of course, wouldn't be the same without a book store! The cozy shop is stocked with Dr. Seuss books for all ages, plus apparel, toys and DVDs. You're invited to sit down and flip through pages at any of the kid-sized tables and window seats.
Snookers & Snookers Sweet Candy Cookers
Located just outside the High in the Sky Seuss Trolley Train Ride, this shop will tempt you with treats, such as bulk candies, homemade fudge, caramel apples, cotton candy and more.
Universal Studios' Seuss Landing is located within Islands of Adventure right next to the main entrance, or Port of Entry, and beside The Lost Continent, a once-much-larger section that was repurposed to include the neighboring Wizarding World of Harry Potter—Hogsmeade, and now centered on the Arabian and Ancient Greek themed areas.
Orlando Rentals Near Islands of Adventure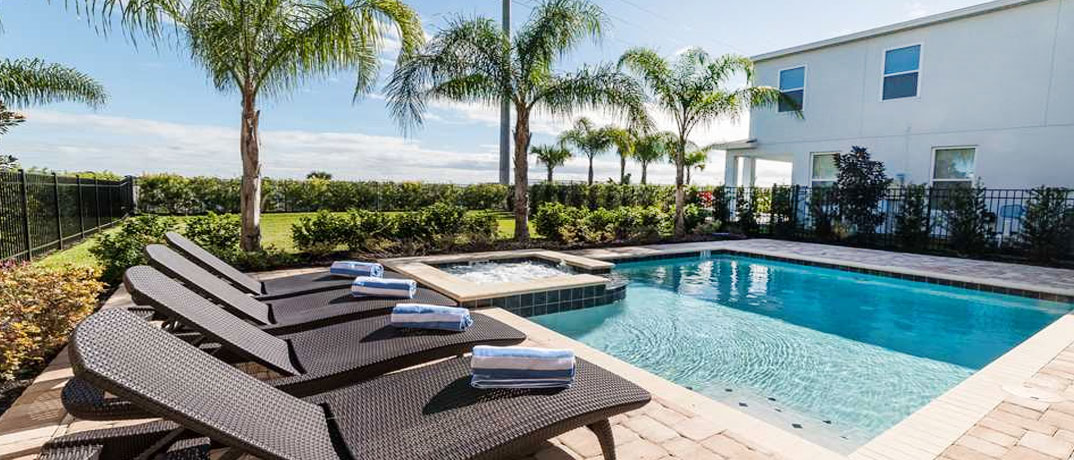 And, if you're on the hunt for a place to stay in Orlando, Condo-World has you covered, with luxury condo rentals that feature can't-miss amenities, like outdoor pools, fully equipped kitchens, on-site restaurants and more. Search now through our comprehensive inventory of properties throughout Orlando.