Our Backstage Tour of Hollywood in Universal Studios Orlando
Hooray for Hollywood, one of the classic sections of Universal Studios Orlando! Sit back and enjoy the show, because we're here to celebrate all the glitter and glamour of Hollywood, with a guided tour of all it has to offer you and your family when you're here in Florida.
In the Hollywood section of Universal Orlando, you'll travel back in time to revisit the old days of Hollywood, including Tinsel Town's inspiring landmarks and renowned architecture along Rodeo Drive, Hollywood Boulevard, Sunset Boulevard and the infamous Hollywood Hills. Keep an eye out for celeb legends strolling streets, like Lucille Ball, and snap a selfie with one of them in front of the Beverly Wilshire Hotel or Hollywood sign. You never know what you're going to see while at Universal Studios Florida, but here's a comprehensive list of what you can expect in attractions, dining and shopping upon your visit to Hollywood.
The Attractions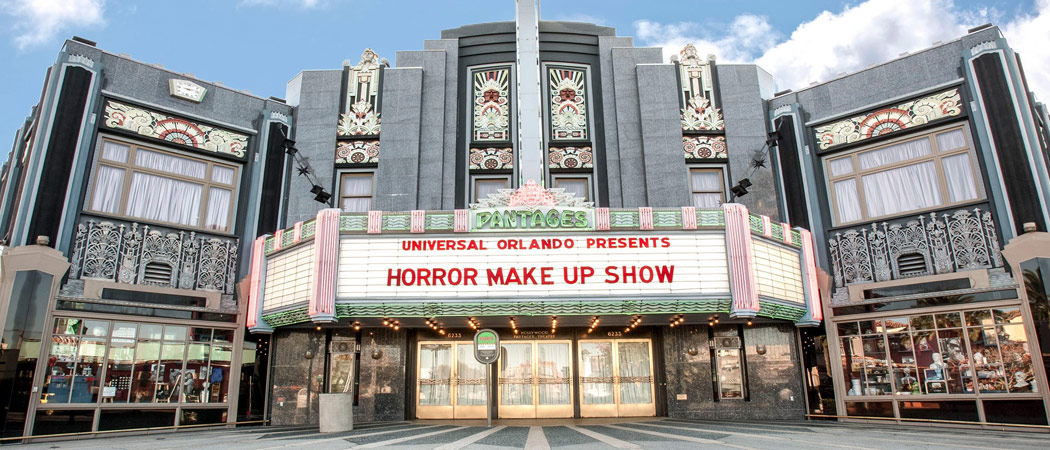 The Universal Horror Makeup Show, one of the longest running shows in the park, will actually give you a backstage tour into the art of how Hollywood makes special effects, design and horror makeup a success in some of the scariest movies. Housed inside the Pantages Theater, the Horror Makeup Show is more comedy than horror, with pop-up creatures surprising audience members along the way, severed limbs and lots of blood. Warning: some film clips shown may be a bit too frightening for children. Be sure to walk through the lobby and take in all of the props and memorabilia from the best horror films of Hollywood.
Catch a live performance from Hollywood's Studio Brass Band at the corner of Plaza of Stars and Rodeo Drive near the entrance of Universal Studios Florida. The live band plays well-known film and TV theme songs during each of their 10-minute shows throughout the day.
A new attraction is slated to open in summer 2019! According to Universal, this show will replace the Terminator 2: 3-D attraction that closed in 2017 after a 21-year run at the park and will feature a "live action experience based on a high-energy Universal franchise." Any ideas of what it could be?
Dining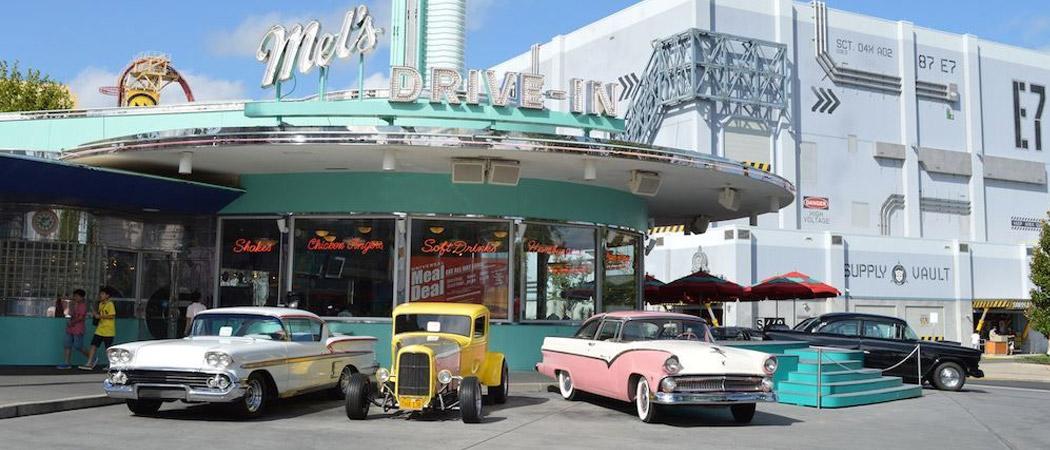 Beverly Hills Boulangerie. If you have a cravings for sweets, this is the sweet spot. The restaurant serves muffins, cookies, croissants and cheesecake, as well as a menu of sandwiches, soups and salads for breakfast, lunch and dinner.
Café La Bamba. Inheriting the name of the famous Hollywood Hotel, this restaurant features a gorgeous ambiance and Southwestern fare for breakfast, lunch and dinner, including chipotle ribs, chicken, spicy burritos, tacos, salads and chimichurri skirt steak. Character Dining is also available on certain mornings, when guests have a chance to eat breakfast with some of Universal's famous characters.
Mel's Drive-In. Based on the famous diner in "American Graffiti," Mel's Drive-In in Universal is centered around the 1950s, with classic cars and all-American food, like cheeseburgers, fries, milkshakes, chicken fingers and onion rings. Indoor and outdoor dining is available.
Schwab's Pharmacy. On a hot day, this popular ice cream shop is the hot spot. Inspired by the famous drug store on Sunset Boulevard, known to be the place where movie stars would sit and sip on sodas, Schwab's Pharmacy also serves up sodas, floats, ice cream sundaes, milkshakes, malts and banana splits made with Ben & Jerry's ice cream.
Shopping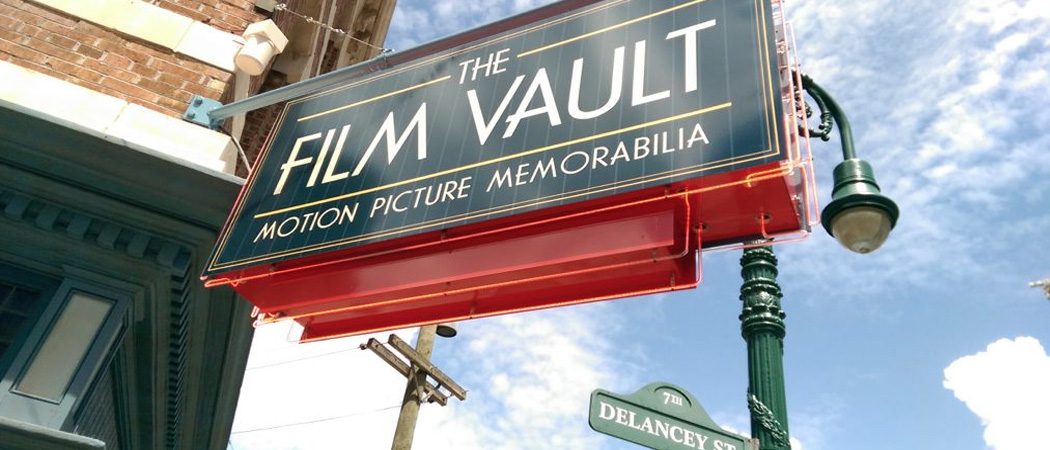 Brown Derby Hat Shop. Modeled after the famous hat-shaped Brown Derby restaurant in California, this hat shop sells hats, hats, and more hats – a unique souvenir to bring home from your time at Universal.
Cyber Image. Located outside the Horror Makeup Show, this shop features cool merchandise from DC Comics, "T2," "Doctor Who," "Star Wars," "The Walking Dead," "Big Bang Theory," and more.
The Film Vault. Opened in 2014, this store is a vault of film merchandise in the form of T-shirts, cups, towels, blankets and more from classics like "Back to the Future," "E.T.," "Jaws," "Scarface" and "The Breakfast Club," as well as the newer "Pitch Perfect" and "Sharknado."
Hello Kitty Store. If you're a fan of Hello Kitty, this brand-new store is your Hello Kitty haven, which features a large inventory of merchandise from floor to ceiling and occasional meet-and-greets from the namesake pretty kitty.
Silver Screen Collectibles. Expect to find unique items in this specialty shop surrounding the legendary Lucille Ball, Betty Boop and other Hollywood starlets.
Williams of Hollywood Prop Shop. Opened in 2015, this one-of-kind shop actually sells old items that were once used as props in the theme park. Expect new items to be added onto the shelves every day!
The Hollywood section of Universal Orlando is located near the front entrance of the park and in between Production Central, home of the Despicable Me Minion Mayhem show, Shrek 4-D show, Hollywood Rip Ride Rockit and TRANSFORMERS: The Ride-3D, and Woody Woodpecker's KidZone, where you'll find a host of kid-friendly attractions, such as Animal Actors on Location, A Day in the Park with Barney, Curious George Goes To Town, Woody Woodpecker's Nuthouse Coaster, Fievel's Playland and E.T. Adventure.
Vacation Rentals
And, when you're looking to book your stay in Orlando, Florida, Condo-World offers plenty of options in luxury home rentals for your family, no matter the size of your group. After you're done exploring Orlando's magical theme parks or the activities the city has to offer, you'll love returning to one of our properties to relax and unwind, with private pools, hot tubs and more.