If you've loaded up the family's fleet of bikes onto your mini van's bike rack for your beach vacation, you'll be happy to know there's a map full of Myrtle Beach bike trails to check out from Little River to Georgetown and west into Conway. Explore the various state parks, trails and more for glimpses at local wildlife and beautiful beach scenes. Take a spin on these Myrtle Beach bike paths we've turned up for you and your cyclists!
Waccamaw Neck Bikeway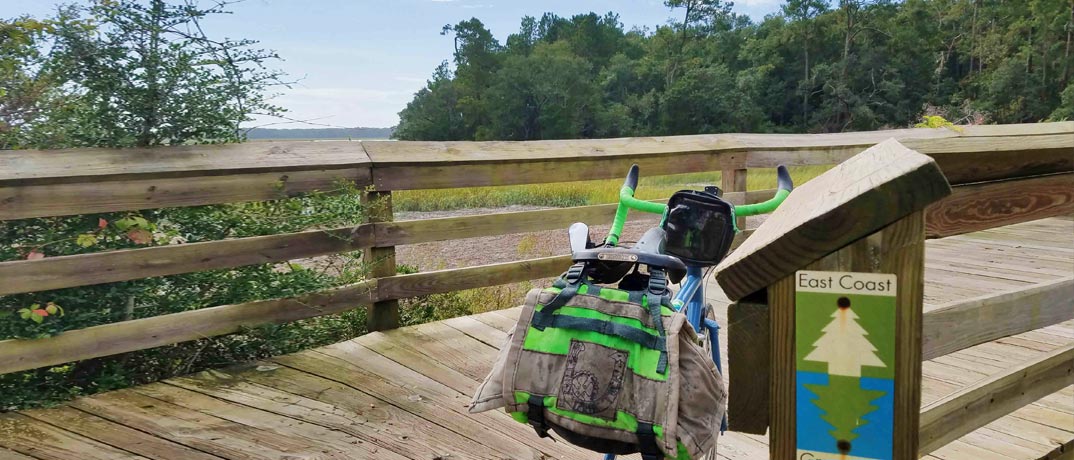 You can't beat the views from your two wheels along the 12-mile Waccamaw Neck Bikeway that parallels U.S. 17 from Pawleys Island to Garden City. The flat-paved biking or hiking path extends through six miles of continuous trail and two sections of about four miles used by both cyclists and pedestrians. The goal is to eventually have the Bikeway stretch to the bridge connecting Georgetown to the Waccamaw Neck. The Waccamaw Neck is part of the East Coast Greenway which is in the developing stages to go from Maine to Florida. Best parking options: Morse park Landing, the Food Lion at the South Causeway or Huntington Beach State Park in Murrells Inlet.
Huntington Beach State Park, 16148 Ocean Highway, Murrells Inlet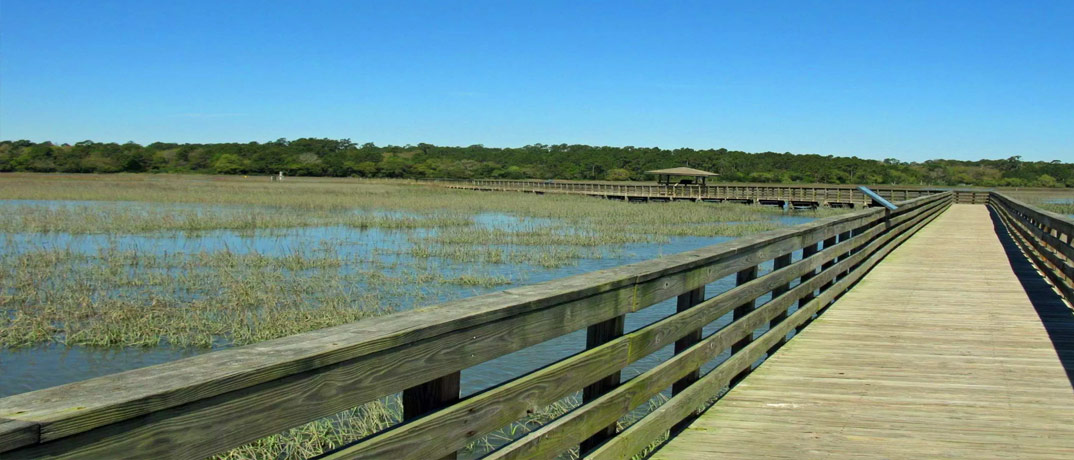 This state park (admission fee required) is a major landmark along the Waccamaw Neck Bikeway; stay on the Bikeway or turn off the path to pedal east along oceanfront forests, lagoons, and the historic Atalaya castle, where you'll spot marine wildlife along the way. If you packed a backpack lunch, Huntington is a great pitstop, with a layout of pavilions and picnic tables within a serene backdrop of sand dunes and crashing waves. Watch out for gator crossings!
Myrtle Beach State Park, 4401 South Kings Highway, Myrtle Beach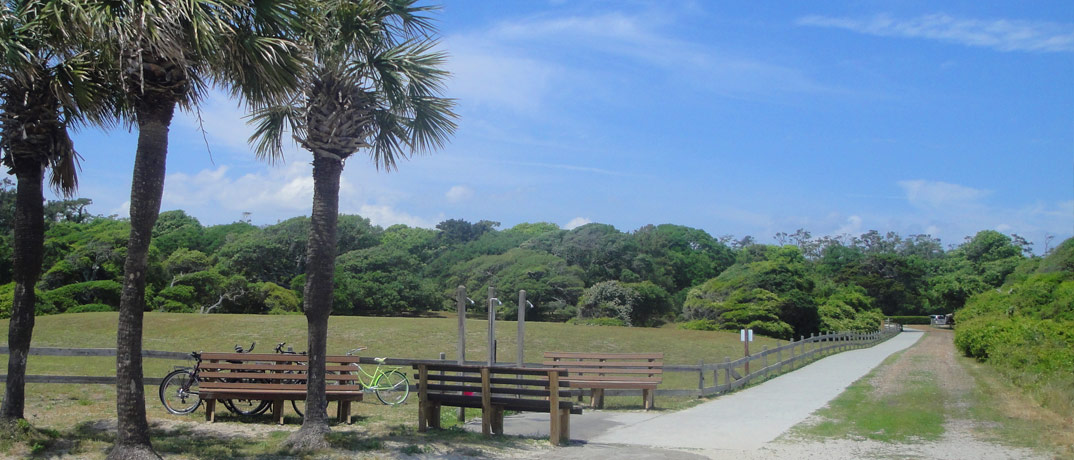 This second state park (admission fee required) in the area is a gorgeous destination for biking, playing, walking and relaxing. The backdrop combines green, maritime forests and nature trails, along with an oceanfront boardwalk and pier. You'll love Myrtle Beach State Park for both the biking paths and family time opportunities – you can even choose to camp out here for the night! The park is located just south of The Market Common.
The Market Common, 4017 Deville St., Myrtle Beach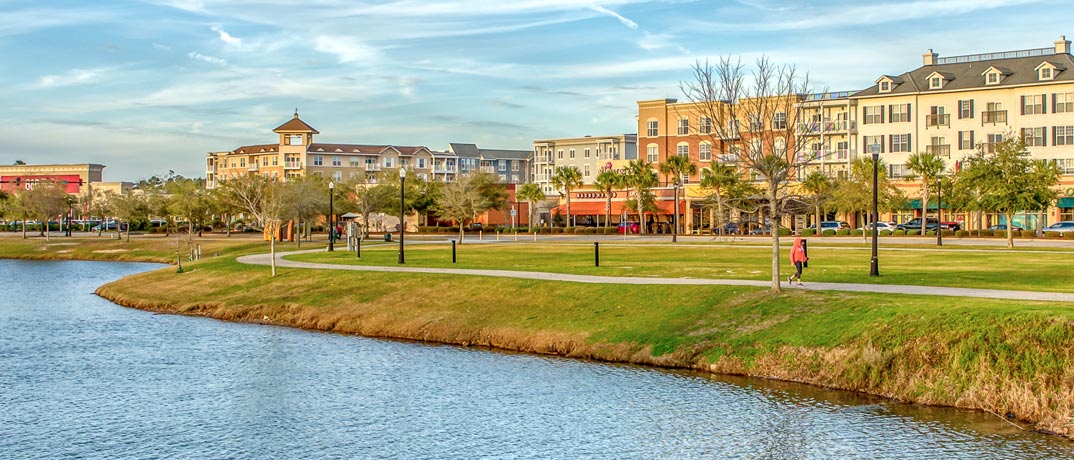 There are miles of options for biking and entertainment within this amazing urban-village complex in Myrtle Beach. There's a two-mile paved walking and biking trail that circles a scenic lake, several playgrounds and nearby ballfields. Cross the street and park your bike outside one of the many restaurants, bars, a bowling alley and movie theatre at The Market Common. Note: If you want to go the extra mile, sidewalks along Farrow Parkway for biking also stretch from Bypass 17 all the way to the ocean!
Conway Riverwalk, 2nd Ave., Conway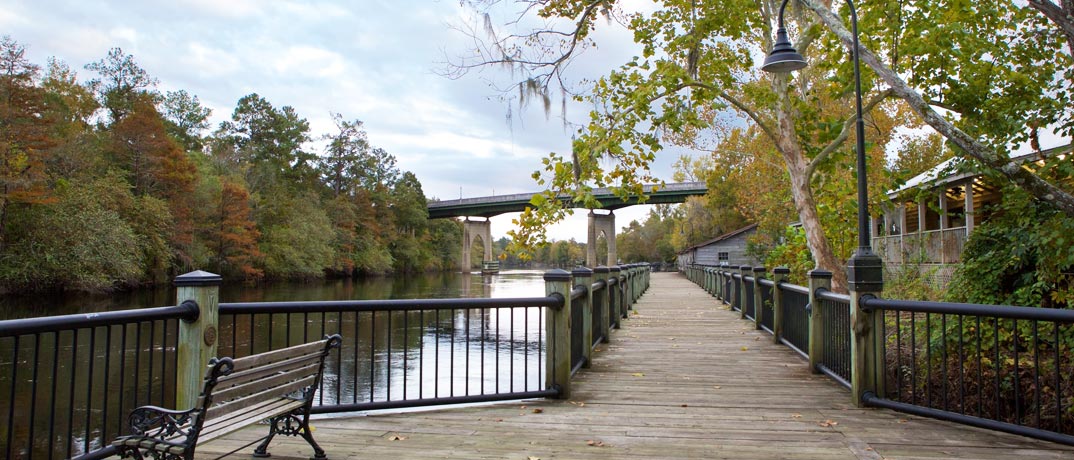 Take a deep breath and enjoy the ride on the picturesque Conway Riverwalk that winds along the Waccamaw River in this historic town. Take in the views past the marina, cypress trees, and buildings rooted in Conway's past.
Horry County Bike and Run Park, 150 Frontage Rd B-2, Myrtle Beach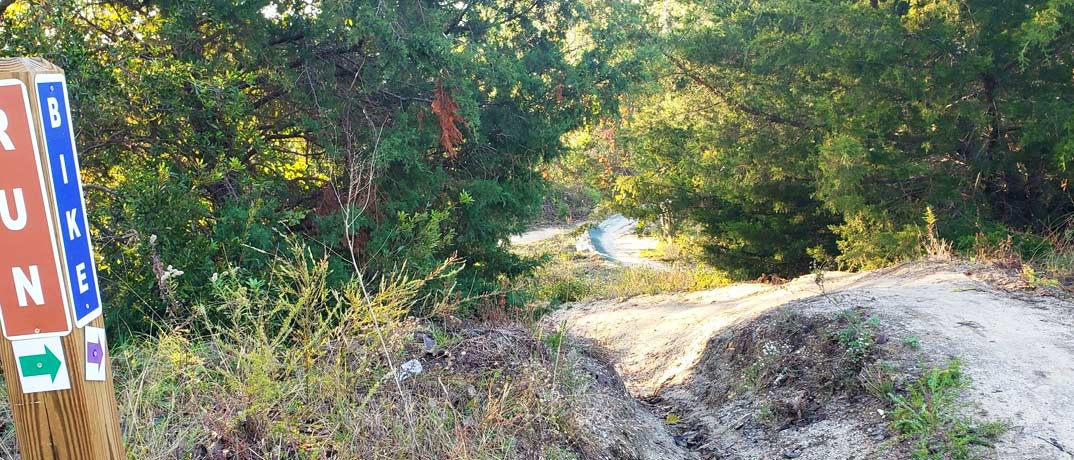 This is Myrtle Beach mountain biking! Built in 2012 in the Carolina Forest area, the park, also known as "The Hulk," features a single-track trail that will challenge you in the highs and lows – from a 30-foot hill climb to deep descents into the earth. Pro tip: This bike trail begins with a 30-foot hike up hill. Summon your superpowers to defeat The Hulk with your inner sense of adventure!
Vereen Memorial Historical Gardens, 2250 SC-179, Little River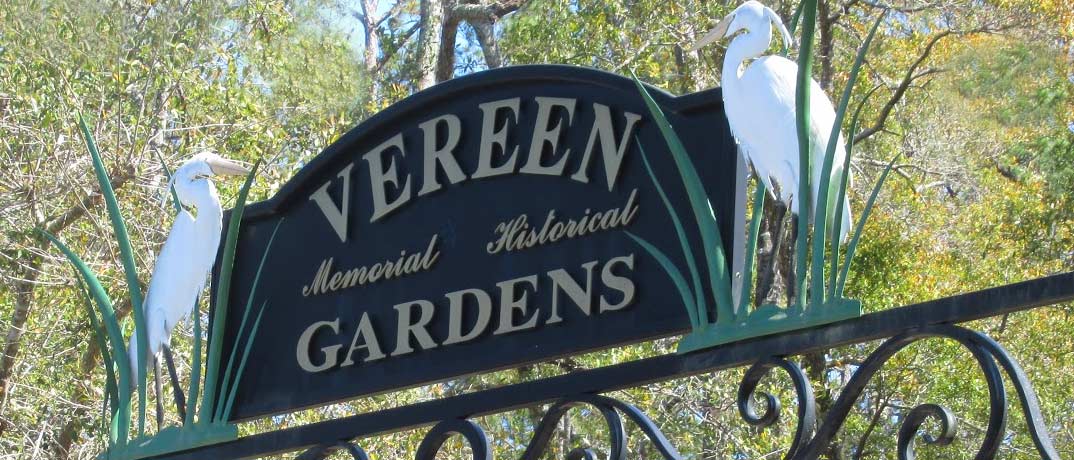 Travel to the Grand Strand's most northernmost city of Little River, just south of the North/South Carolina line and cycle through this 114-acre plot of woodlands and salt marshes. We encourage you to stop and take a photo (and smell the roses)!
East Coast Greenway, 4670 S. Kings Highway, Myrtle Beach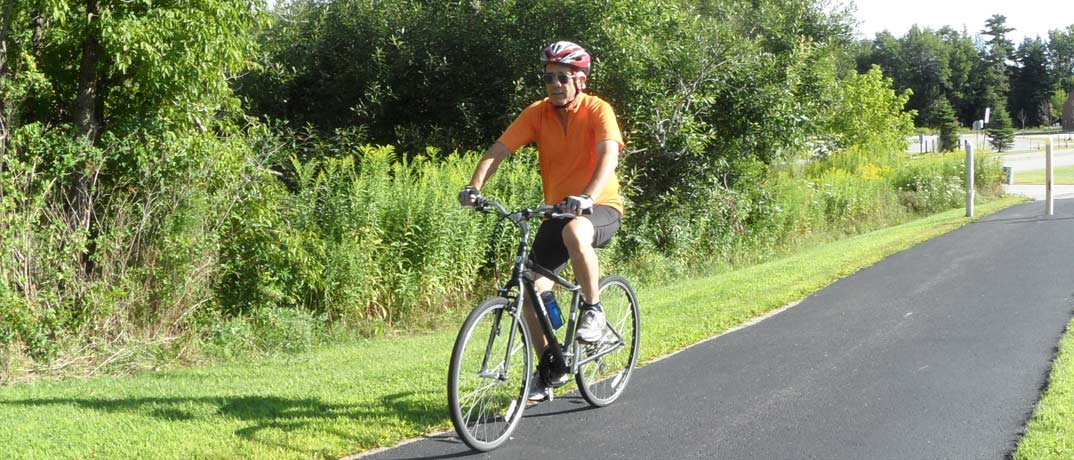 Go big or go home, right? This bike trail system in progress (20 percent completed) goes big (and, afterwards, you may be ready to go home) for 271 miles along the South Carolina coastline and will eventually span 3,000 miles from Canada to Key West. Here in Myrtle Beach, the trail crosses S.C. 31 near Carolina Forest. For more info and updates on the trail's expansion, visit the Greenway website.
Bike Lanes on Ocean Boulevard, Myrtle Beach
For your biking safety, the City of Myrtle Beach recently installed bike lanes northbound and southbound along the Boulevard. Be aware of the high traffic congestion downtown, but it breaks free and stress-free as you pedal farther north into the Golden Mile and past the beautiful oceanfront manors leading up to The Dunes Club just past 82nd Parkway.
Perrin's Path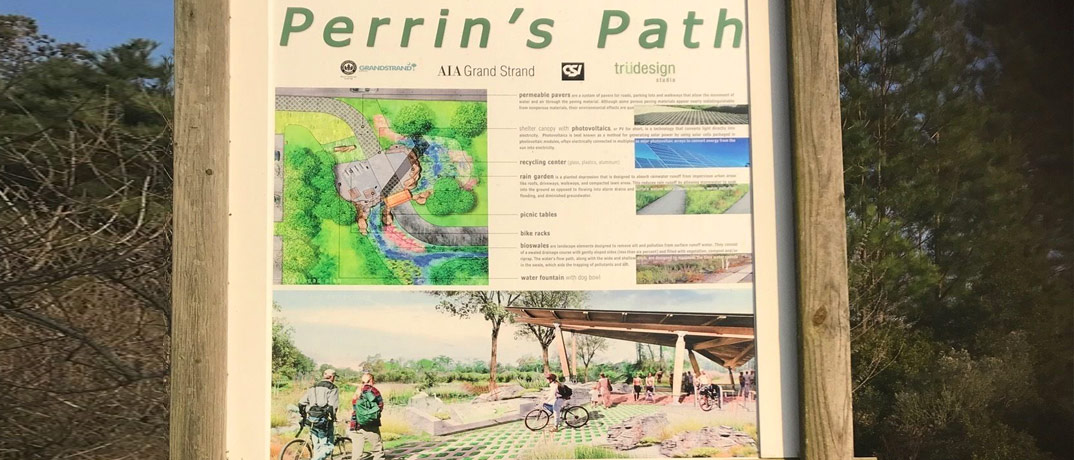 The more than five-mile bike path, formerly the Grissom Parkway Trail Path, runs behind the historic Pine Lakes Country Club and the Claire Chapin Epps YMCA. Perrin's Path is immersed in nature, lined by trees, shrubs and park benches. You'll also learn a thing or two from the path's informational signage about local plant and animal life.
Myrtle Beach Boardwalk and Beachfront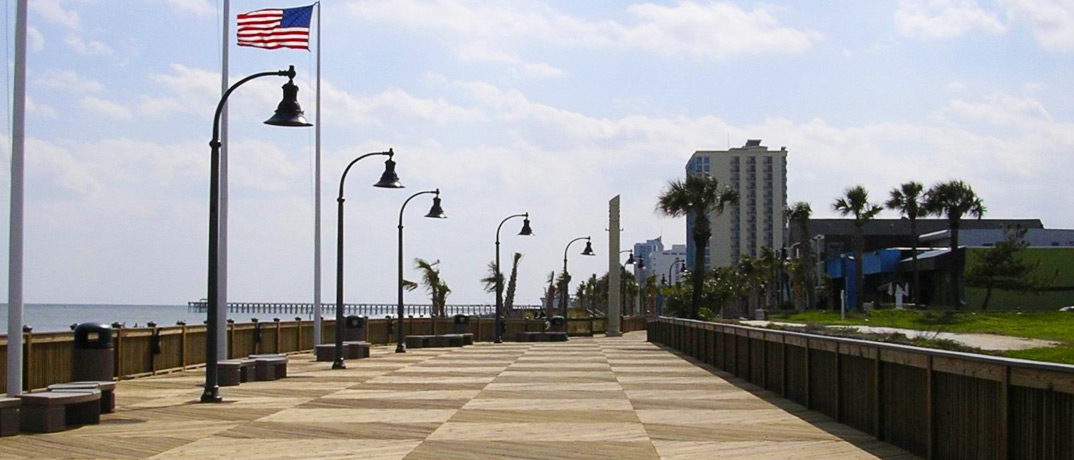 Low tide is always a solid surface to hit the hard sands of Myrtle Beach. Check your tide charts!
Bicycles are allowed on the beach before 10 a.m. and after 5 p.m. from May 1 through Labor Day. Bicycles are allowed on the Myrtle Beach Boardwalk only from 5-10 a.m. before the heavy foot traffic from May 1 through Labor Day.
Stay in Myrtle Beach
And when you're ready for a pitstop from a long day of bicycling up and down the beach, check into one of these recommended Condo-World resorts:
Dunes Village Resort & Waterpark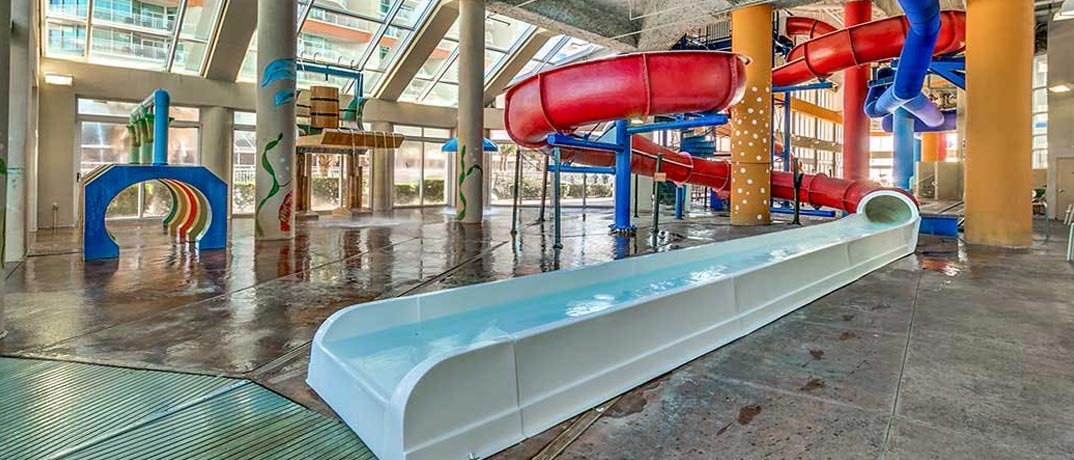 This ever-popular oceanfront resort offers a family fun haven of two indoor waterparks that total 30,000 square feet, indoor and outdoor pools, hot tubs, a 250-foot lazy river ride, mini golf, brand new tennis courts, basketball courts, Wii games, pool tables, shuffleboard and more. Dunes' twin towers showcase 500 modern condo units, from 1 to 4 bedrooms. Dining options include the Captain's Café, Admiral's Room for a breakfast buffet, Perks Up Coffee Shop proudly serving Starbucks, and the Cabana Tiki Bar.