Royal Palm Grille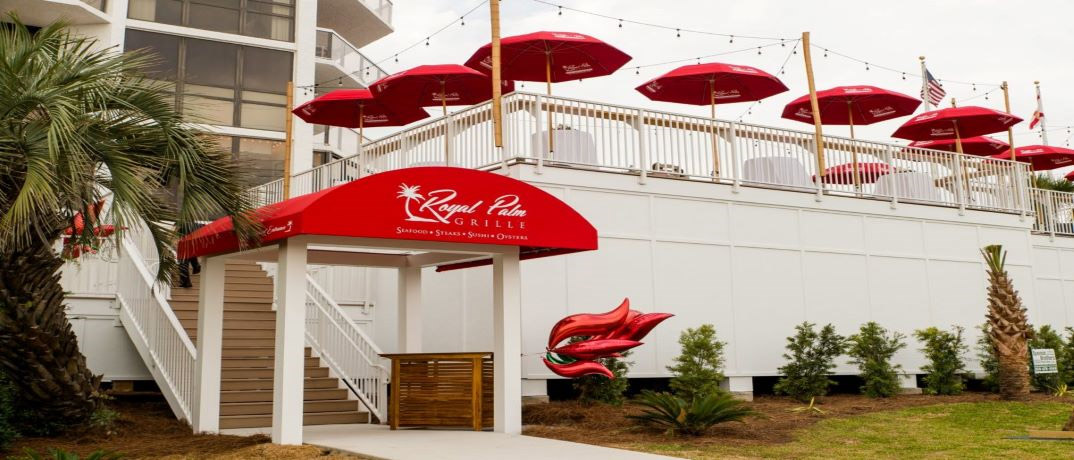 If you're hungry and thirsty, day or night, welcome to Royal Palm Grille. In what could be called Scenic 98's (Old Hwy. 98) hidden gem in Miramar Beach, FL, you'll not go wrong at this versatile eatery where there's good eats, good times and thirst-quenching drinks – a little bit of everything for everyone! Nestled inside Surfside resort with a majestic view, Royal Palm Grille Destin is a restaurant and bar featuring seafood, sushi, burgers and more.
Restaurant & Sushi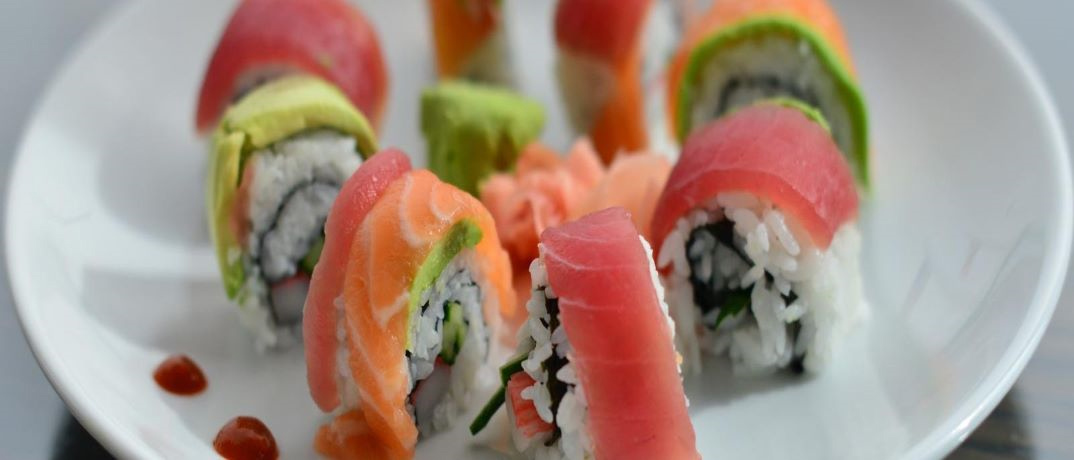 Located on the first level, the restaurant's main dining room has an unobstructed view overlooking the Gulf and a new outdoor deck. Here it's come as you are and experience the incredible scenery, world class cuisine, and top-notch service for a price you won't believe. Bring the whole family for casual family dining at its finest or enjoy a romantic dinner in the dining room with full view of the beach and emerald blue waters of the Gulf. Inside the restaurant is a full bar and the pool bar right outside is also open to restaurant guests. You can even watch football and other sports in the full-service bar with lots of TV's tuned to your game!
The Royal Palm Grille menu won't disappoint with items such as sushi, seafood, burgers, pasta, chicken and more! Some of our personal recommendations include the Fish Tacos — a popular local favorite. And every Wednesday is Sushi night, where you can eat lavishly with $3 off Signature sushi rolls from 5 p.m. until close. After trying the Royal Palm Roll and Raider Roll, it's easy to see why the Sushi chef is award-winning and the chef has won Best in Destin multiple years.
The Beach Bar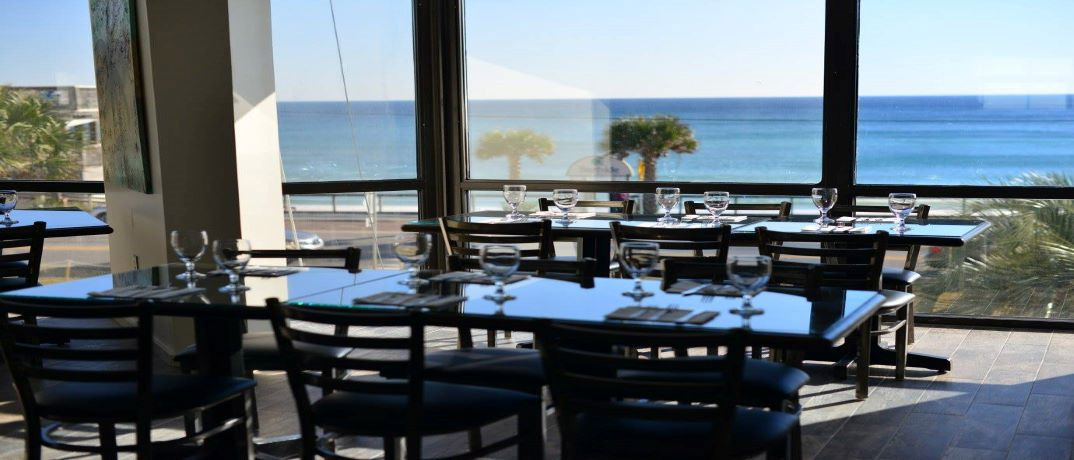 Enjoy your lunch at the pool side Tiki bar or become a sucker for a sunset from the fun, easily accessible beach bar nestled quietly in between Whale's Tail and Surf Hut and perched high enough to catch all the breathtaking scenery along the beach. The beach bar, located right across the street from the restaurant, is a full bar and a magnet for beach-goers as it is directly on the sugar, white sand of Miramar Beach and serves popular drinks such as frozen Piña Coladas and Rum Runners. Filled in plastic cups, you can even take yours on the beach if you like! The main level has a full-service bar serving up frozen cocktails, cold beer, fountain drinks and water. You can also order food from the kitchen, making it an all-in-one stop. And, they welcome your pets!
Beach Bonfires
If you're looking for a family friendly activity, the beach bar hosts a free beach bonfire every Friday night, right on the sand! Chairs are provided on a first come, first service basis with cocktails, s'mores and food available to purchase. The bonfire begins at sunset; so, get there early to grab a drink and a seat. And keep in mind that no outside food or beverages are allowed, but kids and pets are welcome. It's very laid back at this iconic beach bar and the atmosphere is the best you can have, because everybody's in a good mood on the beach!
Happy Hour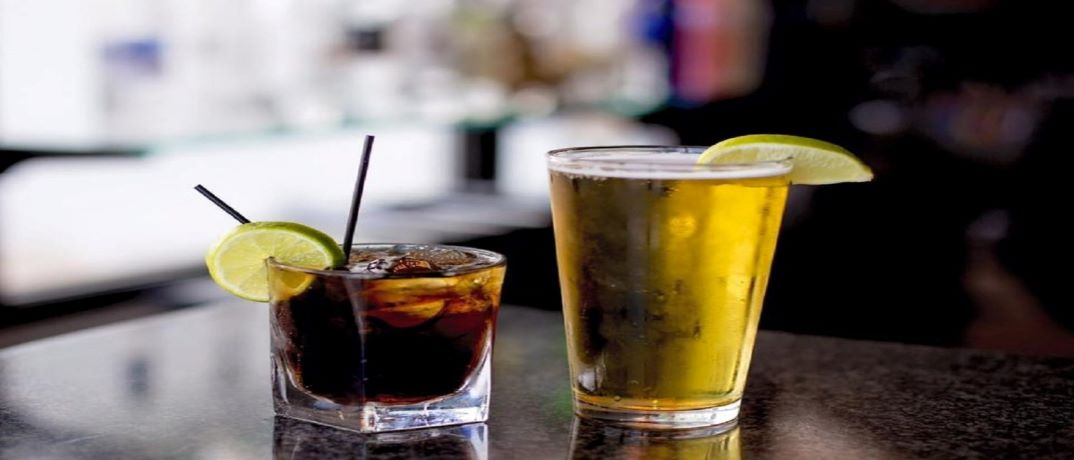 Voted one of the best happy hours in Destin, specials happen at all three bars daily from 4 p.m.-6 p.m. Take a sip of paradise with a Bahama Mama, or try something new with a Peach Moscow Mule. Royal Palm, inside and on the beach, also sports a variety of beers, including many local favorites from locally established Destin Brewery. Combine that with the college football package, NFL package, and more, and Royal Palm Grille has it all. The new dining deck overlooks the Gulf of Mexico, right on Scenic Hwy 98. Both the restaurant and the beach bar are open to the public for lunch and dinner daily.
Specials
Sushi nights on Wednesdays, $3 off Signature Rolls
Prime Rib nights on Sundays, 5 p.m.-9 p.m.
Happy Hour Daily 4-6 p.m. with drink specials and 2-for-1 sushi rolls
You can even book your wedding or event in the Event Room, the only indoor private event space overlooking the Gulf of Mexico along Scenic 98 for weddings, luncheons, Christmas parties and more.
Nearby Accommodations
Royal Palm Grille and Bar is located at 1096 Scenic Gulf Drive in Miramar Beach and right beside the Majestic Sun and Ariel Dunes.
Ariel Dunes
Another hidden gem, Ariel Dunes at Seascape Resort is casual, yet modern, luxury as well as some of the most picturesque and inspiring views available anywhere on the Gulf Coast! Offering a variety of spacious one, two, and three-bedroom condos, Ariel Dunes will accommodate you as a family, couple, and group. With more than 300 acres of lush greens, tranquil lakes, a 2,000-foot private beach, long list of amenities, and Royal Palm Grille restaurant and beach bar right there, you'll be in heaven.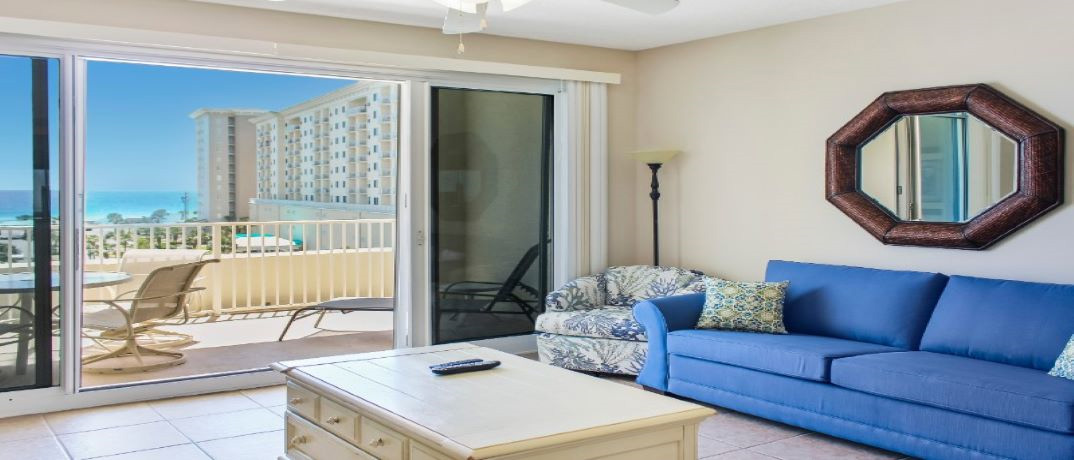 Majestic Sun
Majestic Sun, too, offers luxury condos with family-friendly amenities, fully equipped kitchens, heated indoor and outdoor pool, separate outdoor spa with two whirlpool Jacuzzis, large onsite fitness center, an 18-hole championship golf course, tennis courts, nature trail, fresh water lakes, and, of course, our slice of scrumptious and filling seafood, drinks and eats at the Royal Palm Grille and beachside bar. With all of this, you can park your car and enjoy your vacation all in one place!