Take a Tour of the Beaches Along Scenic Highway 30A Beaches
Nestled against Northwest Florida's Gulf coast, Scenic Highway 30A is a 26-mile stretch of dazzling white sand, brilliant emerald-green waters, and tranquil beauty. Highway 30A connects 16 vibrant beach communities dotting the Gulf of Mexico coastline, all with distinct personalities and charm. Stretching south from Miramar Beach to Inlet Beach, each community offers something unique and extraordinary. Follow us as we travel south on Scenic Highway 30A and highlight each beach community in our guide to South Walton, Florida beaches:
Miramar Beach
Families love Miramar Beach for its endless variety of water sports, beach activities, and attractions which are perfect for adults and children of all ages. Shopping enthusiasts love the name-brand outlet shopping which is just a few minutes drive from your Condo-World vacation rental. Whether you're an active vacationer or simply want to enjoy Gulf views and relaxation, the laid-back pace of Miramar Beach will make it one of your favorite places to visit.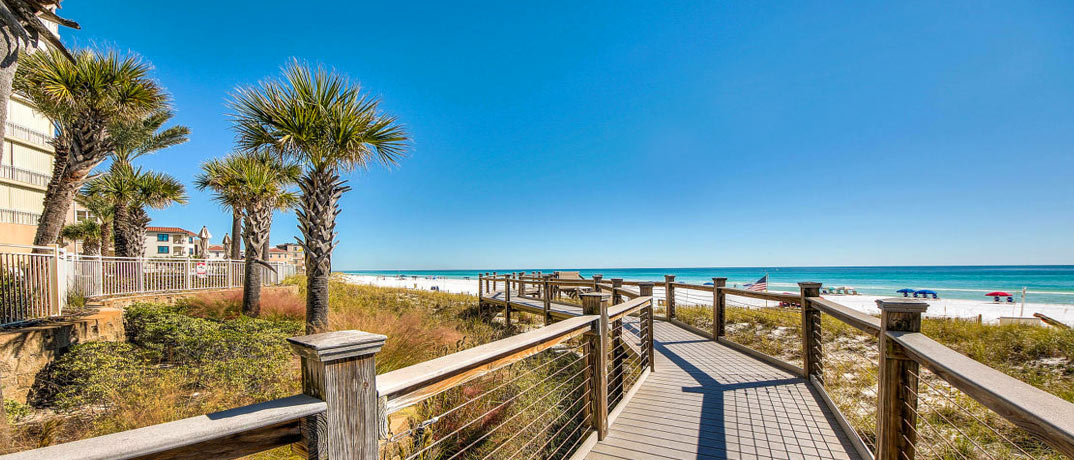 Seascape
Are you looking to experience the lifestyle of the rich and famous? If that's your dream, you'll find it at Seascape which offers the ultimate beach getaway complete with modern luxury, world-class golf and tennis, outdoor adventure, upscale dining, gentle gulf breezes, outdoor adventure – and, of course, sugar-white sand, turquoise Gulf waters, and unforgettable sunsets. Just remember that after visiting this South Walton Beach, you may not want to leave.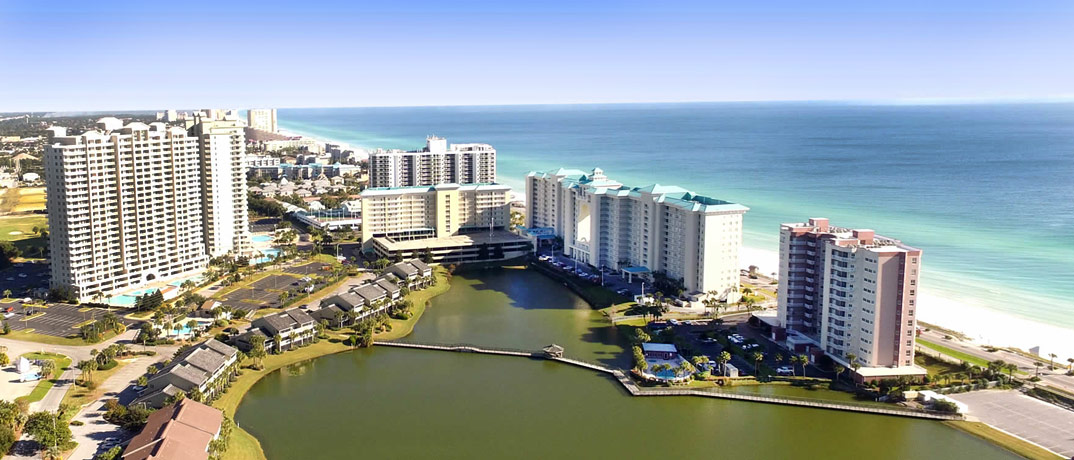 Sandestin
Shopping, dining, golfing, tennis, festivals, and events are at the top of everyone's list for reasons to visit Sandestin. There's plenty of beachside action and adventure for all ages including a variety of water and boating activities at the only marina for the South Walton Beaches. Sandestin offers visitors an amazing variety of nationally acclaimed festivals and events, most of which celebrate food (especially local seafood), wine, music, and the arts.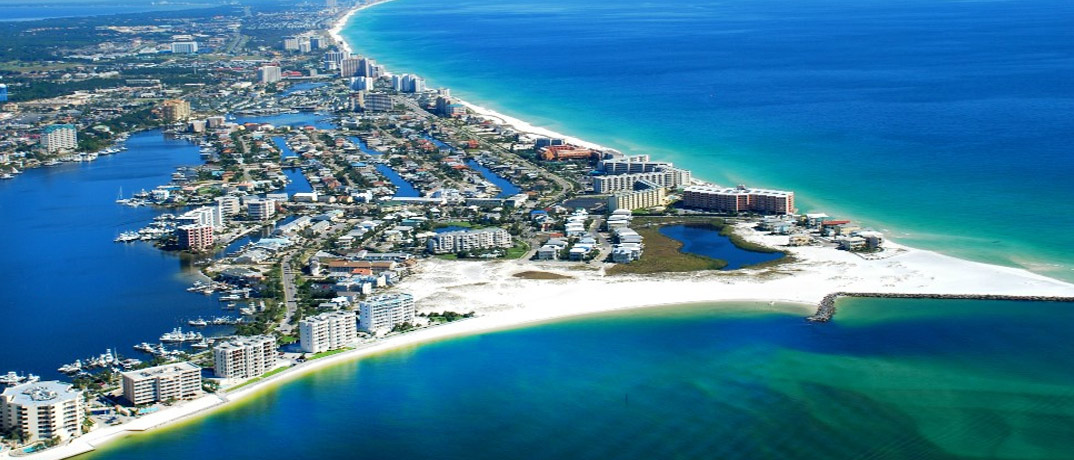 Dune Allen
Dune Allen Beach is a fabulous, laid-back, old Florida lifestyle beach village and home to three unique and must-see coastal dune lakes: Allen Lake, Stallworth Lake, and Oyster Lake. Outdoor enthusiasts and nature lovers enjoy the quiet beaches and its amazing raw and untouched beauty, all of which are perfect for hiking and biking and just steps away from your Condo-World vacation rental. This beach is one of the area's best-kept secrets and is a favorite for photographers, birdwatchers, and fishermen.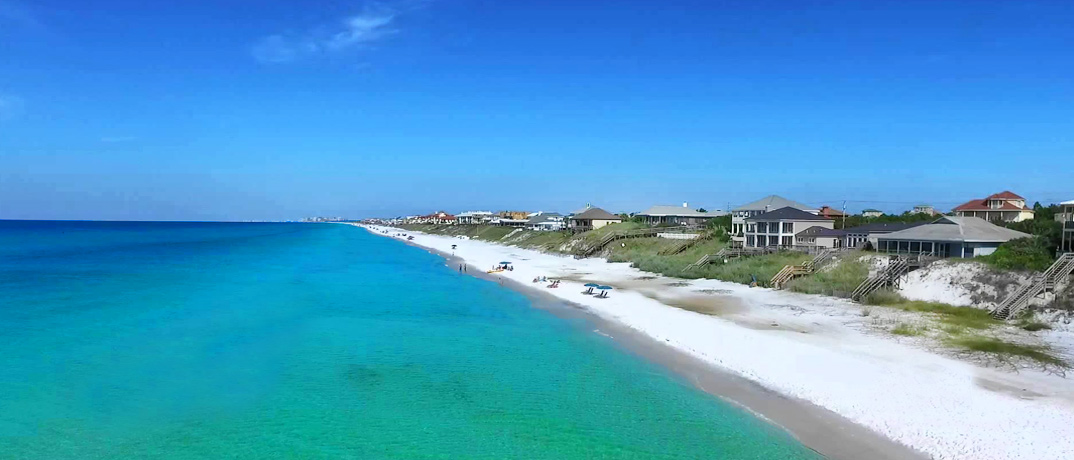 Gulf Place
Boutique shopping, arts, music, events, and dining are hallmarks of the vibrant and pristine beach community of Gulf Place on Scenic 30A. Gulf Place is definitely where you'll want to go if you're looking for one-of-a-kind local art, jewelry, clothing, and more. Be sure and check the local event calendar for annual festivals including the popular 30A Songwriters Festival, all of which are a short walk or drive from your Condo-World vacation rental.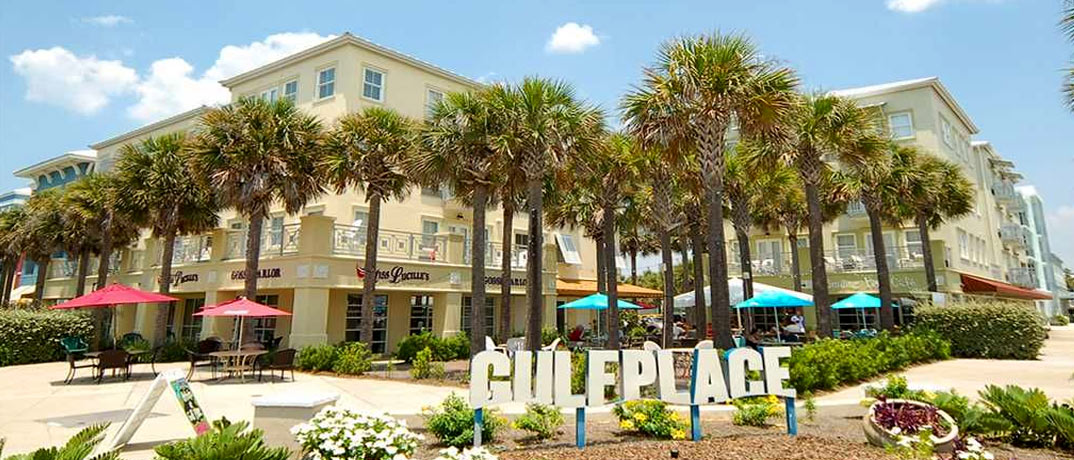 Santa Rosa Beach
Santa Rosa Beach, founded as South Walton Beaches' first original town in 1910, is one of the most popular areas for visitors. Both families and couples come back again and again to escape and celebrate life with plenty of sugar-white sands, Gulf views, shopping, golfing, art shops, and a wide range of palate-pleasing local dining options. With a great selection of Condo-World vacation rentals available throughout the Santa Rosa Beach area, you'll be conveniently located to explore an endless array of outdoor activities and recreation.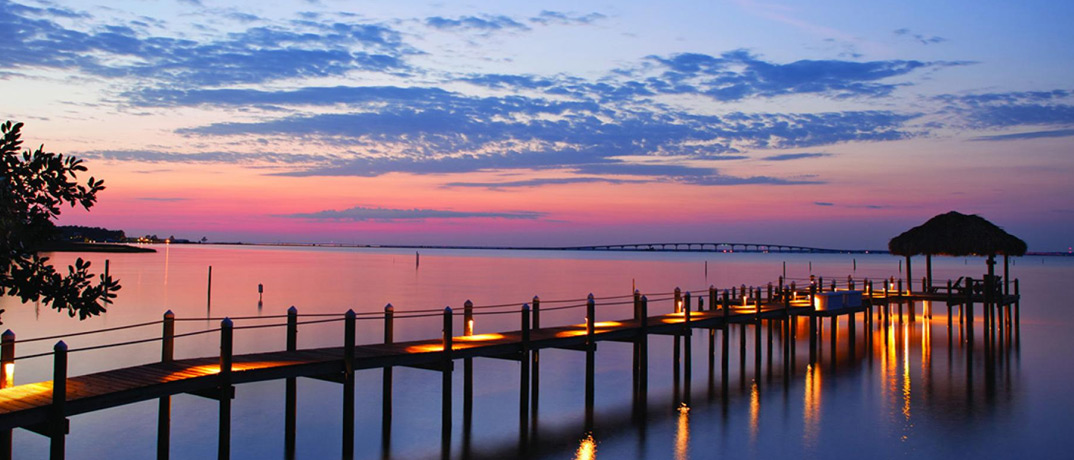 Blue Mountain Beach
Blue Mountain Beach is named after its native blue lupine flowers and beckons with its breathtaking views of the Gulf of Mexico, high dunes, and sandbars, which make it a favorite for fishing and surfing. Visitors especially love that Blue Mountain is a hidden treasure that has a nice and distinctive small town "local" feel throughout its art galleries, restaurants, boutiques, and its ever-popular general store. Walk or bike from your Condo-World vacation rental, and you'll quickly feel like a local in this quaint town.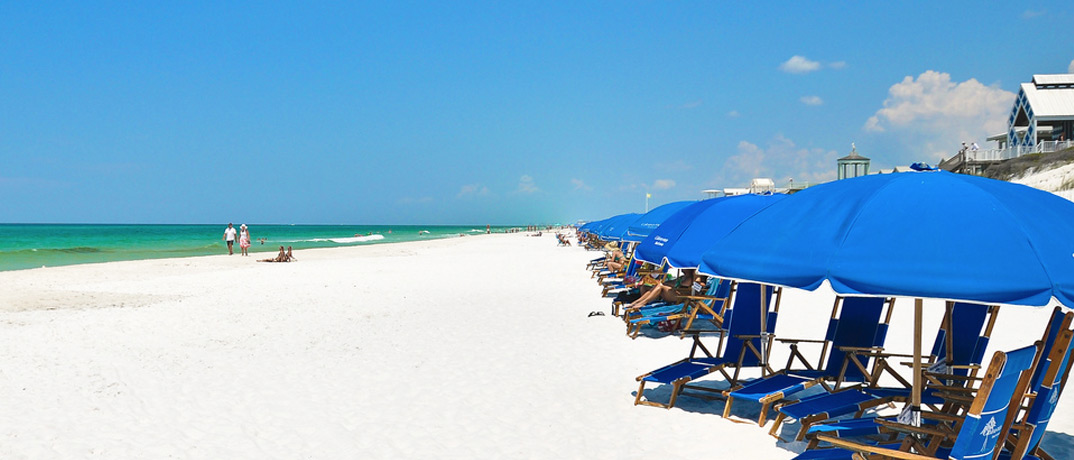 Grayton Beach
Grayton Beach is known for its beach community charm and old-Florida Gulf Coast lifestyle. Over the past few years, it has quickly become the trendy hot spot for folks of all ages seeking authentic, funky, eclectic, and/or unique vacation experiences. Walk through the town and you'll instantly feel the local vibes in Grayton Beach's cafes, restaurants, bars, art galleries, boutiques, and outdoor activities. And, by the way, did we mention the beautiful coastal scenery and sugar-white sand beaches at our nearby Condo-World vacation rentals?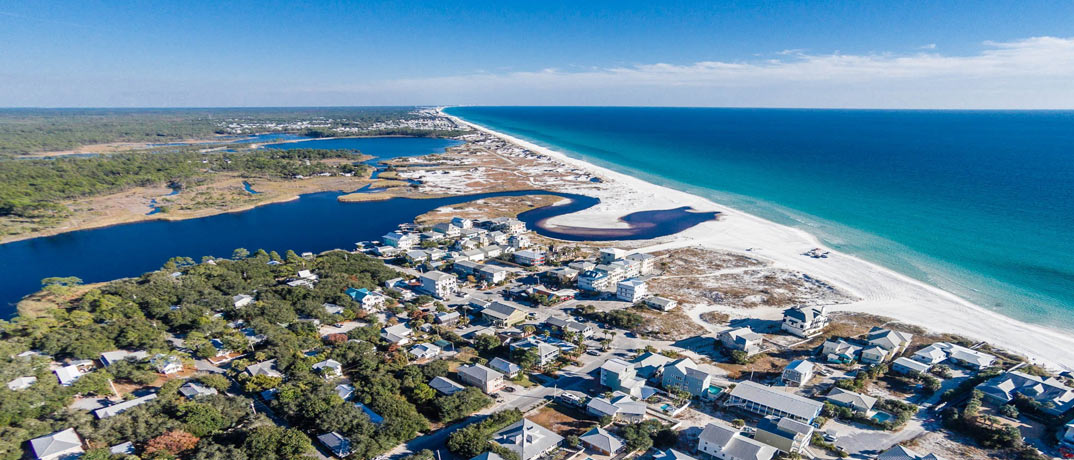 WaterColor
WaterColor is the perfect off-the-beaten-path town on over 500 acres with stunning views of the Gulf of Mexico. Whether you're relaxing on the beach, teeing off on a challenging Tom Fazio designed golf course, or simply taking-in the orange-hued sunset with a glass of wine at an award-winning restaurant, the laid-back atmosphere of WaterColor Beach will completely surround you, embrace you, keep you close and not let you go. Be sure to explore this beautiful beach on foot or by bike.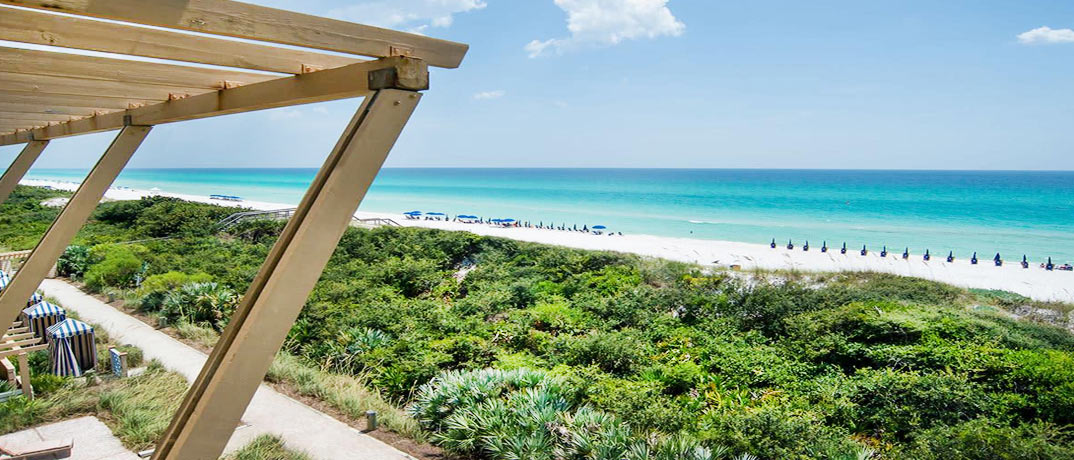 Seaside
Seaside is the most famous of the South Walton Beaches having received notoriety as the background scenery starring on the big screen in "The Truman Show." You'll instantly recognized this charming, but upscale, town with its pastel-colored homes and white picket fences. In addition to its big screen recognition, Seaside has received national accolades for its new urbanism design where you can walk everywhere you want to go and enjoy plenty of dining options as well as many events and festivals and art galleries, all of which are easy to reach from your Condo-World beach vacation rental.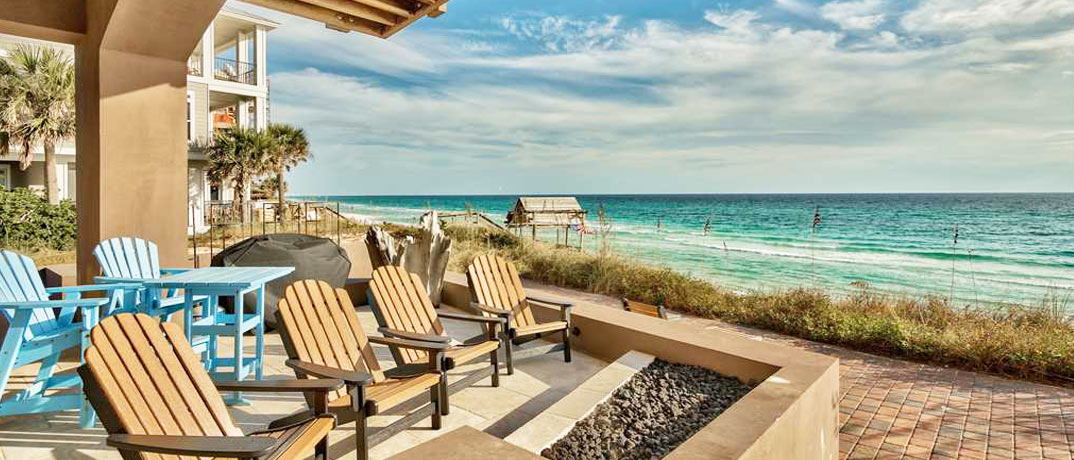 Seagrove
Seagrove Beach is one of the area's oldest beach towns draped in majestic oaks, magnolias, hickories, and sand pines and embodied by old-Florida beach feeling. It's a nature lovers paradise with a pristine beach setting complemented by two coastal dune lakes. Seagrove Beach combines a mix of the new and the old with several acclaimed restaurants and shops to explore on your biking or walking stroll through the area.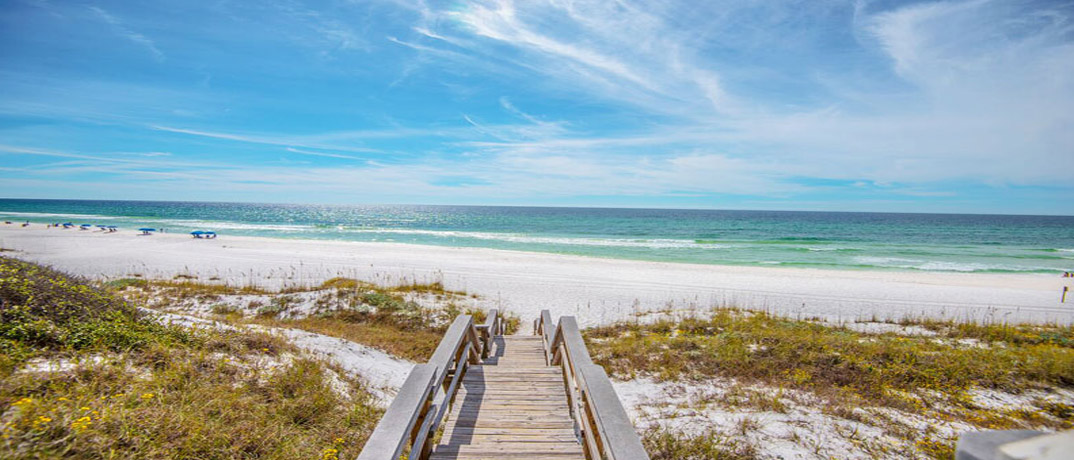 WaterSound
WaterSound can best be described as a beach paradise offering peace, serenity, and tranquility. For those who want to unplug and get away from it all, this is a beach worth visiting. Soak-up the sunshine on the sugar-white sand, read a book, stare at the turquoise-hued waters, and relax. Enough said.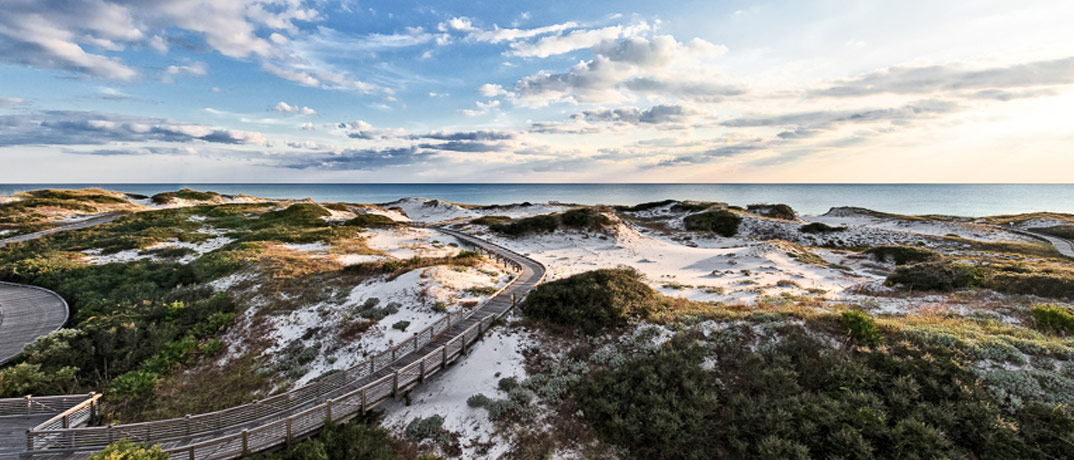 Seacrest
Seacrest Beach is a quiet, beautiful, and peaceful community known for its amazing marshlands, indigenous plants, and spectacular wading birds. While Seacrest's tranquil and low-key beach is the main focal point, boutique shopping and upscale dining are also located nearby and are all within a short walk or drive from your Condo-World vacation rental.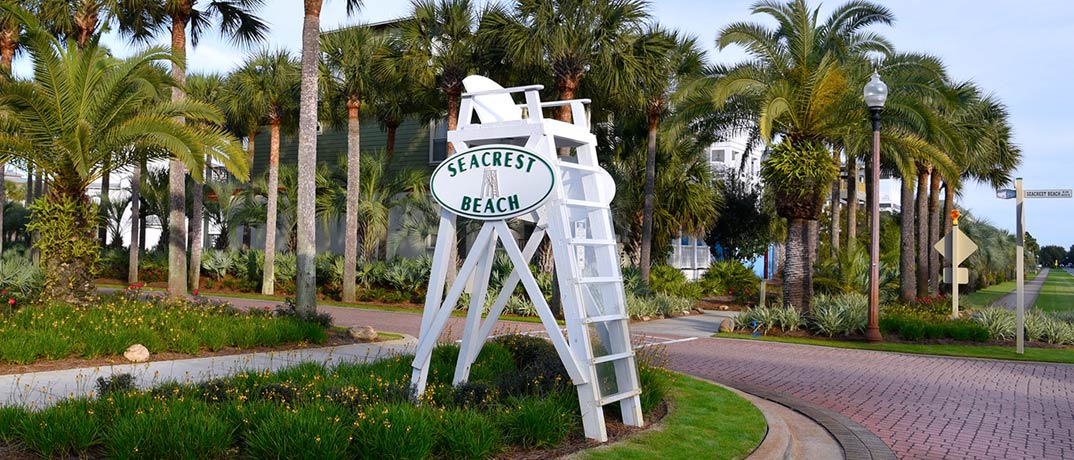 Alys Beach
Art and architecture are two of the "must see" reasons for a visit to Alys Beach. In addition to the annual world-renowned Digital Graffiti Festival, Alys Beach visitors come to see and experience the visually-striking architectural beauty and luxury of this Bermuda-style town, including its stunning Caliza Pool. Of course, before you leave Alys Beach, don't forget to indulge in some delicious upscale dining as well as a long walk along the beach.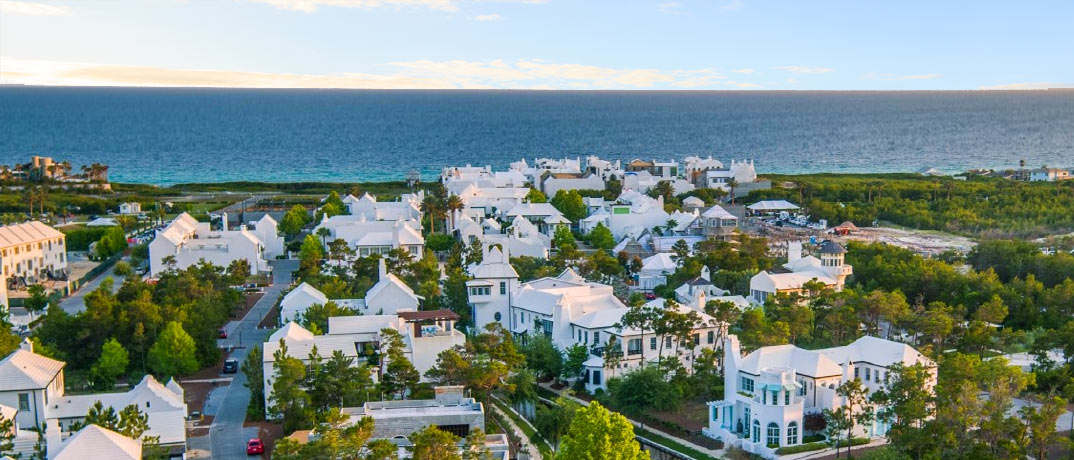 Rosemary Beach
Rosemary Beach is a charming community with great architecture, culture, and style that resembling a combination of St. Augustine and New Orleans. Rosemary Beach is also a romantic town with a strong sense of intimacy where you can find the finer things in life including culinary delights, indulging spas, one-of-a-kind boutiques, pristine beaches and eco-friendly nature trails.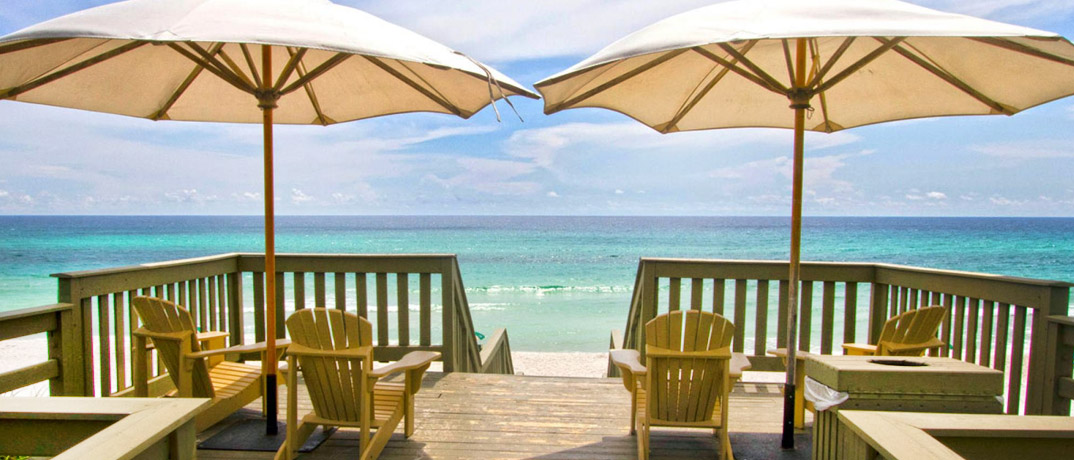 Inlet Beach
Inlet Beach was originally known as Soldier's Beach in the early 1900s and offers the largest public beach access point in South Walton, all naturally protected by beautiful endless sand dunes and flora. Casual, laid-back, peaceful, quiet, full of beauty and tucked away, Inlet Beach has plenty of dining and relaxation options and offers vacationers a respite from the fast-paced world.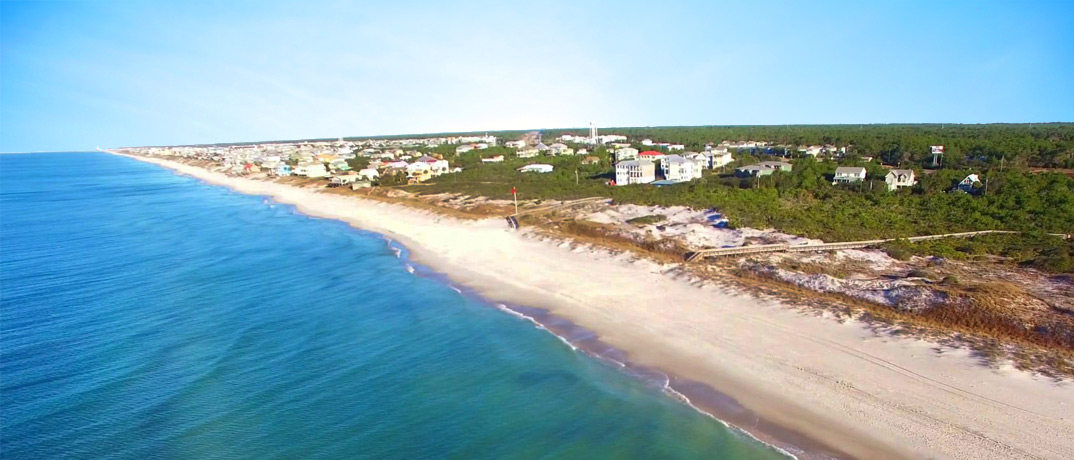 Vacation Rentals in South Walton
Ready to book your vacation to the Beaches of South Walton? Condo-World has an incredible selection of luxury homes in each beach area, that have been hand selected to be part of our program and are held to the highest standards for quality and comfort. Click below to view rentals!
Check Out Our Video of South Walton: