The Best BBQ in Gatlinburg
The South does it up right when it comes to barbecue! Smoked, spicy, sweet, dry rub-cooks and chefs create mouth-watering "Q" for every palate. Tennessee BBQ is renowned. The best BBQ in Gatlinburg? Our criteria for choosing was simple: GOOD. Read on!
Delauder's BBQ $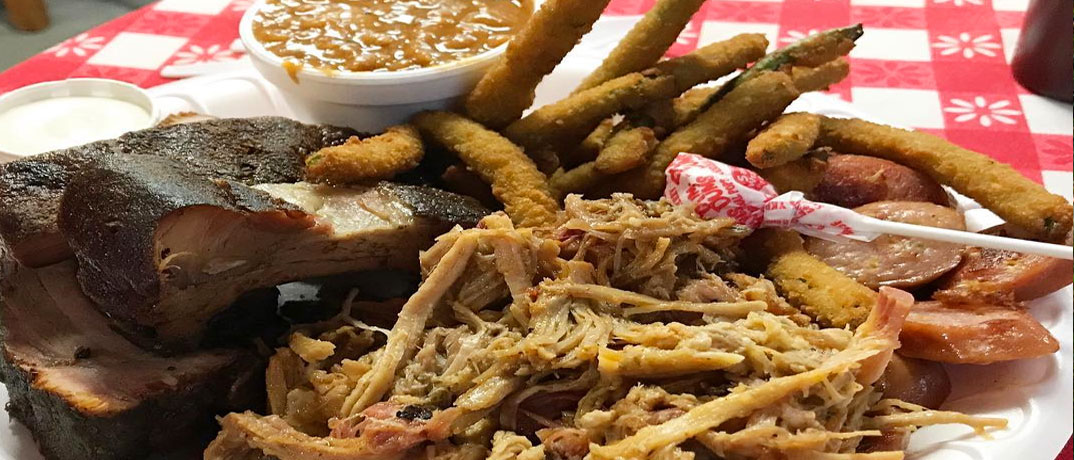 Chosen by Travel and Leisure Magazine as one of the top 25 BBQ places in the US and on Business Insider's #4 best BBQ in the country list, you can't go wrong at Delauder's. Located at 880 Glades Road, don't let the unassuming exterior fool you. This is downtown, good-as-it-gets Tennesee BBQ. Favorites are the Holy Bologna sandwich that is loaded with bologna, pulled pork and cheese, and of course ribs, pork butts and good ole BBQ sandwiches. Yummy sides and peach, cherry and apple cobblers. Bring your appetites and bring 'em early because they sell out early! Open everyday except Mondays. Visit Delauder's BBQ site.
Bones BBQ Joint $$-$$$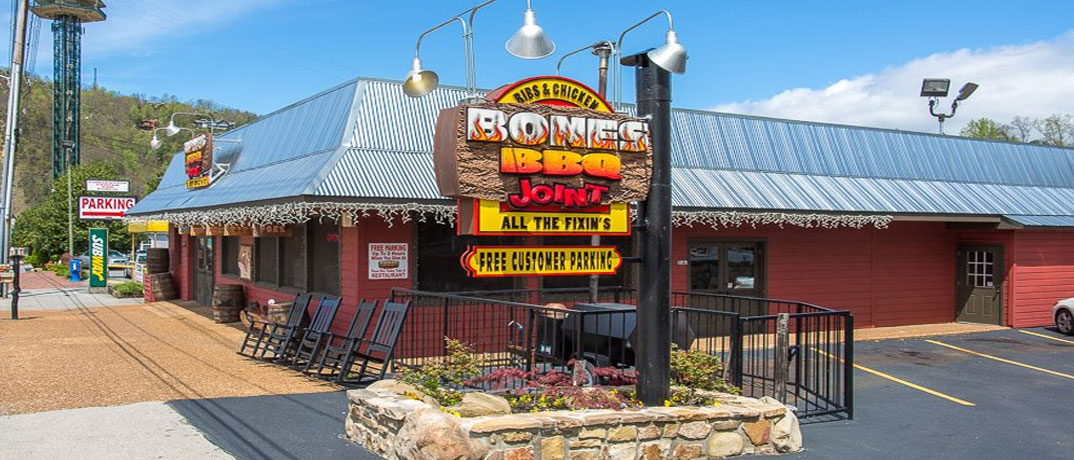 Make no bones about it, this BBQ's claim to fame is their grill masters' process of perfecting the perfect BBQ through four generations of getting it right. A casual environment that's reminiscent of sitting down at your grandma's table, BBQ, appetizers, chili and chicken wings are just a few items that this joint does up right! Try the Fried Pickle Chips and Fried Green Tomatoes. For around ten bucks, get a BBQ sandwich with two sides. If you're still hungry after that, there's always chocolate cake, red velvet cake and brownies. Can you say yum? Bones BBQ Joint is located at 231 Historic Nature Trail.
Hungry Bear BBQ #1 and Hungry Bear BBQ #2 $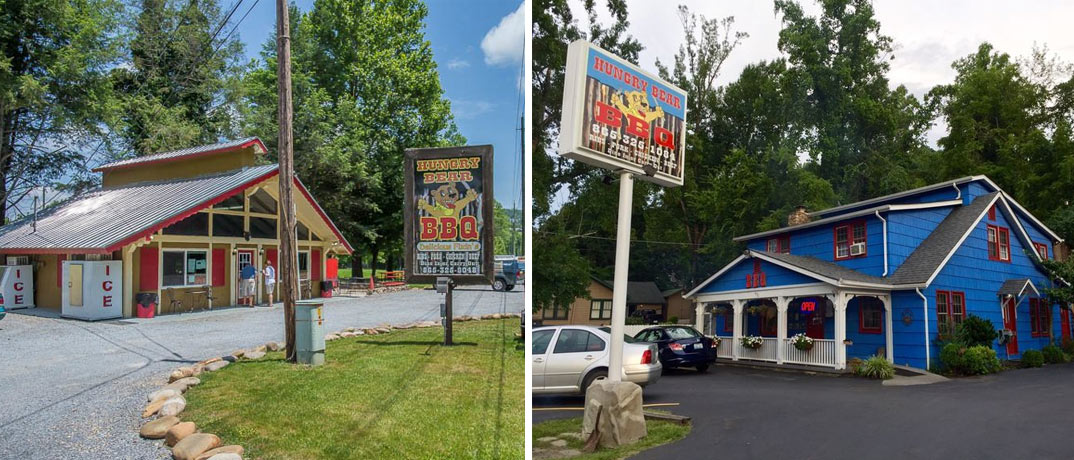 Hungry Bear has two locations. #1 was their first location and is about 7-10 minutes from downtown Gatlinburg at 2263 East Parkway. Hungry Bear #2 is closer in, about 2 miles from Gatlinburg's main drag. Their first location is more off the beaten path and you'll most likely drive up to a big smoker out front full of Q cooking. Their second, newer location is in a bright blue building on 490 East Parkway. Both have outdoor dining areas, but it's very casual and low-key at the Hungry Bear. Ribs, Port, Chicken and Beef – get some real Southern BBQ here!
Bennet's Pit Bar-B-Que $$-$$$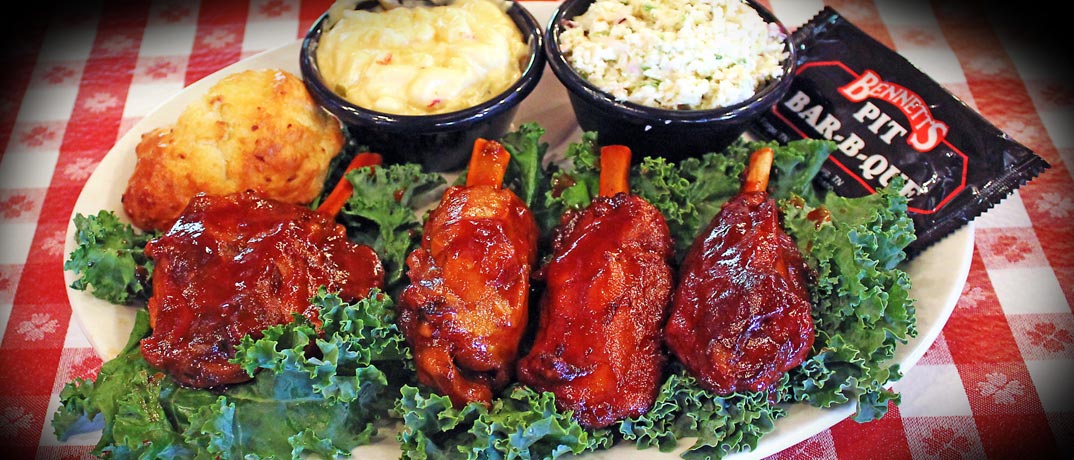 A 6-year winner of Trip Advisor's Certificate of Excellence, Bennet's at 714 River Road is open every day. One of two locations in the Smokies (the other in Pigeon Forge), this BBQ place is off Gatlinburg's main drag. Though they've been voted Best BBQ & Ribs, they also serve and all-you-can-eat breakfast bar, lunch and dinner. Try the Brisket Stuffed Mushroom and Baby Back Ribs. There's also sandwiches, burgers and plenty of sides. Finish up all that Q with some baked cobbler or apple crisp, server, of course with vanilla ice cream. Visit Bennett's Pt Bar-B-Que site here.
Calhoun's $$-$$$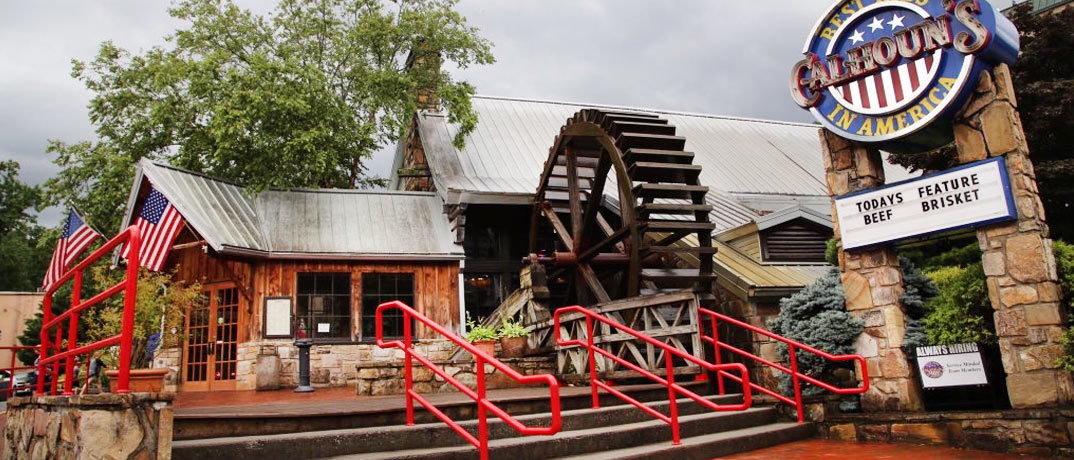 Calhoun's is a Tennessee tradition with nine locations scattered throughout East Tennessee. In the heart of Gatlinburg at 1004 Parkway, everyone knows Calhoun's! With award-winning "Taste of Tennessee" BBQ, its Southern roots run deep, since the 80s, when they opened their first location in Knoxville. Calhoun enthusiasts love the trio that serves up baby back ribs, chicken tenders and hickory smoked pork. Try their macaroni and cheese as a side and the baked cinnamon apples is perfection with some smoky BBQ. Macadamia Nut Banana Pudding and Triple Fudge Cake are sublime and don't worry, you can get 'em to go. Open 7 days a week, but seasonal hours in Gatlinburg may vary. Visit their website for more info.
Gatlinburg Cabins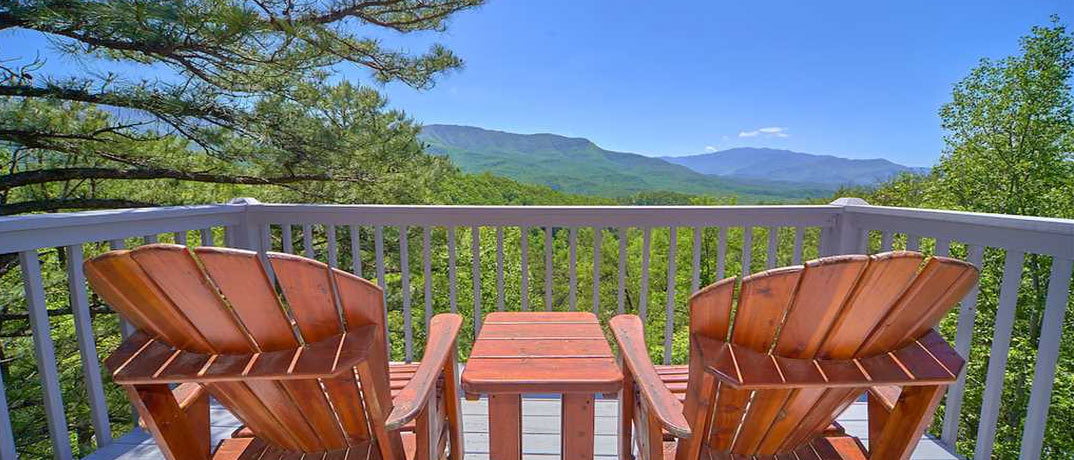 With such a diverse range of choices you'll most certainly get your BBQ fix while visiting Gatlinburg. Visit Condo-World to book your reservations today!