Experience Wild Water Luxurious Fun in Gatlinburg
Get ready for indoor water park fun any day of the year at Wild Bear Falls Indoor Water Park. This gorgeous waterpark is located within the Westgate Smoky Mountain Resort & Spa and it promises family fun, even during the coldest months.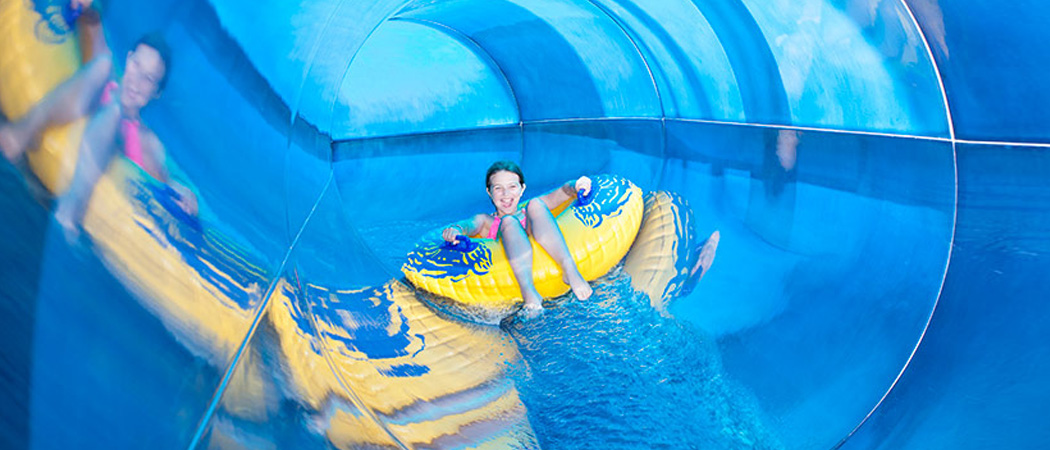 This indoor water park is one of Gatlinburg's premier attractions and its reputation for being a one-of-kind experience for the family boasts several activities to keep you and the little ones occupied. Wild Bear Falls is the largest indoor water park (60,000 square feet) in the South and fifth largest in the country.
If you think all waterparks are the same, think again.
Luxury Features & Fun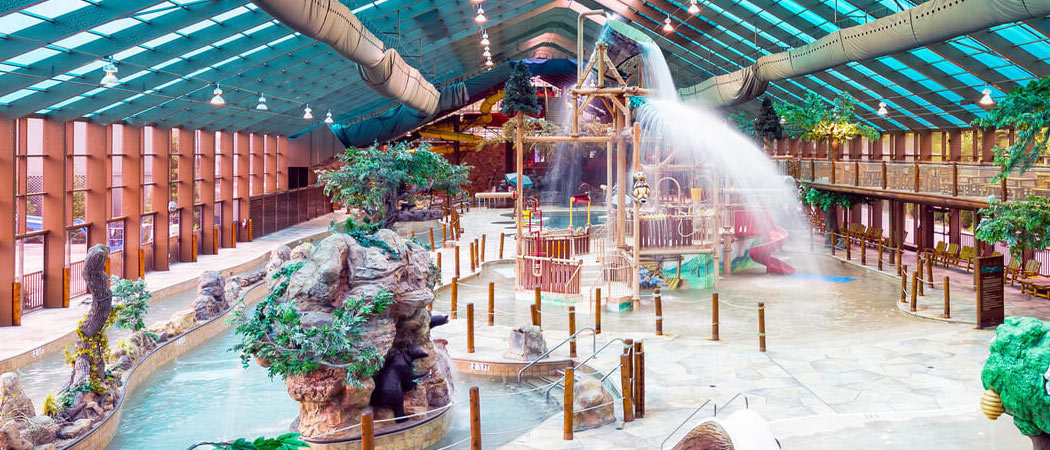 Enjoy some lounge time on the patio while your children play. Go upstairs and visit the Roaring Fork Snack Bar to grab some lunch like hot dogs, hamburgers or pizza. Watch all the fun below as you dine.
The lush park has a retractable roof to let the sunshine in or keep the cold out. There's eight different activities located within the park that will keep you and your family happy such as:
The Swimming Hole. A not too deep pool with a a giant raccoon holding a basketball hoop for you to engage in some friendly B-ball competition.
Clingman's Dome & Laurel Falls. Not that Clingman's Dome or Laurel Falls. These are two slides; one 350 foot-long tube slide and the other a 300-foot fully body enclosed slide, respectively. Slides and water in winter-what could be better?
Cades Cove. If you're sensing a theme here in relation to the Great Smoky Mountains, you'd be correct. This Cades Cove lets you float along a long lazy river, but at least there's no varmints in these waters and its only 3-1/2 feet deep!
Little Pigeon River is for toddlers. Not a river, just a splashy playground for the little ones.
Ramsey Cascades is a treehouse where a huge 300-gallon bucket periodically dumps water over everything! It's fun and funny!
Moonshine Hollow is both an inside and outdoor hot tub while Grotto Falls is an indoor only hot tub. Either choice promises some relaxation from all the other water-filled activity.
You can pick up an all-day pass for about $25 or a multi-day admission between $55 and $85. Rent a locker for $10 and you're good to go! Kids under 3 are free. Military families and other groups get a discount. For more information on pricing, visit Wild Bear Falls's website.
This waterpark is the perfect option for a more intimate waterpark experience, as others in the area are quite large. There's lifeguards to ensure safety and to make sure all rules are enforced.
After a long day of indoor water park fun, stop by the Serenity Spa for a facial, massage or any number of pampering options. The spa is open 10 a.m. to 6 pm. daily. Take a look at their Fall 2018 specials here.
The Wild Bear Falls Indoor Water Park is located at 915 Westgate Resorts Road in Gatlinburg, very close to several of Condo-World's luxury cabin rentals. Book yours online today!