Don't leave any part of the family behind when you go on vacation to Myrtle Beach!
When you go on vacation you want to explore the town, go to new restaurants, relax and walk on the beach, right? So does your dog! And when you vacation to Myrtle Beach, your pup can too! There are pet friendly hotels in Myrtle Beach as well as dog friendly restaurants. There are some Myrtle Beach dog rules that have to be followed to ensure everyone in town has a safe vacation, but there are plenty of places your pooch can go and so many memories to be made!
Pet Friendly Restaurants in Myrtle Beach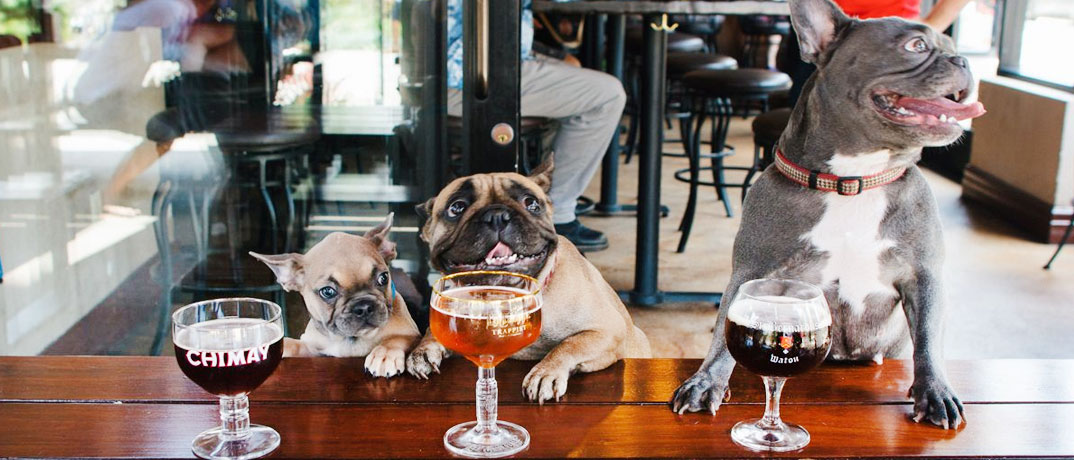 When you have your furbaby on vacation with you, you will need to know where to bring your whole family to eat while you're in town. Below are our top 10 dog friendly restaurants in Myrtle Beach. Make sure to check them out while you're here. Your pup will thank you!
The Sneaky Beagle at 5040 Carolina Forest Blvd: Grab some tacos and beer, and bring your dog along. The Sneaky Beagle even has a full dog menu.
Bay Naturals at 7611 N Kings Hwy: Are you and your pup healthy eaters? Then the outdoor dining at Bay Naturals is the place for you!
Bruster's Real Ice Cream at 3784 Renee Dr: Treat every member of the family! They even offer free sundaes with crumbled dog bones for the furry family members!
Gordon Biersch at 3060 Howard Ave: Enjoy an entrée on the outdoor patio with your pup!
Landshark Bar & Grill at 1110 Ocean Blvd: Right under the SkyWheel, sit on the outdoor patio and take in the lights and the smell of the ocean with your dog!
Moe Moons at 918 Ocean Blvd: With an array of menu items and a ton of outdoor umbrella tables, you and your pooch will love an afternoon at Moe Moons!
The Brass Tap at 3090 Deville St: With over 200 craft beers and a secluded dog-friendly patio, this is the perfect place for man and man's best friend!
Mellow Mushroom at 1571 21st Ave N: Have a cold beer and spend time with good company…your dog of course!
Oceanfront Bar & Grill at 100 9th Ave N: The ocean, good food and drinks, and your furbaby. What else could you want?
TBonz at 1169 Seaboard St: If you want to enjoy a great steak with your pup, this is the place!
Pet Friendly Places to Go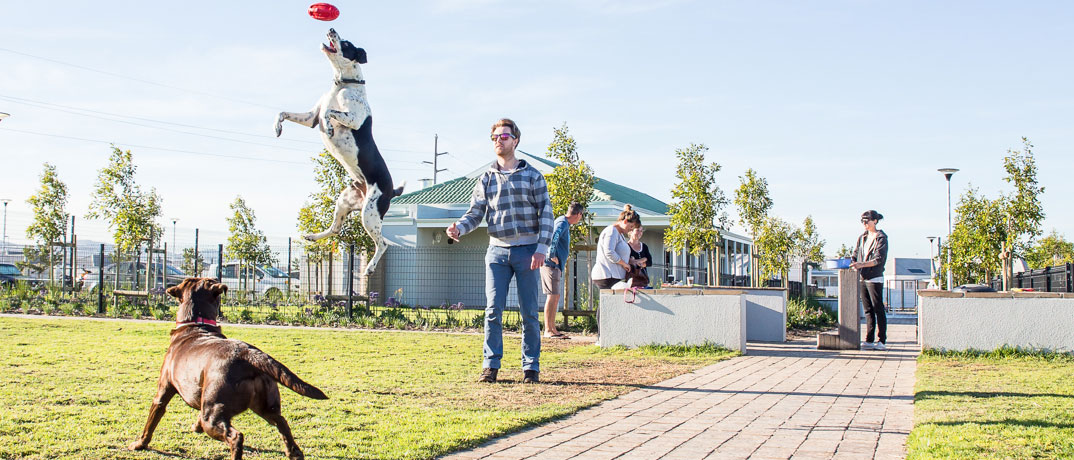 There are multiple dog parks in the area for Fido to run off some steam! Barc Parc South and Myrtle Beach Barc Parc North are two very popular places for your dog to run off-leash. Barc Parc South is located at 700 Mallard Lake Drive. Myrtle Beach Barc Parc North is located at 5000 Claire Chapin Epps Drive. There are also many other parks in the area for you to take a leashed walk with pooch, like Myrtle Beach State Park, Pavilion Park, McLean Park and Chapin Memorial Park. Market Common also has a trail that surrounds a large pond. You can bring the whole family and enjoy a walking path with sporadic exercise games and a playground for the kids. There are plenty of restaurants and shops in Market Commons and some of those restaurants are dog friendly!
Everyone enjoys a day at the beach while they're on vacation, even your pup! The beach is the perfect place for families and furbabies alike. You can build a sandcastle, dig some holes, take a walk or a brisk run and then just lay in the sun for a while.
There are some Myrtle Beach rules and policies for pooches, though. Between May 15th to September 15th, dogs are allowed on the beach between the hours of 5PM-9AM. During the off-season dogs are allowed on the beach all the time. Dogs must be on a leash when at the beach and owners must clean up after their pets, as usual. The Myrtle Beach Boardwalk runs parallel to the beach and dogs are allowed on the Boardwalk from 5AM-10AM. If the Myrtle Beach dog rules are abided by, you and your pup will have a safe and fun vacation in Myrtle Beach!
Myrtle Beach Pet Friendly Resorts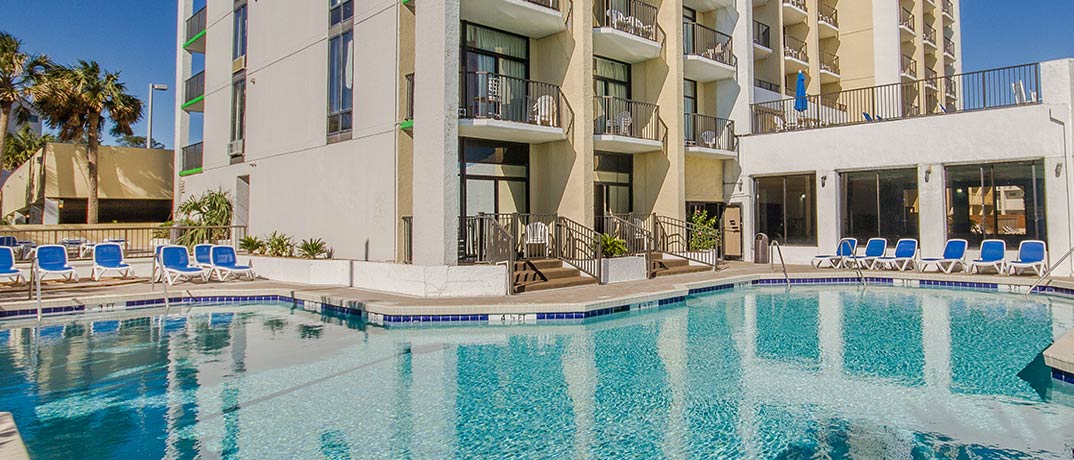 When you are finished exploring the town, come back to rest at Ocean Park Resort with your dog! At this Myrtle Beach pet friendly resort, you'll be able to relax in the indoor and outdoor pools, hot tubs, and oceanfront sundeck while your pup takes a cat nap. Then, take Fido to the on-site puppy play zone to run around and have some fun and meet other dog-friends! After your pooch runs around for a while, they may need some grooming. Conveniently for you, we offer grooming services right at Ocean Park Resort! Also, if you want to spend some time at an attraction or restaurant that doesn't allow dogs, your furbaby can spend some time at the on-site Doggy Daycare! Your family and your pooch will have tons of fun on vacation at Ocean Park Resort.
The High C's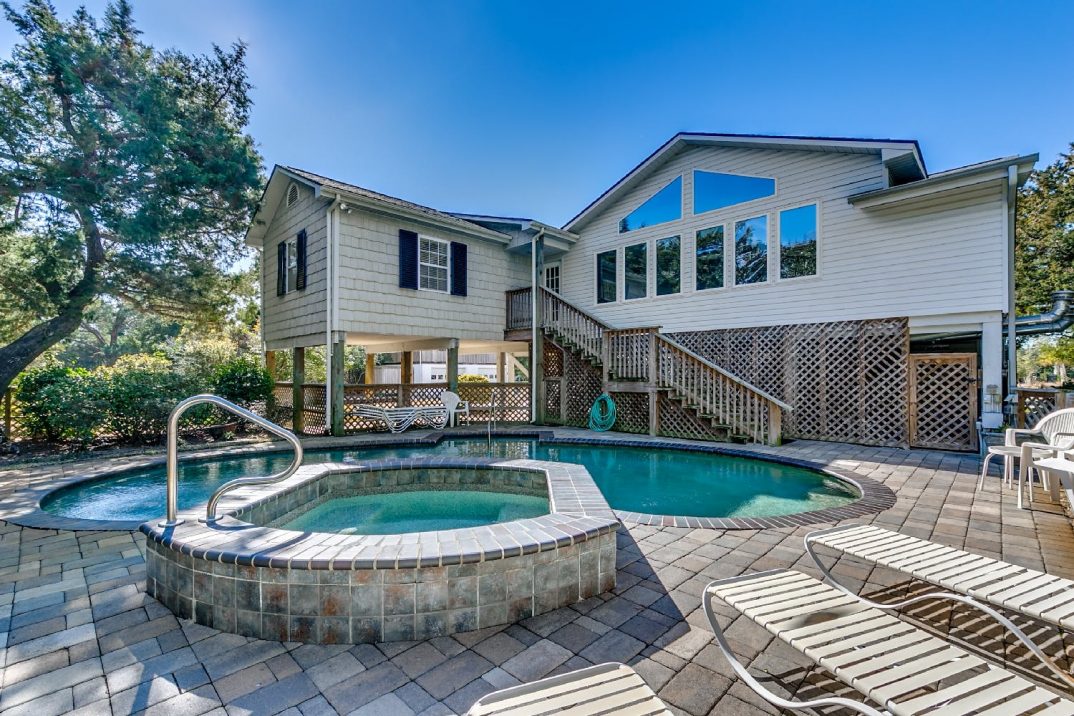 This 5 bedroom house is close to the beach and is the perfect place for you and your pup! Enjoy the private outdoor pool and jacuzzi in the fenced-in backyard. The beach is only 300 yards away in a quiet neighborhood. When you rent The High C's, you can sit out on the spacious desk with a cheeseburger or steak from the BBQ while your dog drools at your feet before taking your last walk for the night.