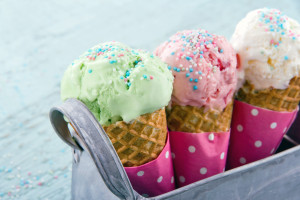 Myrtle Beach is full of sweet treats. Whether you are looking for an ice cream cone after a hot day at the beach or a delicious milkshake for dessert. Here's a list of the top 5 places to get a sweet treat in the North Myrtle Beach Condos.
Sweet Frog: There are four frozen yogurt shops along the Grand Strand. At Sweet Frog, you can pick from your favorite soft-serve yogurt flavor. There are plenty of options from vanilla, raspberry cheesecake, peanut butter and more. Once you've picked your flavor head on over to the toppings bar. Add some candy, sprinkles, cookies, syrup and fresh fruit to your yogurt. Just a 5-minute drive from Mar Vista Grande – It's the perfect sweet treat!
The Melting Pot: The Melting Pot has a delicious 3-course meal. However, you can go to the restaurant and order dessert only. The fondue restaurant is a favorite with its melted chocolate creations. There are a variety of chocolates you can choose from including the flying turtle, smores and snickers. Each fondue flavor comes with fresh strawberries, bananas, pound cake, cheesecake, and marshmallows.
Maggie Moo's: Maggie Moo's is the perfect spot when you are looking for some traditionally flavored ice cream in Myrtle Beach. The shop opened in 1989 and has amazing milkshakes, smoothies, sundaes, and more. You can also try unique treats like ice cream pizza and ice cream cupcakes. Our recommendation is the Oreo cookies stuffed with delicious ice cream.
Friendly's: The famous restaurant has been in Myrtle Beach for 77 years and has two locations. It's the perfect place to take the family because of the variety of desserts. Some of the most popular treats include sundaes, build-your-own ice cream treats, brownies, cakes, waffle sundaes, and milkshakes. If you decide to have dinner at Friendly's with the kids all of their meals come with a dessert of their choice.
Croissants Bistro and Bakery: This restaurant is known for the best cookies, cakes, pastries and goodies around the Grand Strand. The bakery has been in Myrtle Beach for over 20 years. The first thing you see when walking into the restaurant is a glass case full of sweet treats. You can choose from cheesecakes, tortes, peanut butter cupcakes, key lime pie and flavored pound cakes. Yum!