A Day in Seaside, Florida
Enter an idyllic gateway of Seaside, Florida, to parking your car, perhaps for days, throwing your keys on the counter, changing into something beachy and comfortable and connecting to the outdoors. Your peaceful while playful Seaside, Florida, rental cottage, with its front porch allowing gentle, Gulf breezes to intertwine, is your home base that fosters a sense of community and interaction, if you like, or serenity amidst one of many sandy paths woven throughout the pristine town. In this iconic pastel cottage-sprinkled community, no one is a stranger and all roads lead to the sugar, white beach and emerald green waters. All buildings are limited to just three stories so Gulf views abound, white picket fences line the rows of cottages and streets are narrow to encourage conversation with neighbors. Fun fact: Every single white picket fence on a street must have a different design.
Located in Northwest Florida, Seaside is one of a string of pearls-that is, one of the several beach communities strewn along South Walton County's Scenic Hwy. 30a, each with its own personality. Seaside, however, is the hub or center that offers not only one of most scenic stretches of beautiful beach perfect for chilling out and relaxing, but also unique Seaside, Florida, shopping, scrumptious Gulf-to-table dining and awesome activities and events for your entire family or just the two of you wanting a getaway together.
Playing in Seaside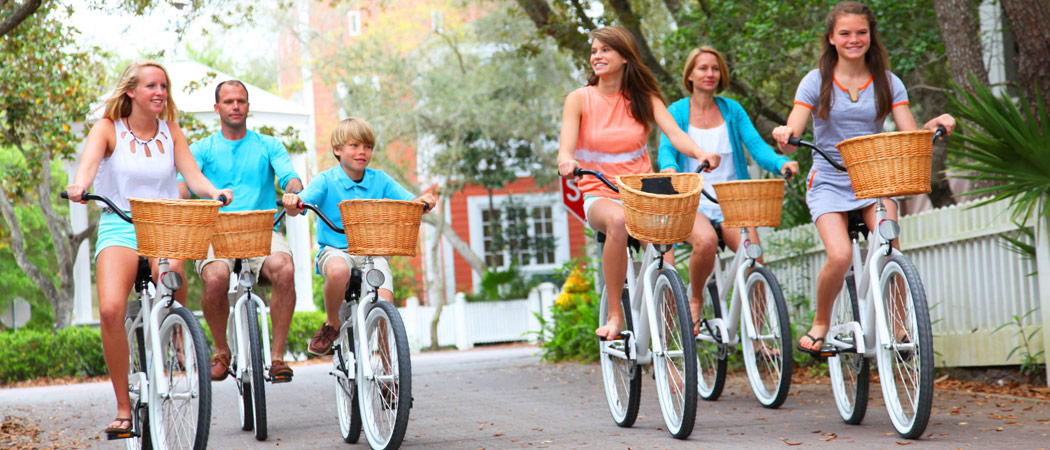 The majestic Medjool palm trees lining Central Square, attention to architectural detail, friendly, local store owners and the simple, iconic beach vibe beckon you to converge into town to take advantage of the many things to do in Seaside, Florida. No wonder producers chose the funky, beach town as the location for the filming of the 1998 movie, The Truman Show starring Jim Carrey.
On any single day in Seaside, you can find yourself walking or riding your bike, the transportation of choice, to the beach. You will go through an architecturally-designed pavilion that marks the walkway of stairs leading down to the sand. (There are actually 9 pavilions in Seaside, each designed by a different architect meant to reflect the personality of each.)
You can reserve beach chairs with a vibrant blue umbrella through Cabana Man where you can settle in to read your book of choice, play in the Gulf or build sandcastles with the kids. And don't forget the sunscreen!
If you're the adventurous type, you can take off in a sea kayak or paddle board. You can even take surfing lessons with instructor, Austin Magee, a favorite among the young and young at heart.
Seaside Transit Authority Bike Rentals can supply you with a beach bike, the transportation of choice, to explore Seaside's tree-lined streets and variety of cottages as well as the nearby coastal dune lake, comparable only to ones in Australia.
When you've become familiar with the surroundings, you can end up back on the green in Central Square where perhaps you will be able to catch an outdoor concert or simply grab a hula hoop at Duckies Shop of Fun and engage in good old-fashioned play for a while.
When it's time for a little indoor fun, Fired-Up Pottery is a whimsical way to spend the afternoon for kids of every age. With over 500 pieces of ready-to-paint pottery, you can exude your inner Picasso and create a one-of-a-kind treasure as a memento of your Seaside vacation.
Seaside Florida Restaurants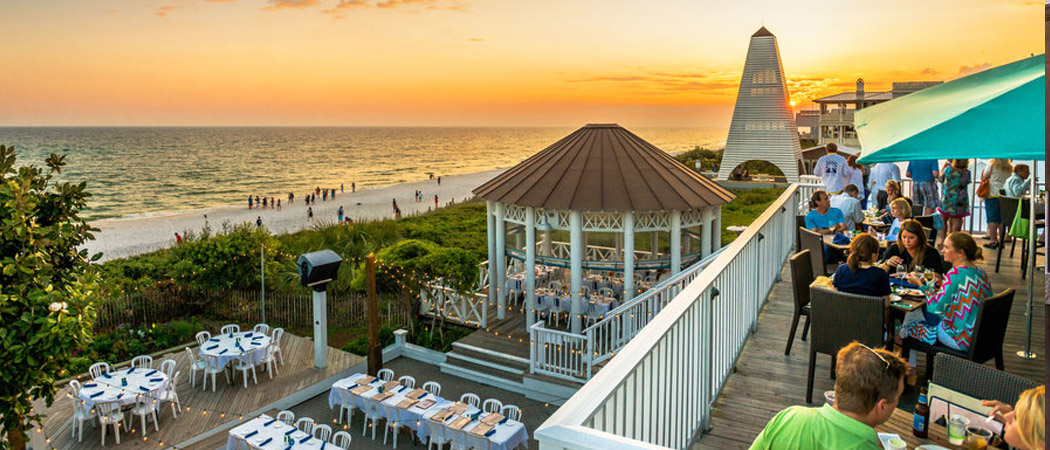 Seaside, Florida, restaurants are no stranger to seafood, even for breakfast! Breakfast lunch and dinner are all served at Great Southern Café where southern favorites are served with a creative, upscale twist in a relaxed and friendly atmosphere. Locally sourced produce and seafood combines with more than six variations of oysters to fit every flavor profile. Great Southern's signature entrée, Grits a Ya Ya, includes blackened shrimp and smoked bacon on a bed of smoked Gouda cheese grits topped with sweet potato hay. Can you resist?
Bud & Alley's restaurant is known far and wide for its rooftop deck where folks reserve their spots early to catch the beautiful sunset just beyond the Coleman Pavilion. Named after Seaside's founding dog, Bud, and a cat named Alley, Bud & Alley's is one of the most notable restaurants in the region. Try the barbecue shrimp, the uniquely-prepared salmon and the restaurant's famous signature crab cakes. And if you guess the exact moment the sun sets, you receive a free drink.
In recent years, Seaside has become known for its Airstream Row. Dotting the stretch of sidewalk in front of the town square, these quirky and casual Airstreams are perfectly poised to capture you any time of day or night, and feature some of Seaside's finest fare. For the healthy living, Raw & Juicy Organic Juice Bar features organic juices and smoothies, raw food and organic beach snacks. If you're passionate about your barbecue, Barefoot BBQ is no stranger to Southern hospitality and Southern cookin' surf style, retro, and laid back. Organic, local, chemical free meat is smoked right there in the airstream. And, kids, don't miss the famous macaroni 'n cheese! They're also open until 2 a.m. for late night cravings.
If you're age 15, give or take even by several years, you might find yourself at the window requesting Hawaiian shaved ice at Frost Bites for a sweet treat. A favorite with the teens, a T-shirt from the first of Seaside's Airstreams is a must for wearing around town and back home, too! A definite deviation from the normal, gourmet grilled cheese sandwiches from The Meltdown on 30a as well as gourmet hotdogs from Wild Bill's are both delightfully different from the regular way we normally eat them. The newest member of Airstream Row is Five Daughters Bakers, home of the melt-in-your-mouth hybrid of a croissant and a doughnut. Taking up to three days to craft this decadent creation, this no-ordinary doughnut is just something you have to experience for yourself.
Other eateries include The Shrimp Shack where you can find the most scrumptious Royal Reds locally delivered from Panama City and 45 Central Wine Bar, a relaxing indoor/outdoor venue for sipping and savoring you favorite glass of wine along with specially-prepared food to complement the wine.
Shopping in Seaside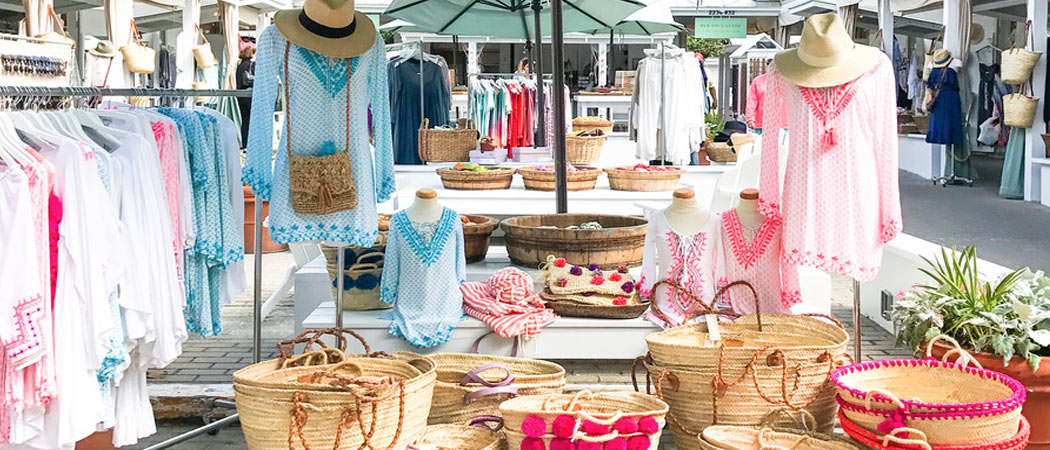 With a plethora of stores and boutiques, Seaside, Florida, shopping offers the ultimate activity to complement your beach time.
Modica Market, the family-owned deli and grocery store, is where you can pick up homemade food items in the deli, served with a friendly smile, or your favorite craft beer (there is an array of popular as well as hard-to-find ones) and many varieties of wine. You can also find your staple items needed here at any time during your visit.
At The Art of Simple, a favorite stop for Southern Living, you can try an innovative beauty product, take in the aroma of a handmade beeswax candle, or stand in adoration at the sensible or whimsical. In the iconic Sundog Books, one of America's favorite book stores, pick up your favorite classic or paperback romance novel for a read on the beach. Upstairs you'll find Central Square Records, a treasure trove where you can find new and used records, CDs and rarities. At Fusion Art Glass, you'll oooh and aaaah over the works of glass artists.
You will most likely see a local accessory style in Seaside-leather and pearls. At La Vie Est Belle, you can try on an array of fine pearls and leather jewelry in many sizes, colors and collections. In Déjà Vu, you'll find feminine and bohemian styles of yesterday modernized for today just plain fun to try on! If American-made, earth-friendly, cause-related, well-worn and vintage-inspired items appeal to you, be sure to stop by Mercantile, too.
Of course, a trip to The Seaside Style for a T-shirt is a requirement before you leave town. And, there are many more boutiques and stores in Seaside; hopefully, you'll have another day to check them all out!
Staying in Seaside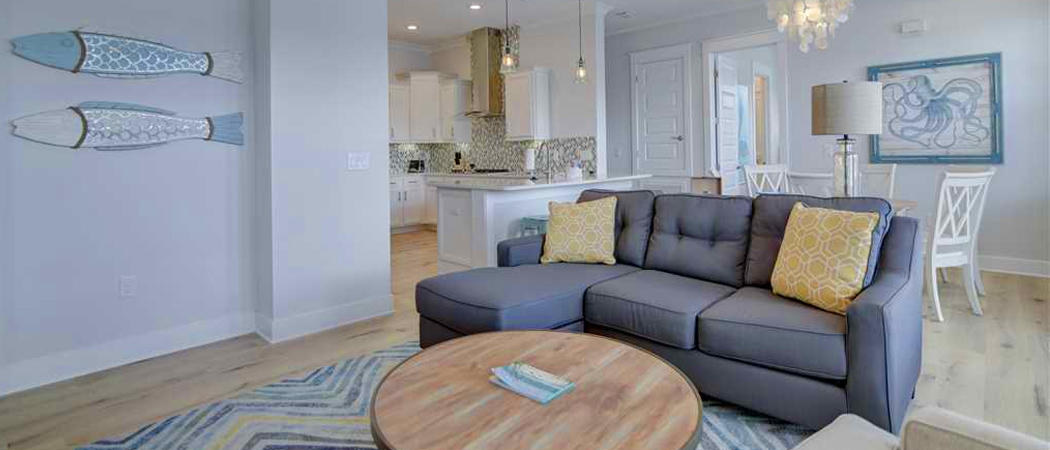 Condo-World can get you in some beautiful pastel Seaside Florida rentals at the beach in a one to six- bedroom home, complete with front porch, white picket fence and fantastic views. Oh, and don't forget the memories you'll make!