A Guided Tour of Springfield at Universal Studios
Revisit your childhood with the kids at Springfield USA, hometown to the Simpsons family. The longest-running animated TV comedy, at nearly 30 years, comes to life in the World Expo section of Universal Studios Florida. Open for all to enjoy since 2013, Springfield features all of the bright colors and wacky fun you've come to love while watching from home in the form of rides, dining options, shops and photo ops with your favorite "Simpsons" characters.
Here's an inside peek into what you can expect from the theme park:
Rides & Games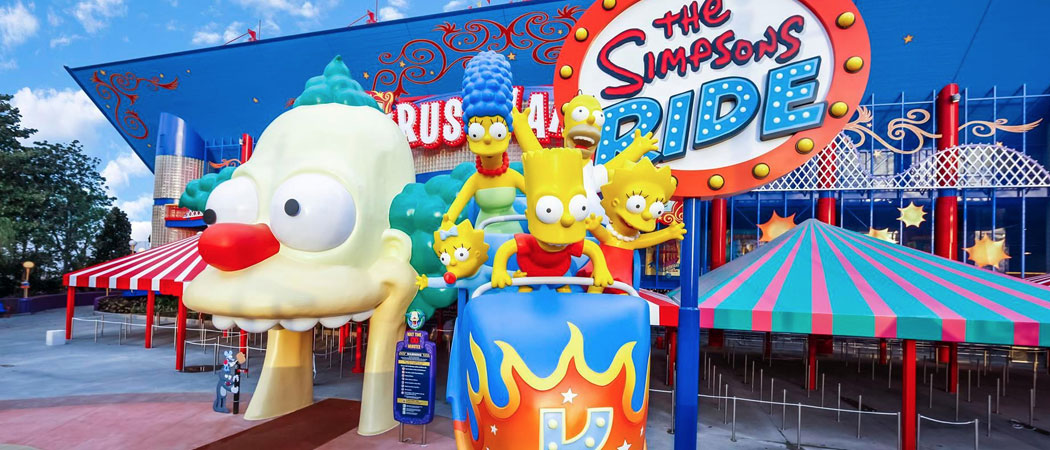 The thrills and excitement of amusement rides are the reason you landed in Universal Studios in the first place, and Springfield USA won't disappoint in all of their ups and downs, and round and rounds.
Kang & Kodos' Twirl 'n Hurl: The neon green aliens tempt guests to take a spin in their flying saucers and invade Springfield. Expect this ride to spin like a carousel; riders can control how low or high they fly.
Midway Games: Themed games that could win you prizes, like a giant plush can of Duff beer or stuffed Homer Simpson doll.
The Simpsons Ride: This simulator ride travels through Krustyland and incorporates Krusty the Clown, the villain Sideshow Bob, the Simpson family, and 80-foot-tall, dome-shaped IMAX screens.
Food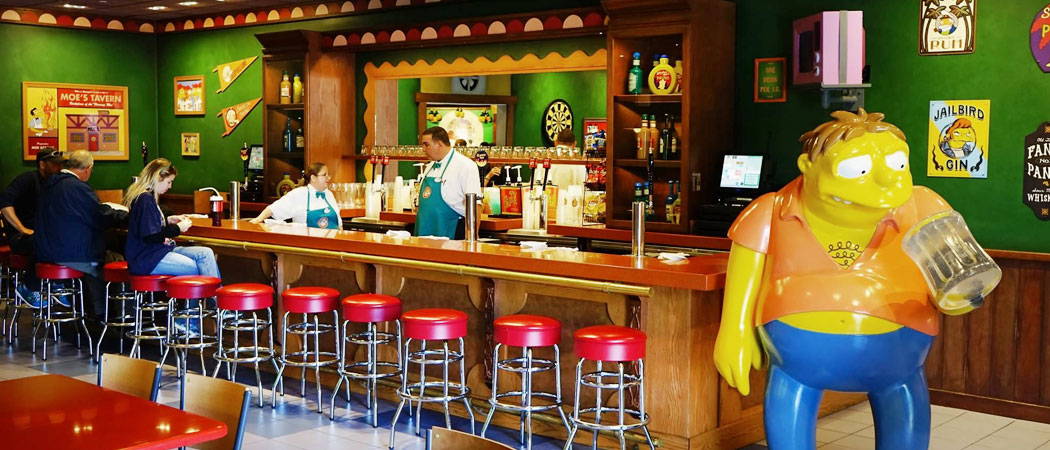 Fast Food Boulevard may also look familiar from episodes of "The Simpsons," and you'll be able to sample all of the good Springfield eats for yourselves.
Bumblebee Man's Taco Truck: Parked at the entrance of theme park, this counter-service food truck serves up tons of tacos, Springfield's signature street food, along with shaded seating outside. Contrary to Bumblebee Man's catchphrase, you'll be saying "¡Ay, ay, ay, es bueno!"
Lard Lad's Donuts: Right next to Bumbleebee Man's Taco Truck, you'll find the iconic Lard Lad's Donuts. You'll immediately recognize The Big Pink, a giant pink-frosted donut with sprinkles. Bring your Homer-sized appetite because Lard Lad's Donuts also serves apple fritters, sundaes, and ice cream cones.
Duff Gardens Brewery: 🎵Duff Beer for me. Duff Beer for you. I'll have a Duff. You have one too.🎵 Located next to the prominent statue of Springfield founder, Jebediah Springfield, this outdoor bar offers parents relief from the heat with pints of ice-cold Duff beer, proudly brewed by the Florida Beer Company, and other specialty drinks. Inside, the sports bar-themed loops "Simpsons" clips on the flat-screens.
Krusty Burger: This quick-service food venue is centered around its namesake, Krusty the Clown, selling those famous burgers and hot dogs at the counter, with seating inside (expect lines to be long). They also sell milkshakes (Huh, "shakes" – You don't know what you're gettin') with "100% Mammal Milk"
Cletus' Chicken Shack: Sit down with the family and chow down on some yummy fried chicken coated in corn flake-based batter. The Universal Dining Plan can be used here, too. Cletus' favorite food is fresh skunk and raccoon, but you won't find any here. On the plus side, you can call your ma while you're there… "Hey Ma! Get off the dang roof!"
Moe's Tavern: Homer's go-to drinking hole, Moe's should be a must-see for you, too. Take a seat at the bar and take a photo with a life-sized Barney Gumble. Kids will love the non-alcoholic Flaming Moe drink. It gets busy there, so you might accidentally bump into Seymour Butz or Hugh Jass.
Photo Ops & Shops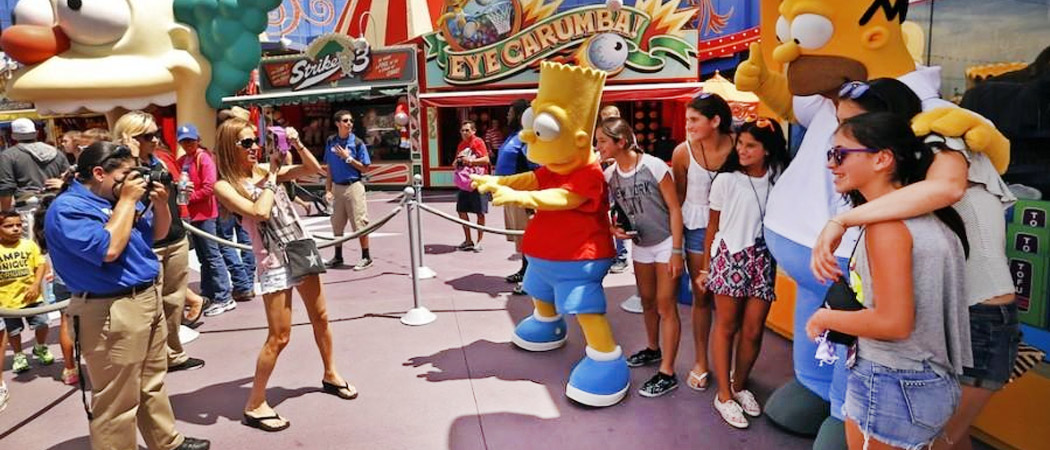 And, if you have any pep left in your step, stop by the one-and-only Kwik-e-Mart to snag some creative Simpsons souvenirs to take home. (If you're hunting down a Squishee, this is available only at Duff Brewery).
You'll also have the photo opportunity to run into Simpsons characters at special meet-and-greets – especially at the corner of Evergreen and Terrace streets, an all-too familiar location we all know, where the Simpsons' home lives. And you can't miss the opportunity to get a photo taken on the Simpsons Couch Gag photo op, where your family will be superimposed into the opening sequence of the TV show.
The Resorts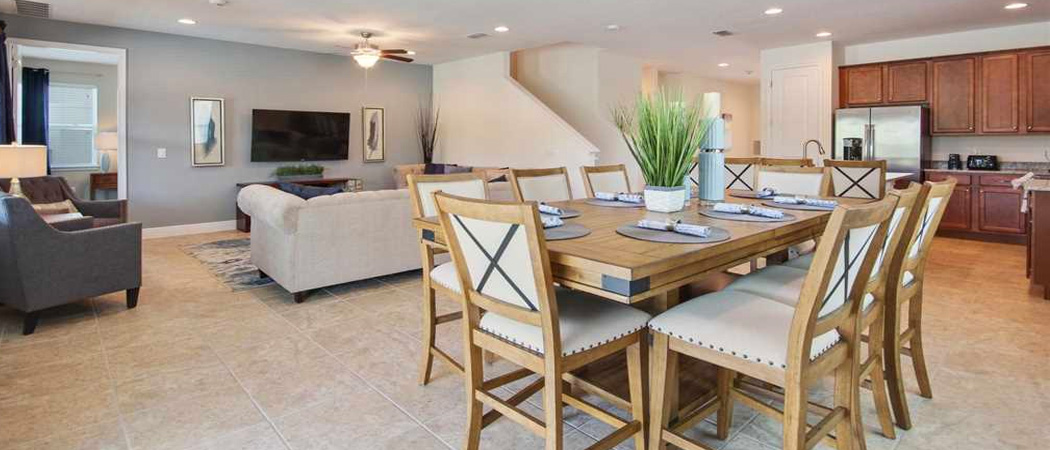 Condo-World offers a wealth of luxury vacation homes conveniently located nearby that all feature lavish interior designs, spacious layouts and indulgent water amenities for families of all sizes. Check out our full inventory of properties in Orlando right now!