The Best Airboat Rides & Tours Around Orlando
Come airboat away! We've come up with our Best of List when you're thinking airboat rides and tours in or near Orlando. Some are more for the roughing-it-type airboat sailors while others are geared more toward families and calmer waters. Whatever you choose, you'll be glad you checked our list! Read on.
Spirit of the Swamp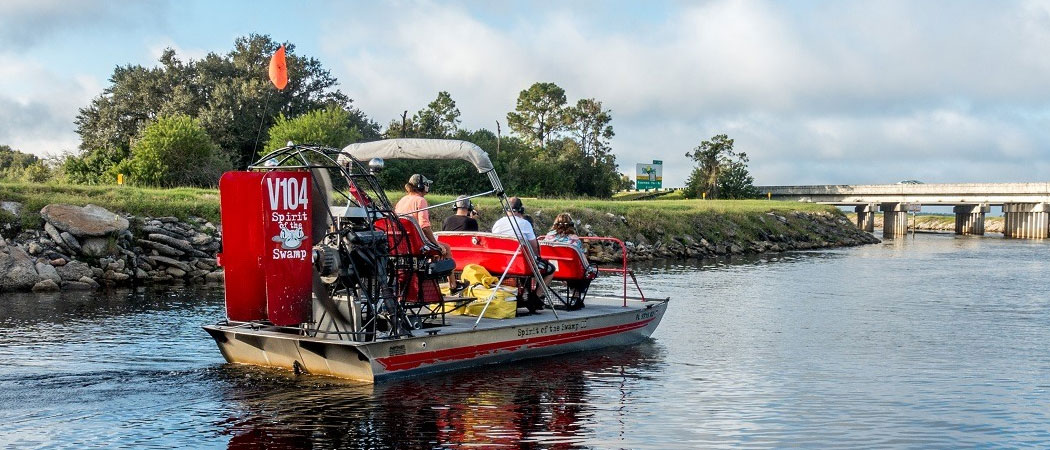 Garnering 5-star reviews, first on our list is the Spirit of the Swamp Airboat Tours. Just a few miles from Orlando in Kissimmee, Spirit of the Swamp is located at 2830 Neptune Road. You can choose to airboat with a group or book a private tour. Each ride allows only 6 passengers so that the guide can give everyone special attention and information about the environment and its inhabitants. There are tours ranging from one to two hours and your guide is, as many have stated, "expert and enthusiastic." Consider this one a more luxurious tour with plenty of time to learn and headsets so that you don't miss a thing while your captain is exploring the Florida swamps with you. Visit their website.
Boggy Creek Airboat Adventures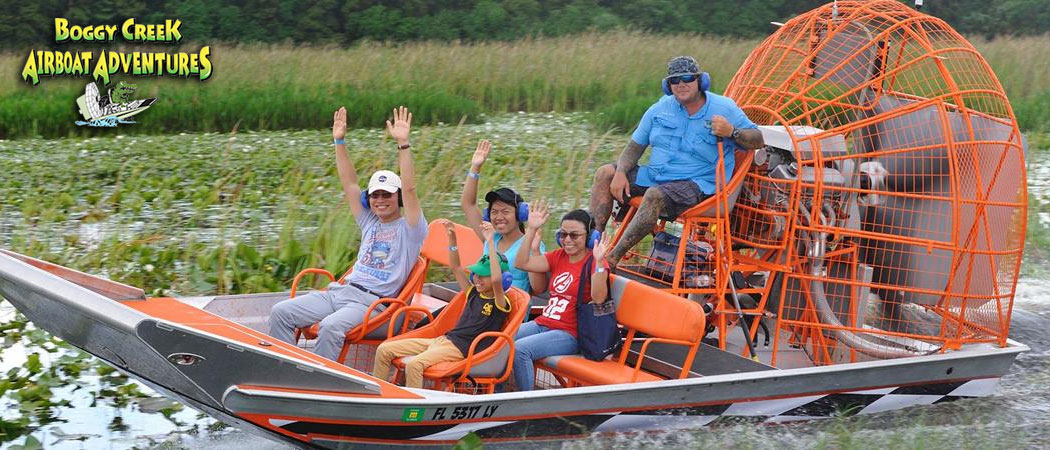 Next on our list is Boggy Creek Airboat Adventures for all you daring boaters. Founded in the 1990s with just one small airboat and love of adventure in the Florida swamps, the company grew and in 2016, it officially became Boggy Creek. It's more than just airboat tours, though there are six different tours to choose from, all unique in their own way. Prices range from about $25 all the way to $350 (the most expensive one being that you learn how to drive the boat!) and perhaps the most scenic, the sunset tour at $55. These tours are meant to guide you to undiscovered territories of the Florida Everglades where you'll view all kinds of nature and its beauty. They have a host of captains with expertise to make sure your experience is a memorable one. You can also experience other adventures before or after by visiting Boggy Creek's Native American Village for go mining for gems and fossils. Location: 2001 E. Southport Road in Kissimmee. A grand adventure indeed! Click here for more info.
Wild Willy's Airboat Tours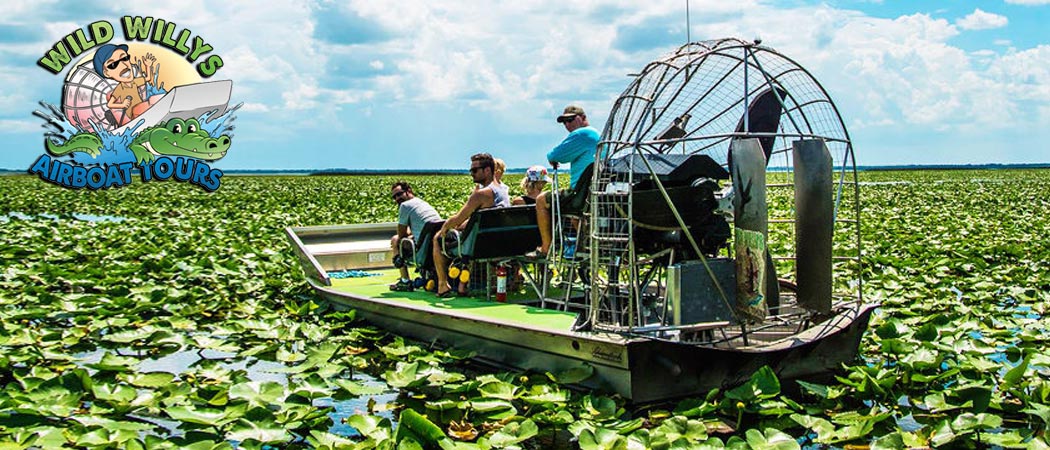 You'll drive about 20-40 minutes from Orlando to get to Wild Willy's, a family-friendly airboat tour. Located in St. Cloud at 4715 Kissimmee Park Road, these one-hour tours take you along the beautiful Lake Tohopekaliga. Given the Award of Excellence from TripAdvisor, this one is for those who prefer a slightly tamer experience. Don't mistake tame for less fun or less to see though! Open 7 days a week, you'll see gators, eagles and other wildlife up close and personal, plus you can have a safe selfie snapped with their resident alligators-tiny gators are a kid-friendly favorite. Starting in November, they offer one-hour sunset tours, Sunday through Thursday and private tours can be arranged accommodating 1 to 14 guests. Prices range from about $50 to $700, depending on tour and size of group. Visit Wild Willy's website.
Wicked Airboat Rides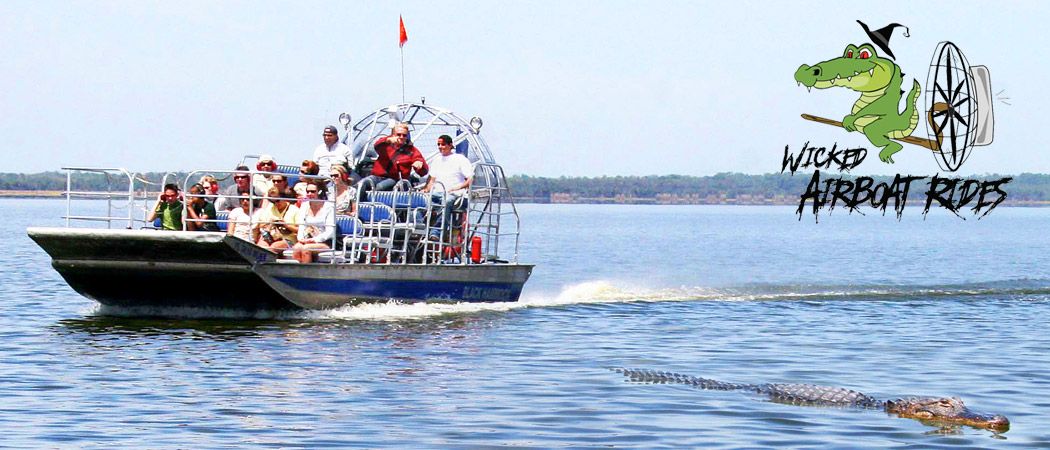 For budget-friendly, family fun visit Wicked Airboat Rides in Kissimmee at 3702 Big Bass Road. Open every day but Sunday, Thanksgiving and Christmas Day, there's no need to call ahead for reservations as these tours leave all day. Just get onboard and go! Close to the Orlando International Airport, these US Coast Guard Master Captains have been taking visitors and Floridians air boating for over two decades. If you're on your way to the airport, leave early and take a 30-minute guided tour for only $20, and around $30 for 40 minutes. The perfect choice to get a Florida airport experience with limited time and funds. Visit their website here.
Kissimmee Swamp Tours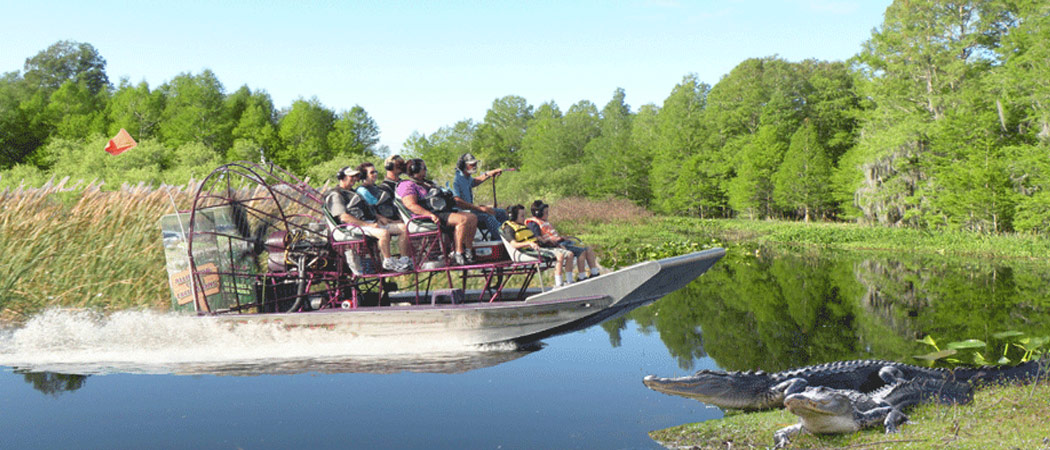 Rapid small airboats are the name of the game at Kissimmee Swamp Tours. Only six passengers per boat give you the opportunity to see, as the company calls it, "the REAL Wild Florida." A six-year running Award of Excellence from Trip Advisor's best Orlando airboat tours, this one is for those who want to experience a "miles apart from the ordinary" airboat adventure. Glide along Lake Kissimmee's 36 acres of undeveloped land to spot endangered species and birds, gators, eagles and other wildlife such as wild pigs and turkeys. They are the closet airboat tour company to Walt Disney World and the tours last from an hour to an hour and half. Rates are $49 to $64 for adults and less for children under 12. Three-year olds ride free. Don a two-way headset so that you don't miss your captain's critical info about your tour! Mention the website and get $4 taken off your reservation. Visit Kissimmee Swamp Tour website for more information.
Orlando Vacation Home Rental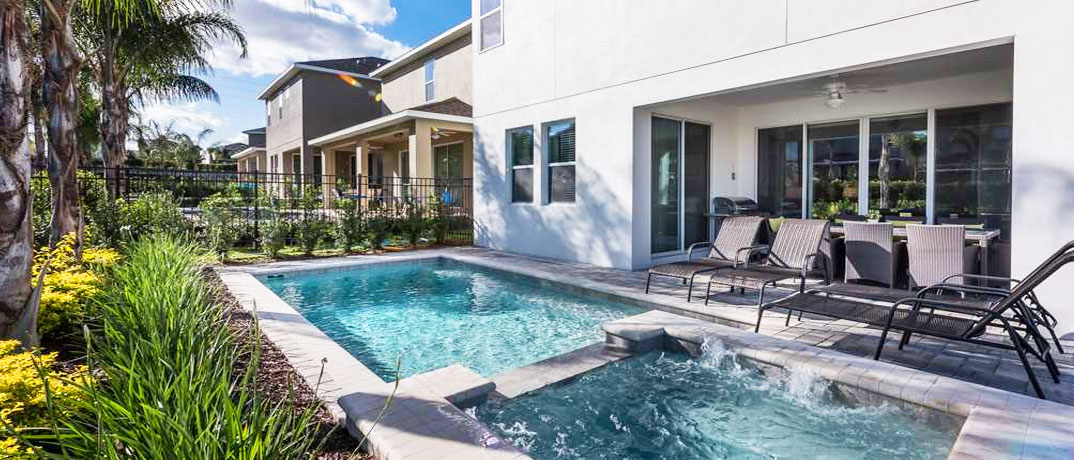 Experience the wilds of Florida via an airboat ride or tour and then head back to your luxury Orlando vacation rental for some much-needed R&R afterwards. Book your luxury condo online at Condo-World today!