The Best Dinner Shows in Pigeon Forge
When you visit Pigeon Forge, you're going to want to bring your appetite-for both good theater and good food. Pigeon Forge is packed full of theater that serves up hearty fare for the family. Most shows are family friendly and are filled with talented actors, musicians, singers, comedians and of course, great food!
We rounded up a great list of dinner shows for you. Get there before the final curtain call!
Dixie Stampede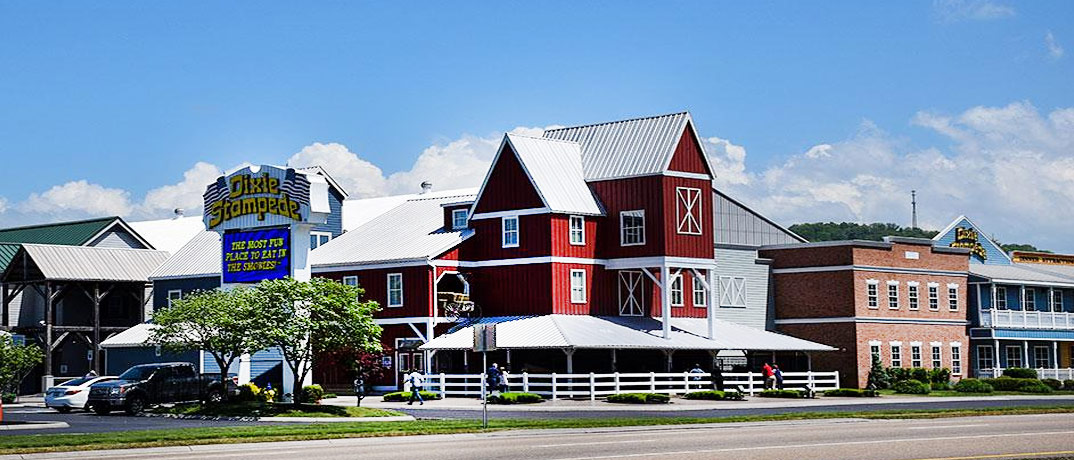 Dolly Parton Dixie Stampede is world-renowned and known as the "Most Fun Place to Eat in the Smokies." Get there about an hour early for the opening act and then settle in. Watch acrobatics on horses, rings of fires with cowboys and their horses jumping through them. Indians do incredible dancing and herds of buffalos add to the heart-pounding excitement. A four-course feast is served while you take it all in! There's also a comedy show at Dixie Stampede called Skeeter & Nugget that's G-rated funny. Your family will love this high-energy feast for the eyes and tummies! Visit Dolly Parton Stampede website. Located at 3849 Parkway.
Hatfield & McCoy Dinner Feud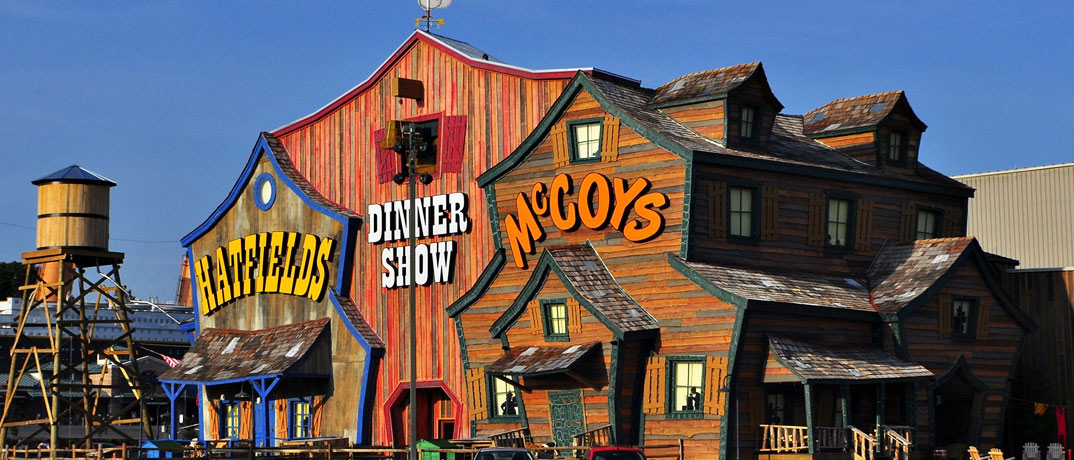 This all-you-can-eat dinner show extravaganza in Pigeon Forge ramps up the action and funny of the longest-running feud in history! Singing, dancing, stunts and comedy by a stage full of actors, musicians, dancers and performers. You'll see up-in-the air acrobatics, plenty of toe-tapping, banjo playing and singing, and oh yeah, a feud between two families that just can't see eye to eye. The food will keep coming as long as you're hungry – fried chicken, BBQ, corn on the cob, taters, cornbread and more. And sweet as pie dessert (maybe even pie) to wrap everything up. If you're there in December, don't miss their family funny Christmas feud and new to 2018 is Diving Dogs & Hillbillies. It's exactly what the title implies-a 22-foot swimming pool where stunts and tricks by humans and canines dive for your entertainment. Visit their website. Located on 119 Music Road.
The Grand Majestic Dinner Theater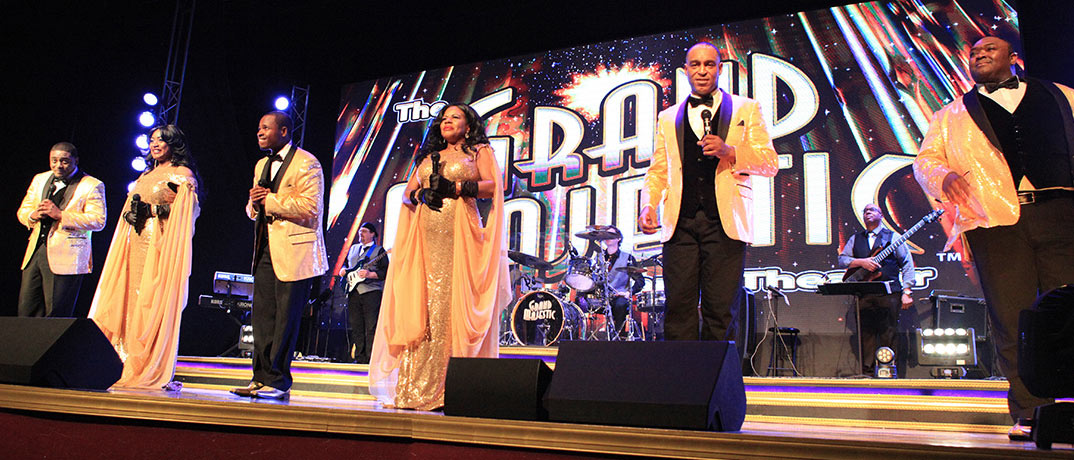 There are three fantastic dinner shows to choose from here. For those who dig a little soul, don't miss the Soul of Midtown that's a tribute to Motown legends such as Smoky Robinson, Gladys Knight & the Pips, Aretha Franklin, Marvin Gaye, Stevie Wonder and more. The Hazzard Hoedown is a musical that showcases the Dukes of Hazard, along with Daisy and Boss Hogg. Watch these country heroes and villains compete for prizes while singing, dancing and playing music. A wonderful family experience! The Hit Parade dinner show is for those who want to reminisce about the oldies from the 50s and 60s. Think jukebox hits from Frankie Valli, the Everly Brothers, Neil Diamond, Elvis Presley and more. This dinner show also presents a moving tribute to veterans. An all-you-can-eat buffet dinner is available an hour before the show. There's also candy, popcorn and appetizers, as well as tea, sodas, beer, wine and even moonshine! Visit the Grand Majestic Theater website for more info. Location: 2330 Parkway.
The Great Smoky Mountain Murder Mystery Dinner Show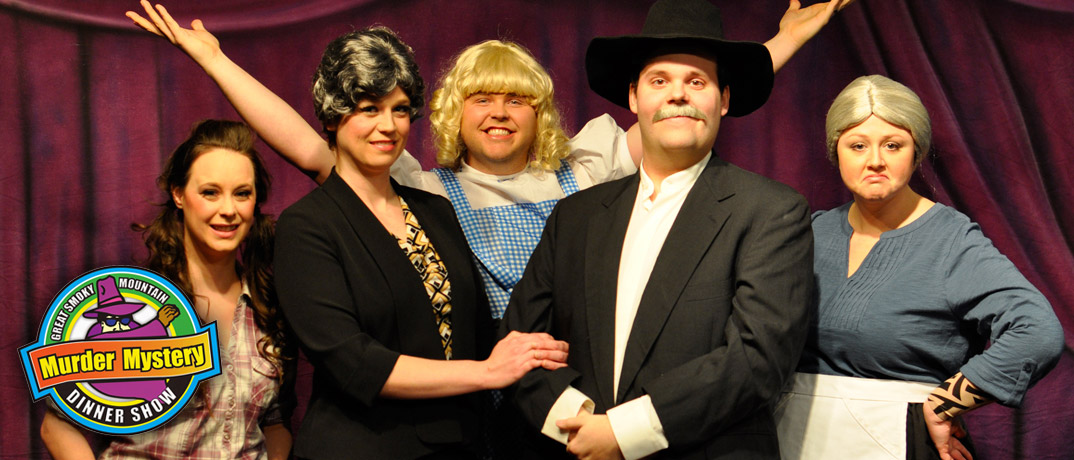 What's better than a murder mystery with some good eats? Plus, this murder mystery will have you laughing along with the actors who try to lead you to whodunit! Lots of audience participation while watching the antics of plantations owners, moonshiners and hillbillies. Their shows are rated PG-13 and dinner (soups, entrees, desserts, plus vegetarian, vegan and gluten free options) is served while you watch. Shows sell out quickly so reservations are recommended. Visit the website for more info. Location: 2682 Teaster Lane.
Celebration Dinner Show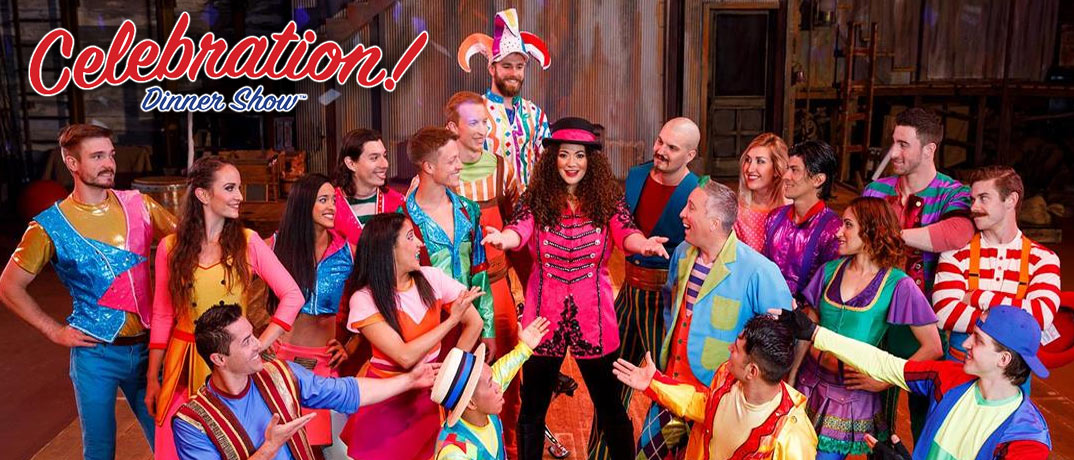 This Dolly Parton attraction is such a wonderful experience for families! Arrive about an hour before the show and your children can play games and dress-up. There's a four course feast after that while you watch incredible dancers, actors and comedians entertain you with jokes, acrobatic feats, dancing and music. Watch them careen through giant wheels of fire, jump rope over giant spinning circles and turn flips up in the air and spin on giant ropes from the ceiling. Accolades such as "spellbinding" and "amazing" from visitors are just a few of the reasons why this is on our best dinner shows in Pigeon Forge list. Centrally located at Traffic Light #3 at 2713 Parkway. Visit their website to reserve or for more information.
Biblical Times Dinner Theater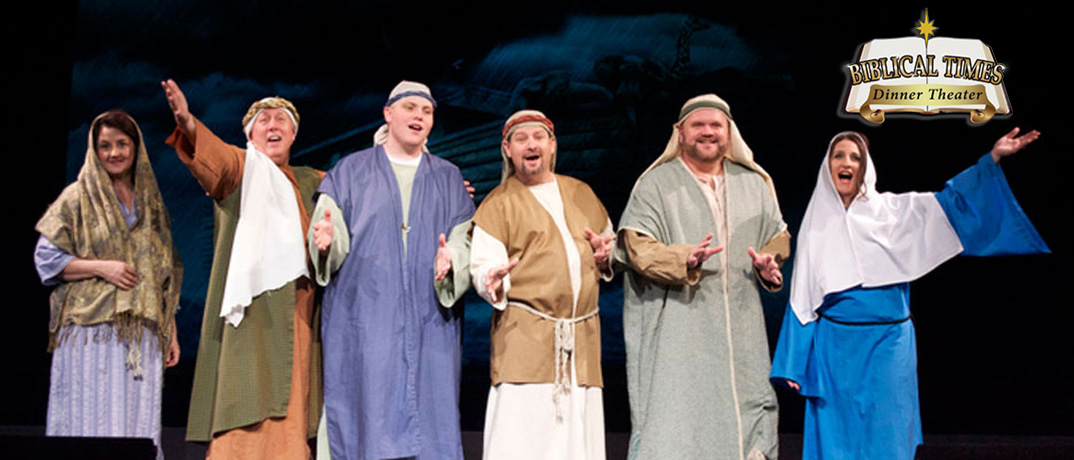 For those who enjoy gospel music and theater with a biblical theme, this dinner theater has performances that highlight heroes from the Bible, along with musical tributes to Johnny and June Cash, Elvis and more. Be wowed by state-of-the art holographs and 3D technology while relaxing in padded, rocking chairs. A "Feast of Biblical Proportions" is served. Vegetarian and gluten free options are available. Their Christmas show is a family favorite that celebrates the Christian holiday with carols and personal testimonies from the cast. Check out their website here. Location: 2391 Parkway at Traffic Light #2.
Pigeon Forge Cabins
With so many options, you'll be able to get both your theater and southern food cravings on any night of the week. Reserve a nearby Pigeon Forge cabin rental today!