Lights, Camera, Action – The Best Shows & Theaters in Pigeon Forge
Not only does Pigeon Forge have non-stop activities for families, couples and hikers, but its cultural landscape is pretty impressive as well. As more and more visitors come to the area, Pigeon Forge continues to up their game by providing top dinner and comedy shows, as well as Pigeon Forge shows that have dramatic flair.
Take a look at our list of Top Shows and Theaters in Pigeon Forge below.
Dolly Parton's Dixie Stampede Pigeon Forge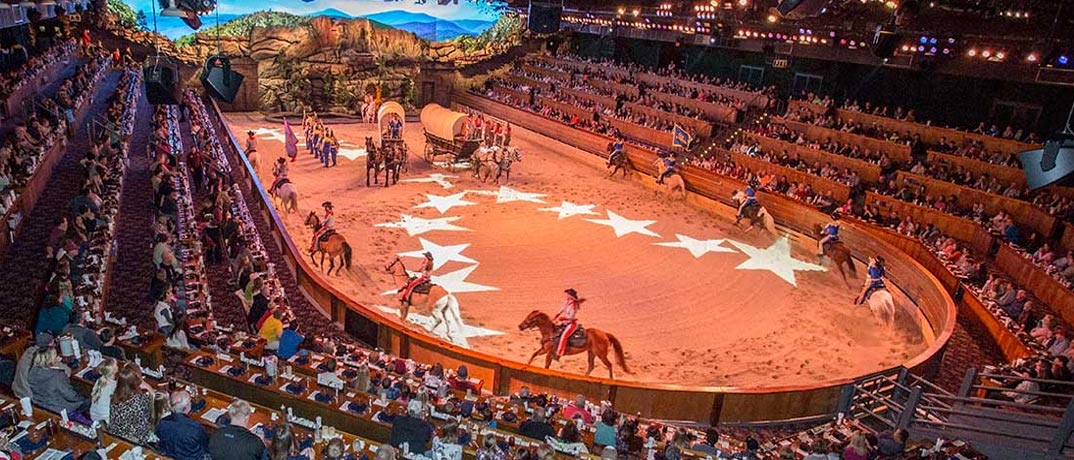 This is one of the most popular dinner shows in Pigeon Forge. Big and bold, it's for those who want good food and good fun. Perfect for families, you'll have a close seat to all the action-north and south "competitions" and amazing horse riding stunts. Come early for The Saloon Opening Act where some pickers and grinners play comedy and bluegrass banjos. The 35,000 square foot arena is where the show begins with "stampedes" of buffalo, Indians, settlers, flags, swords, races, cowboys and cowgirls and pyrotechnics that will bring about many ooh and ah moments! One price buys everything-four course meal (including vegetarian) and all that fun. Located at 3849 Parkway. Visit their site for info.
The Comedy Barn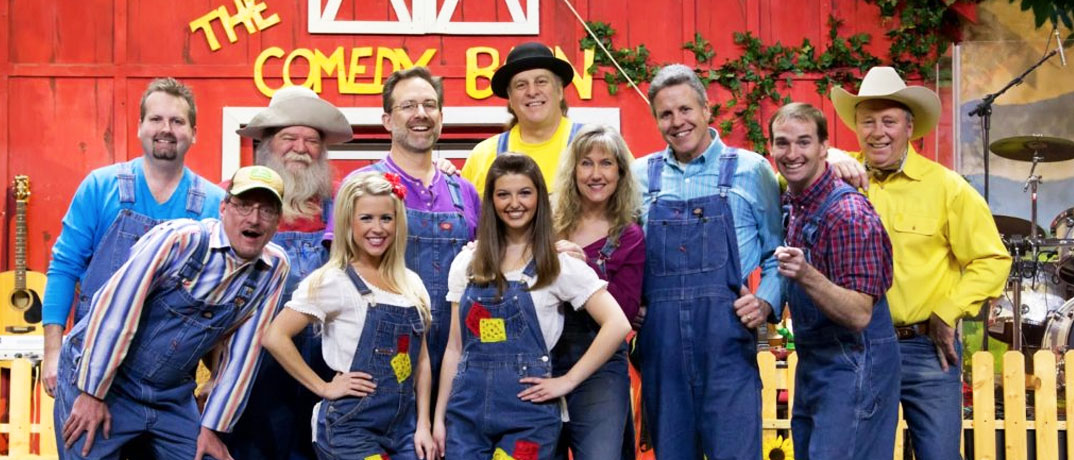 The Comedy Barn in Pigeon Forge is a high-energy, family-friendly way to spend an evening laughing, singing and toe-tapping. Touted as the "most award winning family comedy variety show" in the Smokies, toddlers to grannies love the Comedy Barn. Magicians, jugglers, ventriloquists and actors tickle tons of funny bones annually. If you love animals, the Comedy Barn's Theater has a show featuring all kinds of critters, pigs, dogs, cats and other four-legged and feathered friends that entertain thousands – they've been on the Tonight Show with Jay Leno. If you're visiting Pigeon Forge during the holidays, make reservations early for the Comedy Christmas Show. For ticket info and times, check here.
Hatfield and McCoys Pigeon Forge Dinner Feud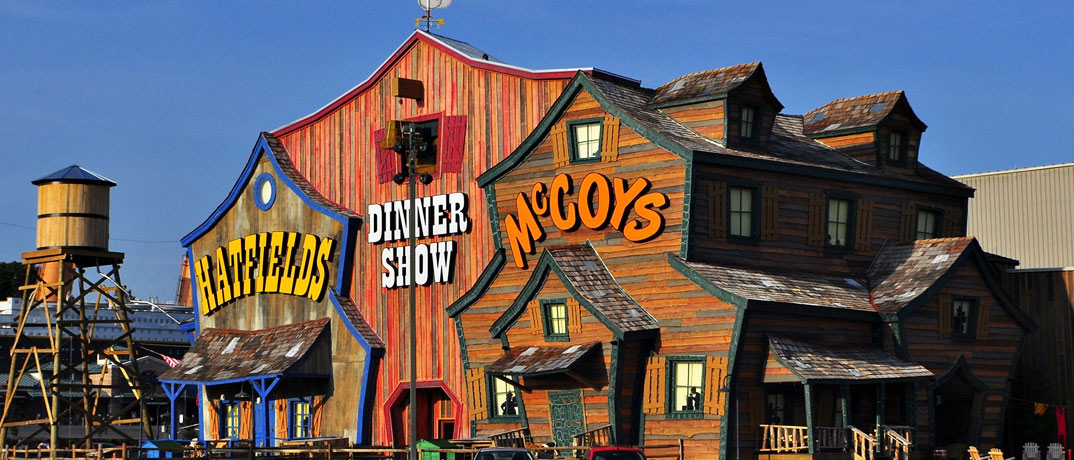 Some might argue this is the best Pigeon Forge Theater around. The all-you-can-eat dinner show is a feast with all kinds of country fixings; fried chicken, BBQ, corn on the cob, coleslaw and special desserts. If that's not your style, call ahead and they'll make you a special meal for the show; gluten free, dairy free, vegetarian and vegan! Singing, dancing, eating and watching these comedic, talented actors wrestle a long-running feud is a very popular family-friendly spot. They've recently added a "Diving Dogs & Hillbillies" show that involves singing, dancing, stunts and you guessed it, diving dogs and hillbillies getting wet in a 22 feet deep swimming hole. This isn't your average swimming hole since it took 3 years and $3M to construct, but you'll think you're way out in the country watching some crazy country antics. The Hatfield and McCoy site has more info to reserve ahead of time.
Country Tonite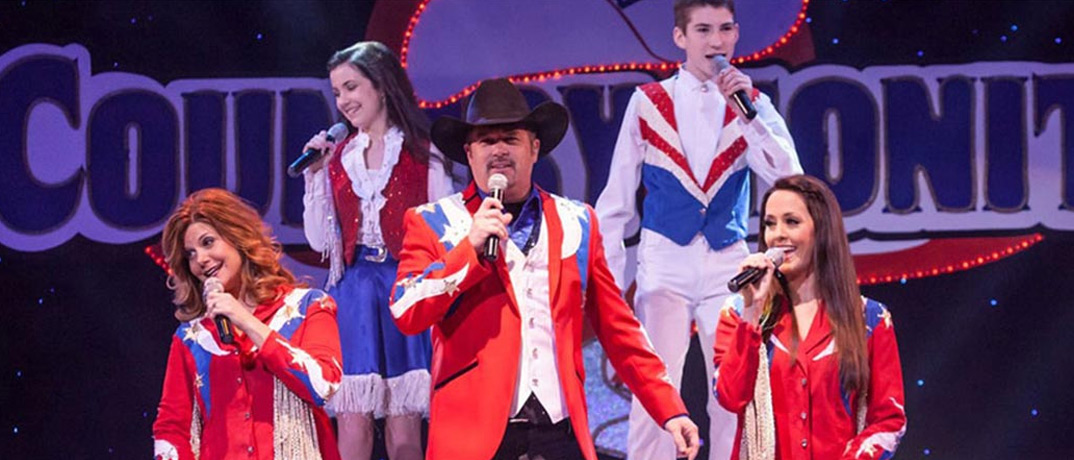 Voted the Best Show in the Smokies, 2018 is its 20th year in Pigeon Forge. Packed full of singing, dancing, comedy and gospel, it's known as the "feel good" show and the theater is normally booked in advance, despite its 1500 seat, impressive theater. Children under 12 get in free and their Christmas shows, which run in November and December, celebrates classic Christmas traditions and songs. Their Celebrity Concert Series has brought in some of country's favorite artists including The Oak Ridge Boys and Sawyer Brown. Located at 129 Showplace Blvd. Save $5 by booking online at the Country Tonite website.
Smoky Mountain Opry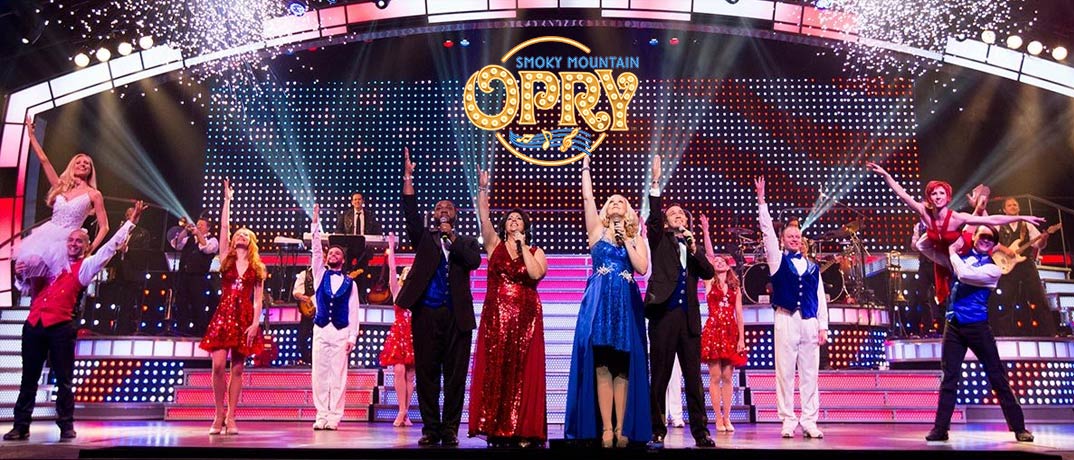 A first-class experience here-from great musical variety shows featuring Big Band Swing and country music, all with laser, pyro, stunts and giant screens. Darren Romeo's Magic Beyond Belief show is a must see. Romeo is one of the country's most renowned magicians, appearing in Las Vegas and Hollywood, and promises some the "biggest and best version" of his show in Pigeon Forge in 2018. His shows include exotic animals, mythical creatures and some of the most legendary illusions in the world. It's best to reserve early to catch their Christmas shows staring around $56-these large productions always exceed expectations! Located at 2046 Parkway. Visit their website at Smoky Mountain Opry.
Memories Theater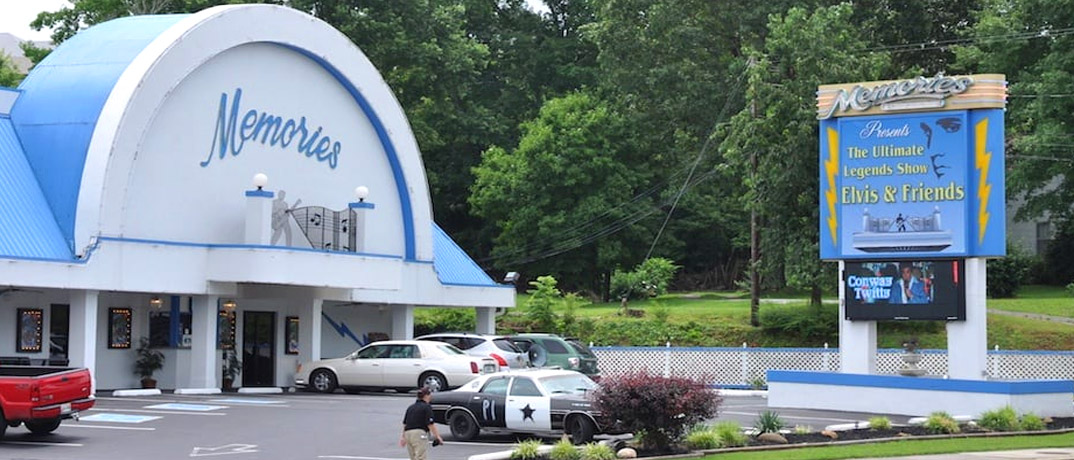 Located at 2141 Parkway, this Pigeon Forge theater is the place to go for special salutes to beloved artists such as Elvis, the Blues Brothers, Buddy Holly, Tom Jones, Ray Charles, Willie Nelson and more! The longest running theater in Pigeon Forge, it boasts a small in-house museum featuring private collections of legendary singers. Visit Memories Theater for more info.
Movie Theaters in Pigeon Forge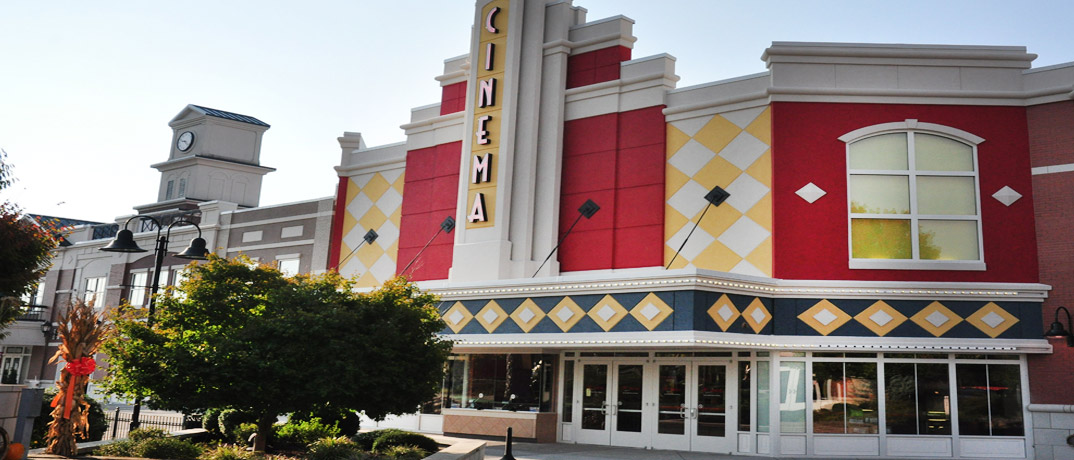 For those who need an afternoon to go see a movie, Pigeon Forge has one, the Forge Cinemas at 2530 Parkway. A short drive down the road, there's a larger theater at Governor's Crossing Stadium at 1402 Hurley Drive in Sevierville. Both show the latest releases. Visit the Forge Cinemas and Governor's Crossing for showtimes.
Pigeon Forge Cabins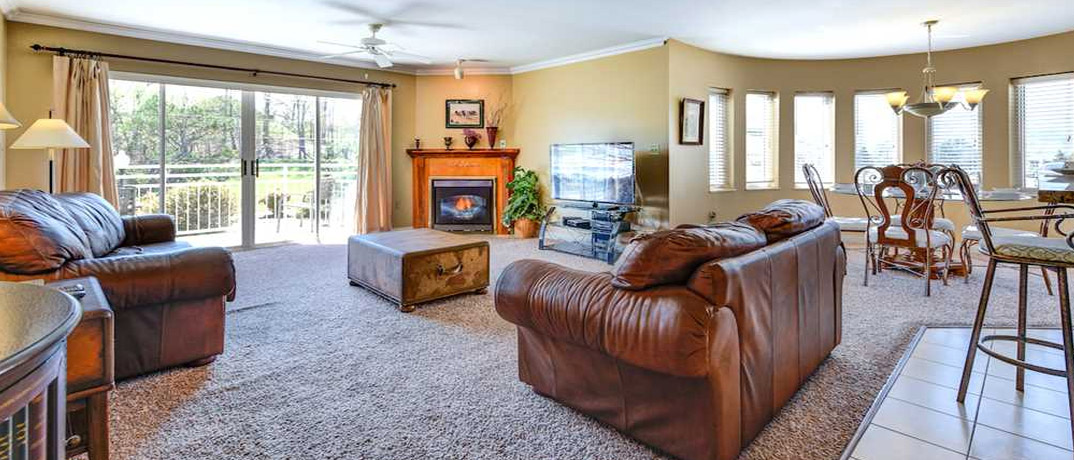 Plenty of shows and theater for your stay in Pigeon Forge! Condo-World has plenty of condos and cabins to make your stay even better. Reserve today!