Dining on the Waterfront – Hilton Head, SC
There's something very special about sitting down to a good meal with friends or a loved one and having a beautiful water view to make the evening that much more special. Hilton Head residents will tell you their sunsets are the most beautiful in the world. There is some truth to that and we've compiled a list of special dining places that will have you in agreement with the locals.
Whether it's casual dining on a sunny afternoon or witnessing one of their legendary sunsets, Hilton Head bars and the Hilton Head nightlife is easygoing, laid back and utterly charming.
The Ocean Lounge & Coast Oceanfront Dining $$-$$$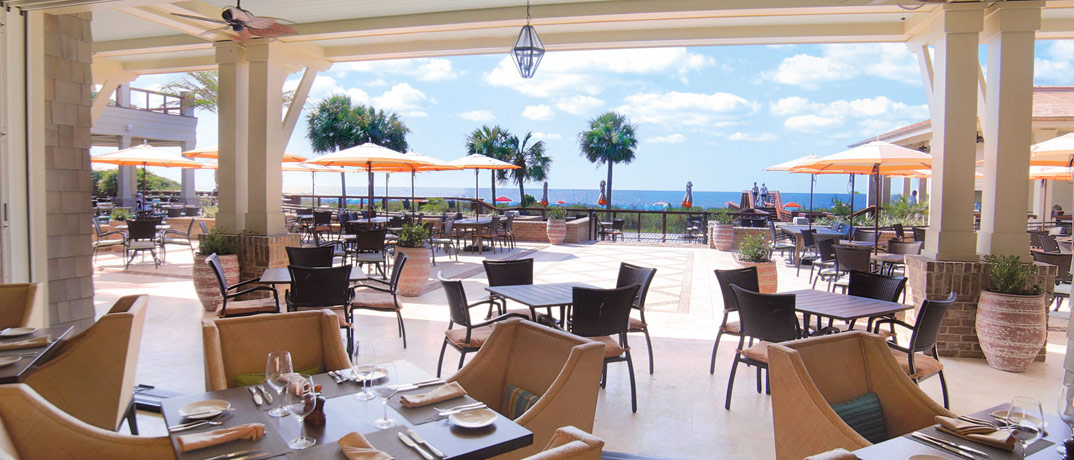 This Hilton Head beach bar and eatery is located in the Sea Pines Beach Club. Live music and incredible water views, both inside and outside. Reserve ahead of time and the staff will take your request for a water view, depending on how busy they are. This is a beautiful date night place, for a drink and appetizers at the lounge or full course meal at The Coast! To try: Spell Island Crab Stew; Lobster & Shrimp Pasta, Lobster Roll and their platter of oysters, crab and shrimp. They have specialty drinks, spirits and a decent beer and wine list. Open 11:30 a.m. to 5 p.m. for lunch and 5-9 p.m. for dinner. Location: 87 N. Sea Pines Drive. Visit their website for more info.
Bistro 17 $$-$$$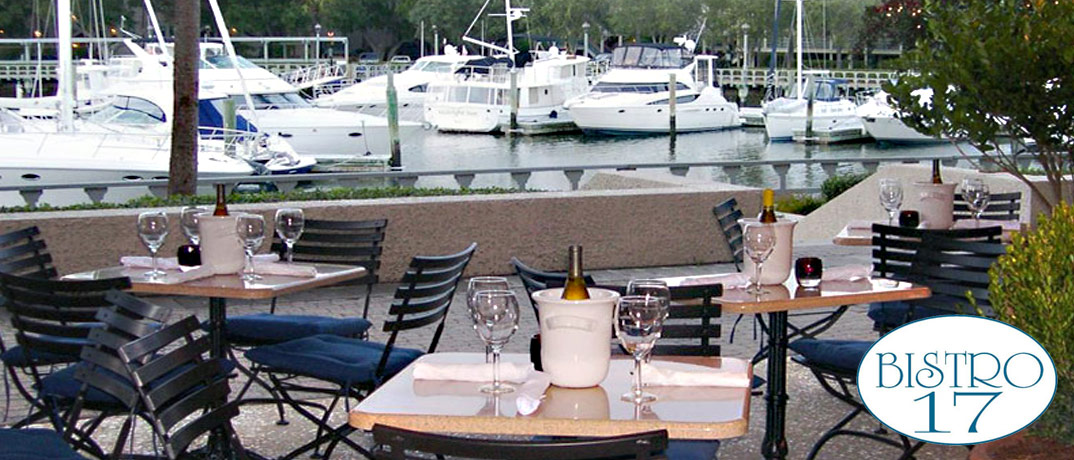 A lovely French American eatery with loads of character and lovely views of Shelter Cove Marina. Located at 17 Harbourside Lane in the Shelter Cove Marina, it's warm and cozy inside and breezy bliss if you choose to dine al fresco. Deep red-colored walls and lots of French decoration that makes you feel as if you've stepped into a cafe along the streets of Paris. You can stroll on the sidewalks and boardwalk after dinner and look at all the boats moored in the cove. To try: Rack of lamb, the escargot, the Shrimp Croissant and of course, the creme brûlée! For light bites, the pate, cheese and cracker selection is delicious. Visit their Facebook page for info.
Coco's on the Beach $$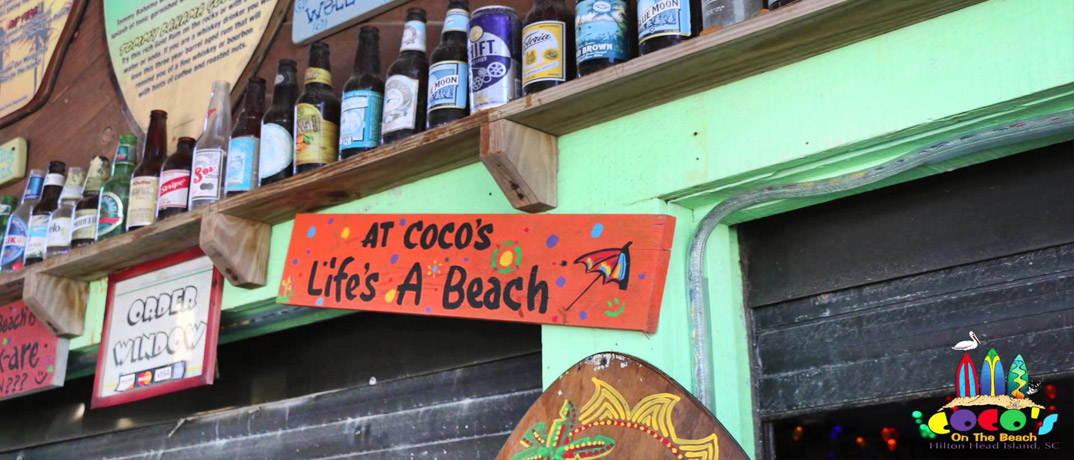 Summon your inner beach bum to get to one of the best Hilton Head beach bars there is. You'll need to walk or ride your bikes to this one, but fans of this colorful place will testify it's well worth it. This sweet little beach shack, complete with tons of island decoration and island music, is known for its big ole' burgers, monster fries and drinks you can take down to the beach if you want to. If you park in the Hilton Head Resort lot, you'll pay $5 bucks for a wristband that you can use at Coco's for a credit. Waste some time away here and watch the waves come in or watch the beachcombers who stop by to play some volleyball. Either way, you'll enjoy yourself! Located at 663 William Parkway. Visit Coco's On the Beach's website here.
The Salty Dog Cafe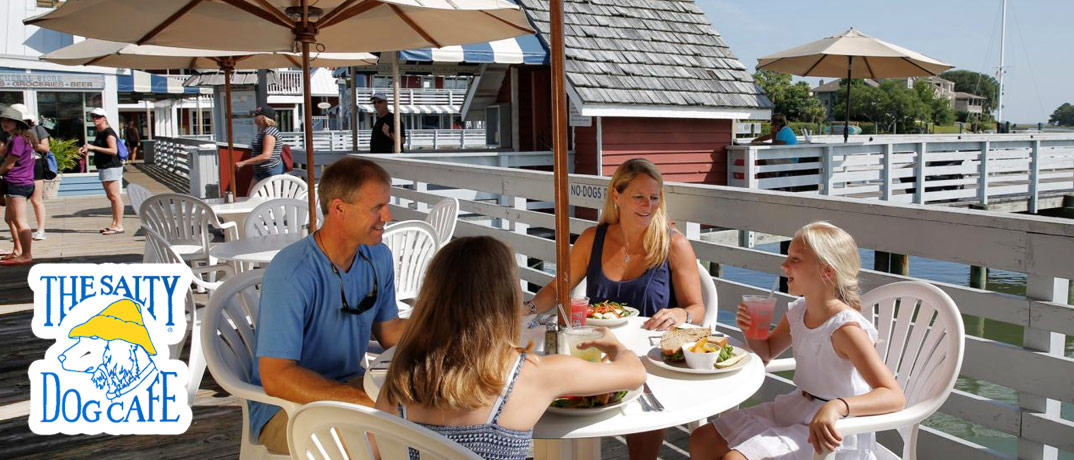 The Salty Dog Cafe serves up lunch and dinner and is open every day of the week until 10 pm. with the bar staying open late for all you night owl beach explorers. Located at 232 S. Sea Pines Drive, you'll have some sweet water views as you sip and eat. Try the She Crab Soup, Ahi Tuna Salad or hush puppies for starters. Any fresh catch of the day is great as is their Salmon and the Jambalaya Pasta. For beef-eaters, there's a giant New York Strip and if you're craving a burger, you can't go wrong with a Jake-Zilla Burger. Visit their website for info.
The Quarterdeck
Some say this lovely restaurant has the best sunset views on the island. Located next to one of Hilton Head's landmarks, the Harbour Town Lighthouse, its right on the Calibogue Sound. Whether you choose dining indoors or out, the ambiance is relaxed, elegant and refined. You can't go wrong with any food choices, but especially good is the Lobster Tail Tempura and their Fish Market choices; salmon, ahi, grouper, swordfish, scallops or shrimp, with your choice of blackened or broiled. They have their own private label wine as well as a nice selection of domestic and international wines. If you're more of a beer lover, there's local brewery choices and others, as well as beer flights. Located on Sea Pines Resort at 160 Lighthouse Road. Visit the website for info.
Fishcamp on Broad Creek $$-$$$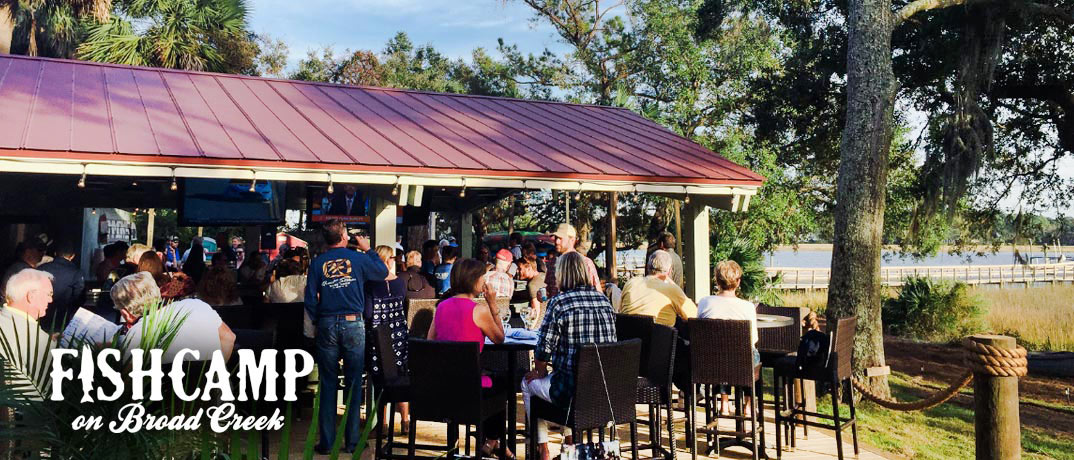 Go where the locals go! If you're looking for a laid-back place to enjoy a meal and some drinks, you can't beat Fishcamp on Broad Creek. Watch a Carolina sunset over the creek and listen to live music. You can even bring your pooch if you'd like since they're super pet-friendly here. Open for both lunch, dinner and Sunday brunch. They're open until 10 p.m. every night and the bar's open even later should you wish to hang out here for awhile. Don't miss the Lobster Bisque and/or the Daufuskie Blue Crab Cake. The Seafood Risotto and Herb Crusted Red Snapper is fantastic. If you're in the mood for a giant Low Country Boil, the Fishcamp will do it up right for you! Visit their website. Located at 11 Simmons Road.
There are so many choices on Hilton Head to dine with a divine water view! Our list may help you find your favorite spot to come back to year after year. That, and your condo from Condo-World to make your annual Hilton Head vacation seem like a island paradise home away from home. Book online today!